6 Efficient Ways to Fix iPhone Won't Delete Photos Issue
Frustrated by the persistent issue of being unable to delete photos on your iPhone, even as your storage space dwindles? You're not alone, as many iPhone users encounter this dilemma. Fortunately, resolving the "iPhone won't delete photos" error is within reach with a few simple fixes. Whether you're attempting to clear space or organize your pictures, this article addresses the common challenge and provides insights into troubleshooting this vexing issue. Explore the solutions ahead to regain control over your iPhone's storage and bid farewell to the perplexing photo deletion conundrum.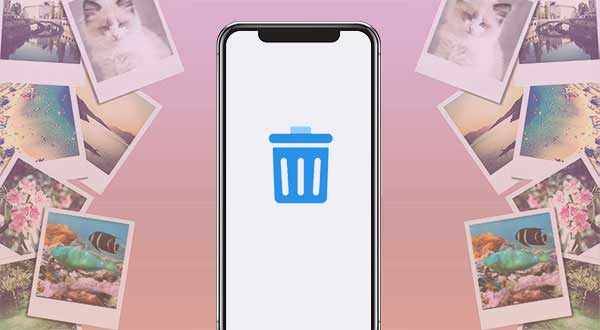 Part 1: Why Can't I Delete Photos from My iPhone/iPad?
To look for a solution, you need to first look for the answer to "why aren't my photos deleting". And certainly, the reason is not just one and the main reasons include:
Photos synced with iCloud: Once "iCloud Photos" is turned on, your iPhone photos are not only getting stored on the device but in the iCloud service also. So, in order to be able to delete your photos, you must disable this feature first.
Photos synced with iTunes Library: If your photos are synced with iTunes, only unsyncing photos could offer a fix. And if this option does not seem to work, try some iPhone data erasers to delete your iDevice pictures.
These are 2 main reasons for iPhone/iPad won't delete photos. Now that you have known the reasons, it must be easy for you to solve the problem.
Maybe you also want to read:
Part 2: iPhone Won't Delete Photos? 6 Solutions to Fix
Solution 1: Turn Off iCloud Photos to Delete Photos
If you are the one who have enabled "iCloud Photos" on your iDevice and unable to delete photos from iPhone/iPad, you should first try to fix the "iPhone not letting me delete photos" issue by disabling the feature. Once you turn off the feature, you will be able to move the unwanted images to trash bin easily. This is just a simple operation and you can complete it in a flash. So why not have a try?
Unlock your iPhone or iPad.
Click on "Settings" on the Home screen to enter the App.
Tap on your name and then choose the "iCloud" option.
Choose "Photos" and then toggle off the button next to "iCloud Photos" to disable the iCloud photos syncing.
Once done, you can go to the "Photos" App on your device to move the unwanted images to trash bin.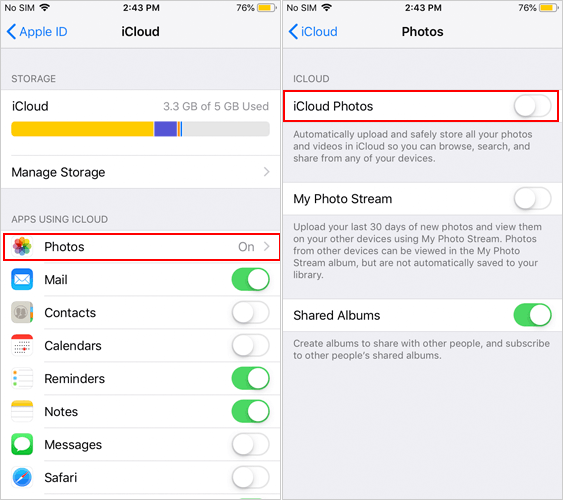 Here, please notice that the pictures you deleted will be move to the "Recently Deleted" album and they will stay there for 30 days. If you wish to permanently delete photos from iPhone or iPad, you should continue to remove them from the "Recently Deleted" album then.
Solution 2: Delete iPhone Photos Using iTunes
As mentioned above, it is also impossible for you to delete the photos that are synced with iTunes. In this case, you can try to solve the "photos not deleting from iPhone" problem via iTunes. Then how? It is easy! You just need to unsync your photos with iTunes. This includes 2 situations - unsync photos or unsync albums.
Situation 1. Unsync albums to solve iPhone/iPad can't delete photos:
Run the latest iTunes on your computer and go on to connect your iPhone or iPad to the PC via a USB cable.
Tap on the device icon in iTunes and then the information of your iDevice will be displayed.
Click on "Photos" in the left panel and uncheck the option "Select albums".
After that, you need to click on "Done" to confirm your option.
Situation 2. Unsync photos to fix can't delete photos from my iPhone:
Open iTunes and then link your iPhone/iPad to the computer with a USB cable.
Click on the device icon located at the top left corner.
Choose "Photos" and then deselect the option "Sync Photos".
At last, you can select "Remove photos" and hit "Done" to remove the pictures.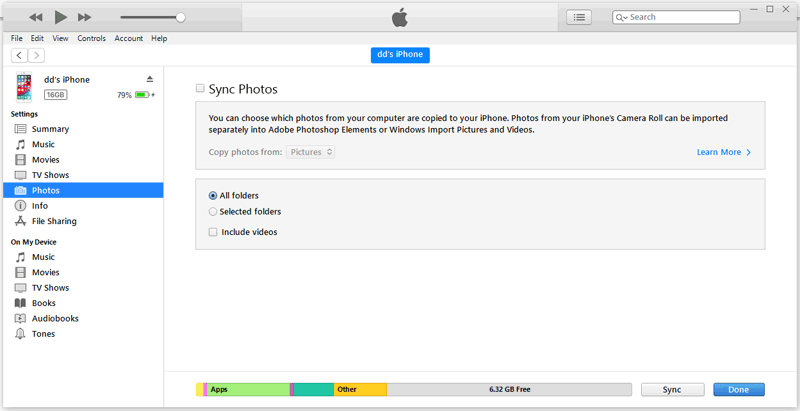 You can also click to learn:
Solution 3: Free up Space if iPhone Storage is Full
iPhone storage full can't delete photos? Why can't I delete photos when my storage is full? When confronted with a full iPhone storage conundrum, tackling the task of deleting photos might initially seem perplexing. The realization that the iPhone refuses to part with photos due to insufficient storage adds an unexpected twist. To address the query of why deleting photos becomes a challenge in such scenarios, it becomes imperative to delve into iPhone storage recommendations for effective space liberation.
Navigate to Settings, where the General tab houses the key to managing iPhone Storage. Here, one can unveil storage recommendations and embark on the journey of reclaiming valuable space by decluttering the device.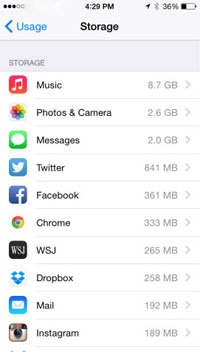 Solution 4: Reboot Your iPhone
If you find yourself unable to delete photos on your iPhone due to minor software glitches, a simple restart might do the trick. Follow these steps to reboot your iPhone:
For iPhones with Face ID: Press and hold the Side button along with one of the Volume buttons until the "slide to power off" slider appears. Release the buttons and swipe the power icon to shut down the iPhone. After a brief pause, press and hold the Side button until the Apple logo graces the screen.
For iPhones without Face ID: Press and hold the power button until the "slide to power off" option materializes. Release the button and swipe the power icon to turn off the device. Wait for a moment, then press and hold the Power button until the Apple logo makes its reappearance.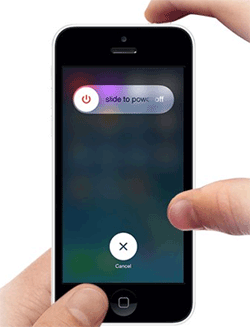 Solution 5: Keep Your iPhone Up to Date
Encountering difficulties like the inability to delete photos on your iPhone can be linked to operating on an outdated iOS version. To mitigate such issues, it's advisable to ensure your iPhone is running on the latest software:
Access the Settings app on your iPhone and navigate to "General."
Locate and tap on "Software Update."
If there's an available update, initiate the process by selecting "Download and Install."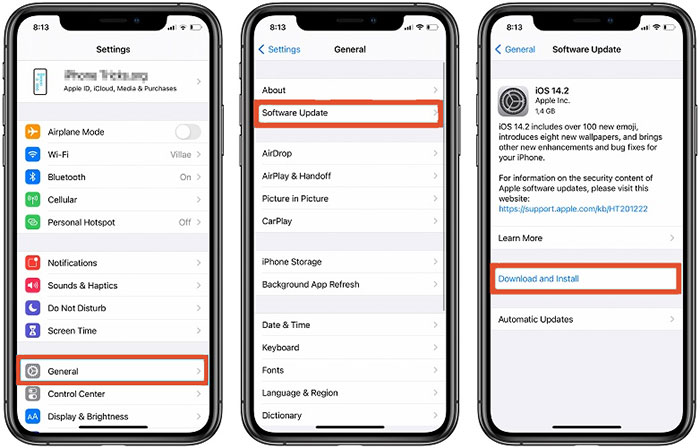 Solution 6: Delete iPhone Photos with MobiKin Assistant for iOS
MobiKin Assistant for iOS stands out as a robust iOS data management solution, offering a suite of features for efficient handling of photos, songs, ringtones, videos, contacts, notes, and text messages across iDevices, computers, and the iTunes library. This versatile tool empowers users to seamlessly manage, delete, and transfer data. Key functionalities include:
Key functionalities of Assistant for iOS:
Delete multiple or overall photos from iPhone/iPad directly.
Manage iOS data on computer without any hassle.
Transfer photos from iPhone/iPad to computer, and vice versa, without any data losing.
Also support other types of iOS data like music, videos, notes, contacts, messages, apps, books, etc.
It is compatible with all iOS devices, including iPhone 15/14/13/12/11/X/8/7/6, as well as all generations of iPad and iPod touch.
Here is how to fix iPhone not deleting photos by using MobiKin Assistant for iOS:
Use a USB cable to connect your iPhone to your computer. Launch Mobikin Assistant for iOS if it doesn't start automatically.
Once your iPhone is connected and recognized by Assistant for iOS, look for the "Photos" category.
Choose the photos you want to delete, and then click the "Delete" option.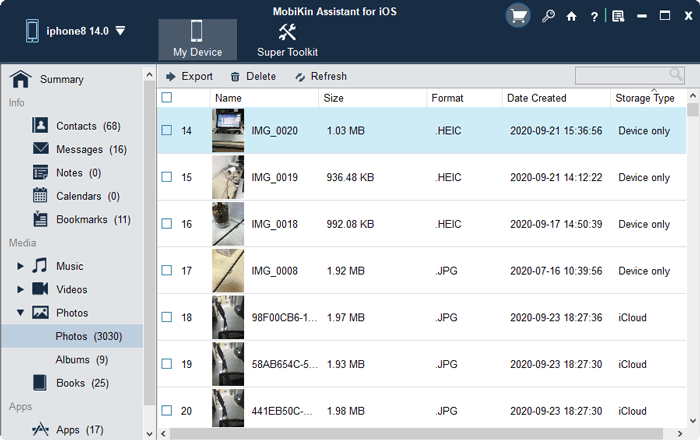 Part 3: FAQs about Undeletable Photos from iPhone
Q1. How to delete synced photos from iPhone?
If you wish to remove synced photos from your iPhone, the delete button becomes inactive, preventing deletion. To resolve this, halt the syncing of photos from other devices and proceed with the deletion.
Q2. Why do photos keep coming back on iPhone?
The automatic synchronization of pictures through iCloud may result in recurring images on your Apple devices. Counter this by disabling iCloud syncing, removing the photos from iCloud, and achieving the desired removal of the images. iCloud's automatic photo syncing can reintroduce pictures; thwart this by turning off iCloud sync, deleting the images from iCloud, and ensuring their desired removal.
Q3. Will deleting photos from iPhone delete from iCloud?
Deleting photos from your iPhone does not impact the photos stored in iCloud; they remain unaffected and intact.
Q4. How do I permanently delete photos from iCloud?
Access your iCloud account on your iPhone, iPad, or Mac.
Navigate to iCloud Photos and select the photos earmarked for deletion.
Utilize the trash bin icon for deletion. After 30 days in the trash, they will be permanently removed if not recovered.
Words in the End
When confronted with the perplexing issue of an iPhone refusing to delete photos, various solutions can be explored. Attempting fixes such as iTunes or iCloud unsync has proven effective for many users. Alternatively, the straightforward approach of using MobiKin Assistant for iOS allows seamless deletion of unwanted files by connecting the iPhone to a PC. For further inquiries on the subject, readers are encouraged to leave comments in the article.
Related Articles:
Erase or Wipe iPhone Text Messages Permanently
How to Erase Deleted Files on iPhone Permanently?
How to Erase iPhone/iPad without Passcode?
How to Remove Contacts from Android SIM Card Permanently?