Things You Have to Do Before Selling Your iPhone
iPhone are great smartphones built to last. With good care, a handset can serve you even up to 10 years that is if it doesn't get lost or stolen. Now for many, 10 years is such a long period of time to possess a device especially given how frequently Apple upgrades its products. Most iPhone users prefer to have their devices for about 3 years, sell them and then upgrade to something bigger, slimmer and more advanced. However, there are certain things you have to do before selling your iPhone to avoid possible trouble.
1. Tips for You to Sell Your Old iPhone Online
2. Quickest Way to Wipe Everything off Your iPhone before Selling
1. Tips for You to Sell Your Old iPhone Online
#1. Backup Your iPhone Contents with iCloud, iTunes or other Backup Tools
The first thing you should do before you hand over your iPhone to the buyer is to back it up. This will enable you to upgrade to a new iPhone without any difficulty. iPhone can be quite hard to customize, so instead of starting all over again, you will be able to pick up exactly where you left off, with apps, settings, customizations, and so on.
It's advisable to make a double backup, one stored in iCloud or iTunes and another stored locally on your PC. This way you will have an easily accessible backup available when you obtain a new iPhone.
Learn more about how to backup iPhone with iCloud or iTunes>>
Referring to backup your iPhone contents on PC, you need to ask help to a reliable desktop application like MobiKin Assistant for iOS. With it, you can easily and selectively backup your needed files from iPhone to computer as you like.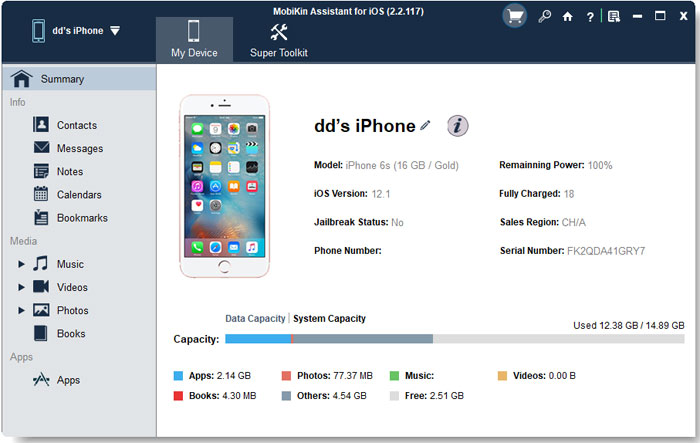 #2. Sign out of iCloud and All Account on Your Device
Data theft is on the rise today. Criminals nowadays steal people's data to impersonate them, gain access to their bank accounts or carry out other fraudulent activities with this information. Most people tend to store their personal data on the phone making it easier for fraudsters to get what they want.
Before you transfer the ownership of your old iPhone to somebody else, be sure to completely wipe the device. The easiest way to do so is to simply sign out from iCloud if you have got it set up. iCloud controls quite a lot of data on Apple devices and when you sign out of it most data gets wiped out. Signing out of iCloud is one of the most important things you have to do before selling your iPhone, never forget this step.
What's more, never forget to sign out of all other accounts including Gmail, Facebook, Twitter, Instagram and more. In fact, this is even more important than signing out of iCloud, because if the device lands into the wrong hands, not only will you be affected but also your loved ones, friends and Gmail as well as Yahoo contacts.
#3. Ask Apple to Stop Associating the Phone with Your Apple ID
When you buy an iPhone or iPad from Apple, they also issue you with a unique Apple ID that is associated with that device. However, you can always request them to stop associating the device with this ID if you are transferring ownership to another person. In fact this is advisable if you want to be on the safe side, you never know what the buyer is going to do with that phone.
Simply log into Apple support with your Apple ID, choose the iPhone from the list of devices, select "Unregister" and then confirm that you want to unregister the device with your Apple account.
#4. Disable iMessage
iMessage is a free text communication service for Apple users. Using data plan or Wi-Fi, messages and photos can be sent between any iPhone/iPad as long as they have the app installed and enabled. Disabling this app ensures that the phone will not accidentally receive messages that are intended for you after it has become the property of another person.
2. Quickest Way to Wipe Everything off Your iPhone before Selling
Think that the above tips are too troublesome to operate on your iPhone? Don't worry, you still have an opportunity to erase all contents & settings on your iPhone device in a faster way that you can't imagine. Here, you need to ask help for a professional iPhone Data Eraser software.
With it, you're enabled to wipe everything like contacts, text messages, photos, accounts&password, settings, etc. from iPhone 6S Plus, iPhone 6S/6, iPhone 5S/5, etc. with only 1 simple click. And all erased data by this way will never be restored by any data recovery software on the market. So it is no doubt that this is the most secure way to erase iPhone data before selling to any others as you like.
Note: Please backup your iPhone contents before erasing them on the device. You can use the iCloud or iTunes to backup the contents or turn to 3rd-party tools like MobiKin Assistant for iOS, MobiKin Transfer for Mobile, etc.
Here is the guide:
Step 1. Install the software on your computer and launch it. Then connect your iPhone to PC with a USB cable.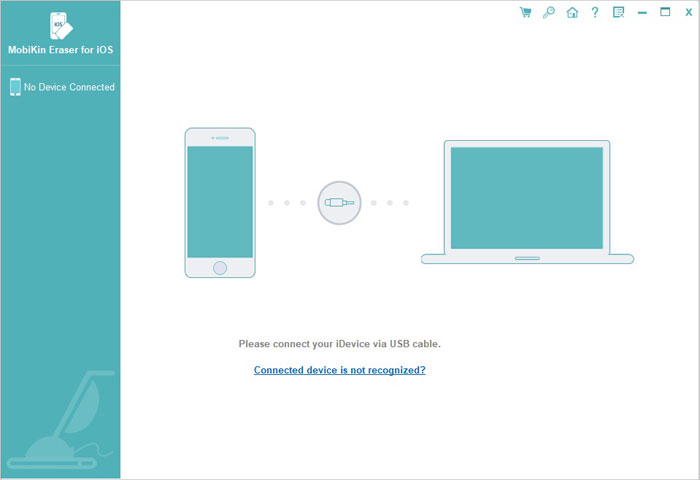 Step 2. Then you might see an interface will different mode, simply select the "Erase All Data" mode to continue.
Step 3. Type the word of "delete" on the box to confirm your action and then hit the "Erase Now" button to start erasing all data and settings on your iPhone.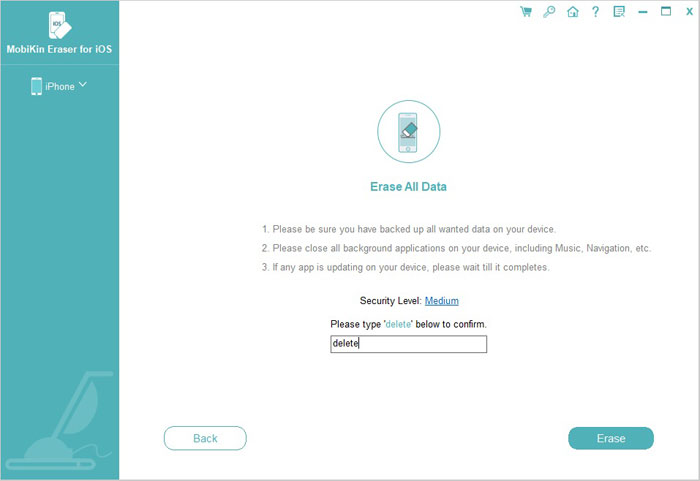 Related Articles:
How to Transfer Contacts from iPhone to Computer
How to Transfer iPhone Contacts from One to Another
How to Backup iPhone Contacts to iCloud