Want to Batch Convert HEIC to JPG? 9 Converters Can Do This (2023)
"Anything to do with the phrase - batch convert HEIC to JPG - has been Google bombed to stupid paid sites and shitty tools. I need a simple batch software to convert HEIC images to JPG for the photobook program. Any recommendation would be great." -- By u/Bonobo77 from Reddit
HEIC, a high-efficiency image file format, makes it easy to create and save pictures in smaller sizes without sacrificing photo quality. It's easy to open and view HEIC photos on iDevices but impractical on other devices unless you get a tool to convert them.
So, are there any programs that can bulk convert HEIC to JPG/JPEG/PNG? Go through this passage to know several paid and free batch HEIC to JPG converters now.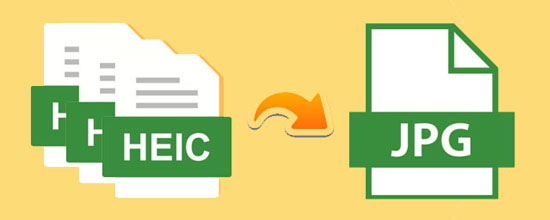 Part 1: Use the Best HEIC Converter to Batch Convert HEIC to JPG
As the classic tool for HEIC image conversion, MobiKin HEIC to JPG Converter does well in converting iPhone, iPad, iPod photos from HEIC to JPG/JPEG/PNG on both Windows and macOS computers. This professional program helps resolve compatibility issues in no time. Further, it provides you with multiple options to edit and adjust your photos to better meet your needs.
Outstanding features of HEIC to JPG Converter:
Convert iOS photos from HEIC to JPG/PNG/JPEG on computers.
Empower you to keep Exif data and keep file quality during the conversion.
Load unlimited images for conversion at a time.
Enable you to adjust photo quality optionally before converting.
It won't interfere with your privacy.
How to mass convert HEIC to JPG with HEIC to JPG Converter?
Step 1. Download and install the tool on your computer. Run it and you will get its main interface like the picture below.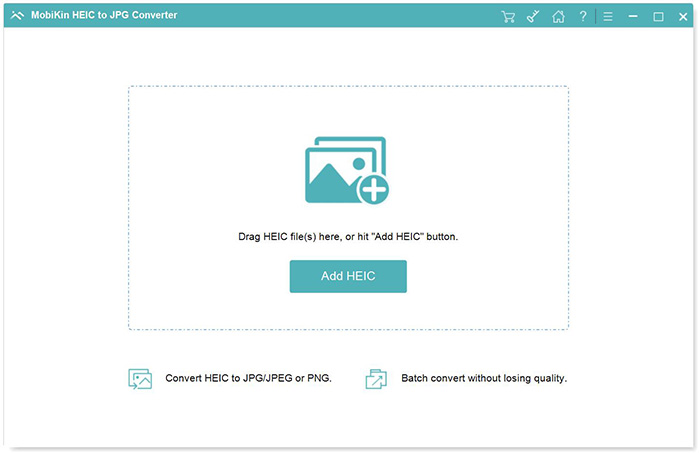 Step 2. Click "Add HEIC" to import the target HEIC files from your computer. You can also drag and drop the HEIC images to the interface directly.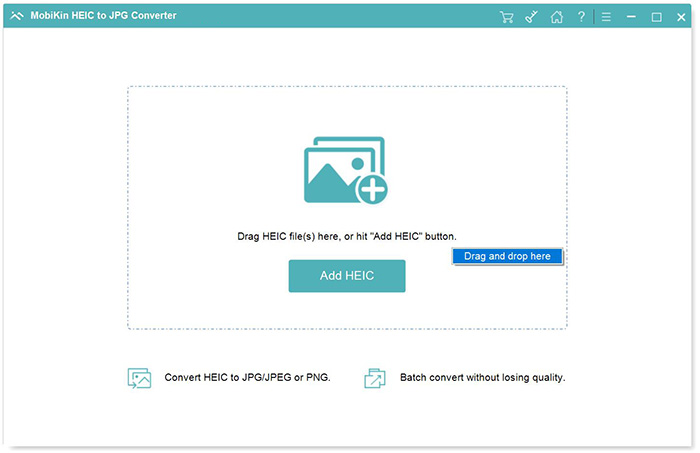 Step 3. Choose your desired HEIC photo to convert, select the output format (JPG, JPEG, or PNG), check or uncheck "Keep Exif Data", and set the output path.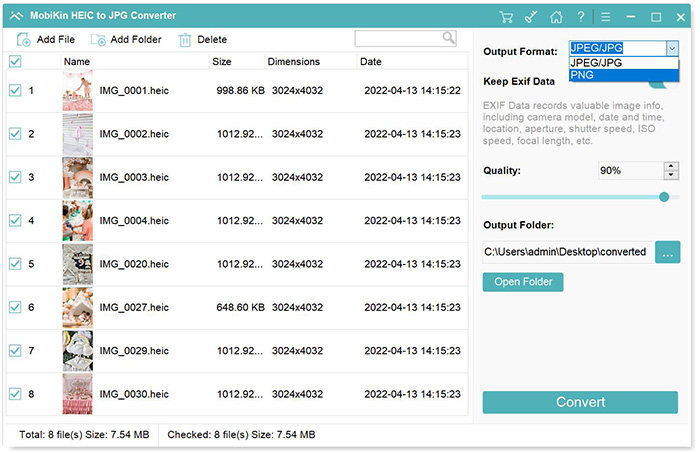 Step 4. Click "Convert" to convert HEIC to JPG/JPEG/PNG. After the conversion, click "Show in folder" to view your photos.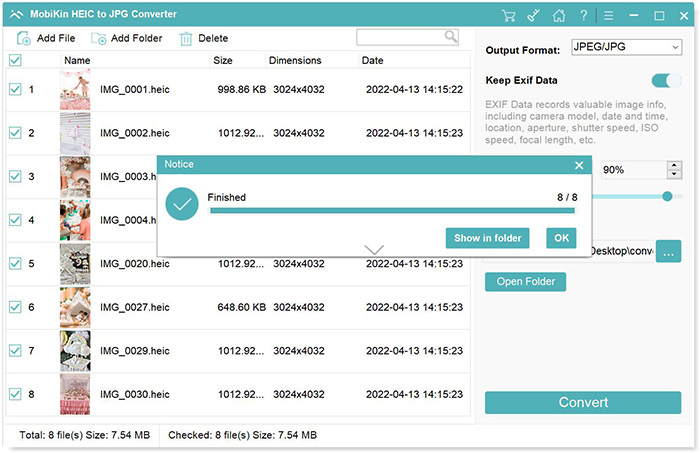 Strengths:
Support both Win and Mac platforms.
Work for such file extensions as .heif, .heic, .jpg, .jpeg, .jpe, .jif, .jfif, .jfi, and .png.
You can choose to include or exclude Exif metadata.
Allow you to adjust image quality.
Quick conversion.
Ad-free and risk-free.
One-click to locate the converted photos.
Weaknesses:
Allow you to convert only 10 HEIC files for free.
You May Like:
Part 2: Use the Other 8 Tools to Bulk Convert HEIC to JPG
In this section, we will let you know the eight paid and free HEIF/HEIC converters. You can judge them by their user guides, advantages, and disadvantages.
1. iMazing HEIC Converter
iMazing HEIC Converter is a tiny and truly free desktop app for PC and Mac, which allows you to convert Apple's new iOS images from HEIC to JPG or PNG.
How to batch convert HEIC to JPEG with iMazing HEIC Converter?
Get a free copy of the iMazing HEIC Converter before installing and opening it on your computer.
Drag and drop all HEIC photos to iMazing.
Select the format for the items.
Choose file quality and set output format as JPEG.
Click Convert to mass convert HEIC to JPEG.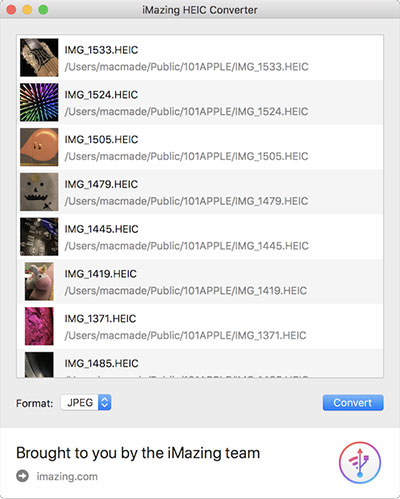 Strengths:
Keep or remove EXIF data.
Allow you to output quality.
Support color profiles, including wide-gamut.
Free.
Weaknesses:
Support HEIC only.
Photos cannot be modified.
2. Apowersoft HEIC Converter
Offering both online and offline solutions, Apowersoft HEIC Converter is proficient in changing HEIC images to JPEG.
How do I convert Apple pictures to JPEG in batches via Apowersoft HEIC Converter?
Grab a copy of Apowersoft HEIC Converter, install and run the software.
Drag and drop all HEIC images to the interface. (my photos disappeared from my iPhone?)

Choose quality and destination.
Click Start Converting to save all HEIC photos as JPG.
You may need to compress the JPG files after the conversion.
Strengths:
Offer both offline and online services.
Display the sizes of both input and output images.
Free.
Weaknesses:
Export files as JPEG only.
Generate large JPG images after the conversion.
3. Pixillion Image Converter
As a standout tool working on converting raw and HECI photos, Pixillion Image Converter can change 50 image formats into 20 most popular ones. It also adds editing features like Resize, Rotate, Flip, Add Watermark, etc.
How to make HEIC to JPG batch conversion via Image Converter?
Download Pixillion Image Converter from the NCH website.
Add all HEIC photos into Pixillion by drag & drop.
Click "Effects" to resize or add watermark as needed.
Pick all HEIC images, select output as JPEG, and choose compression setting.
Click "Convert" to bulk convert HEIC to JPEG.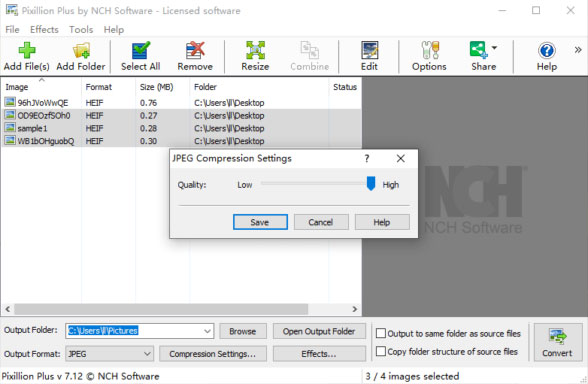 Strengths:
Support many formats.
Add watermarks with transparency effects.
Rotate, resize, watermark, and add text effects to photos.
Weaknesses:
Editing features only.
Several "Options" requires to download separately.
Check if You Need:
4. CopyTrans HEIC
With CopyTrans HEIC for Windows, you can change 100 images at a time. And it let you print your HEIC files after the conversion.
How to free batch HEIC to JPG converter with CopyTrans HEIC?
Download CopyTrans HEIC for Windows, install, and run the software on your PC.

Right-click on HEIC images.
Choose "Convert to JPEG" with CopyTrans.
Strengths:
Pretty easy to use.
Free for personal use.
Let you view and print HEIC images.
Weaknesses:
Deliver Windows version only.
Rotate photos 90°anti-clockwise.
5. iMobie HEIC Converter
iMobie HEIC Converter can convert HEIC files to PNG or GIF online or offline for free. You can also use it to convert images contained a HEIC dynamic wallpaper into JPG files.
How to convert multiple photos from HEIC to JPG with iMobie HEIC Converter?
Go to the iMobie HEIC Converter website > select file format and image quality > tap "Click to Select" to add HEIC files to convert.

Once the conversion is over, click "Download All" to download the converted HEIC files.
Strengths:
Preserve EXIF metadata of pictures.
Various Image quality options to pick from.
Quick processing.
Weaknesses:
Limited features for editing.
Limited video quality options.
6. AOMEI MBackupper
To convert HEIC to JPG JPEG, PNG on a Windows computer, you can give AOMEI MBackupper a shot, though it is often used for data backup (learn ten best iPhone backup software). It can do the format conversion in a quick and safe manner.
How to bulk change HEIC to JPG via AOMEI MBackpper?
Run AOMEI MBackupper on your computer after the download and installation.
Click HEIC Converter under Tools.
Tap Add Photos to choose HEIC files.

Choose ".JPG" next to Photo Format > select the Photo Quality and Conversion Speed at will > set the storage path to save the images.
Click OK > Start Converting.
After the completion, click View files to check the photos.
Strengths:
High image quality.
No risk of photo leakage.
Weaknesses:
The lower protection level for privacy.
No essential features in its Free Version.
7. Automator
If you just want to convert HEIC to JPG on a Mac computer, you can take a look at Automator. It can make changes to multiple files, such as changing the formats/filenames, resizing images, or backing up important content.
How to bulk convert HEIC to JPG with Automator?
Launch Automator on your Mac (it is in your Applications folder)
Next, from the list of templates, click "Quick Action", followed by "Choose".
On the left side of the screen, type "copy finder" into the search box and drag "Copy Finder Items" to the right side of the screen. Now, you can select the folder in which you wish to save the converted images.
Back to the left of the screen, enter "change type" into the search bar and drag "Change Type of Images" to the right side of the page.
Choose "JPEG" from the drop-down list.
In the menu bar, click File > Save and enter a name for the Quick Action.
Finally, click "Save".

Strengths:
Offer a plethora of features.
Create different types of actions.
Weaknesses:
It cannot work on Windows PC.
A bit complicated.
8. PDFelement
PDFelement facilitates you to create, edit, sign PDF documents as well as convert HEIC files to JPG. You can use it on macOS X 10.12 or above and Windows 10/8/7/XP/Vista.
How to batch convert HEIC to JPG with PDFelement?
Run the program and head to the main menu to click "File".
Go for "Create" and choose "PDF from File".
Navigate to your desktop and browse for the HEIC photos you want before clicking "Open".

Go to the "File" menu, scroll down and choose "Export To".
Choose "Image" and select the "JPEG(.jpg) format.
After that, save the JPEG pictures to a preferred folder.
Strengths:
Various editing tools.
It can convert files to PDF as well.
Weaknesses:
Finicky page management.
Have difficulty in file combination.
Format conversion errors might occur occasionally.
Roundup
Admittedly, some of the nine tools introduced in this post are completely free for private use, but they are usually inefficient in batch conversion, and the quality of converted files is not guaranteed.
So, wouldn't it be great if there is a quick and safe way to convert numbers of HEIC images into JPG/JPEG/PNG with great quality? In this connection, just give MobiKin HEIC to JPG Converter a download and enjoy it now.
Additional Tips:
How to batch convert HEIC to JPG with Photoshop (CC 2019 and 2020)?
Open Adobe Photoshop > click File > Scripts > Image Processor.
Select Folder > choose the folder that includes HEIC images > click OK.
Click Select Folder > aim at a specific location > go for a folder to save converted JPEG images to > press "OK" again.
Select "Save as JPEG" > enter 12 in the Quality box > hit the Run button.
Related Articles:
HEIC Viewer for Windows PC and Android
How to Convert HEIC to JPG on PC? 3 Easy Ways You Should Never Miss
[Solved] How to Permanently Delete HEIC Photos on iPhone or iPad?
How to Transfer Photos from Mac to iPhone? (6 Easy Ways Included)
3 Easy Ways to Recover Deleted Photos from iPhone without Backup