[Solved!] How to Convert HEIC to PNG on Windows, Mac, and iPhone?
HEIC and PNG are two different image formats. Compared with pictures in PNG format, HEIC format takes about 50% less space. Therefore, HEIC is very popular on the iOS platform with its high-resolution and small storage characteristics. However, HEIC is not a widely used photo format, and you cannot view or edit it directly on Windows and Android devices. Unless, you first convert HEIC to PNG or other formats that can be recognized on Windows and Android devices.
This is why many people ask how to convert HEIC to PNG or other photo formats. Now, this guide will show you four ways to easily complete HEIC to PNG conversion on PC\Mac and iPhone.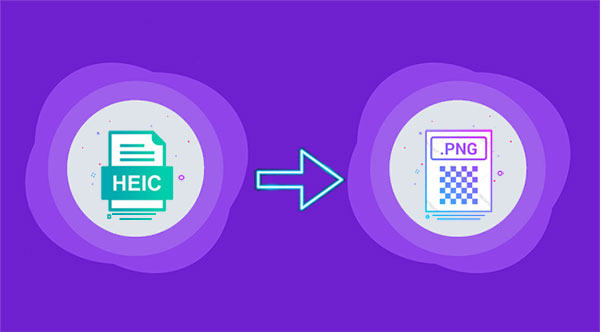 Method 1: How to Batch Convert HEIC to PNG with HEIC Converter
Is there any method to convert HEIC to PNG on PC and Mac computer with one click? Sure! HEIC Converter is an all-in-one HEIC to PNG Converter to convert and adjust the HEIC files in batch. It can not only convert HEIC to PNG, but also change HEIC to JPG/JPEG with zero quality loss. The software has built-in multi-threading and hardware acceleration, so the operation is simple and the execution speed is fast.
Key Features of HEIC Converter:
Convert HEIC to PNG/JPG/JPEG on Windows/Mac without losing quality.
Let you keep Exif data during the conversion.
Batch process unlimited HEIC files at one time.
Allow you to adjust output quality and destination before converting.
It won't divulge your privacy.
Free download the HEIC to PNG converter software and then follow the instructions in the below to start the conversion.
How to Convert HEIC Files to PNG in Batch?
Step 1. Import HEIC images
Download and install the recommended HEIC to PNG Converter on your computer. Launch it and click the "Add HEIC" button in the middle of the program screen to add the HEIC images that you want to convert.
If you want to convert HEIC files from your iPhone, iPad, or iPod, connect the device with the computer via a USB cable.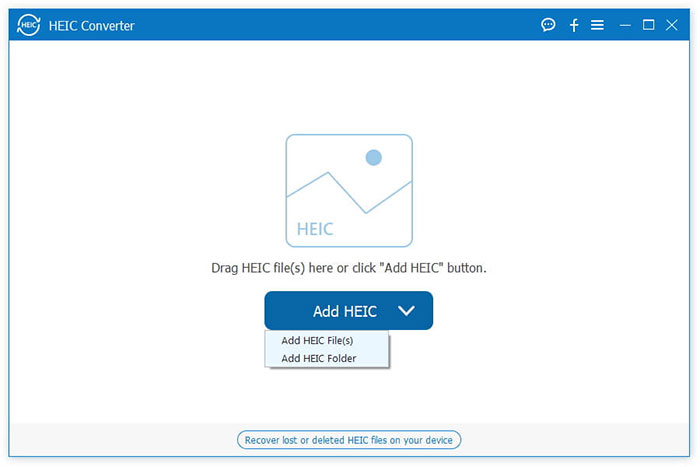 Step 2. Set PNG as output format
After the HEIC photos loading, you can see the conversion settings panel on the right side of the screen. Here, expand the Format option to choose "PNG" as the output format. Then, click on the three-dot button to select an output location to save the converted files.
If you want to maintain the metadata, tick off the "Keep Exif Data" option.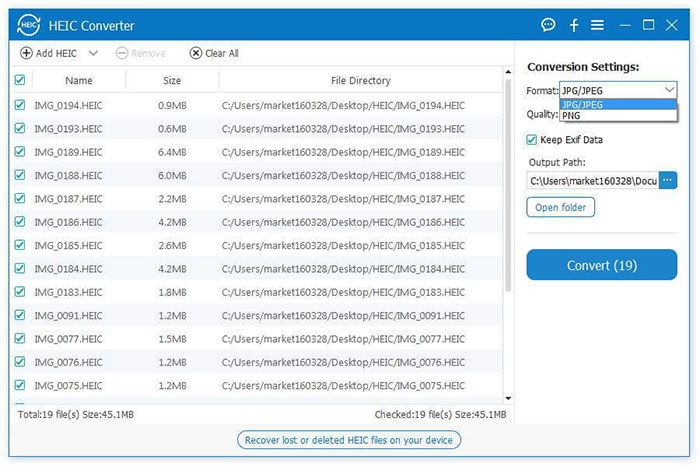 Step 3. Convert HEIC to PNG
Give a simple click on the "Convert" button, the HEIC to PNG conversion will begin immediately. After a few while, you can check the converted PNG images on the output location.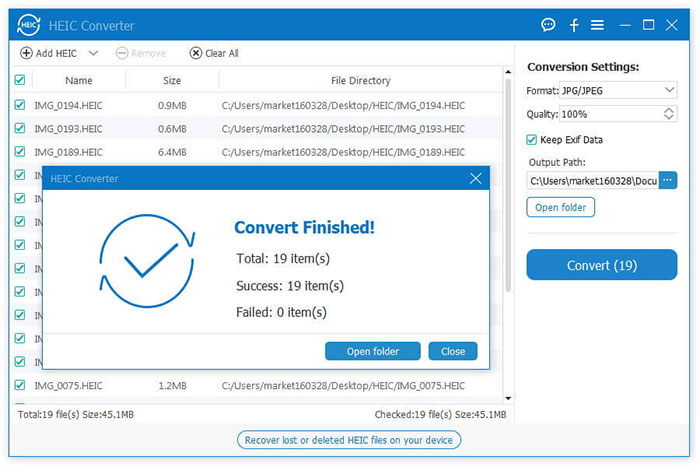 Extended Reading
Method 2: How to Change HEIC to PNG Online
If you only have a small number of HEIC images to convert to PNG, and don't want to bother to install software. Then you can use an online HEIC to PNG converter, such as https://heic2png.com/. This online converter is free and does not require registration. However, like other free online conversion tools, heic2png can process up to 50mb files at a time. Therefore, if you have a large number of HEIC files to process, we still recommend you to use method 1.
How to convert HEIC file to PNG online?
Open the browser on your computer and go to the website: https://heic2png.com/
Click the "UPLOAD FILES" button and select the HEIC images you want to convert. You can also drag the files to the "Drag Your Files Here" area to start uploading.
After uploading, this online conversion tool will convert them one by one, and select suitable compression parameters for every file.
After the conversion is complete, you can click "DOWNLOAD" to download the converted PNG image to your computer.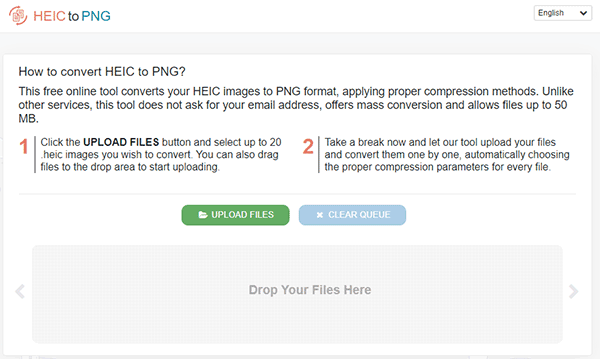 Method 3: How to Convert HEIC to PNG on PC/Mac for Free
With the development of software technology, many photo editors are now compatible with HEIC. For example, Paint 3D on Windows 10 can open HEIC and convert it to PNG format. For Mac users, you can also use the Preview application built in Mac to implement HEIC to PNG conversion.
However, these photo editors have obvious shortcomings. For example, Paint 3D can only convert one picture at a time. It only works on Windows 10, and other Windows systems do not support this feature. In addition, whether it is Paint 3D or Preview, there is no way to customize the photo quality.
How to Convert HEIC to PNG on Windows 10:
Locate to the HEIC image on your PC, right-click on it and choose "Open with" > "Paint 3D".
Head to the upper left corner and click on the "Menu" option.
Choose the "Save as" option and then "Image". The save-as dialog will appear.

Under the "Save as type" section, choose "PNG" in the drop-down list. Here, if this HEIC image contains transparency and you want to keep it, you can check the box next to "Transparency".

At last, you can click on the button "Save" to start converting the HEIC image to PNG.
Remind you again: Although MS Paint 3D is pre-installed in Windows 10 and is free to use, it can only convert one HEIC image at a time. Therefore, if you have a lot of HEIC images and want to convert HEIC in batch, this is not a good choice.
How to Convert HEIC Image to PNG on Mac:
Launch the Finder app on your Mac, find the HEIC images you want to convert, select them all and right-click on one of them to choose "Open with" > "Preview".
Go to the top menu to choose "Edit". Then, choose "Select All" to highlight all HEIC images in Preview.
Then, navigate to the "File" menu and select "Export Selected Images". This will bring out the export dialog. Just choose an output location to save the converted images and click "Options" to show more options.

Unfold the "Format" drop-down list and choose "PNG". Then move the quality slider to determine the image quality you want.

After the above steps are completed, click the "Select" button, and then there will be a progress bar to tell you the progress of the conversion.
After the conversion is complete, you can go to the destination folder to find the converted PNG image.
Learn More:
Method 4: How to Change HEIC to PNG on iPhone
First of all, I regret to tell you that if there is no third-party application, you cannot directly convert the existing HEIC image to PNG on the iPhone. In other words, you need to download the photo converter application to complete the image format conversion.
In fact, you can go to the "Settings" app before taking photos with your iPhone, select "Camera" and tap "Format". Switch from "High Efficiency" to "Most Compatible". After that, the photos you take with the phone will be automatically saved in JPEG format instead of HEIC.
Wrapping Up
Based on the above sharing of the four methods of how to convert HEIC to PNG, you should know how to do it now. Under normal circumstances, you can easily view and edit HEIC format pictures on iOS and Mac devices. But when it comes to other platforms and devices, you have to follow the guidelines shown above to complete the HEIC to PNG conversion.
If you don't mind the shortcomings, the pre-installed Paint 3D, Preview, and online conversion tools can all do the job. However, HEIC Converter is the most powerful, not only easy to use, but also capable of converting HEIC in batches. If you have any questions, please leave a message below.
Related Articles:
Free HEIF/HEIC Converter You Can't-Miss
HEIF vs. JPEG: What is the Difference?
Complete Guide on How to Connect iPhone to PC and Transfer Files?
Different Ways to Download HEIF Images from iPhone to Mac/PC
[Solved] How to Permanently Delete HEIC Photos on iPhone or iPad?
How to Transfer Photos from iPhone to External Hard Drive? [6 Ways]