Full Comparison between HEIC vs JPEG: Which is Better?
"I just realized that our iPhone photos were taken in HEIC format and backed up to Google Photos in HEIC format. Does this mean that all the photos we took last year were of lower HEIC resolution, even if they were converted to JPEG for viewing on a computer, they were still of low resolution? Also, is there a way to convert all these photos to JPEG at once? Except for Google Photos and our iPhone, if we don't convert them, we can't open them anywhere." -- from DTehrani
With the release of iOS 11, Apple announced that the HEIC file format will replace the JPG format. Maybe you have always been familiar with JPEG/JPG, but you are relatively unfamiliar with the format of HEIC. And also very confused about this move of Apple. If you want to know what is an HEIC file, why Apple released a special image format HEIC instead of JPG, what is the difference between HEIC and JPG, then you are on the right page.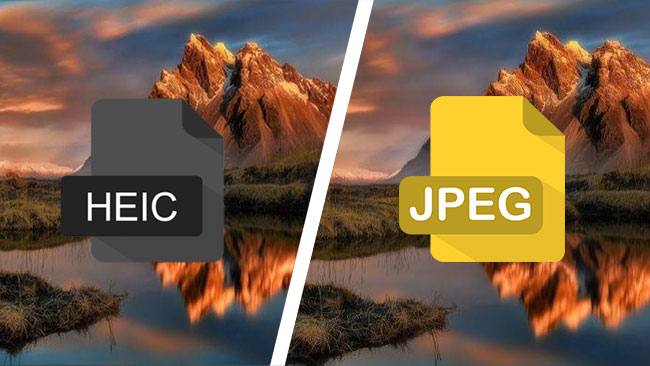 Part 1: HEIC vs JPEG: Compatibility
The main reason why the JPEG file format has become the most popular image format is its strong compatibility. It supports almost all operating systems, including Android, Mac, Windows, iOS and UNIX.
The HEIC image file format can only be opened on iOS devices running iOS 11 and Macs running macOS High Sierra. Users cannot open HEIC files on Windows systems, Android devices, or older macOS systems and any other devices, unless you convert HEIC images to JPG format first.
Part 2: HEIC vs JPG: File Size
In terms of file size, HEIC has a clear advantage over JPG. HEIC uses efficient picture coding. Compared with standard JPEG images, the compression rate of HEIC format is twice higher, which means that JPEG format images consume twice the storage space of HEIC. You may be worried that the file size is small, whether it is at the expense of the quality of the picture? Don't worry, HEIC uses an efficient image format to completely preserve the details of the image.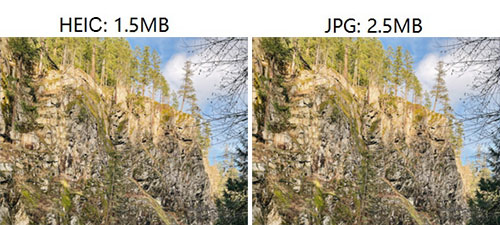 You May Need:
Part 3: HEIF vs JPEG: Image Quality
Many users believe that the image size of HEIC is much smaller than that of JPEG, so the quality of JPG files is definitely higher than that of HEIC. Actually not. As long as you try to compare the same images saved in these two file formats, you will find that the HEIC file format can preserve the details of the image, and even capture the smallest details, allowing you to get a clearer image. In terms of depth information, transparency, and extended dynamic range, the HEIC image format has more advantages than JPEG images.
Part 4: JPEG vs HEIC: Nature
The HEIC image format is much more flexible than JPG. First of all, the HEIC format can save multiple images in one file, not only for single photos, but also for real-time photos, animation sequences, and continuous shooting photos. This makes it possible for HEIC to become an alternative to GIF. The JPG format can only save one image in one file. This means that you need to keep a lot of pictures in your phone, and it will take a lot of time to transfer these pictures to other people or other devices.
Part 5: JPG vs HEIC: Color
In terms of transparency, the HEIC file format uses 16-bit deep colors, while JPEG only supports 8-bit colors. Therefore, the HEIC file format can capture a wider color gamut, providing richer colors and more dynamic scenes. In addition, HEIC is editable, which allowing you to rotate and crop HEIC images without saving them again. In order to allow users to preview faster and save space, HEIC images also support multi-resolution representation of the same file, such as multiple exposures or stereoscopic 3D images.
Part 6: HEIC vs JPEG: Advantages and Disadvantages
JPG, should be the most widely used file format, it can be used in any operating system, including Windows and Mac. You can freely share JPEG images between different computers and systems. In comparison, HEIC has many more limitations. Some commonly used image editing software, such as Photoshop, cannot recognize HEIC files.
However, HEIC is not useless. For the same file, HEIC format is much smaller than JPEG, even half the size of a JPEG image, while preserving the details of the original image. Storing a large number of files in HEIC format will save a lot of storage space on your hard drive. Moreover, HEIC files can save multiple images in one file, which is more flexible than the JPG format. This makes HEIC files a better choice for professional photographers.
Learn More:
Extra Tip: How to Batch Convert HEIC to JPEG with One Click
If you want to batch convert multiple HEIC images to JPEG/JPG without sacrificing image quality, we recommend a multifunctional HEIC Converter. Using this converter, you can complete unlimited file conversion from HEIC to JPG or PNG (see how to convert HEIC to PNG here) at one time, and retain Exif information well. It can work on both Windows and Mac platform.
Key highlights of HEIC Converter:
Converts HEIC to JPG/JPEG/PNG on Windows/Mac without image quality loss.
Supports keeping Exif data during the conversion.
Batch conversion is well supported.
Allow you to adjust picture quality before conversion.
Easy to use, 1-click operation is enough for the conversion.
Work well with overall iOS devices, including iPhone 12/12 Pro (Max)/12 mini, iPhone 11/11 Pro/11 Pro Max, iPhone X/XR/Xs/Xs Max, iPhone 8/8 Plus, iPhone 7/7 Plus, iPhone 6/6S/6 Plus, iPods, iPads, etc.
How to convert HEIC files to JPEG/JPG via HEIC Converter?
Step 1. Install and launch HEIC Converter on your computer. If your HEIC files are saved in your iPhone, iPad, or iPod, you need to connect the iDevice with the computer. If the HEIC files are on the computer, you can ignore this.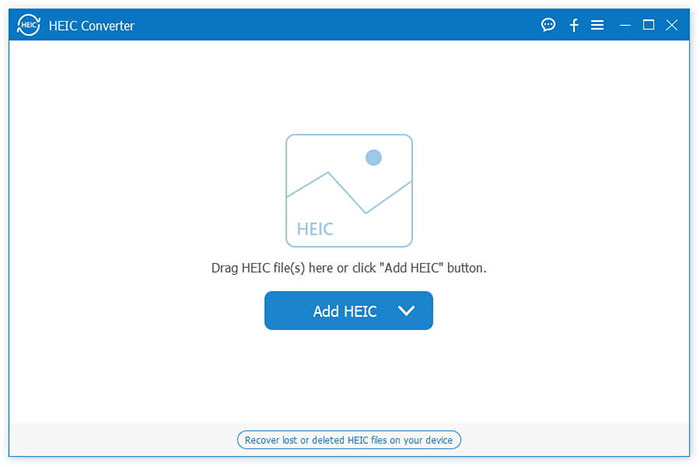 Step 2. Click "Add HEIC" to import HEIC photos to the program, or you can drag HEIF/HEIC images to the program directly. For HEIC photos from an iDevice, you can find them from the path "This PC\Device Name\Internal Storage\DCIM".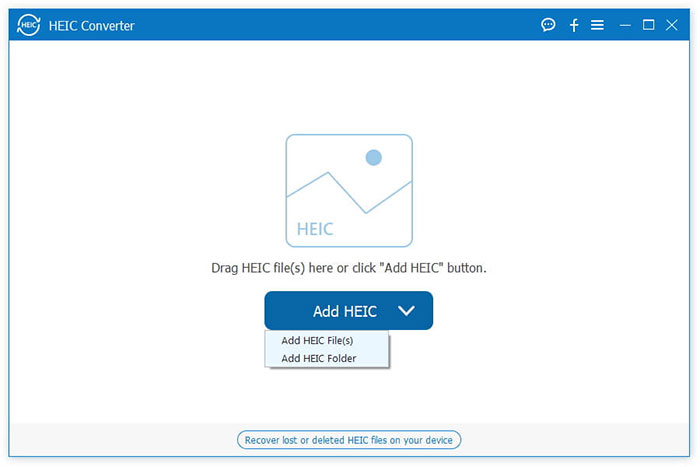 Step 3. All the imported HEIC images will be listed in the program interface. Select the one(s) you want to convert, and set "JPG/JPEG" as the output format. Check or uncheck "Keep Exif Data", and then choose an output path.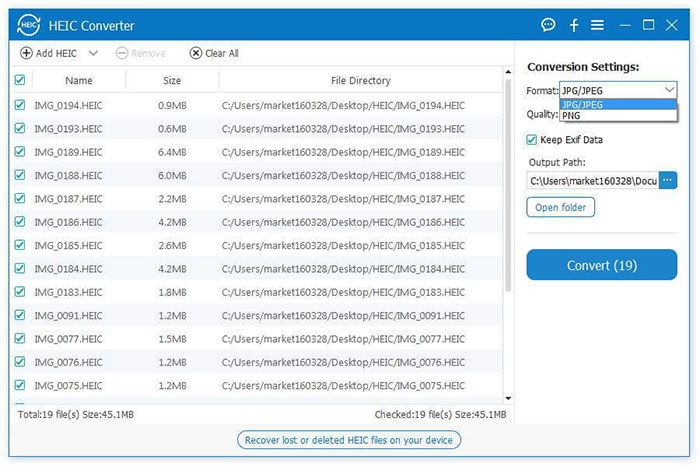 Step 4. Start the HEIC to JPG conversion by clicking on the "Convert" button. When the conversion completes, your can click the "Open folder" option to view the converted images.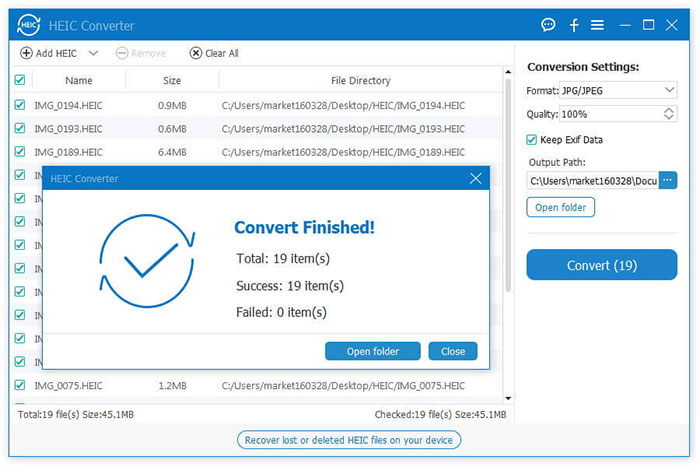 Summary: HEIC vs JPEG, Which is Better?
This article covers almost all the main content about HEIC vs JPEG. Based on the above comparisons, we can conclude that, except for compatibility, HEIC is an excellent format in almost all aspects. It takes up less storage space while maintaining higher image quality.
Of course, compatibility is also an issue that has to be considered. Therefore, you need to master the method of converting HEIC to JPEG. Choosing HEIC Converter, you will have no worries.
How to switch back to shooting in JPEG format on iPhone?
If you still want to take photos in JPEG format on your iPhone, you can go to "Settings" > "Camera" > "Format", then select "Most Compatible" and change the camera's capture settings from HEIC to JPEG.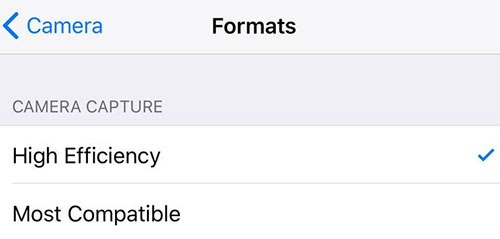 Related Articles:
Free HEIF/HEIC Converter You Can't-Miss
Want to Batch Convert HEIC to JPG? 9 Converters Can Do This (2021)
Complete Guide on How to Connect iPhone to PC and Transfer Files?
Different Ways to Download HEIF Images from iPhone to Mac/PC
[Solved] How to Permanently Delete HEIC Photos on iPhone or iPad?
How to Transfer Photos from iPhone to External Hard Drive? [6 Ways]