Don't Miss the Top 9 HEIC to JPG Converters (Offline and Online)
HEIC image format is renowned for its low memory consumption and high quality (What is HEIC?). When iOS 11 was released, it replaced JPEG (with the extension of JPG, JPEG, JPE, JFIF, and JIF format) as the default format for Apple devices' photos. However, since then, many Windows and Android users have faced compatibility issues the moment they open HEIC pictures.
Currently, there's a growing demand for the best HEIC to JPG converter to convert HEIC into the commonly used JPG format. So now, let's dig in a little further and explore some of the details about HEIC converters. And after that, you can pick any online or offline tool as per the instructions below.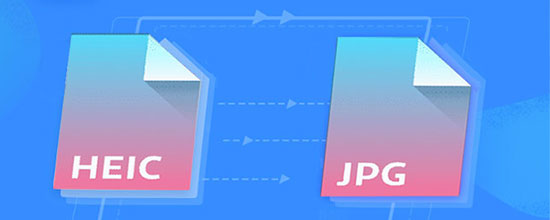 Part 1: What Should I Know Before Using a HEIC Converter?
Here is some common sense about HEIC to JPG converter software and online HEIC converters:
Most downloaded HEIC Converters work faster and safer than Online tools.
HEIC to JPG program constrains reserve EXIF information, taking a little longer time than not preserving the info.
HEIC converters allow you to convert HEIC to JPG in batches and with output Quality adjustment.
Most HEIC converter tools have two versions individually (Win and Mac).
Most paid HEIC Converters can convert HEIC files from iPhones after connecting iDevices to computers.
It's easy to manage photos before/after HEIC conversion.
Online HEIC converters are usually free of charge and have photo conversion number limits as up to 50.
Your private photos are not definitely safe with online converters, though the sites claim to delete the images hours later.
You May Also Need:
Part 2: Best HEIC to JPG Converter – HEIC Converter
As one of the best free HEIC converters, MobiKin HEIC to JPG Converter empowers you to convert 10 HEIC files for free. This smart software works on both Windows and Mac computers. And it especially suits those who intend to convert multiple files at once on a computer. Plus, it is pretty easy to use and allows you to customize your images while converting them to different formats.
Key features of HEIC to JPG Converter:
Easily convert iOS pictures from HEIC to JPG/JPEG/PNG on Windows/macOS computers.
Let you keep Exif data while carrying out the conversion.
Retain the quality of the images.
Upload unlimited photos for conversion all at once.
Allow you to adjust picture quality as you wish.
It won't let out your privacy.
How to convert HEIC files to JPEG/JPG on a computer via HEIC to JPG Converter?
Step 1. Download and install the product on your computer. Run it directly.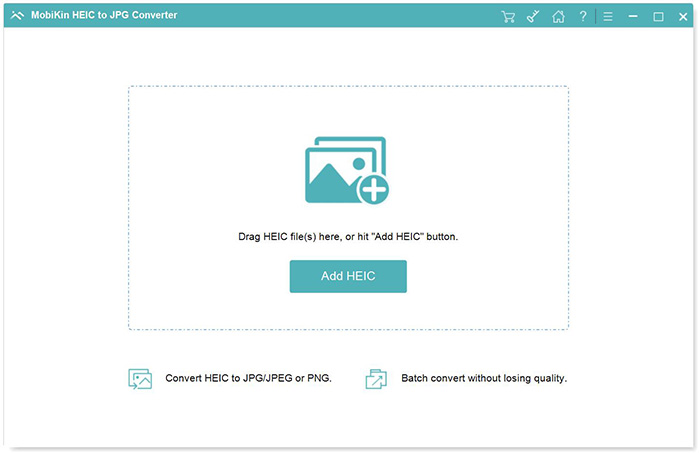 Step 2. Click Add HEIC; or simply drag HEIF/HEIC photos to the program.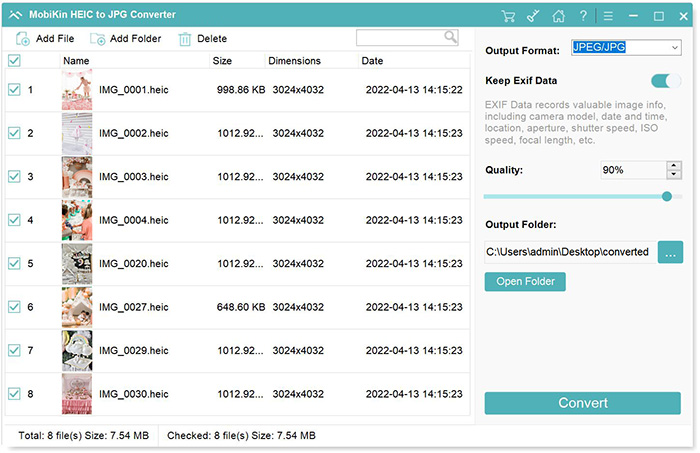 Step 3. Your HEIC photos will be on the program interface. (iPhone photos not showing up on PC?) Pick your desired ones to convert, choose the output format, check or uncheck "Keep Exif Data", and set the output path.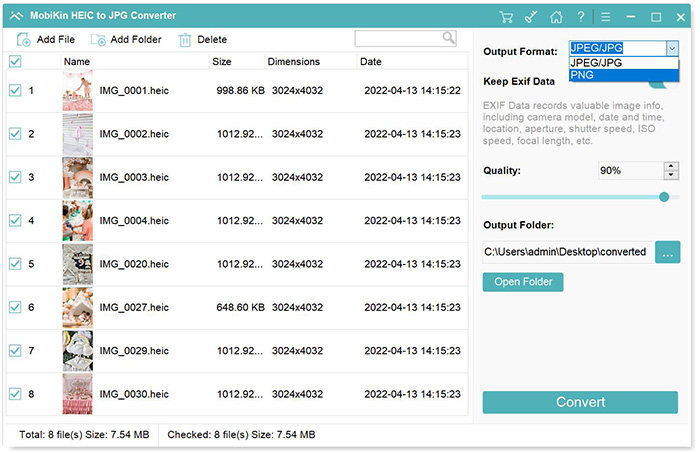 Step 4. Tap "Convert" to convert HEIC to JPG/JPEG/PNG. Once done, click the "Show in folder" option to check your photos on your computer.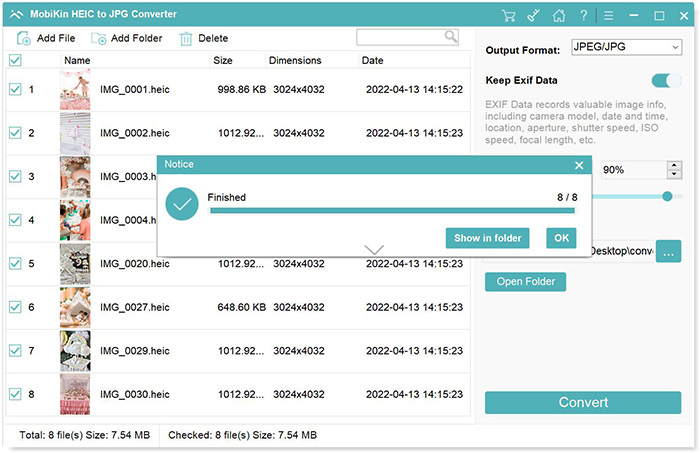 Merits:
The supported file extensions: .heif, .heic, .jpg, .jpeg, .jpe, and .png.
Let you set JPEG quality and keep or remove EXIF metadata for JPG images.
Enable you to trace the converted photos easily on your computer.
Ad-free interface.
Free download.
Fast and secure conversion.
Drawbacks:
Work with:
Windows 11/10/8/8.1/7/Vista/XP (SP2 or later).
Mac OS X 10.7 or up (including macOS Big Sur and macOS Monterey).
Size:
12 MB (Win); 15.7 MB (Mac).
Part 3: Other Top 8 HEIC to JPG Converter Software
#1. iMazing HEIC Converter
What's the best app to convert HEIC to JPG? We're sorry to tell you that there is almost no app for HEIC conversion, except for some desktop programs. iMazing HEIC Converter is among the most outstanding ones.
In some iMazing HEIC converter reviews, it is described as a great tool to eliminate the risk of handling personal photos - converting HEIC to JPEG/PNG. It converts images in batches, customizes image quality, and strips EXIF data.
Work on:
Windows 10, 8.1, 8, 7, and Vista; macOS 10.10 or higher.
Size:
30.6 MB (Win); 26.9 MB (Mac).
Merits:
Let you adjust output quality before conversion.
Drag & drop supported.
No limit on adding HEIC files for batch conversion.
Drawbacks:
A bit slower compared to other tools.
Pictures are read-only or cannot be modified.
Require to relaunch if the added HEIC needs to be removed from the interface.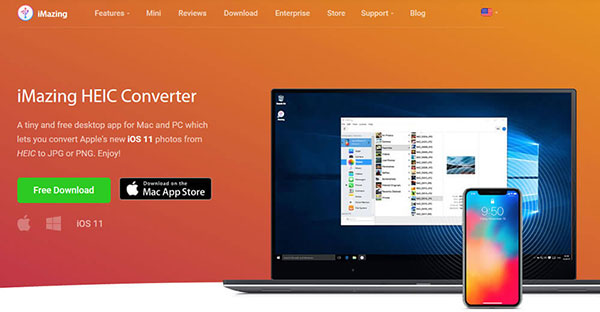 2. CopyTrans HEIC for Windows
CopyTrans HEIC for Windows is a free HEIC converter for Windows 10/8/7 (personal use) and convenient to convert HEIC to JPEG locally on Windows PCs, in accordance with CopyTrans HEIC reviews.
It fixes all blank HEIC thumbnails, supports batch image conversion, and lets you keep your original EXIF data. Further, it adds the support for viewing HEIC files on Windows to built-in photo viewers on your computer.
Work on:
Size:
Merits:
Native Windows Photo Viewer support.
HEIC thumbnail preview.
Print your HEIC files.
Batch image conversion.
Compatible with MS Office.
Drawbacks:
Rotate images 90°anti-clockwise in batch conversion.
It does not work on Mac computers.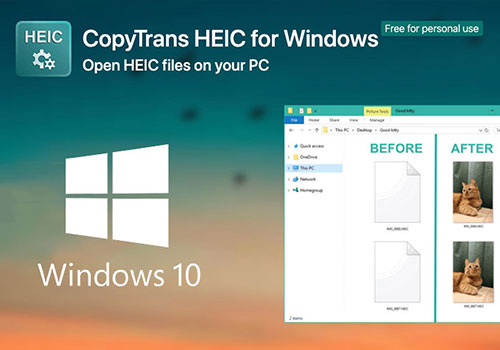 3. FonePaw HEIC Converter
FonePaw HEIC Converter, software to convert HEIC to JPG/JPEG/PNG, is a solid piece of free software for HEIC image conversion. This product can quickly process the photo format on its clean and minimalist interface in one go. It supports drag & drop and offers output setting options - JPEG quality & EXIF metadata.
Work on:
Windows 10/8.1/8/7/Vista/XP.
Size:
Merits:
Simple interface.
Keep pictures in lossless quality.
Drawbacks:
Outdated interface.
File size increases significantly (4x).
Sometimes can't recognize HEIC files.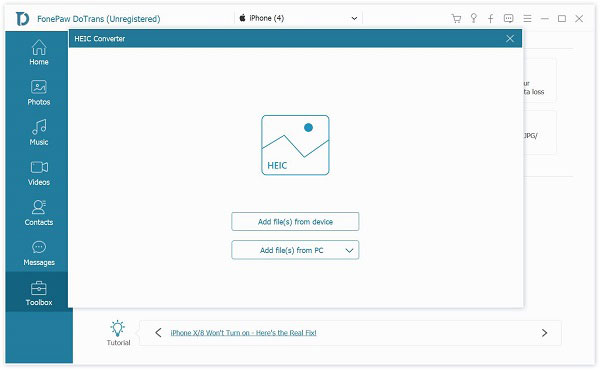 Know More:
4. TunesBro HEIC Converter
Coming preloaded with batch conversion mode to help convert HEIC files of up to 500 photos, TunesBro HEIC Converter can convert HEIC and HEIF to JPG or PNG locally. It can well adjust the output quality before conversion, though it cannot maintain maximum quality.
Work on:
Windows 10/8/7/XP; MacOS 10.13/10.12/10.11/10.10.
Size:
11.1 MB (Win); 15.2 (Mac).
Merits:
Let you specify the output image quality level.
Zero-loss conversion of HEIC files.
Drawbacks:
Offer no customer support for its free version.
Fail to recognize some HEIC files occasionally.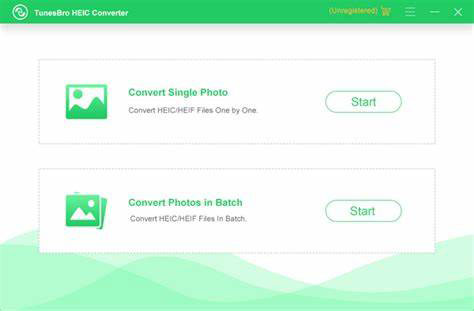 5. Apowersoft Free HEIC Converter (Online)
Apowersoft HEIC Converter offers a free Online HEIC Converter that lets you seamlessly convert 30 HEIC images can be converted in one go. It gives you the option to keep or remove the EXIF data in the converted file. Please note that the uploaded files will be deleted at once from their servers once the conversion is over.
Work on:
Merits:
Adjust JPEG quality and keep/remove EXIF metadata.
Display the sizes of input and output images.
Hypertext Transfer Protocol Secure is automatically enabled on its website.
Drawbacks:
Come with a Mac version (it doesn't support Mac computers).
You have to download converted files from cloud servers.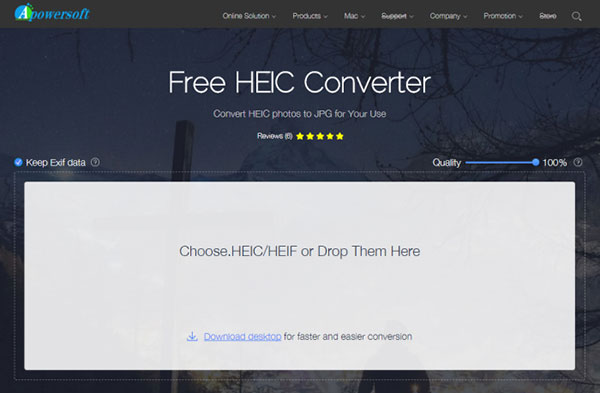 6. iMobie HEIC Converter (Online)
Previously known as AnyGet HEIC Converter (from HEIC to JPG converter reviews), iMobie HEIC Converter is a powerful and reliable tool, which supports converting to the most common formats like JPG, JPEG, PNG, and GIF.
Its interface is clean, and it can handle batches of images without a problem. You can utilize it to set the output quality of the image or file, select image quality, and reserve the metadata of the pictures.
Work on:
Merits:
1-click batch conversion.
Quick and hassle-free processing.
Drawbacks: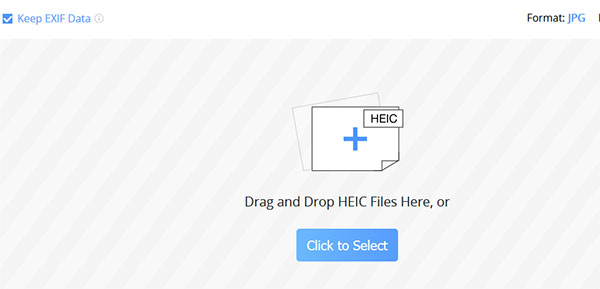 7. Aconvert Image Converter (Online)
Want to convert HEIC to BMC, GIF, JPEG, PNG, TIFF, PNG, BMP, ICO? Just try the online Aconvert Image Converter. It provides an URL address of the image you want to convert, delivering options to change output image size before conversion. It is entirely free to use, but you have to bear with many ads and convert files one by one.
Work on:
Merits:
Upload iPhone files to Google Drive & Dropbox after conversion.
Provides QR code for downloading output image with a phone.
Support up to 200 image file formats for conversion.
Drawbacks:
Ad-based interface.
Batch image conversion is not supported.
There is no option for output quality setting.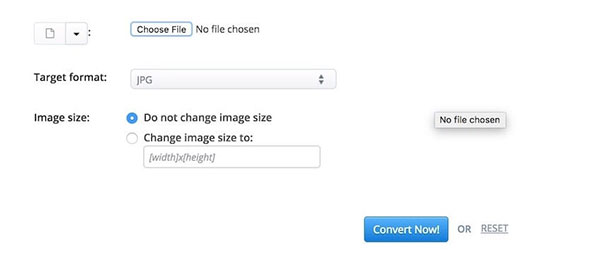 8. HEICtoJPEG Converter (Online)
As a remarkable online HEIC to JPG program, HEICtoJPEG Converter is completely free. It can converter the photos at high speed and produce output without losing the image quality. Note that it will automatically remove all the converted images within 30 minutes from its server. And it does not mention anything about the uploaded HEIC images.
Work on:
Merits:
Drag and drop supported.
One-tap download for output files.
Ad-free interface.
Show the size of output JPEG files.
Drawbacks: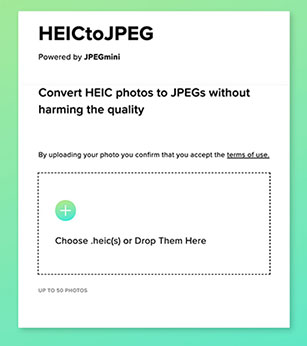 Summary
You may now want to ask, "what is the best free HEIC to JPG converter"? Actually, any converter that claims to be free delivers limited functionality at present. Honestly, MobiKin HEIC to JPG Converter is more competitive with other counterparts, characterized by its seamless format conversion, further image editing, affordable price, etc.
Was the article helpful? Please leave your comments or suggestions. Your feedback is important.
Related Articles:
HEIF vs. JPEG: What is the Difference?
[Fixed] How to Fix HEIC Display Issue?
Free HEIF/HEIC Converter You Can't Miss
How to Transfer Photos to iPhone 12/11/XR/Xs/Xs Max/XR/8 Plus/8?
7 Ways to Transfer Photos/Pictures from Computer to Phone (iOS & Android)