4 Ways to Download HEIC as JPG in Google Photos [Step-by-Step Guide]
"Recently, my Google Photo's download as HEIC files, which I can't use - how do I get back to JPG?" -- from Google Photos Help
An HEIC file is becoming a darling of newer iOS systems due to the tangible benefits it offers in areas like improving memory efficiency. Yet problems arise when you download your items from Google Photos to a PC or Android phone - you cannot open the files because of the poor compatibility. So, changing the original .heic to a commonly-used .jpg is a sound idea. (HEIC vs. JPEG: Which is better?)
Well, this easy tutorial will walk you through the methods for converting HEIC to JPG from Google Photos. And you can then pick any solutions to complete the conversion as per your needs.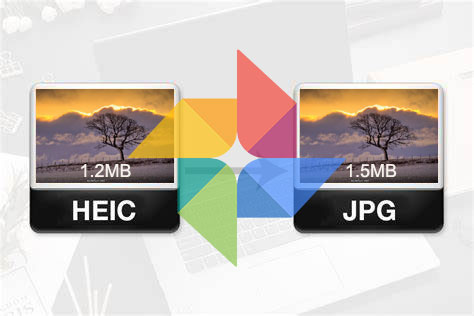 Part 1: Can You Convert HEIC to JPG in Google Photos?
iOS 11 gives HEIC (HEIF format) life and lets its users save images with the HEIC extension. This format has a high-compression rate while keeping the original quality of the images. It takes half the storage space of JPG with equivalent quality. However, many iDevice users may find that it doesn't support devices like Android phones or PCs, resulting in the demand for converting HEIC to JPG.
So, why are my Google Photos downloading as HEIC files? HEIC files are added to Google Photos to save your iOS photos in its service. But when you intend to download them onto your PC, compatibility issues arise again. Well, many Apple fans don't know how to download HEIC as JPG or JPEG from Google Photos. If Google Photos converting HEIC to JPG is bothering you as well, stay with us to go through the viable solutions below.
You May Like:
Part 2: How to Download HEIC Photos as JPG in Google Photos Manually
It's easy to open and display all HEIC files while browsing through the Google Photos gallery, but you may lose viewing support when you download these photos offline. Still, you can change Google Photos HEIC to JPG if you know the browser's image saving feature.
How do I convert HEIC to JPG in Google Photos?
Open a browser on your computer and head to the Google Photos website.
Log in to your account if you are not already.
Click the HEIC photo you want to download as JPG to make sure it opens in full-preview mode.
When the image opens in the preview mode, right-click on it and choose "Save Image As". It will let you store the chosen pictures on your computer.

Choose a folder to save your HEIC images in JPG format. (You can also try the best Google Photos alternatives here if you find it isn't easy to use)
The downloaded photos aren't in the same resolution as the original one. If you want to get full resolution, simply preview the photos on Google Photos and press Ctrl + the minus sign on Windows (Command + the minus sign on Mac) to zoom out. Then right-click the pictures and choose "Save Image As".
Part 3: How to Convert HEIC File in Google Photos with an Online Converter
If you just want to convert HEIC photos to JPG format without a program, you can make the conversion with a free HEIC to JPG converter online. It is convenient for users to process Google Photos downloaded HEIC as JPG on Windows, Mac, or iPhone but only works for no less than 50 photos. To convert HEIC Google Photos with an online converter, you can:
Open the Free HEIC to JPG Converter Online on the web from Windows, Mac, or iPhone.
Tap the "Add HEIC/HEIF" button to upload any HEIC images online.
Then the free converter will change the HEIC to JPG automatically.
Wait for a while, and click the "Download" button to save the converted JPG files.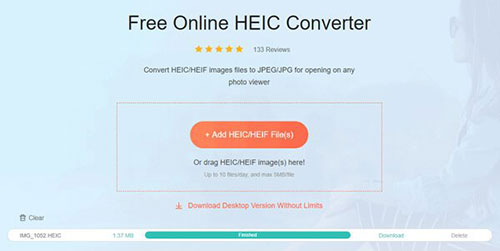 You Might Also Need:
Part 4: How to Convert HEIC Google Photos to JPG/JPEG with HEIC Converter
When you get HEIC files from Google Photos, you could take advantage of MobiKin HEIC to JPG Converter to gain the JPG or JPEG files without trouble. The best part of the tool is that it facilitates you to do the conversion without limiting the number of loads. It offers a free trial and lets you convert your iOS photos from a PC/Mac while providing further personalization.
Core features of HEIC to JPG Converter:
Convert HEIC to JPG after getting photos from Google Photos.
Batch convert HEIC to JPG/JPEG/PNG without image quality loss.
Allow you to keep Exif data after the conversion.
Won't harm the quality of the photos.
Upload unlimited photos for conversion at a time.
Let you adjust picture quality at your will.
It won't divulge your privacy.
How to download and convert Google Photos from HEIC to JPEG/JPG via HEIC to JPG Converter?
Step 1. Go to Google Photos and sign in to your Google account. Select the HEIC images you want to convert and click on "More" > "Download." The photos will be stored in the "Downloads" folder as a ZIP file. Next, go to the folder and decompress the file.
Step 2. Download and install HEIC to JPG Converter on the computer. If you would like to convert HEIC pictures from your iPhone, iPad, or iPod touch, please link the device to the computer via USB.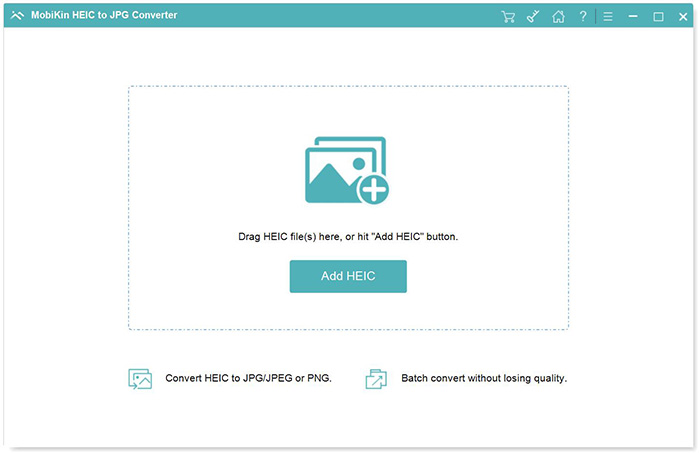 Step 3. Click "Add HEIC" or drag HEIF/HEIC files to the tool directly. For HEIC photos from an iOS device, you can find them from "This PC\Device Name\Internal Storage\DCIM". (Photos disappeared from iPhone?)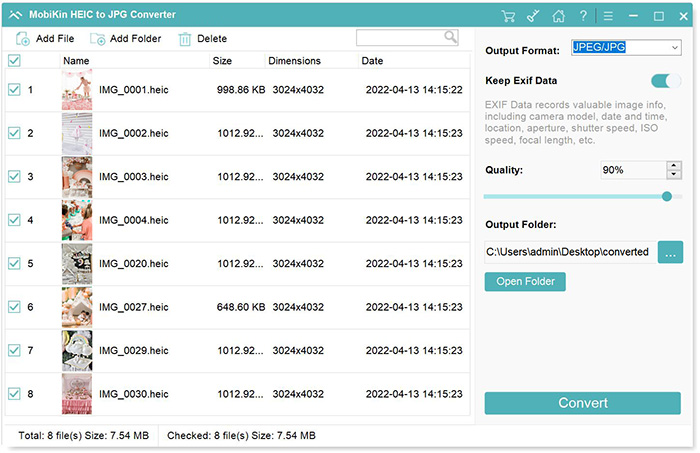 Step 4. Your HEIC pictures will be displayed on the program interface. Select your desired ones, choose the output format as "JPG/JPEG", check or uncheck "Keep Exif Data", and set the output path.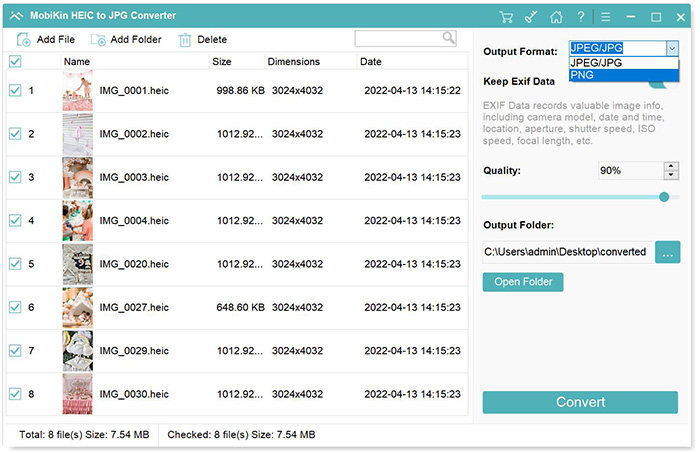 Step 5. Click "Convert" to turn HEIC into JPG, JPEG, or PNG. After the task completes, please click on "Show in folder" to view your photos.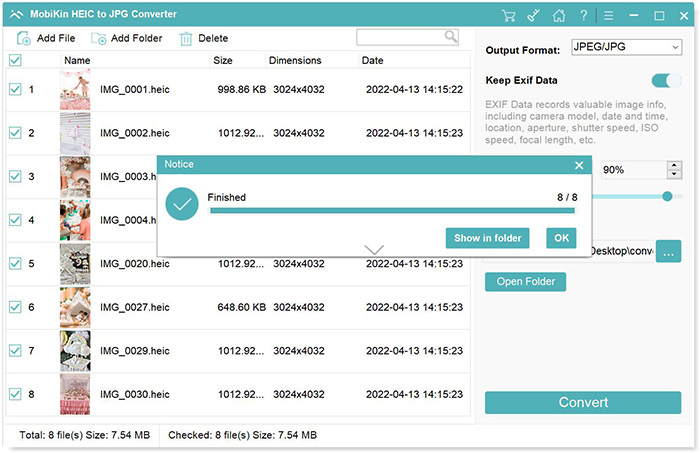 Part 5: How to Convert HEIC to JPG with Email in Google Photos
Email is safe and convenient for you to download JPG from Google Photo as long as you own two Email accounts. You don't even have to download a program before going any further. This way is customized for you.
To accomplish this, you can select the HEIC files you need to convert and save them as attachments before getting them out to your Email account. Next, you'll need to download the photos from your mailbox and get the JPG images without a hitch. In doing so, the photos are compatible with most commonly used OSes, including iOS, Windows, Mac, and Android.
Nevertheless, it may not be easy to upload the items if your photos are too large. Gmail, let's say, has a size limit below 25MB. Given that, HEIC Converter mentioned above is surely your best bet.
Ending Words
That's all for how to download HEIC files as JPG from Google Photos. We now believe that most of you would like to choose MobiKin HEIC to JPG Converter since it gives you the freedom to batch convert tons of HEIC photos in simple clicks or simply by drag and drop. Moreover, it lets you customize the pictures that suit you best. Finally, any questions? Please let us know below.
Related Articles:
Don't Miss the Top 9 HEIC to JPG Converters (Offline and Online)
Want to Batch Convert HEIC to JPG? 9 Converters Can Do This (2023)
Google Photos Backup Not Working? Here's the Full Fix & Best Alternatives
CopyTrans HEIC Review: What Is the Best HEIC to JPG Converter?
iPhone Pictures Not Showing up on PC? Here's the Real Fix!