Best Weather Apps for iPhone 14/13/12/11/X/8/7/6
With the rise of iPhone sales, the iPhone application developers have been estimated to provide high class of iPhone mobile application development services. Nowadays, the iPhone app services are being developed for monitoring the health of patient, sick, those that have already cured from diseases etc. Imagine getting stuck in the middle of a sudden downpour without a rain jacket or umbrella, or wishing you could be out snowboarding but don't know what it's like on the mountain. Fortunately it is now very easy to save yourself the hassle of being unprepared for upcoming weather conditions by using these iPhone Weather apps.
With everyone being out and about, people always frequently check out the weather on their mobile phones so they can properly plan their outdoor events. And we know that the iPhone has a plethora of applications to help you find out almost every detail about the data you're going to need to find and give you the suggestions about what you're going to wear for the day, and even go storm chasing if you would like! These applications are almost always low cost or even free. Thus, in this article, we have collected and picked several weather apps for your reference. You can compare them and download the one you like to your own iPhone easily.
5 Different iPhone Weather Apps to Meet Your Demands
1. iWeather - $1.99
iWeather is a great weather application from the folks at NPC NV. It allows users to input a city in the input field and then press search. You will then be guided to a webpage showing a graphic representation of the weather over a Google Map type background of the city.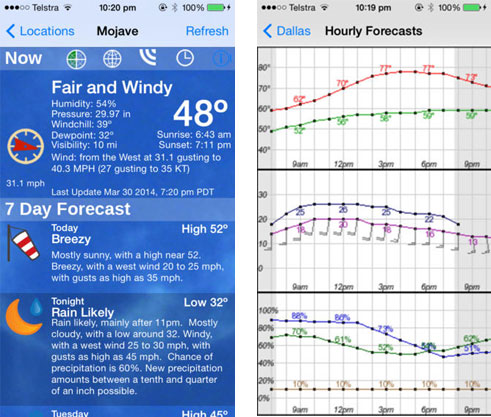 2. Weather Channel - Free
Believe us, Weather Channel will take your weather experience to the next level after using it. It features full screen maps, extended forecasts, severe weather alerts, and more. Stay safe by using the hurricane central link too. Below is the detailed features about this excellent apps:
- Detailed forecasts can help you plan your day, week or even the next hour freely;
- Share and interactive with the app developer, then you'll have a personalized weather history;
- Push alters & badges function can help you know about the severe weather around you. Cool, right?
- Customized photos as background to meet your locations and current weather conditions;
- ...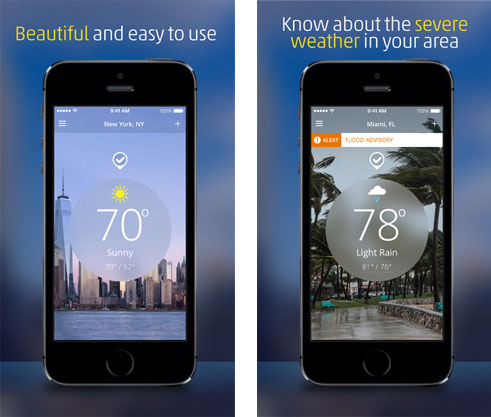 3. Sunrise Sunset Lite - Free
This app is a great app for simply finding out what time the sunrise and sunset are. It can calculate your location using GPS and adjust for your time zone and daylight savings time. In addition, it will also tell you when dawn, solar noon and dusk are, as well as Duration of daylight.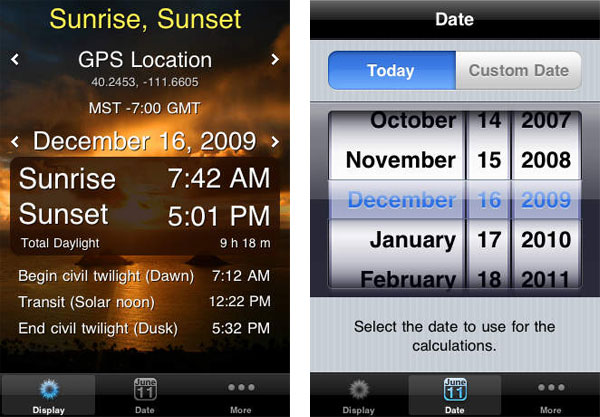 4. Free Digital Temperature - Free
A very simple app that tells you the temperature wherever you are. Using GPS, this app will targets your location and lists the temperature in either Celsius or Fahrenheit. It could be very useful if you are outside hiking, biking, camping or just plain curious.
5. OnTheSnow Ski & Snow Report - Free
If you are an avid ski or snowboarder, you will need this app on your iPhone. It contains all the information you will need including detailed snow conditions and snowfall totals for your favorite resorts. There is also twitter integration so you can make the word quickly on awesome snow days. Additional features here is that you are links to avalanche forecasts, directions to arrive there, trail maps and much more. You won't miss a thing with Snow Report.
After owning these powerful apps, you can fully enjoy your digital mobile life as you like. And in order to ensure you can enjoy the most convenient mobile life with your iPhone, here we could like to recommend MobiKin Assistant for iOS as your daily assistant. With it, you can greatly protect your personal data from deleting, losing or formatting.
Related Articles
Calendar App for iPhone You May Like
Send Long/Large Videos on iPhone: The Definitive Guide (7 Ways Included)
How to Transfer Text Messages from iPhone to Computer?
iPhone Music Transfer: How to Transfer Music from iPhone to Computer Freely?