Best Free Apps for iPhone 14/13/12/11/X/8/7/6
It is no doubt that various applications for iPhone in App store is an attractive feature that people decide to get iPhone as their personal mobile phone. And it is also proved that iPhone apps have taken unlimited convenient and pleasure into people's life. So when you get an all-new iPhone 6 Plus or iPhone 6, you may wish to download some free apps on iPhone for enjoyment, right? For example, you can download security apps, camera apps, photo editing apps, voice memo apps,radio apps on your iPhone.Then in this page, we have collected and picked up 10 different iPhone apps for your reference. You can go through them and get the one you're interested in according to your own needs.
Top 10 Best iPhone Apps that You Can't Miss
1. TodoMovies 3 - Free iPhone Movie Apps
TodoMovies 3 enables the user to browse and search movies from a rich database of movies. You can save your searches and watch them at a later date but you get to watch a trailer of the movie with a single tap. After watching, you rate it and save it under watched list. You can also read the profiles of your favorite casts. The amazing feature with this App is that it notifies you when movies get released in theaters plus an update news reader. This great application will play all trailers even when the phone is in silent mode.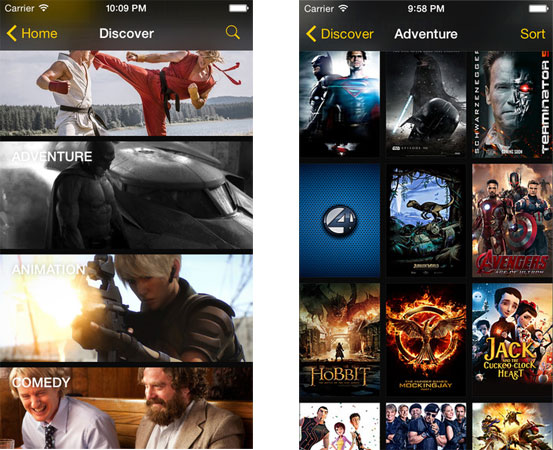 2. Triposo
Triposo is useful to both iPhone and iPad users. This is a free travel guide application with variety of destinations. Its amazing feature is that it builds a city walk for the user. It is very useful to visitors especially when you are offline and had downloaded and saved your App data, it will function normally. The dashboard is enhanced with useful features such as top city of your choice, city map, list of restaurants, weather, and currency converter.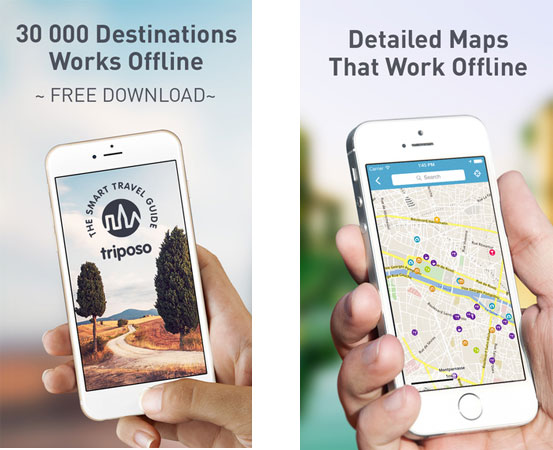 To download this application go to: https://itunes.apple.com/gb/app/triposo/id467053028
3. Photosynth - iPhone Camera App
As a prominent panorama app, Photosynth makes it easy to create and share your photos. You get likes, comments and follows according to your activity on the community. By any chance you get popular, you are featured and seen by millions of other application users. The good thing about this app is that it has a computer version enabling users to create panoramas from all directions thus capturing a full sphere.
4. Runkeeper - iPhone Health App
Previously this application had a paid and a free version but the developer has combined all the features into one version for free. It is for those who would like to keep a good track of their improvement during exercising activities. It uses iPhone's GPS to track you activities and the routes used and calculate the calories burned. Then you have an option to share your activities online with other users.
To get this app, use the link: https://itunes.apple.com/gb/app/photosynth/id430065256
5. Dropbox
This is an app designed for sharing and storing user files. You can transfer file from your computer to your iPhone device in an easy way. Files stored in Dropbox can be downloaded, view in offline mode and access them anytime. You can also invite other users to view your folders.
6. Reuters
This is a news apps and covers a wide area of topics making it among the best under its categories. Users can customize the news they want to read and get to read those from their country. It has a menu that lets one access pictures, videos , news and what is trending in stock market.
7. 1Password
This is app enables users to store and secure their passwords in a single wallet. It creates strong passwords for all websites, stores them and remembers them and it will log user in to any website they have used before by a simple tap. (Wish to know more iPhone security apps? Here is an article of top 10 iPhone security apps for your reference.)
8. iHandy Level Free
This is a carpenter tool kit app that transforms your iPhone into a spirit level. It gives accurate measurements by just taping the calibrate button.
9. eBay application
This allows you to access one of the world's largest market place. This application enables users to manage their buy and sell activity the easy way from anywhere.
10. Zombie Highway 2
This is a games application where user play it with the goal of surviving. The player is a passenger armed to try and defeat a boatload of strong zombies.
Above is the best iPhone apps for your reference, which one is the best one in your mind? I think different people have different needs, right? Before you start enjoying your digital life with iPhone, here is some tips that you should know:
1. Backup your iPhone data or files regularly, so that you'll never lose something important due to deletion, virus defection, etc. (Click here to learn how to backup or transfer data from iPhone to personal PC.)
2. If you mistakenly deleted something important on the device, don't worry, a simple MobiKin Doctor for iOS can help you get back the lost data immediately.
3. If you're planning to get rid of the iPhone, please be sure all data and personal settings have wiped from the device with no opportunity to restore. Here, you may need to help from a professional data erasing software. Here is a guide of how to erase iPhone data without restoring.
Related Articles:
Send Long/Large Videos on iPhone: The Definitive Guide (7 Ways Included)
How to Transfer Text Messages from iPhone to Computer?
iPhone Music Transfer: How to Transfer Music from iPhone to Computer Freely?
How to Transfer Contacts from iPhone to Computer?
How to Transfer Large Videos from iPhone to PC? (5 Ways Included)