6 Best iPhone Contacts Apps for Windows/Mac Users
We can all agree that Apple's default contact app is not interesting. So more and more iPhone users wish to find an application to replace the the default dialer after they purchased a new iPhone. Of course, there are so many options in the iTunes or appstore, and it could be time-consuming if you take a free trial on every founded apps on your iPhone devices. So in this article, we have drawn up a list of the top 6 iPhone contacts apps for your reference. You can compare the key features and take a trial on them, and finally pick up the best one according to your own needs.
List of the Best Contact Apps for iPhone
6) Brewster - Free
Designed for ios7 and iPhone 5 or later. Available for free in different languages. Like many of the apps that we will review hereunder, Brewster pools your friend's contacts from their social networks profiles and syncs them up with your phone's address book list. It also keeps you updated on the trending stories and people on your social sites like Instagram, Facebook, Twitter, Linked In and Foursquare. You can also read and respond to your mails from inside the app. The app also allows the user to search their contacts with their job, their geographical region or other shared contacts. It has also appeared consistently in the most annoying apps list.
5) Cloze - Free
Just like its name suggests, Cloze brings your emailing and social contacts closer by syncing them with your phone's address book. It highlights your key contacts for quick access and allows you to search for any contact with a set of numbers or name. It saves your profile in check by constantly updating your address book in line with the connected sites. In addition, Cloze allows you to access your social sites by being able to update your status, like, share links and reply to your email. Enjoy one-touch gestures and other customized functions.
On the downside, Cloze uses a lot of your battery power and RAM space. And if you are satisfied with accessing your social sites from their designated apps, then Cloze's ambitious features will most likely be a bother to you.
4) Sync.Me - Free
Sync Me simplifies your contact management by sourcing important info and bio details from your friend's Linked In, Google+, Facebook and VKontakte profiles among others. It brings live to your contact list by adding contact photos from your friend's social sites to each corresponding name. It also adds birthday reminders from the synced sites and makes a digitized gift cards generator for more personalized interactions.
Sync Me supports 3G/WiFi calls, full photo ID call, photo sharing features or simply create a Sync Me contact card that you can share with your contacts.
3) One Touch Dial - $1.99
Just like the others, One Touch Dial is designed to virtually pool together all your social networks into one central command. Your contacts are automatically synced with their subsequent social sites like WhatsApp, Skype, Facebook, Twitter etc. or you can create a new one from within the app. Since it acts as an app launcher, you don't have to leave the app to access your desired social site. One Touch Dialer contact icons are generally large thus making it easier to use by people on the move, young and the elderly.
2) Contacts+ - Free
Contacts+ stand out as the most efficient dialer app just by being simple. It is this attribute that makes it more productive than the others, has fewer bugs and screen freezes. It syncs your phone's address list with the major email and social apps but unlike other apps. It doesn't launch the apps from within itself. This increases the efficiency by decreasing the amount of RAM space used.
It replaces your factory app's grey avatars with your friend's Facebook profile photos and allows full photo ID calls. You can either view your contacts in grid form which is rather attractive or in list format. Long press on your desired contact to call, message or email them.
1) Simpler Contacts Pro - $2.99
This is probably the most popular contact app for iPhone. Reason being its simplicity (since our main aim was to substitute the factory dialer and not every other app) and its housekeeping abilities. The smart dialer helps you delete or merge duplicate contacts, delete unnamed contacts keeping your address book as light as possible. Instant backup your contacts, export them to Dropbox, Google Drive or email. It has T9 features that allow you to make quick searches in your contact list, either by a set of numbers or name. You can add contact photos from your gallery. And it's also suitable for iCloud and Exchange users.
After getting these powerful apps for iPhone contacts, it is no doubt that you can getting a more pleasure journey with your iPhone. But on the other hand, you also need to develop a habit of backup these crucial data to other security places to avoid accidentally deletion, formatting or something like this. So it is really neccessary to get a 3rd-party tool like MobiKin Assistant for iOS to help you backup iPhone contacts, messages, etc. to your personal computer easily.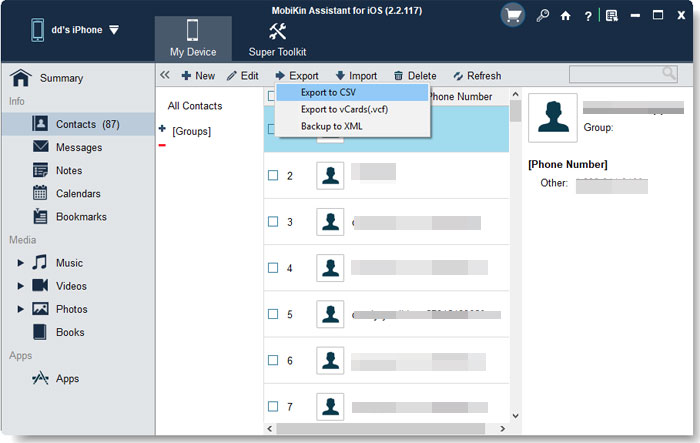 Related Articles:
Send Long/Large Videos on iPhone: The Definitive Guide (7 Ways Included)
How to Transfer Text Messages from iPhone to Computer?
iPhone Music Transfer: How to Transfer Music from iPhone to Computer Freely?
How to Transfer Contacts from iPhone to Computer?
How to Transfer Large Videos from iPhone to PC? (5 Ways Included)