Text Messaging Apps for iPhone
In addition to making a call, texting messages could be another important method to communicate with others, right? And unlike a phone call, SMS messages can be used in any situations and never be interrupted. However, we also known that instantly sending & replying messages with your friends could be a big spending in the daily life, especially when you're in love period. So with the popularity of smart phones and mobile calling technology, lots of messaging apps are emerged and gained a warmly welcome & reputation all over the world. These apps always provide users with a free or low-cost service for texting, and fully compatible with almost all popular smart phones on the market. Therefore, in order to improve your using experience on your iPhone and save your money on texting, here we have picked up several iPhone text messaging apps for your reference. You can compare them and select one of them as your individual assistant.
List of the Best iPhone Text Messaging Apps
1. WhatsApp Message (First year for free, and $0.99 per year thereafter)
According to the latest reviews, WhatsApp Message have become the top 1 texting app for iPhone and other smartphones. It have been widely downloaded and used among people all over the world. It uses your 3G, 4G or WiFi (when available) to message with your friends and family members. What's more, this application allows users to send & receive not only text messages, but also pictures, audio notes, and video messages without hassle. To be honest, from the current perspective of the development, this application have a tendency to replace the built-in text messaging app. And people are also used to save more and more important data in the app, so that sometimes they also need to find a way to recover lost WhatsApp message from iPhone. Cool, right? You can get the excellent app from here: https://itunes.apple.com/us/app/whatsapp-messenger/id310633997?mt%3D8.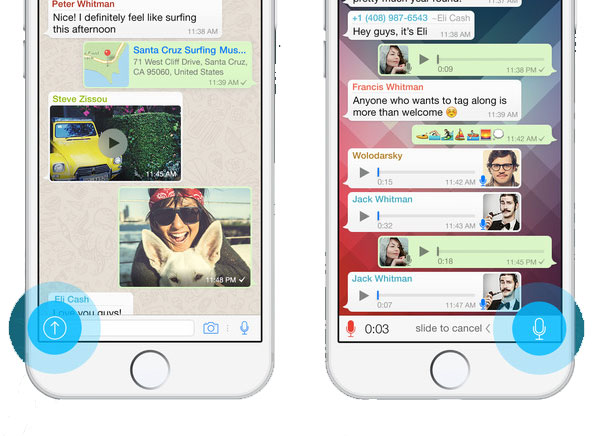 2. Skype - Free
If you haven't use Skype before, I guess you also not strange with the name of this application, right? Skype, as the most well-known and popular video calling service, now also supports free messaging function for both iOS and across both mobile and desktop OS users. So it is really freely for you to say "Hi" or send a plain text message with your friends or family. And if your friends are not use Skype, you also can use this application to call them with a very low cost.
Downloading link: https://itunes.apple.com/us/app/skype/id304878510?mt%3D8
3. imo - Free
imo is very similar with Skype, which is also another free video calls and chat for iPhone users. Message and video chats are all supported by this application, and you can send & receive messages or calls while you're under the 3G, 4G or WiFi network connection situation. What's more, imo also allows users to group chat with friends, family, roommates and others as they like. All in all, even though there is no complex interface or button design in this app, but you can enjoy a fantastic way to chat with your friends.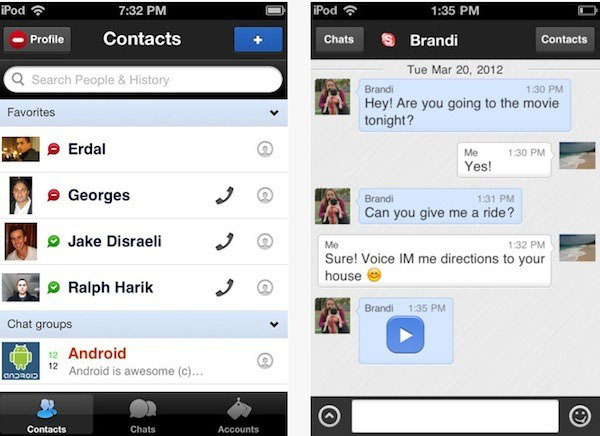 It is no doubt that there are also lots of other iPhone texting apps on the iTunes or Appstore, but in order to save your time, we'll not introduce them one by one. But if you wish to learn more, you can have a brief look on the below list:
#1 - WeChat
#2 - Pinger
#3 - textPlus
#5 - Kik
#6 - SnapChat
#7 - Facebook Messenger
#8 - KaKao Talk
After owning the best text messaging app for iPhone, you should remember to backup these important messages from iPhone to PC/Mac to avoid losing them by accident. To achieve it, you can take a free trial on the best iPhone SMS Transfer program.
Related Articles
Top 10 iPhone Security Apps
Best Free Apps for iPhone 6/5S/5/4S/4
Calendar App for iPhone You May Like