Best 5 iPhone Contact Transfer Apps You Can't Miss
With the development of technology, there are a great deal of iPhone contact transfer Apps come out in the market. These tools can help users sync their iPhone contacts to computer, iOS device, Android device or other storage service so that users can back up their phone data or switch to a new phone easily. But before you enjoy the convenience of these applications, you need to solve one problem - select a tool that suits you. Hence, in order to help you make a decision, we would like to introduce 5 high-rated contacts transfer Apps for iPhone here.
Right-hand Contacts Backup Assistant - Easy Backup
Easy Backup can be your right arm to transfer iPhone contacts. With it, you are able to sync the contacts from your iPhone to email, Google Drive, Dropbox or other cloud storage service. In addition, it allows you to restore the saved contacts easily. The process of backing up as well as restoring is equally simple so you can use it with ease even if you are a green hand.
Ratings in App Store: 4.7 out of 5
Pros:
- The application is easy to use.
- It supports most iPhone models.
- The interface and design are neat and user-friendly.
- The backup and restoring process are safe.
Cons:
- This tool only supports the iOS version 6.0 or above.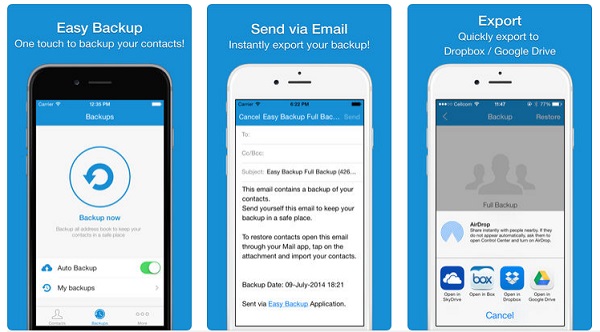 Advanced Contact Transfer App - Contacts Sync for Google Gmail
Contacts Sync for Google Gmail is an advanced contacts transfer App which provides you with a "2-way sync". This feature enables you to transfer iPhone contacts to Gmail and sync Gmail contacts to iPhone. Meanwhile, it allows you to sync all fields, including names, phonetic names, nicknames, email, address, phone numbers, postal addresses, company names and so on. You won't lose any information during the transferring process.
Ratings in App Store: 4.6 out of 5
Pros:
- It will combine Google & iPhone contacts without creating duplicates.
- It provides users with the automatic sync and manual sync.
- Compatible with iPhone, iPad and iPod touch.
Cons:
- It requires an iOS 9.0 or later version.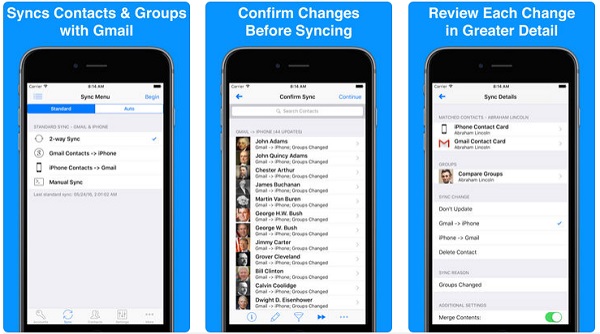 Helpful Address Book Backup - My Contacts Backup
Here is a helpful Address Book backup tool for iPhone users - My Contacts Backup. This application can help you to easily transfer contacts between iOS devices by using just email client. During the moving process, you have no need to sync to any server but just need to email the backup file to yourself. Except for the backup feature, it also enables you to delete all contacts in Address Book.
Ratings in App Store: 4.6 out of 5
Pros:
- You can set reminder to back up the contacts regularly.
- It will back up contacts as VCF files or export contacts as CSV files.
- The design is extremely simple.
Cons:
- VCF backup is limited to max 500 contacts. For unlimited contacts backup, you need to download the PRO version.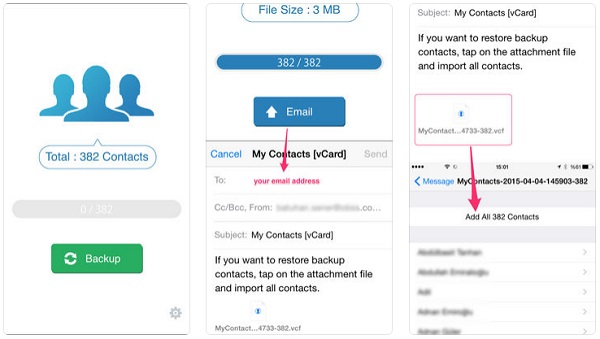 Secure Contacts Backup App - NQ Contacts Sync
For the users who plan to switch their devices, NQ Contacts Sync could be a savior. This is an application that allows you to easily back up and retrieve contacts and messages on mobile phones running on different operating systems, including iOS, Android, BlackBerry and Nokia phone. With the help of this App, you are capable of managing your backup data from web with a free NQ account.
Ratings in App Store: 4.5 out of 5
Pros:
- Compatible with various platforms.
- You can manage your contacts online.
Cons:
- Do not support older iPhone and iPad.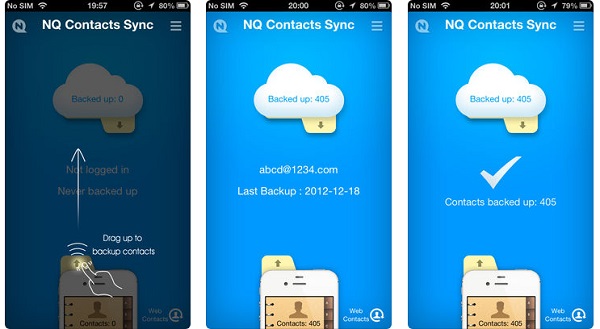 Almighty Contacts Transfer Tool - My Contacts App
Another useful iPhone contacts transfer tool is My Contacts App. It can help you to backup, restore and save all your precious contacts. With it, you are able to copy all your contacts form one phone to another phone with one click. Meanwhile, you can secure your contacts with just one tap also. Apart from backing up contacts, it allows you to merge and remove the duplicate contacts and create a clean contact list as well.
Ratings in App Store: 4.7 out of 5
Pros:
- Its "Auto Sync" option makes the backup much easier.
- The size of this App is very small so it won't take up too much space of your iPhone.
- There is not any advertising in the application.
- This application is safe and clean.
Cons:
- It requires iOS 9.0 or later OS version.

Professional iPhone Contacts Transfer Software - MobiKin Assistant for iOS
Aside from application, you can use some professional programs to sync your iPhone contacts as well. For example, you can use MobiKin Assistant for iOS to back up the contacts from iPhone to PC or Mac. This software not only empowers you to back up iPhone contacts, but also enables you to import other contacts from computer to your iPhone. Not just the contacts, it also supports other file types like messages, notes, calendars, music, photos, videos and so on. With the help of this program, you can manage your iPhone data on computer without any hassle.
Here is a video about how to transfer contacts from iPhone to computer, you can take a look.
Final Thought
These are 5 high-rated iPhone contact transfer App in App Store. Every application has their own advantages and disadvantages so you need to compare them and choose the suitable one. Then you can transfer your iPhone contacts more easily.
Related Articles:
Wanna Transfer Gmail Contacts to iPhone? Means are Here!
Want to Transfer CSV from PC to iPhone? Solutions are Here!
How to Sync iPhone Contacts to Outlook?
How to Export iCloud Contacts to CSV Format?