4 Method to Switch iPhones: Switching from One iPhone to Another
"I'm getting a new iPhone, what should I do?"
Are you planning to throw away your old iPhone to buy the latest iPhone 14? But your old phone has so much precious data stored in it that you want to know how to switch iPhones without losing your most valuable information? What to do before switching iPhones? The process, once you've researched and understood, is really easy. This guide covers everything you need to know about how to transfer all your data from one iPhone to another.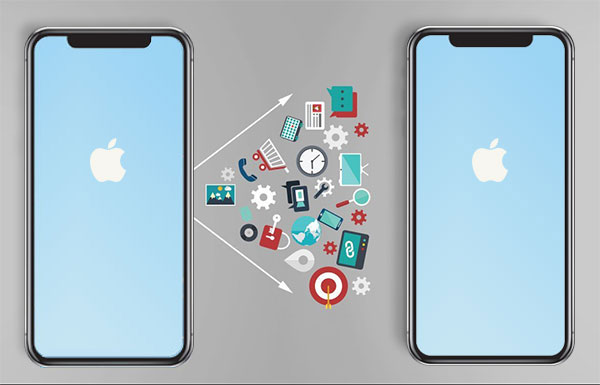 Part 1: Things to Do before Changing iPhones
What do I need to do before switching iPhones? To ensure your iPhone replacement is safe and smooth, there are a few things to consider before switching to new iPhone.
Consider storage options
First, you need to decide which storage capacity iPhone you should choose. After all, once the storage space on the iPhone is insufficient, it will greatly affect the operation speed of the device. However, bigger storage is not always better, after all, the bigger the storage, the more expensive it is to upgrade the device. Therefore, just choose the storage capacity that suits you. You can check the usage of your current iPhone's storage capacity to decide which capacity you should replace with a new iPhone.
Not sure what your current storage capacity is? You can follow the steps below.
Visit the Settings app on your old iPhone.
Click "General" > "iPhone Storage"
On the next screen, you can see your maximum capacity, the storage space you are using.
Backup your old iPhone before switching
While changing your phone, don't forget to protect the data on your phone. Before replacing your iPhone, make sure the data on your old iPhone is properly backed up. Then, how to back up iPhone before switching phones? You can back up iPhone data to iCloud, or you can use iTunes to back up your iPhone. Even you can backup data from iPhone to computer. In conclusion, data loss is permanent, but once you have a backup, you can easily restore from it.
Trade-in the old iPhone
When you get a new iPhone, what do you do with your old iPhone? Is it tossing it straight into the drawer? Never do this. Because depending on age and appearance, a trade-in for an iPhone can net you over $100 in net income. Instead of leaving your old iPhone lying around in dust, consider recycling it.
Can't Miss:
Part 2: How to Switch iPhones Using Transfer for Mobile
If you want to use the easiest and most trusted way to switch to new iPhone, then you should use MobiKin Transfer for Mobile. This is a powerful phone to phone data transfer tool that supports both Windows and Mac. With just one click, it allows you to easily switch to a new iPhone without losing important data. Let's take a look at the core features of this tool.
What MobiKin Transfer for Mobile work for:
One click to transfer data from one iPhone to another.
Support to transfer data from iPhone to iPhone, Android to iPhone, iPhone to Android and Android to Android.
Copy contacts, notes, calendars, bookmarks, books, call logs, text messages, photos, music, documents, videos and apps between two devices.
Work on nearly all iPhone models available, including iPhone 13/13 Pro (Max)/13 mini, iPhone 12/12 Pro (Max)/12 mini, iPhone 11/11 Pro/11 Pro Max/XS/XS Max/XR/X, iPhone 8/8 Plus, iPhone 7/7 Plus, iPhone SE, iPhone 6/6s/6 Plus/6s Plus, etc.
How to switch iphones with someone and keep the original data with the help of Transfer for Mobile?
Step 1: Install and launch Transfer for Mobile
Download and run the MobiKin Transfer for Mobile on your computer. Connect both the iPhones with the system with USB cords. Click "Trust" on your iPhone when you are popuped. (Can't see the popup?)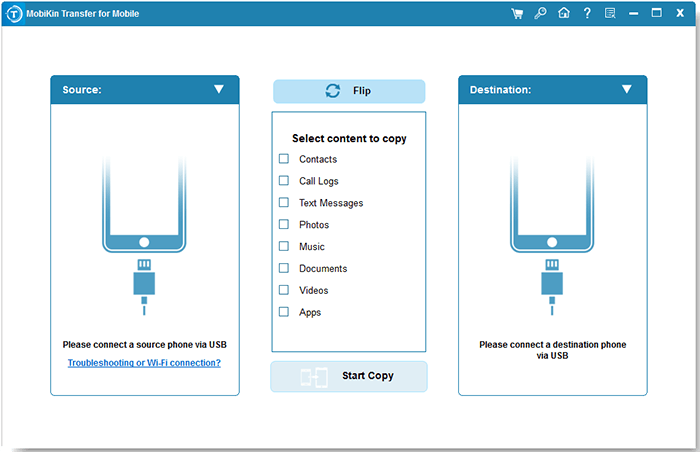 Step 2: Confirm the source and destination iPhone
The next screen will display your two iPhones. Make sure the old iPhone is the "Source" device and the new iPhone the "Destination" device. You can click "Flip" if you want to swap the Source and the Destination device.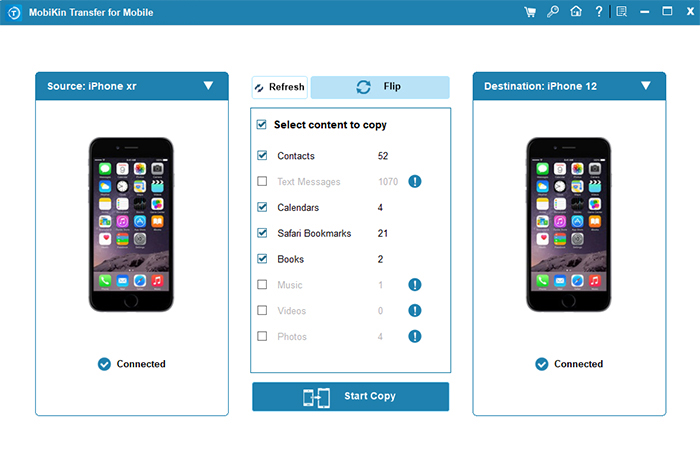 Step 3: Start to transfer data from iPhone to iPhone
Overview the data types available in the middle of the screen. Mark the desired contents that you want to transfer to the destination device and click on "Start Copy".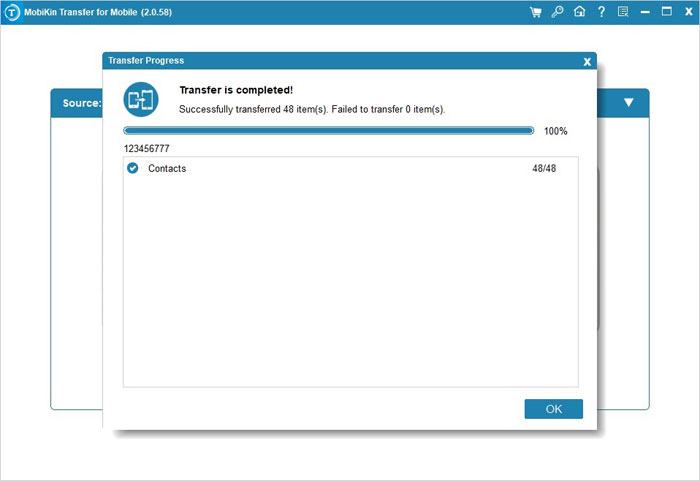 Part 3: How to Change iPhones with Quick Start
When you get a new iPhone does everything transfer directly? We're guessing you're wondering if it's possible to transfer all your data from your old iPhone to your new iPhone when using features like Quick Start. We know that with Quick Start, you can easily move almost anything.
However, the Quick Start requires you to have at least iOS 11 and above, and will keep both of your phones busy. You may not use your mobile phone during work. Here is how to use Quick Start:
Turn on Bluetooth on both iPhones.
Place the old phone next to the new one and the quick launch interface should appear on the phone screen.
You will be prompted on your new iPhone to use the Apple ID on your old phone to verify.
After successful verification, you can follow the on-screen instructions. Scan images on your new iPhone with your old iPhone.

Choose whatever you want to transfer and tap on "Start Transfer". Of course, you can also choose to restore data from iTunes or iCloud backup.
See Also:
Part 4: How to Switch over iPhones Using iTunes
How to switch iPhones and keep the data on the old iPhone? Apart from the above two methods, here is a very good solution is to utilize the backup & restore function of iTunes. This method is also very simple, the only thing you need is an iTunes account/Apple ID.
How to back up old iPhone to iTunes:
Open iTunes on your PC and connect your old phone.
Select the iPhone icon on the iTunes interface.
On the Summary tab, go to the location of "Auto Backup" and select "Back Up Now".
Here, you can choose the option "Encrypt iPhone Backup" if you also encrypt your backup files.
Click "Apply" and wait for the process to complete.
How to restore the new iPhone from iTunes:
Disconnect your old phone and connect your new iPhone to this computer.
On the Phone Summary tab, click the "Restore Backup" button on the right.
Select the backup record you want to restore and click "Restore" to begin.
Part 5: How to Switch between iPhones Using iCloud
Finally, you can use iCloud to transfer data between iPhones. Back up data from old iPhone to iCloud and then transfer data from iCloud to new iPhone. But keep in mind that this method works well when setting up a new phone for the first time. If you've already set up your new phone, then you may need to wipe it and start over from scratch.
Back up old iPhone to iCloud:
Make sure your old iPhone is connected to a stable network.
Go to settings > your name > tap "iCloud" > enable "iCloud Backup"
If your phone doesn't start backing up automatically, you can manually select "Backup Now".
Restore everything backed up to the new iPhone:
Follow the on-screen prompts to set up your new phone.
When you get to the "Set up iPhone screen," select "Restore from iCloud Backup."
Sign in with your Apple ID and password.
Select the backup you made earlier.
Wait for the data restore to complete.
Conclusion
There's no better feeling than owning a new smartphone. That's all there is to it on how to switch iPhones. The market is flooded with a large number of data transfer tools, so how to choose a safe and reliable way becomes a daunting task. Which method of transferring data from one iPhone to another is the most convenient for you? Perhaps, you can use MobiKin Transfer for Mobile directly. With just one click, you can switch data from iPhone or Android to iPhone and vice versa.
Related Articles:
How to Sync Contacts from iPhone to iPad? 4 Ways for You!
How to Transfer Photos from iPhone to Samsung? [9 Ways in 2022]
Can't Delete Photos from iPhone/iPad? Here are Solutions!
Top 4 Ways on How to Transfer Photos from Laptop to iPhone
How to Erase or Wipe iPhone 13/12/11/X/XR without iTunes?
[Solved] How to Recover Deleted SMS from iPhone 13/12/11/X/Xs/8/7?