Troubleshoot "Unable to Share Photos from iPhone" with 9 Common Tricks
Sharing photos from one iPhone to another Apple device has long been commonplace. Yet lately, some users complained that an error occurred during the preparatory stage when their iPhones were to copy pictures to the target device.
As the message says, "There's an error while preparing to share; please try again later", you are unable to share photos from iPhone. Shortly afterward, you may be in a rush to find an effective solution to seamlessly get the iPhone images onto the destination iDevice. OK, this post will tell you how to put an end to this topic.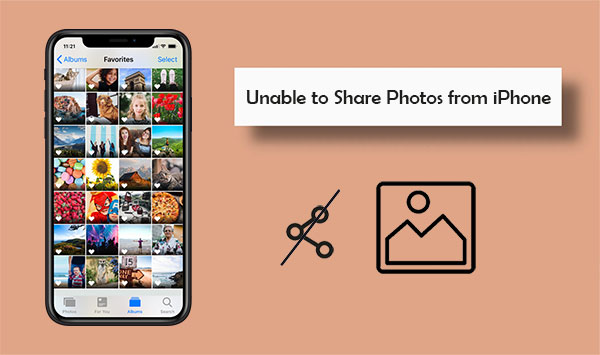 Part 1: Why Is My iPhone Unable to Share Photos?
Low Power Mode is the most likely cause of this symptom. Turning this mode on may cause your iPhone to lose connection with its Camera Roll, which will directly lead to "unable to share photos on iPhone" (Can I move photos from Camera Roll to Album on iPhone?) In addition, other factors may also contribute to this undesirable phenomenon. Specifically, they are:
Your iPhone has a bad network connection.
Your device is running out of storage space.
A temporary software glitch occurs on your system.
There's an issue associated with iCloud sync.
You May Want to Know:
Part 2: Fix "Unable to Share Photos from iPhone" with 8 Tricks
Trick 1: Check Internet connection and reset network settings
Sharing iPhone photos over Email or other services require stable and quality Internet access. In addition to trying visiting a website on your iPhone to check the network status, you can reset network settings as needed:
Go to iPhone "Settings" > "General" > "Reset" (On iOS 15 and later, please choose "Transfer or Reset iPhone" > "Reset")
Press "Reset Network Settings".

Input the passcode as required and confirm the action to fix the unable to share iPhone error.
Trick 2: Log back into your iCloud account
There might be some unexpected errors when sharing iPhone photos with iCloud. By signing out of Apple ID and signing back in, you may be able to settle the matter afterward. Here's the drill:
Trick 3: Turn off optimize iPhone storage
When your iPhone is linked to Wi-Fi, and you have been using it for a long time, your photos are automatically uploaded to iCloud as long as the "Optimize Storage" is enabled. (iPhone storage is full?) And you'll be allowed to optimize the iPhone storage by disabling "Download and Keep Originals":
Head to your phone's "Settings" > "Photos".
Uncheck "Download and Keep Originals".
Trick 4: Turn off Low Power Mode
Screen brightness is a major battery drain. But with Low Power Mode, you can reduce the amount of juice your device requires and dim the display accordingly. Theoretically, it has an impact on the photo-sharing feature of the iPhone. Thus, follow the steps below to disable it easily:
Go to your iPhone's "Settings" > "Battery".
Turn off the "Low Power Mode" option.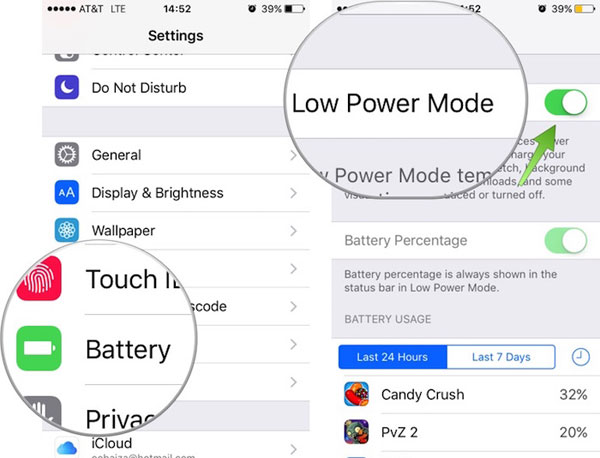 Extended Reading:
Trick 5: Re-enable iCloud Photo Library
Similarly, when you get into the Settings app, you can turn off/on the iCloud Photo Library feature. It is understood that this approach works in some cases in terms of being unable to share photos on the iPhone. Here's how:
On your iPhone, navigate to its "Settings".
Tap on the "Photos & Camera" icon.
Turn off "iCloud Photo Library" and enable the feature shortly after.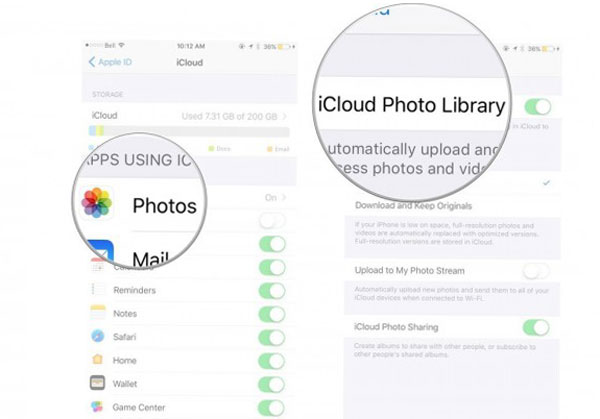 Trick 6: Update iOS
Every new OS update will fix possible system errors and add some features to make the phone work better. Therefore, when you find that your iPhone is unable to share photos or the shared links cannot be accessed, try to update iOS as below:
Navigate to iPhone's "Settings" app.
Proceed to "General" > "Software Update".
If there's an iOS update available, maintain a good Wi-Fi network and ensure your device is with enough battery.
Click "Download and Install" to update your iPhone without iTunes.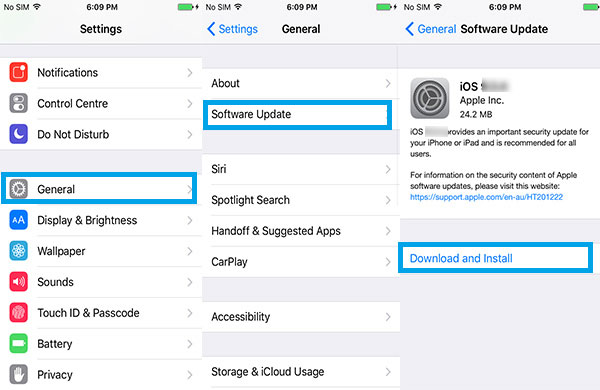 Trick 7: Restart iPhone
A quick restart on iPhone can fix a minor bug in the software, which may result in "iPhone unable to share". The operations vary depending upon the phone model:
For iPhone X, 11, 12, 13, 14, press and hold either the "Volume" button and then the "Side" button until the power-off slider appears; drag the slider, wait 30 seconds for your iPhone to turn off; press and hold the "Side" button until the Apple logo appear.
For iPhone SE (2nd or 3rd generation), 8, 7, or 6, press and hold the "Side" button until the power-off slider comes out; drag the slider, wait 30 seconds for your iPhone to power off; press and hold the "Side" button the Apple logo appears.
For iPhone SE (1st generation), 5 or earlier, press and hold the "Top" button until the power-off slider appears; drag the slider, wait 30 seconds for your iPhone to turn off; press and hold the "Top" button until the Apple logo turns up.
Trick 8: Hard reset iPhone
It is said that hard resetting an iPhone can fix some software or hardware issues. Likewise, the steps to force reboot/hard reset an iPhone vary a bit, relying on the model of your device. Now check out the instruction for details:
For iPhone 8, iPhone X, and newer, press and release the "Volume Up" and "Volume Down" buttons; press and hold the "Side" key until you see the Apple logo.
For iPhone 7, 7 Plus, press and hold the "Power" button and the "Volume Down" button until the Apple logo turns up.
For iPhone 6S and older, press and hold the "Home" button along with the "Power" button until the Apple logo shows up.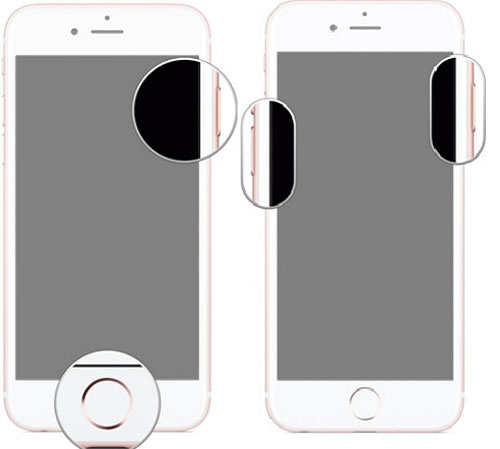 Part 3: Fix "Unable to Share iPhone Photo to iPhone/iPad/iPod" with a Photo Sharing Tool
If you are still unable to share photos from your iPhone to the destination phone, try the most recommendable tool - Phone Transfer. As tested by many of our experts, this state-of-the-art program is capable of copying contacts, photos, and almost all other files within just a single click. It can keep your transmission process smooth whatever system your source and target phone are running.
Some main features of Phone Transfer:
Share photos from iPhone to iPhone/iPad/iPod touch/Android.
Transfer data from iPhone to iPhone, iPhone to Android, Android to iPhone, and Android to Android.
The supported data types: Photos, contacts, music, playlists, TV shows, music videos, podcasts, iTunes U, ringtones, audiobooks, voice memos, etc.
Converting file formats automatically, one-click copy, and keeping both data.
Compatible with a whole range of iOS devices, covering iPhone 14/14 Plus/14 Pro (Max), iPhone 13/13 Pro (Max)/13 mini/12/12 Pro (Max)/12 mini, iPhone 11/11 Pro/11 Pro Max, iPhone X/XR/Xs/Xs Max, iPhone 8/8 Plus, iPhone 7/7 Plus, iPhone 6/6S/6 Plus, iPod touch, iPad, etc.
It won't interfere with your privacy.
Here's how to share iPhone photos to iPhone/iPad/iPod touch with Phone Transfer:
Step 1. After downloading and installing the program, launch it on your computer. Then, you are required to connect your iDevices to the computer.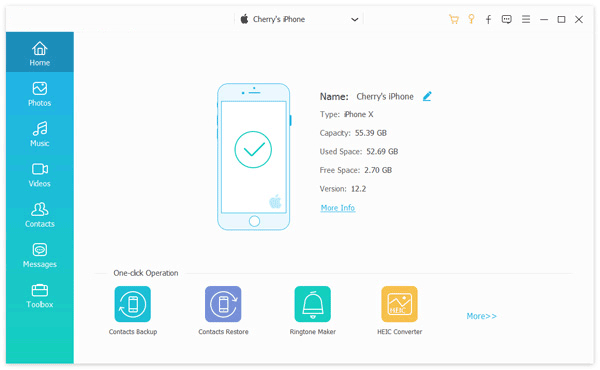 Step 2. The two devices will be detected by the software soon. Now, make sure the sender is in the position of "Source Device", and the other phone is in the opposite position. If they are wrongly positioned, click the "Switch" button to place them properly.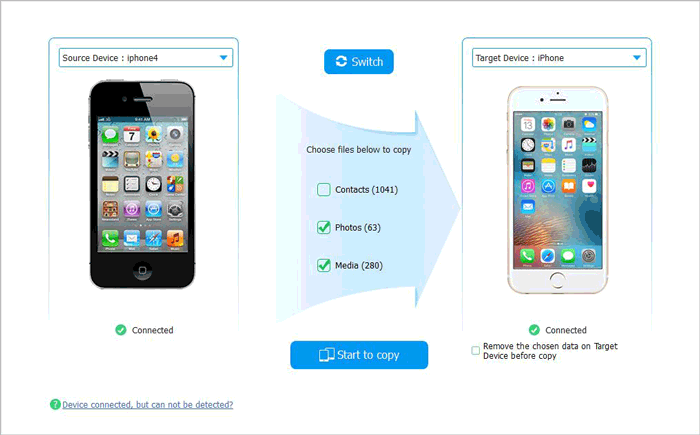 Step 3. Mark the "Photos" box and click the "Start to copy" button. After that, the utility will begin to share photos from the source iPhone to another iOS device automatically.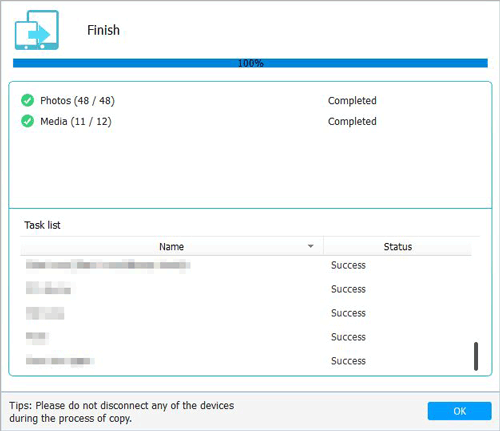 Calling It a Wrap
Well, it's time to wrap up this passage. We would be glad if any of the methods above works for you. But if things are bad - you're still in trouble and can't pull away, just try Phone Transfer. As you might know, more and more folks would like to turn to 3rd-party programs in case of transmission failure. Specifically, these tools are of high security, quickly and easily freeing you from the shadow of anxiety. So, don't you want to have a good time at your leisure?
Related Articles:
How to Sync Apps from iPhone to iPad/iPhone in 4 Easy Ways? [2022 Update]
How to Transfer Photos from SD/Memory Card to iPhone? [Fixed in 2022]
iPhone Photos Disappeared from Camera Roll? Here Are 9 Useful Fixes
How to Transfer Ringtones from iPhone to iTunes Library? [Way 1 Is the Best]
[Complete Guide] How to Transfer Passwords to New iPhone 13/12/11/X/8?
Photos Didn't Transfer to New iPhone 13/12? Reasons & Awesome Solutions