Wanna Save Instagram Photos on iPhone/PC? Here!
Instagram, one of the most popular social media around the world, allows users to share pictures and videos either publicly or privately. This means users are able to upload photos or videos to the application once they register an account. According to it, you can show your lives to your families and friends. Meanwhile, you could know more about the lives of your friends or idols. It could be one of the best social network communication platforms.
And during the viewing process, some users may see some interesting or favorite photos on the software and want to save them to their iPhone or computer so that they can backup them and view them whenever and wherever. But how to do that? Have you found the way? If not, don't worry! This article will show you the means. You can select and follow one of them if you wish to sync the pictures.
Part 1. Saving Instagram Photos on iPhone
Part 2. How to Sync Instagram Images to PC?
Part 1. Saving Instagram Photos on iPhone
Most users may tend to saving Instagram pictures on iPhone for the reason that iPhone is easy to carry and we can view the backup images anytime and anywhere we like. So this part will tell you how to sync photos from your own Instagram or other users' Instagram. Let's begin now!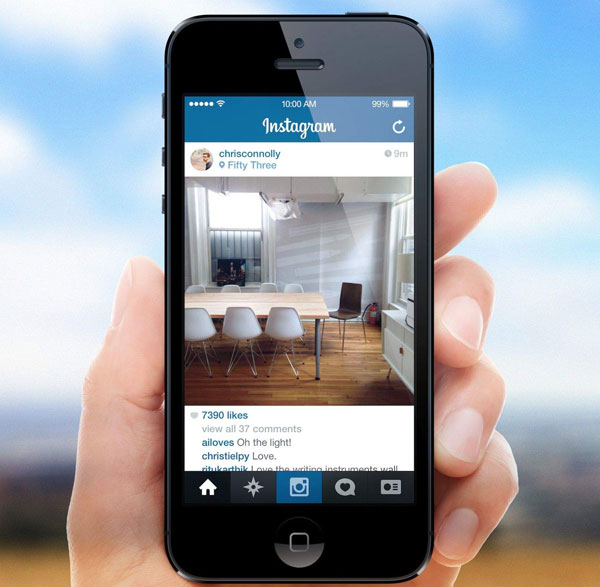 1. Sync Your Own Instagram Photos to iPhone
Actually, you already have a copy of the Instagram pictures on your iPhone when you upload them. But you may filter or edit them on Instagram so the photo that you have uploaded is different from the one you have backed up. Therefore, you need to save the uploaded images again. Backing up this kind of images would be easy and here's how:
- Turn on Instagram. Go to profile and click on "Settings" on the top left corner;
- After that, you will see an "Option" list. Just scroll down the list and find out the "Save Original Photos" option, then turn it on.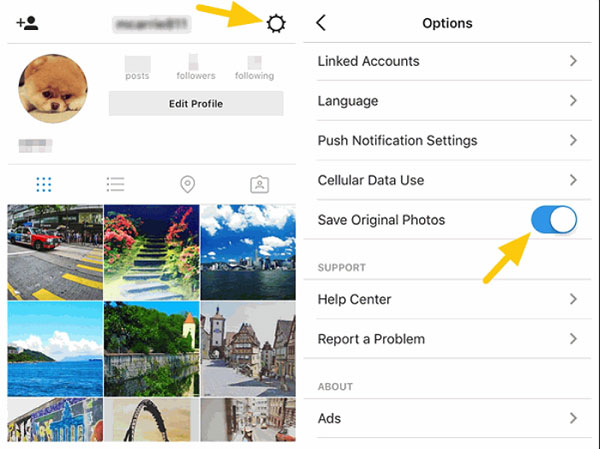 Done! From now on, every photos that you have posted on the Instagram will be automatically downloaded to Camera Roll. Whenever you want to view them, you can go to "Instagram" album under the "Camera Roll" folder.
2. Copy Pictures on the Instagram you followed
Copying other users' images on Instagram is troublesome because you cannot download or save them directly. But it is not impossible. In this case, you can take a screenshot by pressing and holding the Home and Power button at the same time. But the quality of the photos that you get in this way would be poor so you can try another way:
- Go to the Instagram photo that you want to save and then tap the "..." icon on the top right corner and select "Copy Share URL";
- Open up Safari on your iPhone and stick the URL to enter the page;
- Long press the picture and copy it;
- Navigate to the "Note" on your device and long press to paste the picture;
- Tap on "Share" button and choose "Save Image" option to save the photo to Camera Roll.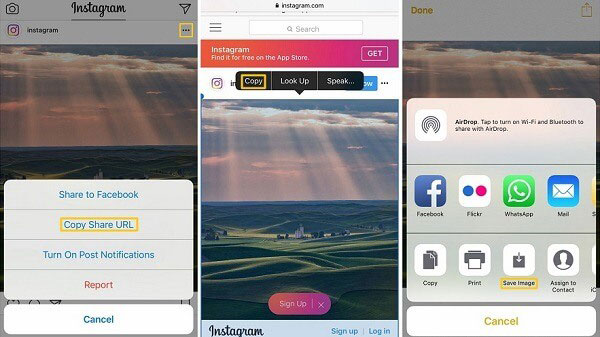 See also:
Two Ways to Upload Photos from iPhoto to Facebook
Is It Able to Move Photos from Cameral Roll to Album? Yes!
Part 2. How to Sync Instagram Images to PC?
Although saving the wanted Instagram photos on iPhone is convenient, the storage space of a portable device is far less than a computer. Thus, some users may choose to sync these Instagram photos to their computer. In this case, you have two choice- use HTML code to save photos or use a third-party software.
1. Use HTML code to save Instagram Photos on computer
This method would difficult cause you need to find out the correct code among vast codes. But you still can have a try if you are interested in it.
- Log in your account to enter the Instagram. Find out the photos that you want to save;
- Right-click on the selected photo and tap on "View Page Source" option. Then you will see a page full of HTML code;
- Press "Ctrl" and "F" button at the same time ("Command" and "F" button for Mac) and there will be a small searching box pops up. Type "jpg" in it and click on "Enter". The first highlighted line with "jpg" is the link of the photo that you want to download;
- Copy the link and paste it into a new window, then tap "Enter". After that, you will see the photo. Right click the image and choose "Save Image As" to download it on your PC.

2. Saving Instagram photos to PC via Instagram Downloader
It is probable that HTML code is too complex for you to operate. It's OK! There is another option for you- turning to a third-party software. As a matter of fact, many softwares are available to help you in this issue, including Instagram Downloader, Instagram Saver, 4K Stogram and so on. Here we will take "Instagram Downloader" as an example.
- Download and install the Instagram Downloader on your computer;
- Enter an Instagram username or photo link in the program;
- Save the photos that appear.
Related Articles:
How to Manage Photos on iPhone with iPhone Photo Manager?
Easy Way to Transfer Non Camera-roll Photos from iPhone to PC/Mac
Top 3 Ways to Transfer Music from iPhone to Computer for Free in 2023
How to Transfer Large Videos from iPhone to PC
6 Ways to Transfer Photos from Computer to iPhone Effectively