Top 6 Methods to Transfer Videos from PC/Computer to iPhone 14/13/12/11/X/8
In this technological era, where videos have become an integral part of our lives, the need to transfer these files from a computer to an iPhone arises quite frequently. Perhaps you've captured unforgettable moments on your computer and wish to relive them on an iPhone while on the go. Or maybe you have an impressive collection of videos stored on your PC that you want to share with friends and family through your device.
Whatever the reason, it's fundamental to learn how to transfer videos from PC to iPhone without errors. OK, this comprehensive guide will walk you through several options, providing clear step-by-step instructions to make the transmission trouble-free.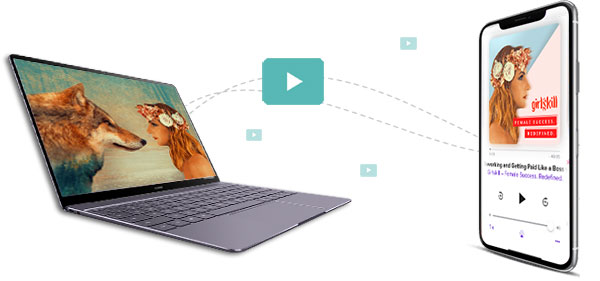 Way 1: How to Transfer Videos from PC to iPhone via iOS Transfer
As you might know, iOS devices support only support video formats like MP4, M4V, and MOV. When transferring videos from PC to iPhone using third-party software, ensure they remain playable. In this regard, iOS Transfer is your best choice, which helps you copy and manage video clips and other Apple files and ensure that they are compatible with your device.
A list of features of iOS Transfer:
Best way to transfer videos from PC to iPhone within minutes.
Copy files among iOS devices, computers, and iTunes.
Sync and manage a wide range of files, including videos, TV shows, ringtones, podcasts, images, music, contacts, text messages, documents, etc.
An outstanding photo organizer, contact assistant, and music editor.
Compatible with practically all Apple devices, including Huawei, LG, Xiaomi/Redmi, OPPO, Sony Xperia, Google Pixel, HTC, Motorola Moto, iPhone 14/14 Plus/14 Pro (Max), iPhone 13/13 Pro (Max)/13 mini/12/12 Pro (Max)/12 mini, iPhone 11/11 Pro/11 Pro Max, iPhone X/XR/Xs/Xs Max, iPhone 8/8 Plus, iPhone 7/7 Plus, iPhone 6/6S/6 Plus, iPod touch, iPad, etc.
It won't interfere with your privacy.
How to transfer large videos from PC to iPhone with iOS Transfer?
Step 1. Run iOS Transfer and link your iPhone to your computer
Run the installed iOS Transfer on your computer and connect your iPhone to the PC/computer with the USB cable. Once the connection is successful, the software will recognize your iPhone and show the libraries of your iPhone in the left sidebar.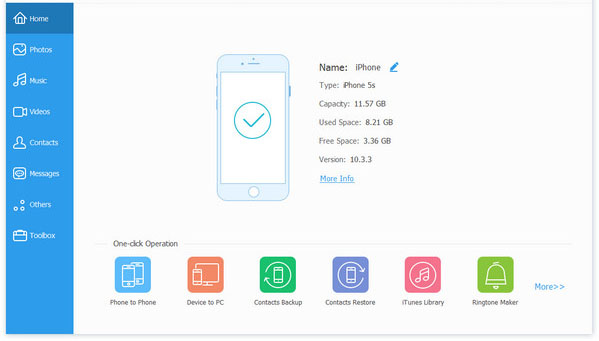 Step 2. Add videos to your iPhone
Click on the "Videos" category in the left sidebar, and all the video files on your iPhone will be shown in the right part of the window. Turn to the top menu to click the "+" button followed by "Add File" or "Add Folder" to add video files from your computer.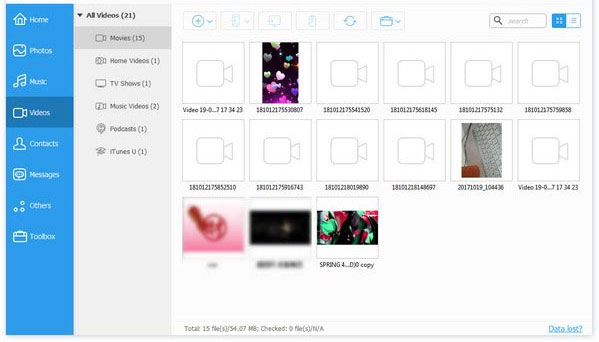 Step 3. Transfer videos from PC to iPhone right away
Locate the videos that you need and click "Open" to start transferring videos from PC to iPhone. When the transfer is done, you will get the videos in the target folder you specified.
You Could Also Appreciate:
Way 2: How to Send Videos from PC to iPhone via File Explorer
Using Windows File Explorer to transfer video files from your PC to your iPhone could be considered the most old-school approach. No third-party software is required for this method, and all you need is a USB lightning cable. Since your computer has this built-in function, so connecting your iPhone to the PC is all it takes to get the job done.
How to transfer 4k video from PC to iPhone with File Explorer?
To link your iPhone to a PC, utilize a USB cable and select "Trust" when prompted to confirm your trust in the computer.
Access "This PC" to locate your device under "Devices and drives".
Then, click on "Apple iPhone", followed by "Internal Storage", "DCIM", and finally, "100APPLE".

In case you possess numerous videos, additional folders like "101APPLE", "102APPLE", and so forth might be present.
Navigate to the specific video files you wish to transfer and proceed to copy and paste them into the "100APPLE" folder.
Alternatively, you can drag and drop the videos into the designated folder.
After the transfer is complete, the videos will be accessible in the "Photos" section on your iPhone.
Way 3: How to Move Videos from PC to iPhone Using iCloud
To transfer videos from your computer to your iPhone, you can pick Apple's iCloud service, which is compatible with both Apple and Windows devices. Before going any further, make sure to use the same Apple ID on both devices and have enough iCloud storage for the videos. (Apple ID has been disabled?)
How to share video from PC to iPhone via iCloud?
On your iOS device, access "Settings," navigate to [your name], then select "iCloud" > "Photos". Activate the "iCloud Photos" option.
On your computer, open iCloud settings and enable "Photos" > "iCloud Photo Library".
Check "Upload new photos and videos from my PC" and click "Change" to specify the folder containing the videos you wish to transfer.

Once the syncing process is complete, open the "Photos" app on your iPhone to view and verify the transferred items.
Optionally, you are also allowed to transfer videos from PC to iPhone from iCloud.com. (Quick Navigation: Enable "iCloud Photos" in iPhone settings > Sign in to iCloud.com with your Apple ID > Select "Photos" and upload the videos > Check the items in the "Photos" app on your iPhone.
Extended Reading:
Way 4: How to Transfer Videos from Computer to iPhone with iTunes
iTunes serves as a versatile solution for various iPhone tasks, functioning as a media player, media library, and mobile device management utility. To transfer videos from your PC to your iPhone camera roll, make sure you have the latest version of iTunes installed.
How to import videos from PC to iPhone using iTunes?
Connect your iPhone to your PC using a USB cable, and iTunes will launch automatically.
Unlock your iPhone and trust the computer. If prompted, enter your iPhone password.
Go to "File" > "Add Files to Library" in iTunes and select the video files on your computer to add them to the library.
Click on your device icon in iTunes and choose "Movies" from the left-hand menu.
Enable "Sync Movies" and click "Apply". iTunes will sync the movies to your iPhone at once.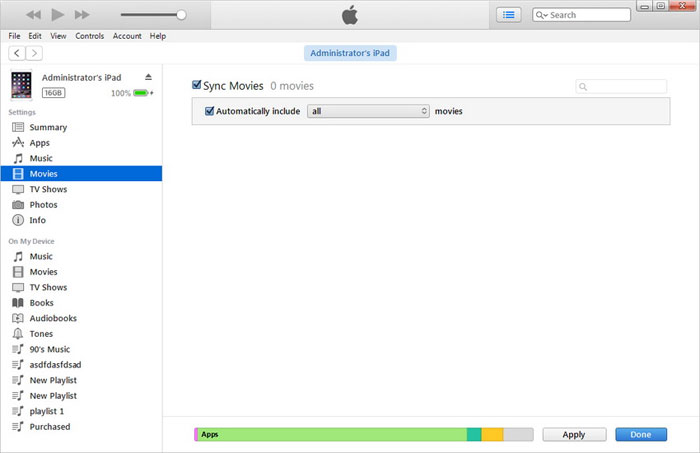 Way 5: How to Get Videos from Computer to iPhone with VLC Media Player
As a versatile cross-platform application, the VLC media player seamlessly works with both PCs and iPhones. By using VLC for iPhone, you can easily share videos wirelessly between your device and computer as long as they are connected to the same network.
How to download videos from PC to iPhone via VLC media player?
Launch the VLC app on your iPhone and tap the VLC icon at the upper left corner of the user interface.
Enable "Sharing via WiFi" and take note of the provided IP address.

On your Windows laptop, open a browser and enter the address.
Drag and drop your MP4, MOV, or M4V videos from your Windows PC to the page.
These selected videos will be wirelessly and automatically transferred to your iPhone. (For MKV, VOB, M2TS, and AVCHD videos, you'll need to convert them to iPhone-supported formats before transferring.)
Your video items will be saved in the VLC app on your iPhone.
If you wish to download videos to your iPhone camera roll, pick the synced items and tap the "share" button.
Choose "Save [number] Videos" and find them in your Camera Roll.
Way 6: How to Send Large Videos from Computer to iPhone via Google Drive
Google Drive enables effortless video transfers from your computer to your iPhone. Simply upload videos via the website or desktop app, then access and download them on your iPhone using the Drive. It streamlines sharing and accessing multimedia files while you're on the move.
However, similar to iCloud Drive, it's essential to be mindful of the limited cloud storage. Please ensure that the size of your video files doesn't exceed the available storage on the service.
How to upload video from PC to iPhone using Google Drive?
Begin by navigating to drive.google.com and logging in using your Google account credentials.
Next, locate the "New" button or "My Drive" in the upper left corner.
Select either "File upload" or "Folder upload" from the drop-down menu to transfer your videos to the cloud.

On your iPhone, visit the App Store to download and install the Google Drive app.
Once installed, sign in using the same Google account you used on the website.
After completing the installation, launch Google Drive on your iPhone.
You will find all the video files you uploaded earlier in the cloud.
Simply download them to your device and enjoy watching them at your convenience.
Finality
Going through the passage, we can find that iOS Transfer emerges as the ultimate solution to copy your videos seamlessly to your iPhone from a computer. Not only does it transfer videos swiftly, but it also ensures smooth playback on your iPhone, enhancing your viewing experience.
Finally, a warm reminder here, transferring high-demanding videos like 4K or 4K ProRes from PC to iPhone might cause slower sync speeds or freezing issues. Consider upgrading your network speed to resolve this problem when you choose to copy the video clips wirelessly.
Related Articles:
5 Tips: How to Send Videos from iPhone to iPhone 14/13/12/11/X/8/7
[2023 Updated] How to Transfer Videos from Android to Android
[Easy Guide] How to Transfer Videos from iPhone to USB Stick?
How to Record iPhone Screen without Jailbreak?
How to Recover Recorded Videos from iPhone 14/13/12/11/X/8/8 Plus?