What Should You Know about iTunes File Sharing?
The update of iTunes is always accompanied by some new features. Among these features, iTunes File Sharing is a new function added to iTunes 9.1 and the newer versions. Although iTunes File Sharing has been released for several years, some users are still sciolistic about this function which results in the inefficient use of this helpful feature. Therefore, this article will make a comprehensive introduction of it to help users make full use of this action.
Part 1. What is iTunes File Sharing?
Part 2. How to Use iTunes File Sharing?
Part 3. Alternative Way to Sharing iTunes File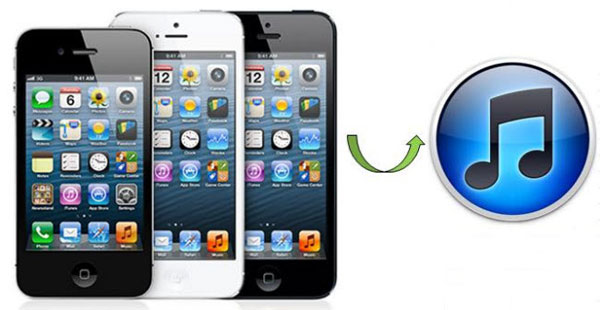 Part 1. What is iTunes File Sharing?
As the name implies, iTunes File Sharing is a feature that allows users to transfer the files from iTunes to iPhones, iPads and iPod touches. Using this function to move data has the following advantages:
- Sharing data in an easy and rapid way.
- The quality of transferred data won't be damaged.
- Only syncing the wanted files.
- The number of the files that it can copy is unlimited.
- Reserve the metadata of the copied files.
Now you may ask how you can find out this option in iTunes. It is easy! You just need to connect your iDevice to computer via USB cable and then find the iTunes File Sharing selection. For finding this feature out, you can go to Device to choose your iDevice and then click on Apps. After that, scroll down the window and you will find the File Sharing section. However, you should notice that only applications and iDevices that support this feature can achieve this operation.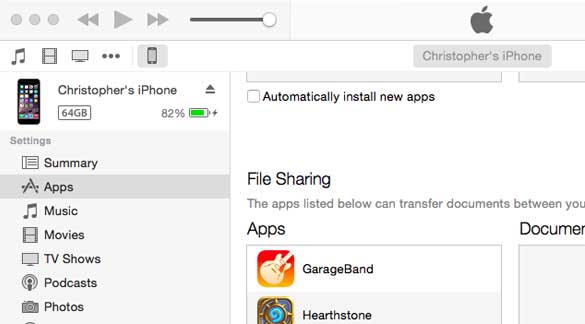 Part 2. How to Use iTunes File Sharing?
After knowing the advantages of file sharing on iTunes, you might want to have a try. If you are interested in this operation, you can go with the detailed step listed below to make good use of this function and you may find that the transmission between computer and iDevice is straightforward and convenient.
Before starting our transferring, please make sure that you have downloaded and installed the latest version of iTunes and your iOS version must be iOS 4 or newer. In addition, the computer you use must be Mac OS X v10.5.8 or later or if you are a Windows user you will need Windows XP, Windows Vista, Windows 7 or Windows 8.
See also:
How to Authorize Computer in iTunes?
Step 1. Use USB cable to connect your iDevice to computer.
Step 2. After the connection, the iTunes will normally launch automatically. Then you need to select your iDevice under the "Device" section in the left panel of iTunes.
Step 3. Click on Apps and scroll down to the bottom of the page then you will find a section labeled as File Sharing.
Step 4. Here you will see the applications on your iDevice that support the File Sharing feature are listed on the interface. Elect the apps that you want to transfer to see its document library.
Step 5. Finally copy files from/to iTunes. The operations are similar. To move the files to PC, you have two options: the first one is to select the file from the document and drag it to a folder on your computer and then drop the file in the folder. The second option is to click on the "Save to ..." button and locate the file to the selected folder on your computer. Then click on "Choose" button to save the data.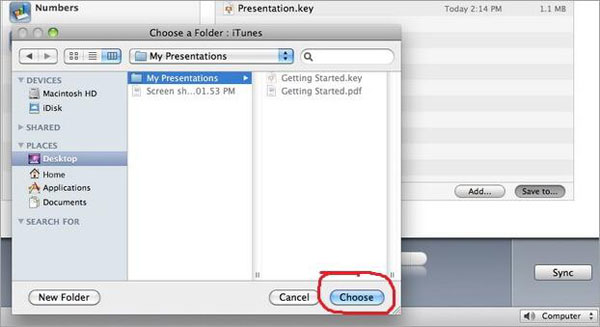 If you want to move files from computer to iDevice, you also can drag the wanted file on the computer to the Document list section of iTunes and drop that file there. Except this means, you are able to click on the "Add" button and locate the file on your computer as well. Then click on the "Open" button to add the file to your iDevice.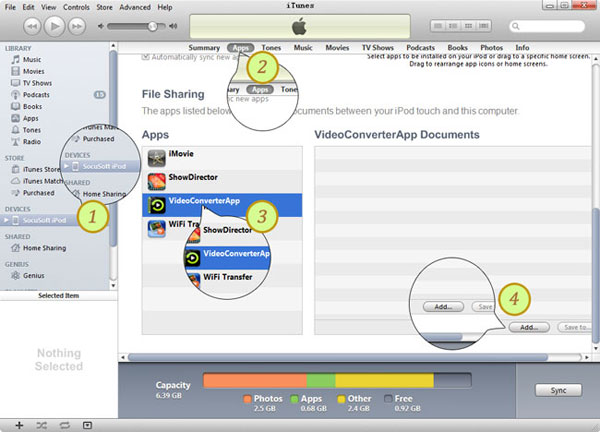 Part 3. Alternative Way to Sharing iTunes File
We have introduced the advantages and usage of iTunes file sharing function, but some users may be tired of using this ways to transfer data. Hence, an alternative way to sharing iTunes files- using iOS Data Manager, is provided. This way enables you to copy and backup iTunes files in several simple clicks. So we can say that this method worth a shot when you are fed up with the changeless way. It is a third-party program so you can click the following icon to download and install the software on your computer.
Step 1. Detect your device.
Connect device to computer with USB cable, then launch the program. Here, your iDevice will be detected and displayed, just choose "Transfer iTunes Media to Device" as below: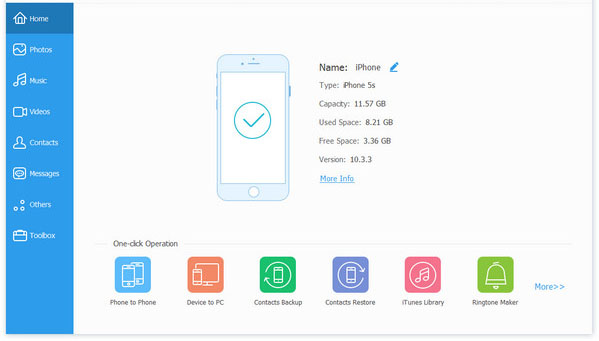 Step 2. Choose the files you want to move.

The program will explore all the media files in iTunes and show them on the pop-up window. By default, the entire library files will be checked. But you can uncheck some items that you won't transfer to your iDevice.
Step 3. Move iTunes files to iDevice.
Click on "Transfer" to move your selected files to iDevice and then click "OK" to complete the process.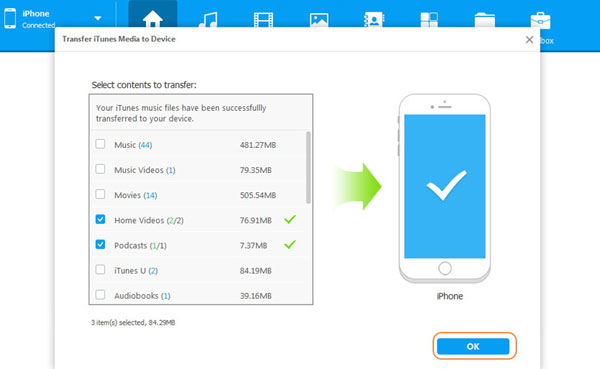 Related Articles:
How to Fix Backup & Restore Problems with iTunes?
Easy Ways to Get iPhone Text Messages on Windows 10
How to Transfer Large Videos from iPhone to PC
6 Ways to Transfer Photos from Computer to iPhone Effectively