[2023 Guide] How to Transfer Data from iPhone to Android Effortlessly
Have you recently decided on moving from iPhone to Android? If you are already decided on this, then the next question is, "how do I transfer everything from iPhone to Android?" If you are facing this dilemma, then you are in the right place. This article delivers step-by-step solutions on transferring data from iPhone to Android. Starting with a reputable third-party software. Then to using Google Drive, Dropbox and Email. And also, official transfer tools for the same.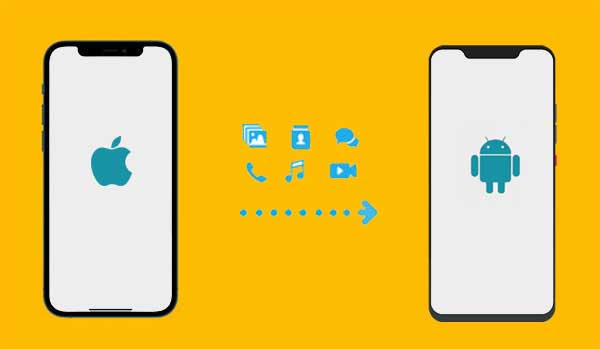 Part 1. Best Way to Transfer Data from iPhone to Android
MobiKin Transfer for Mobile is simply the best way to transfer data from iPhone to Android. This is because it is a complex and professional software for data copy. Yet, it gives its users an error-free and easy iPhone to Android data transfer. It does not rely on extra tools or cloud storage; hence, it offers direct transfer. With its high-level security, compatibility and ease of use, MobiKin Transfer for Mobile is an exceptional tool for data transfer between smartphones.
Transfer for Mobile - All in One Data Transfer Solution
Smoothly export data from iPhone to Android without data loss or interruptions.
The program does data transfer between iPhone and Android phones, and also transfer data between Android and Android, iPhone and iPhone.
It efficiently copies a wide variety of data types, like text messages, videos, photos, contacts, apps, calendars, notes, documents, books, music and so much more.
Its interface is also user-friendly to ensure that it is accessible even to the none tech-savvy, guaranteeing easy transfers.
It is also compatible with a wide range of devices both iOS and Android, such as, iPhone 14 Pro (Max)/14 Plus/14, iPhone 12 mini/12 Pro (Max)/13 mini/13 Pro (Max)/13, iPhone XS Max/XS/XR/X, iPhone 8 plus/8, iPhone 7 Plus/7, iPhone 6 plus/6S/6, iPad, iPod touch, Vivo, OPPO, Motorola, Google, HTC, Huawei, Sony, LG, Xiaomi, Samsung Galaxy etc.
Step-by-step guide on how to use MobiKin Transfer for Mobile to finish iPhone to Android transfer:
Step 1. Connect both devices to a PC and launch the software
After installing the Transfer for Mobile software, start the program. You can then connect both your iPhone and Android devices to your computer using a USB cable. The program interface will pop up. You should remember to switch on USB debugging on your Android device.
Step 2. Choose the data files to copy
Once you have successfully connected your devices to your PC, designate your iPhone as the original device and your Android as the destination device. If any of the phones are recognized as playing the opposite roles, you can use the ''Flip'' button to ensure that they are in the correct place. Then, using the file list that is located in the middle row, select ''Photos''.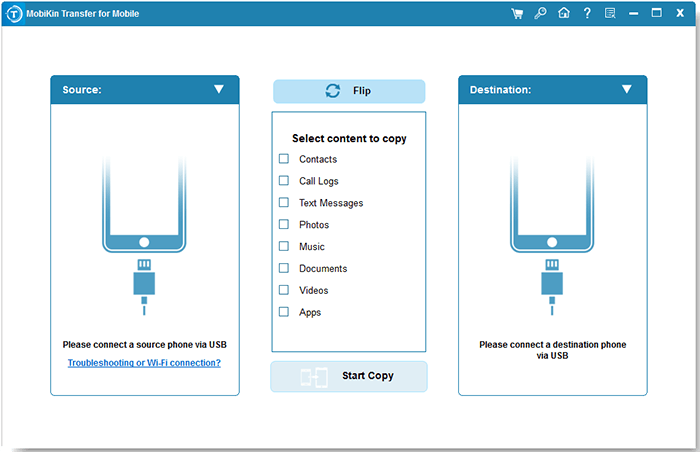 Step 3. Easily transfer data from iPhone to Android
Click on the "Start Copy" button to initiate the data copy process. You will get a notification to tell you when the data transfer is complete. Lastly, eject both the USB cables from the PC and ensure that all the desired files are transferred to your Android smartphone.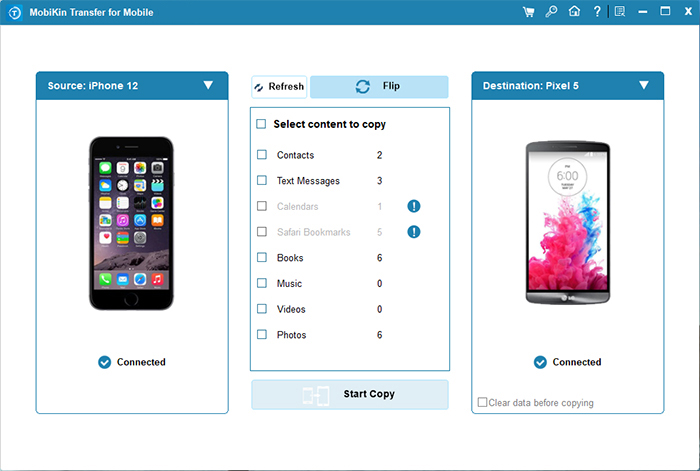 You May Also Like:
Part 2. How to Transfer Files from iPhone to Android with Google Drive
You could also utilize the services of Google Drive to transfer stuff from iPhone to Android. Google Drive is able to back up all your vital data from your iPhone so that you can be able to restore them later to your new Android device. However, Google Drive users will only get 15 Gigabytes of free cloud storage across their devices for Google photos, Google Drive and Gmail.
Below is how you can use Google Drive for iOS to Android transfer:
On your iPhone, launch Google Drive.
Upload to Google Drive all the files that you desire to back up.
Make use of Google Photos app to back up your videos and photos. Just open the app and switch on "Backup & Sync" and wait for a few minutes for all the chosen documents to upload.
On your Android phone, launch the Google Drive app and download all the files.
Download Google Photos app on your Android phone, install and put on "Backup & Sync". Soon you will start seeing an automatic download of your photos.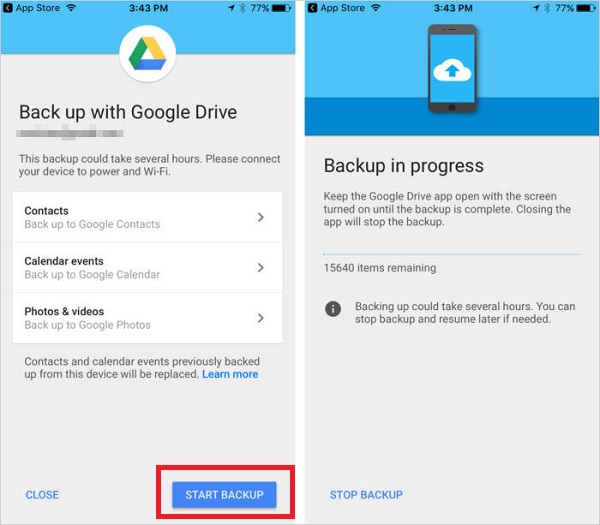 Check if You Need:
Part 3. How to Transfer from iPhone to Android with Dropbox
Dropbox is a cloud-based tool that allows for iPhone to Android transfer of data by syncing files to cloud. This service is available for a majority of devices. You can use it on either Mac or Windows. The corresponding Dropbox apps can be downloaded for free on both Google Store apps and the Apple App Store. You will have to upload your iPhone data to the Dropbox cloud and then use Dropbox to download the data to your Android device.
Dropbox will require that you open an account with them before you are able to sync your data to the cloud and download it to your Android device. Having done this, it will be easy to transfer iPhone data to Android. Free storage on Dropbox to verified users only goes up to 2 GB of files on cloud. If your data capacity is more than 2GB, you can use MobiKin Transfer for Mobile which can transfer iPhone to Android files easily and with no file size restriction.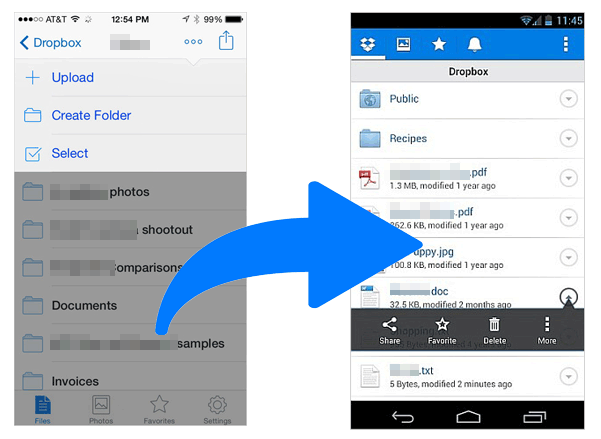 Part 4. How to Transfer iPhone Data to Android by Email
This method works similar to the cloud backup solution above. You can wirelessly transfer info from iPhone to Android using only your email account.
Below is all you will need to do to accomplish this:
Choose the desired files from your iPhone and then share.
After that, choose Mail or any other form of Email app that you prefer to send these files to yourself.
On your Android device, open the selected Email sharing app and access the files attached.
You will find the downloaded files on the download folder of your internal storage.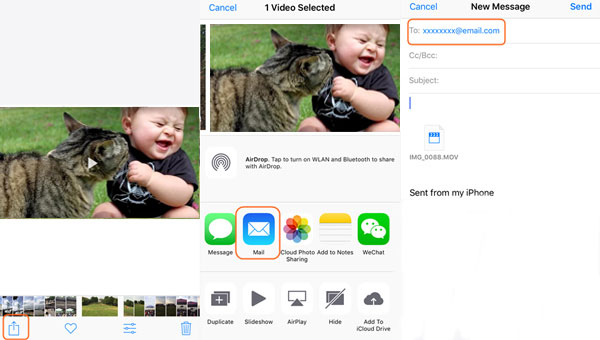 In the case that you have a lot of files to transfer, this method can take quite a while. And it can also be tedious to transfer video files, which are hard to locate when browsing for files. This method, therefore, is suitable when transferring small-sized documents, photos and videos.
Part 5. How to Move Data from iPhone to Android via Official Transfer Tools
This is also an ingenious solution for those who have been asking, "can you transfer data from iPhone to Android?" In many modern smartphones, there are free applications available to help you get data from iPhone to Android. These apps do a good job and can be able to transfer various kinds of files including, notes, music, photos, calendars, messages, contacts, and many others. They support a wide variety of files, solving how to transfer from iPhone to Android.
One good example of such apps is the Samsung Smart Switch. This app allows you to log into your iCloud account and copy your desired data files from your iCloud backup to your Samsung smartphone. (Samsung Smart Switch Stuck?)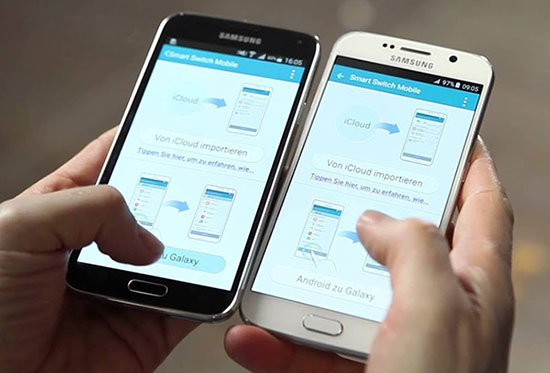 Another good example is the Huawei Phone Clone. Just as you can tell from the name, this app allows you to identically copy data files from your old iPhone to your new Android device. You can do all this without losing data.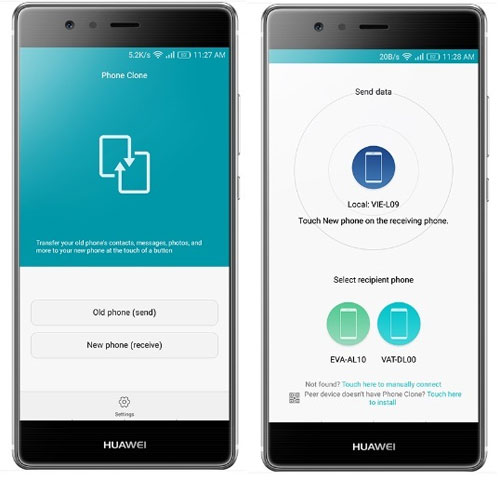 Xiaomi also has the Xiaomi Mi Mover. This also gives you the power to transfer selected data types from your iPhone to your Android.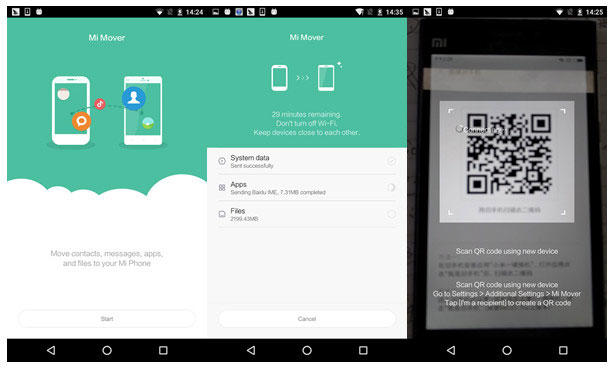 If you also have Sony Xperia as your new phone, you can also utilize the Xperia Transfer 2 app for your file's Apple to Android transfer. You should also beware that this only works if your iOS version is from 9.0 to the latest. Before beginning the transfer, make sure that the battery capacity in both devices is more than half. The following is the simple steps on how to use Xperia Transfer 2: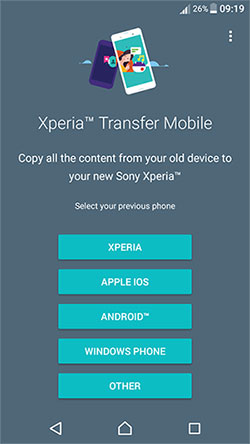 Use iCloud Backup to back up the data on your iPhone.
On your new Sony Xperia, launch the Xperia Transfer 2 app.
Below the iPhone tab, select "iCloud".
Login to your account and wait for the process to complete.
Even though these official transfer apps support a wide range of file types, you may experience a limitation in device types. Your phone may be incompatible with its official transfer tool due to the fact that it is using an outdated version.
Final Words
Those are the various ways on how to transfer data from iPhone to Android. Each of the provided methods have both their advantages and disadvantages. You should choose the one that is more suitable to your situation and is more compatible to your new Android device. You should remember that if any of the wireless methods do not yield results, you should use MobiKin Transfer for Mobile.
Related Articles:
How to Share Music on iPhone? (4 Simple Ways Included)
Solutions to Transfer Call Logs between iPhone and Android
The Best Solution to Transfer Audio Books Between iPhone and Samsung?
How to Transfer SMS (Text Messages) from Android to iPhone Xs/Xs Max/XR/X/8 Plus/8
How to Transfer Files between iPhone and Samsung Galaxy
How to Transfer Contacts from Android to iPhone? (4 Quick & Safe Ways)