How to Extract MMS, iMessages from iTunes Backup
Tips: To get a more detailed tutorial about recovering iMessages, please go to "3 Ways to Recover Deleted iMessages (High Success Rate)".
iTunes is an essential life-saving Apple service that helps you make a backup of your iPad, iPhone or iPod's data directly on your personal computer (PC). It is advisable to regularly update your iTunes backup files. This will enable you to obtain and restore your private information, including your documents, messages, images, apps and music among other files almost just the way they were before you accidentally erased them, damaged or lost your iDevice. Although it is very easy to back up your iOS device data using the iTunes and iCloud Apple services, you may find it increasingly difficult to restore individual data files while using the services.
Short messaging services like iMessage and MMS allow you to easily share photos, videos, documents, and music among other information are increasingly becoming popular with most iOS device users, especially the teenagers and young adults. That is why this informative article is meant to show you how to extract MMS, iMessages from iTunes. You are guaranteed to safely yet easily restore your private data using these crucial tips once disaster inevitably strikes. Kindly refrain from making an additional iTunes backup of your current iDevice before extracting and restoring your MMS and iMessages.
How to Extract MMS, iMessages from iTunes Backup within Few Clicks?
It is no doubt that you can restore your iTunes backup files directly, but the facts have proved that the existing data on your iPhone are easily overwritten or replaced by the restored data. So it will cause lots of other troubles in your daily life. Thus, we highly recommend you to turn to a professional 3rd-party program as your assistant. It is possible that you may be overwhelmed while trying to select a credible iOS data recovery and extracting tool. This is because there are many such programs out there in the market today. However, this informative article is only going to show you how to use a single distinct data recovery tool that has proven to be quite effective in doing the same.
MobiKin Doctor for iOS (Windows/Mac) is a professional Windows and Mac PC software that can be used to easily extract and restore iOS device data from iTunes backup, including MMS, apps, images and iMessage among others. Feel free to follow the simple steps provided below to extract, view and recover your lost private data.
Step 1. Download the beneficial computer program from a reputable online distributor or vendor. Install it simply by dragging its installation package file to the "Applications" dock if you are using a Mac computer or double-clicking on the installation package and following the instructions provided if you are using a Windows personal computer. Launch the program once successfully installed.
Step 2. Once you have opened the program, you can select "Recover from iTunes Backup File" and go though the whole list of backup files. Activate the "Start Scan" feature after you have identified and selected the appropriate iTunes backup file to continue.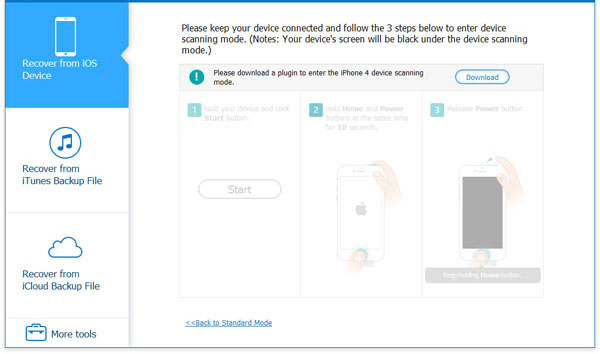 Step 3. The program will automatically scan and display all the files that are in that particular iTunes backup file. Simply select the information you want to extract and store (MMS and iMessages) to first preview it before the extraction process begins.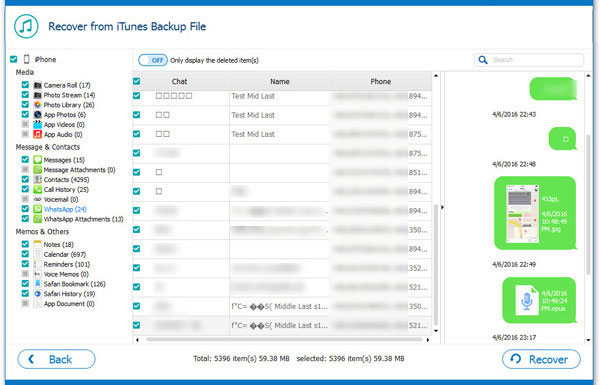 Step 4. Now you can proceed to click on the "Recover" option once you have selected the MMS and iMessages you wish to restore.
Write in the end:
iTunes is a crucial service for all iOS device users. The Apple service can be used to supplement iCloud which is used to wirelessly backup personal iOS data. You can now go on with your daily activities having the peace of mind that comes from knowing all your private information is secure and can be easily extracted and restored whenever disaster strikes.
Related Articles:
How to Extract iPhone Photos from Backup File