5 Effective Tips to Factory Reset iPhone without Computer
Having an iPhone passcode in place can keep your phone from the public eyes. But when you are locked out of the device because of a password forgotten, you may want to do a factory data reset to regain access. Since you don't want to conduct the reset by iTunes from a computer, for you don't know the required password, how to factory reset iPhone without computer is your real appeal now.
Well, can you factory reset an iPhone without a computer or a passcode? How can you make it without any trouble? Below, we will provide you with the complete navigation.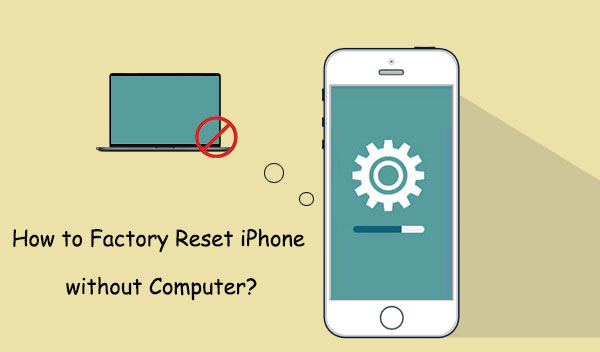 Part 1: Why Restore iPhone/iPad to Factory without Computer?
Fail to enter the correct passcode on an iPhone.
You disable the Find My iPhone before you lose your device.
You bought a pre-owned iPhone and could not reset it due to iPhone/iTunes errors 56.
Try to reset your iPhone passcode via Settings, but you can't remember the password.
You lose some important files resetting your iPhone using iTunes.
Your friend gave you his locked iPhone before he left.
You regain your lost iPhone from a thief, but he sets up a new passcode on it.
Someone set a new passcode on your iPhone.
Click to Know:
Part 2: How to Factory Reset iPhone without Computer from Settings
How to reset an iPhone without a computer? An iPhone that is working properly gives you the ability to factory reset it without Apple ID and password. Even though you have to know your iPhone's screen passcode and disable Find My iPhone feature.
How do I reset my iPhone/iPad without a computer from Settings?
Go to your device "Settings" > "General" > "Reset" > "Erase All Content and Settings" > confirm the action.
If you enabled Find My iPhone, enter your Apple ID and password. (How to remove my iCloud account from my iPhone if I forgot it?) The task will take a couple of minutes to complete. Once done, your iPhone will be taken to its original state.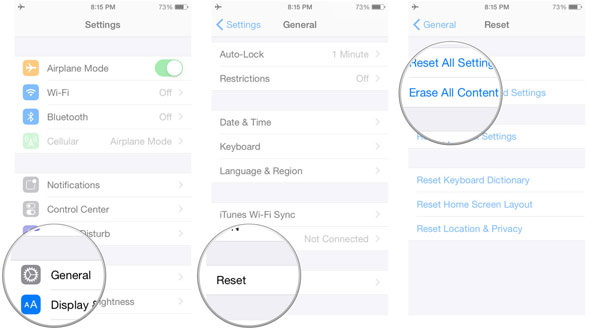 Part 3: How to Reset iPhone/iPad without Computer from Lock Screen (iOS 15.2 or Above)
If your iPhone is running iOS 15.2 or above, you can take advantage of its new features to rest or erase it from its lock screen when the iPhone unavailable issue arises again and again. How do you reset a locked iPhone/iPad without a computer from the lock screen?
Forgot your passcode? Keep entering an incorrect code. And your iPhone will tell you it's unavailable for a period of time, starting with a minute.
Wait a minute and enter an incorrect passcode multiple times again. Your iPhone will become unavailable for five minutes.
Please wait until the five minutes pass and keep entering incorrect passcodes until it becomes unavailable for 15 minutes.
You should see a new option - "Erase iPhone" at the bottom-right corner.
You can wipe out your device by simply tapping the "Erase iPhone" option.

Confirm the action when asked and enter your Apple ID password to trigger the erasure.
Know More:
Part 4: How to Restore iPhone/iPad without Computer via Find My iPhone
Prerequisites:
Enable Find My iPhone/iPad on your device.
You know your Apple ID and passcode.
Your iPhone is on and connected to the Internet.
How to factory reset an iPhone/iPad without a computer through Find My iPhone/iPad?
Visit iCloud.com and log into Find My iPhone.
Input your iCloud account and password to access your Apple account.
Choose your iPhone from the drop-down options of devices.
Tap "Erase iPhone" and confirm your decision.

After that, you can access your iPhone, generate a new passcode, and restore your device from a backup, if any.
Part 5: How to Factory Reset iPhone without Computer by Hard Reset
By simply pressing and holding button combinations on your iPhone/iPad, you can hard reset or force restart your device and thus factory reset it easily. Learn how to reset an iPhone to factory settings without a computer by hard reset:
Hard reset iPhone: For iPhone X, 8, and newer, press and hold the "Volume Up", "Volume Down" button, and the "Side" button all together; for iPhone 7/7 Plus, press and hold the "Volume Down" and "Side" buttons simultaneously; for iPhone 6S and earlier, press and hold the "Side" and "Top" buttons at the same time; when your iPhone's Apple logo appears, it is entering the recovery screen, and this will delete all data within.

Hard reset iPad: For iPad with Home buttons, hold down the "Home" and "On"/"Off" buttons at the same time; for iPads without Home Buttons, quickly press "Volume Down", quickly press "Volume Up", press and hold the "On"/"Off" button; continue holding the buttons after the slider appears on the screen, and the screen will go black; when the Apple logo appears, let go of the buttons and let the iPad boot up like normal.
Bonus: How to Factory Reset iPhone/iPad without Passcode via iOS System Recovery
Can't remember your iPhone screen password or Apple ID credentials? Couldn't change the wrong Find My iPhone/iPad settings? If any of these situations are what you're facing, don't hesitate to pick iOS System Recovery, the most professional iDevice repair tool. The best part of this tool is that it focuses on factory resetting your iPhone without any conditions.
Versatile iPhone repair tool - iOS System Recovery:
Factory reset iPhone without passcode.
Troubleshoot 50+ iOS issues, such as the error 0xe8000015 on iPhone, iPhone grey/purple/yellow/pink of death, iPhone typing on its own, iPhone unavailable, etc.
Fix your iOS to normal without data loss.
Ability to downgrade and upgrade iOS to the supported version.
Work for practically all iOS devices, including iPhone 14/14 Plus/14 Pro (Max), iPhone 13/13 Pro (Max)/13 mini/12/12 Pro (Max)/12 mini, iPhone 11/11 Pro/11 Pro Max, iPhone X/XR/Xs/Xs Max, iPhone 8/8 Plus, iPhone 7/7 Plus, iPhone 6/6S/6 Plus, iPod touch, iPad, etc.
It won't let out your privacy.
How to factory reset iPhone/iPad without a passcode using iOS System Recovery?
Step 1. Have iOS System Recovery installed and run it on your computer. Go to "More tool" > "iOS System Recovery". Next, connect your iPhone to the computer via a USB cable.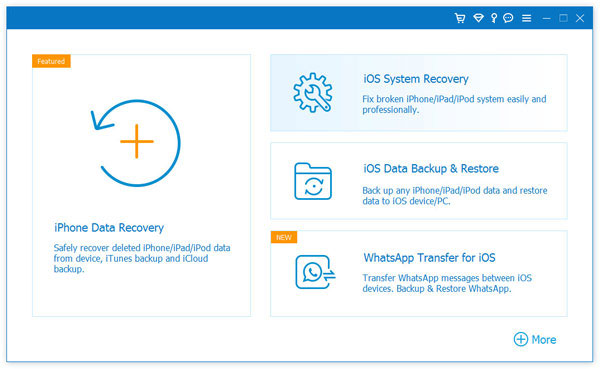 Step 2. When the program detects the connected iPhone, follow the on-screen prompts to put your iPhone or iPad into Recovery Mode or DFU Mode.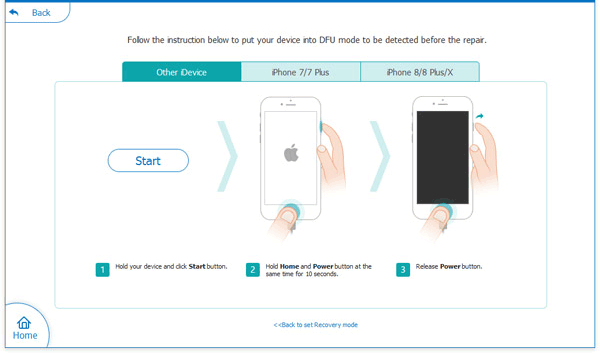 Step 3. After the phone is in this mode, go to "Advanced mode" > "Confirm" to confirm the device info. Finally, tap the "Repair" button to download the plug-ins and restore your device to factory settings.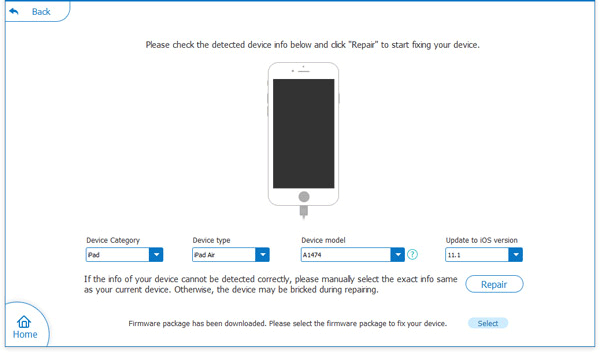 Closing Remarks
OK, we just guided you through the five scientific ways to factory reset your iPhone without a computer or passcode. As you may know, a factory reset, different from resetting all settings, can delete all of the data stored on your device. So, it's best to back up your iPhone or iPad before resetting. Once the reset is done, you can set up the phone to act like a new one. Then please keep the new passcodes associated with your phone in a place readily accessible.
Related Articles:
How to Recover Data from iPhone without Backup? 3 Ways Are Offered
Does Factory Reset Delete Everything on iPhone? What Happens If I Do It?
How to Downgrade from iOS 16 (Beta) to iOS 15.7? Here's All You Need to Know
Ultimate Guide to Reset Restrictions Passcode on iPhone 14/13/12/11/Xs Max/XR/X/8
Tips & Tricks to Troubleshoot iPhone Typing on Its Own Effectively
How to Recover iPhone Photos after Factory Reset without Backup [Must Know]