Does Factory Reset Delete Everything on iPhone? What Happens If I Do It?
"Does resetting your iPhone to factory settings actually delete everything on the device, or is there anything that can be recovered after that?" -- from Quora
When your iPhone keeps crashing, shows up the black screen of death, gets stuck on a loading screen, etc., you probably consider doing a factory data reset to fix it. Or, in other cases, you'll give the device you've had for years to its new owner; the same could be applied to it for security. Well, does factory reset delete everything on iPhone? And any far-sighted ways to reset your iPhone to factory settings? OK, we will discuss the relevant content in detail.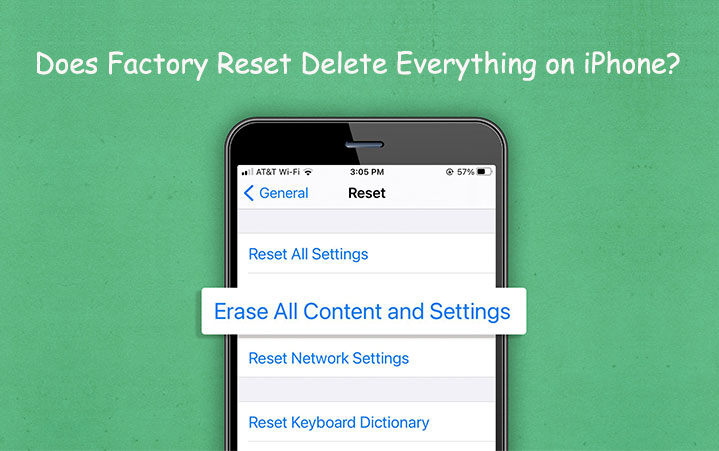 Part 1: Does Factory Reset Delete Everything on iPhone?
Will/does resetting iPhone delete everything? No, factory resetting an iPhone will not affect iPhone stock apps. All the applications in the iOS system, including Contacts, FaceTime, Clock, Compass, Calendar, Email, iMessage, etc., will be retained. If you have updated them before resetting, you'll still get their latest versions afterward. Next, if I factory reset my iPhone, what happens or what does factory reset do on iPhone? Now, please read on to know more.
You Might Need:
Part 2: What Happens If I Factory Reset My iPhone?
We just learned what will be kept after restoring an iPhone to factory settings. Specifically, what will occur to the content, system, or backups of the device after the action? This may be essential before we get any further, and we will list them all below.
What happens when you factory reset your iPhone?
All your personal data, covering browsing history, call logs, passwords, and media files in your iPhone, will be erased.
It'll remove jailbreak and applications installed after that.
For files backed up using iTunes, iCloud, or third-party software, factory resetting the iPhone won't damage its backup files.
Part 3: How to Factory Reset iPhone from Settings?
As you know, doing this will erase your private data on your iPhone, so, first and foremost, please run a backup of your iPhone with iCloud:
Make sure your iPhone is working with a stable Wi-Fi network.
Head to your iPhone's "Settings" > [your name] > "iCloud".
Enable "iCloud Backup" > tap "Back Up Now". (iCloud backup taking forever?)

Once completed, go to your iPhone's "Settings"> your name> "iCloud"> "Manage Storage" to ensure the backup is made.
Next, let's check out how to factory reset an iPhone from its Settings:
Run iPhone's "Settings" > "General" > "Reset".
Select "Erase All Content and Settings".

Click "Erase iPhone".
Enter your Apple ID details and click "Erase".
Factory reset your iPhone, and you'll be taken directly to the "Welcome" screen.
Restore your device from an iCloud backup, if any, or please take a fresh start.
What if you deleted all your personal files, including important contacts, messages, etc.? Try to restore iPhone data after a factory reset. And as you might know, performing a factory reset in this way will leave the door open for iOS data recovery, which isn't what some people want. Instead, many of them need a professional iOS eraser to keep their information from leaking out. OK, we shall cover it in the next section.
Know More:
Part 4: How to Factory Reset iPhone by Deleting Everything on It?
Now, you have an idea "does restoring iPhone to factory settings delete everything?". If you're to erase all personal iPhone content before finding it its next holder, please don't miss the excellent program - MobiKin Eraser for iOS. On the one hand, this tool can provide you with several erasure levels without affecting the iOS system. On the other hand, it can make the most professional recovery software unable to obtain any information from it.
What can MobiKin Eraser for iOS do for you?
Factory reset your iPhone by deleting everything on your iPhone.
Three security levels to select from, depending on your requirements.
Delete all your iPhone data, including contacts, photos, videos, music, text messages, call logs, documents, browsing history, and others.
Complete deletion and no possibility for iOS data recovery.
Apply to a whole range of iDevices, covering iPhone 14/14 Pro/14 Pro Max/14 Plus, iPhone 13/13 Pro (Max)/13 mini/12/12 Pro (Max)/12 mini, iPhone 11/11 Pro/11 Pro Max, iPhone X/XR/Xs/Xs Max, iPhone 8/8 Plus, iPhone 7/7 Plus, iPhone 6/6S/6 Plus, iPod touch, iPad, etc.
It won't track your privacy.
Free download:
How to factory reset your iPhone by erasing all data on it via MobiKin Eraser for iOS?
Step 1. Run Eraser for iOS on a computer
Install and open the program on a computer when you download it. Connect your iPhone to this computer using a USB cable. Then follow the clear instructions to have the utility recognize your device.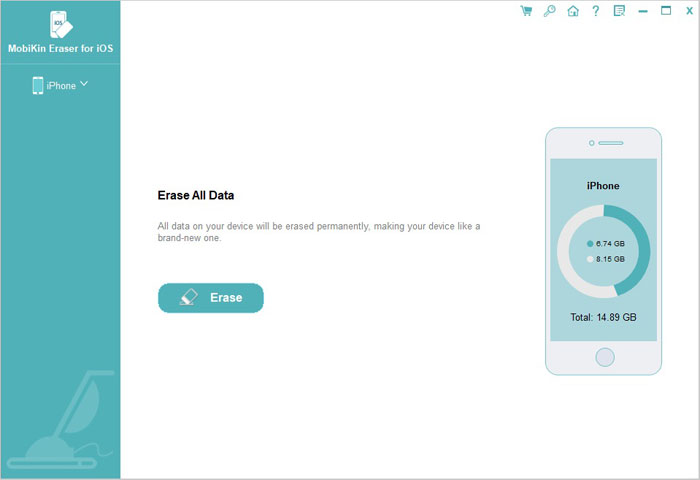 Step 2. Select security level to erase your iPhone
Tap on the "Erase" option on the screen. Next, you can follow the directions to reach the "Select Security Level" page.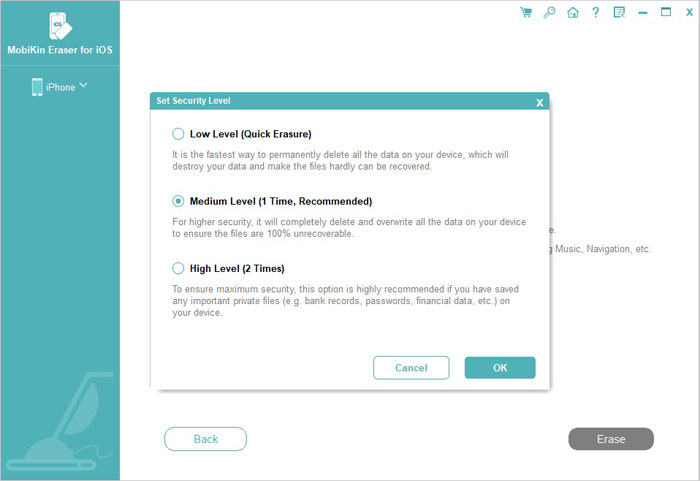 Step 3. Factory reset iPhone by deleting all on it
Choose the security level from "Low Level", "Medium Level", or "High Level". Finally, input "Delete" in the corresponding field and click "Erase" again to wipe out all iOS content.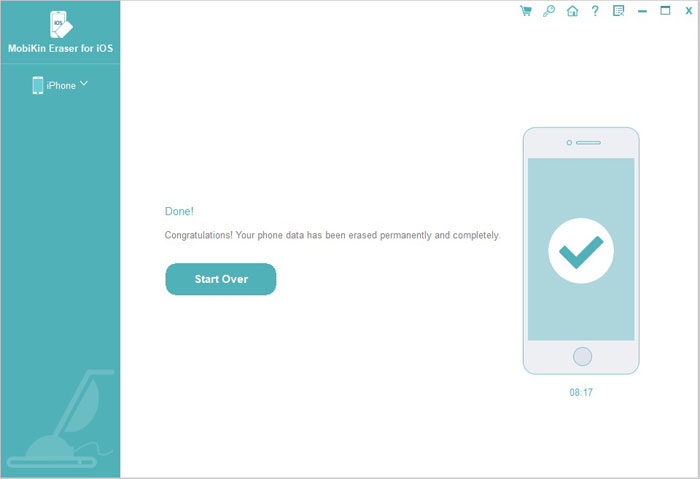 Final Thoughts
When finishing reading this passage, you may have a certain understanding of factory reset on an iPhone. Well, if you just have to repair some system errors, try to do it directly by getting into your iPhone's Settings. Otherwise, MobiKin Eraser for iOS is your preferred tool, in particular that you need to resell, donate, or pass your iPhone on to someone around you. With this smart software, you'll no longer worry about exposing any privacy to the eyes of curious people.
Related Articles:
[Guide] How to Reset iPhone 13/12/11/11 Pro/XS Max/8 Plus without iTunes?
How to Back Up Android Phone before Factory Reset in 2023?
[3 Best Methods] How to Delete Everything on iPhone without Recovery?
[Easy Guide] How to Transfer Data from iPhone to iPhone without iCloud?
Why Does My iPhone Keep Restarting? Reasons and 13 Great Solutions for You
iPhone Stuck on Loading Screen? 7 Tested Ways to Fix It [2023 Latest]