How to Reset Restriction Passcode on iPhone 7/6S/6/5S/5?
iPhone Restrictions, which is also commonly known as "Parental Controls" is an essential iOS feature that allows parents, guardians or any other administrators to restrict access to various iPhone apps, features, and even settings. This amazing feature is used to add a potent layer of security to such devices. There are, however, times when you might end up forgetting your iPhone's restriction passcode.
This goes without saying that you will also be prevented from accessing your favorite apps and iOS settings. That is why this informative guide is going to educate you on exactly how to reset Restriction passcode on iPhone. You are guaranteed to finally enjoy your iOS device once you know how to reset the elusive "Restrictions" passcode.
Part 1. How to Reset iPhone Restriction Passcode through Restoring Your iPhone?
Part 2. How to Reset Restriction Passcode with 3rd-party App?
How Can I Reset iPhone Restriction Passcode by Restoring iPhone?
You can easily reset your iPhone's restriction passcode simply by restoring the iOS device to its default factory settings. However, It is important to note that doing so will not only reset the passcode but also end up deleting any information that is stored on the gadget.
So, taking a local iTunes backup is also not recommended as it may not necessarily help. This is because using the newly created backup file to restore your iPhone will restore the handheld device together with the forgotten restrictions passcode. But you still can backup them to avoid losing any crucial data during the restoring process.
Now, let's us to see how you can restore your iPhone to reset its restrictions passcode easily.
Step 1. Switch off your iDevice and use a standard USB cable to connect it to your Windows or Mac computer. Then, launch iTunes on your desktop computer.
Step 2. Hold your iPhone, gently press and hold both the "Home" and "Power" buttons. You can alternatively press and hold the "Volume Down" and "Power" buttons if you are using an iPhone 7 or newer iOS device.
Step 3. Release the buttons once you see the "iTunes" logo displayed on your iPhone's screen. And your iPhone has entered the Recovery mode.
Step 4. Turn to iTunes on your computer, select your iPhone and click on "Restore" button.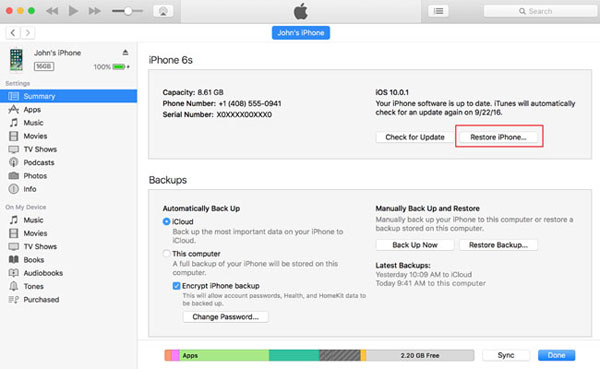 Your iPhone will now be automatically restored to its default settings. You can then set it to start using it without the restrictions passcode.
Can't Miss: How to Fix iTunes Backup & Restore Issues
How to Reset Restriction Passcode with 3rd-party Application?
iBackupBot is an amazing computer program that can be used to insert a new personalized line of code into an iTunes backup file. This newly inserted line of code can then be used to reset the restrictions passcode. Below are the simple steps that you can follow to achieve this.
Step 1. Try accessing any blocked iOS app or feature and enter an incorrect restrictions passcode. Then, launch iTunes on your desktop computer and use an USB cable to connect your iPhone to the computer.
Step 2. Wait for iTunes to automatically detect your newly connected iOS device, click on your iPhone's icon and then select the "Back Up Now" iTunes option.
Step 3. Download and install iBackupBot on your computer, then quit the "iTunes" program but do not disconnect your iDevice from your PC. After that, directly launch this program on your PC.
Step 4. Navigate to the program's "SystemFiles/HomeDomain/Library/Preferences" section. Use the search bar provided to locate the "com.apple.springboard.plist" file and then use the "Notepad" program or any other standard text editor for that matter to open and edit it.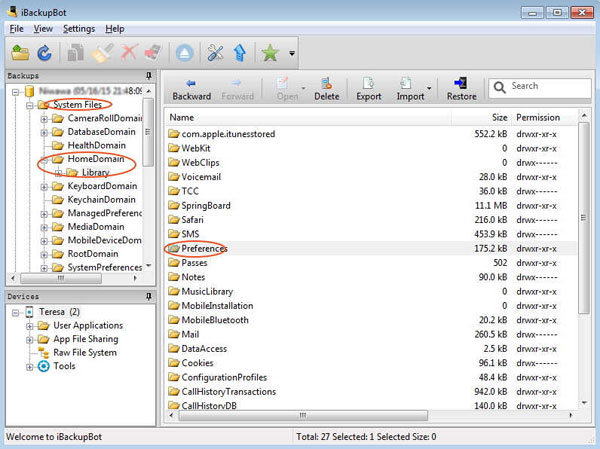 Step 5. Search for the command line "<key>SBParentalControlsFailedAttempts</key> <string>X</string>". Kindly note that the X used in this command line represents any figures that may be provided between the two "strings" and is not an actual representation of what is expected.
Step 6. You can now proceed to add the code "<key>SBParentalControlsPIN</key> <string>1234</string>".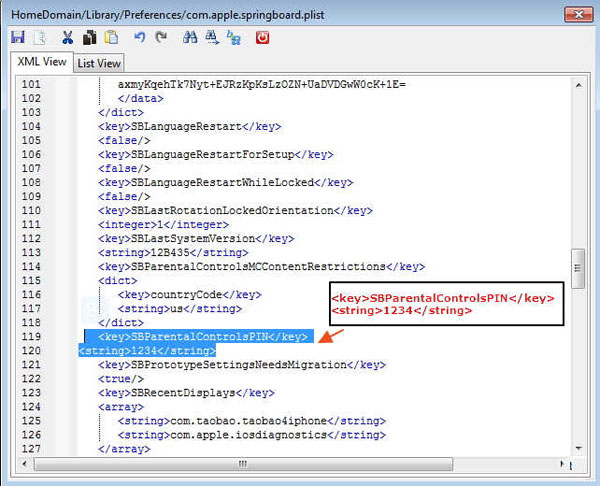 Step 7. Save the edited file and then press "ctrl" and "T" buttons to restore the file into your iPhone. Then, reboot your iPhone immediately.
Related Articles:
How to Factory Reset iPhone without Passcode