Ultimate Guide to Reset Restrictions Passcode on iPhone 12/11/Xs Max/XR/X/8
"I have forgotten the restrictions password on my iPhone 11. How do I reset it?" -- from Apple Support Communities
iPhone Restrictions, commonly known as "Parental Controls", is an essential iOS feature, allowing users to better protect Restriction settings by adding a potent layer of security to devices. There are, however, times when you may end up forgetting the restrictions passcode on your iPhone.
So, you are locked out of your favorite apps and iOS settings. Fret not! This informative guide will teach you how to reset restrictions passcode on iPhone/iPad in several simple ways.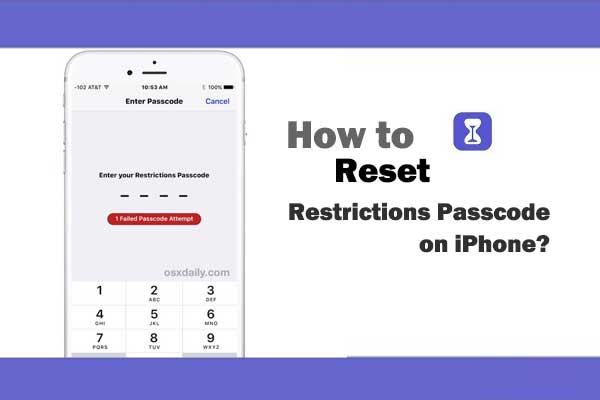 Part 1: What's the Difference Between Restrictions and iDevice Passcodes
"How do I unlock my restriction code?" Before we deal with this password, it's necessary to tell iDevice passcodes from restrictions passcodes.
iPhone device passcode:
It is what you enter when you intend to unlock your iPhone for use. It's used as a safety measure to prevent unauthorized action from accessing your device. You use it to unlock the phone screen. In addition, touch ID or face ID is also an important measure to keep your phone away from prying eyes.
iPhone Restrictions passcode:
It enables Apple owners to protect the Restrictions settings on an iPhone from being changed or disabled. You enter it while going to the Restrictions section from the Settings app. Having it set on your device, your kids or others cannot change the Restrictions settings.
Notice: You can set up each passcode separately so that there's no relationship between them. You'd better don't use the same code for both. It's bad security, you know.
Read Also:
Part 2: How to Reset Restrictions Passcode on iPhone if You Remember It
It's pretty easy to cope with "iPhone restriction passcode bypass" if you bear the restrictions passcode in mind. Just do it from your iPhone Settings.
How to hack and reset restrictions password on iPhone if you can remember it?
Go to your iPhone Settings > General > Restrictions > input your passcode.
Tap Disabled Restrictions.
Enter your current passcode again.
Touch Enable Restrictions.
Enter a new passcode twice.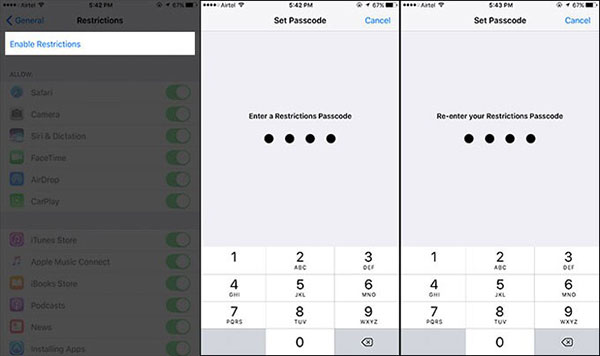 Part 3: How to Reset Password on iPhone Restrictions if You Forgot It
Do you want to know how to get into restrictions without a passcode? OK, here are three useful approaches for you.
Preparation: Back up your iPhone to prevent data loss
Resetting restrictions passcode may put your iPhone content at risk of being lost. Thus, it's important to keep your iPhone data on your computer before doing so. Here, MobiKin Assistant for iOS (Win and Mac) can give you a big hand. It let you back up data on your PC/Mac, securing your data like contacts, messages, notes, calendars, bookmarks, music, videos, photos, books, apps, etc.
Quick User Guide:
Install and launch the program on your PC/Mac.
Link your iPhone to the computer through a USB cord.
This utility will recognize your iPhone soon, and its main screen should appear afterward.
Click the data types for backup.
Preview and handpick the files you wish to back up to your computer.
Tap on "Export" to transfer the iPhone items to this computer.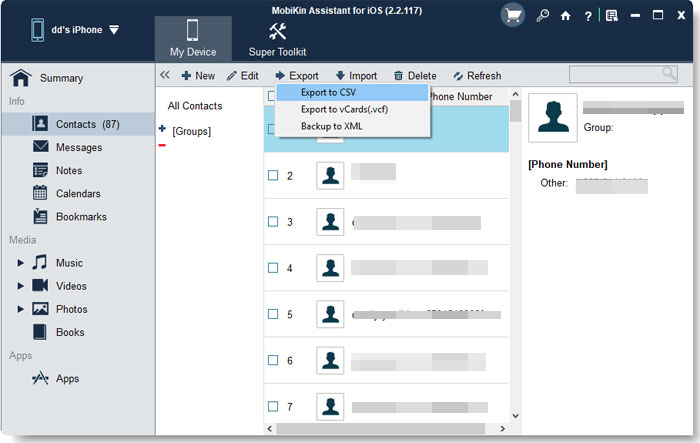 3.1 How to Reset iPhone Restrictions Passcode via iTunes
If you have "Find My iPhone" disabled on your device, you can try iTunes to set your iPhone up as a new one.
How to take off restrictions passcode on iPhone with iTunes?
Switch off your iPhone and use a USB cable to connect it to your computer.
Launch iTunes on your computer.
Hold your iPhone, gently press, and hold both the "Home" and "Power" buttons.
Alternatively, press and hold the "Volume Down" and "Power" keys if you use an iPhone 7 or newer iOS device.
Release the buttons when you see the "iTunes" logo appear on your iPhone's screen.
This indicates your iPhone is in Recovery Mode.
Turn to iTunes, select your iPhone, and click "Restore iPhone".

In the "Update Window", click "Next", followed by Agree".
Wait until iTunes downloads the latest iOS 14 and restores this iPhone.
Finally, you'll be able to access your iDevice without the restrictions passcode.
If you had chosen to back up your iPhone data to iTunes, restoring the backup will cover everything on your iPhone. In other words, restrictions codes will thus be put back on your device as well. Therefore, you can refer to the page - how to recover data after (factory) reset iPhone? - for selective data recovery.
3.2 How to Remove Restriction Code on iPhone via Eraser for iOS
Here's a program that can clear your iPhone files, including restrictions passcode, browsing history, contacts, SMS, media files, apps, reminders, and others. It is MobiKin Eraser for iOS. This utility is fairly simple to use. Start with connecting your iPhone to a computer, trust this PC, and then follow the easy instruction to do the reset. After the erasure, your iPhone content is 100% unrecoverable.
More features of Eraser for iOS:
Take off restrictions passcode on iPhone permanently.
Let you choose three erasing levels from Low Level, Medium Level, and High Level.
Clear all your private data to protect your info better.
Wipe your iDevice without leaving a pinch of your secrets.
Clean junk files with one single click.
Work well with practically all iOS devices, such as iPhone 12/12 Pro (Max)/12 mini, iPhone 11/11 Pro/11 Pro Max, iPhone X/XR/Xs/Xs Max, iPhone 8/8 Plus, iPhone 7/7 Plus, iPhone 6/6S/6 Plus, iPads, iPod touch, etc.
It won't divulge your privacy.
How do I remove my restrictions passcode with MobiKin Eraser for iOS?
Step 1. After you download and install the program, launch it on a computer and link your iPhone to the computer via the USB cord.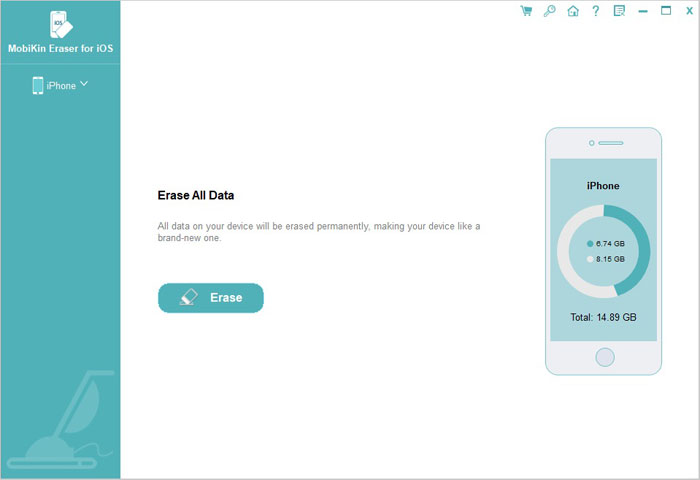 Step 2. Once connected, tap on "Erase" on the interface to enter the erasing window. Next, click "Medium", which will take you to the "Select Security Level" window.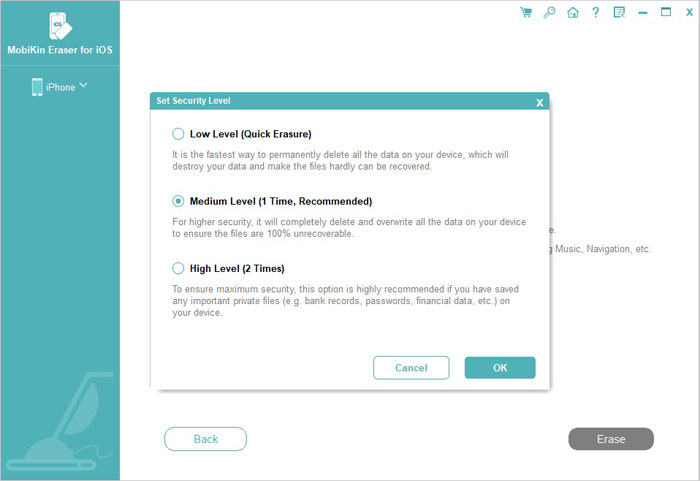 Step 3. Choose the erasing mode as per your need. After that, you need to enter "Delete" in the input box and click the "Erase" button to begin erasing your iPhone.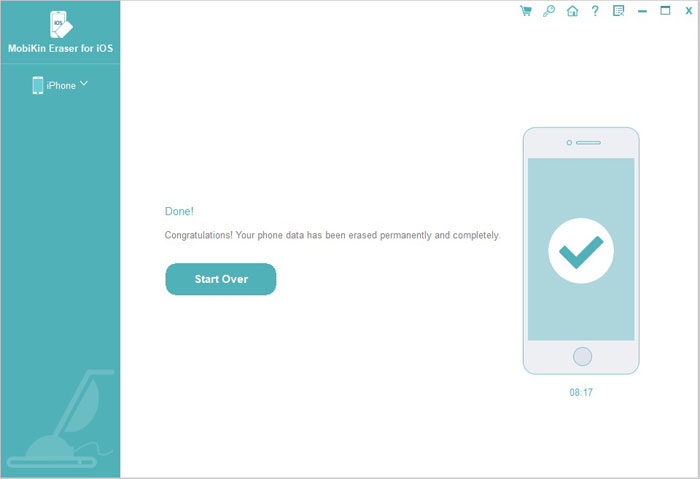 Be patient and wait for a little while. Lastly, the tool will remove the restrictions code on the iPhone successfully.
Posts You Might Also Like:
3.3 How to Bypass Restrictions Password on iPhone via iCloud
Don't have immediate and physical access to your iPhone? Try using iCloud to remove iPhone restrictions passcode remotely.
How to get rid of restriction code on iPhone 12/11/XR/Xs/8 via iCloud?
Visit icloud.com from any browser on your computer.
Log in with your Apple ID and password.
Click "Find My iPhone", followed by "All Devices".
Select the iPhone you want to reset.
Click the "Erase iPhone" option to override restrictions on this iPhone.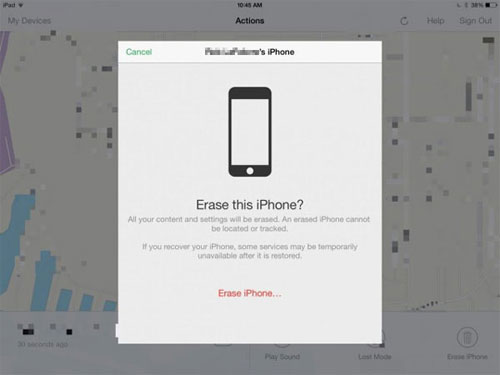 After resetting the restrictions passcode, you can restore your iPhone from the backup you've just made.
Part 4: How to Recover the "Restrictions Passcode" on PC
iBackupBot is an excellent PC program for inserting a new personalized line of code into iTunes backup files, through which you can retrieve the restriction passcode on your iPhone.
How to get/figure out your restrictions passcode on an iPhone from a PC?
Access any blocked iOS feature and type in an incorrect restrictions passcode.
Run iTunes on your desktop computer and use a USB cable to link your iPhone to the computer.
Wait for iTunes to detect the connected device.
Click your iPhone icon and select the "Back Up Now" option.
Download and install iBackupBot on your computer.
Quit iTunes but don't disconnect your iDevice from your PC.
Launch iBackupBot on your PC.
Head to the program's "SystemFiles/HomeDomain/Library/Preferences".

Use the search bar to locate the "com.apple.springboard.plist" file.
Use the "Notepad" program to open and edit it.
Search for the command: "<key>SBParentalControlsFailedAttempts</key> <string>X</string>". NOTE that the X used in this command line represents any figure that may be provided between the two "strings" and isn't an actual representation of what is expected.
Proceed to add: "<key>SBParentalControlsPIN</key> <string>1234</string>".

Save the edited file and press the "ctrl" and "T" buttons to restore the file to your iPhone.
Restart your iPhone immediately.
Last Words
In simple terms, you can fix how to get restriction passcode off iPhone and then reset it without any trouble if you can remember the code. Assuming you forgot it, just follow the rest methods to either reset/remove the restrictions passcode or recover it from your PC.
Finally, please note that you cannot tackle the problem using any variations of "Erase All Settings and Contents" on your iPhone. If you try going this route, you'll be asked to provide both the Apple ID passcode and the Restrictions passcode.
Related Articles:
How to Factory Reset iPhone without Passcode in 3 Easy Ways?
4 Ways on How to Remove Apple ID from iPhone without Password?
Touch ID Not Working on iPhone? 14 Fixes Are Here!
How to Reset iPad without Password? (4 Ways Available)
How to Reset iCloud Password on iPhone/iPad
[Full Guide] How to Erase iPhone without Password Permanently?