iPhone Stuck on Preparing to Transfer: Here're 6 Quick Fixes
Ever felt like time stands still? As an iPhone user, there's nothing more frustrating than seeing my iPhone stuck on preparing to transfer. It's a common problem that interrupts the smooth data migration process, leaving you wondering about potential data loss. Whether trying to upgrade your iPhone or simply create a backup, this issue can be a real headache. This brief guide will help you understand why iPhone preparing to transfer happens and offer some practical solutions to get your transfer back on track.
Part 1. How Long Should Preparing to Transfer Take?
Transferring data to an iPhone can vary in duration depending on the device's model and storage capacity. For instance, a 64GB iPhone typically completes a data transfer within 10-20 minutes. This mostly works when transferring data from iPhone 14 to the newest model. On the other hand, the process for an iPhone 8 may extend up to an hour. These timescales are approximate. Factors such as file size and network connection can influence the transfer speed.
Therefore, you'll need to wait longer when transferring data from iPhone 8 to iPhone 14. Despite iPhone 14 being fast, a less powerful processor in iPhone 8 will require extra time. Be patient for the process to complete.
You May Also Need:
Part 2: Why is My iPhone Stuck on Preparing to Transfer?
If you are wondering why your iPhone is stuck on preparing to transfer when you are trying to transfer data, there could be a few causes. Below are some of the reasons:
Software Glitches - Software bugs may prevent the Quick Start process from completing preparing the transfer. The bugs may come as a result of outdated software or malware.
Poor Wi-Fi Network - The transfer will take longer if the network is slow or interrupted, and both devices need to be connected to the same network.
Data size - Are you trying to transfer large amounts of data? Transferring many files or large files usually takes longer.
Old iOS Device - Old versions of iOS can cause issues while transferring data, and your iPhone may get stuck on the "Preparing to transfer" page. You need to install the newest version on both devices.
Part 3: Quick Fixes for New iPhone Stuck on Preparing to Transfer
Have you just purchased an iPhone, and it is stuck on preparing to transfer? Here are some quick fixes for iPhone 14 stuck on preparing to transfer:
Fix 1. Keep the Two Devices Close to Each Other
While using Quick Start to set up your new iPhone, make sure that the old and new devices stay close to each other. This will help ensure that the transfer process does not fail due to signal loss. It will facilitate the smooth and fast data transfer between the two devices.
Fix 2. Connect the Two iPhones to the Same Network
Transferring data between two iPhones may require a stable and reliable wireless network. They should also be connected to the same Wi-Fi. This will help in the faster transfer of data with minimal interruptions. To do so on both iPhones:
Tap Settings on your iPhone.
Go to Wi-Fi settings.
Select your preferred network, and both devices are connected to the same Wi-Fi.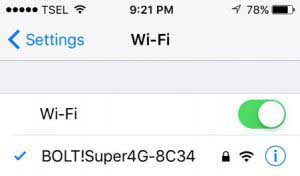 Fix 3. Make Sure Both iPhones Run iOS 16
If one device runs an older version of iOS, the transfer process may fail or take longer. Make sure that both iDevices have updated to the latest version of iOS 16 to complete the transfer process without any software glitches. To do so:
Open "Settings" on both devices.
Navigate to "General" > "Software Update."
If new updates are available, click on download and install.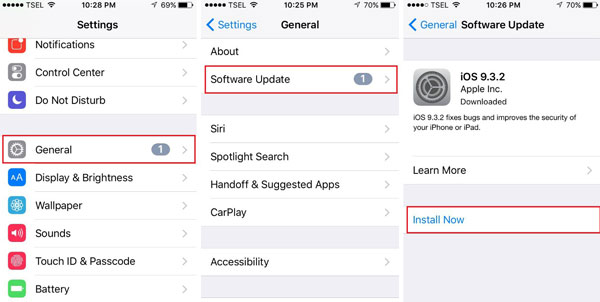 Fix 4. Ensure Enough Storage on iPhone
Transferring data from one device to another may require considerable storage space. You need to ensure that the new iPhone has enough free space for the transfer process to be successful. If not, remove unwanted files, old text messages, apps you no longer use, or photos before setting up the device. To check the available storage on your device, open "Settings" and navigate to "General" > "iPhone Storage".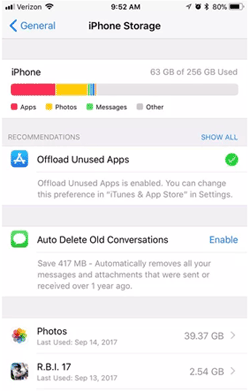 Fix 5. Reset Network Settings
If all the above steps fail to fix the 'New iPhone Stuck on Preparing to Transfer' issue, then resetting your device's network settings can be a good idea. This can help clear out the corrupted files that could be causing the network problem and restore your device's normal functioning.
Sometimes unknown third-party applications can interfere with the transfer process, and resetting the network settings can help get rid of them. To reset the network settings,
Head to Settings -> General.
Then go to "Reset (Transfer or Reset iPhone>Reset)."
Tap on "Reset Network Settings". Ensure to do it on both devices.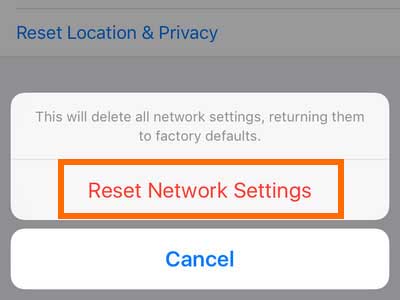 Now try to set up your new iPhone again. Hopefully, the device will get past the preparing to transfer iPhone screen this time and move on with the setup process.
Note: All your Wi-Fi passwords and Bluetooth connections will be erased. So, it is essential to note them down.
Learn More:
Part 4: Alternative Way to Transfer Data to iPhone without Quick Start
MobiKin Transfer for Mobile is a comprehensive data transfer tool that lets you quickly move all types of content from one mobile device to another. This software is compatible with iOS and Android devices. This makes it perfect for data transfer. Whether you're upgrading to a new device or want to share files between two different devices, MobiKin Transfer for Mobile makes the process simple and hassle-free. It's a reliable and effective solution for all your mobile data transfer needs.
MobiKin Transfer for Mobile offers various features to make data transfer between mobile devices easy and secure:
Brief Introduction of MobiKin Transfer for Mobile:
File Transfer: Supports files like music, photos, videos, contacts, calendars, bookmarks, and more without data loss.
Cross-Platform Compatibility: Supports both iOS and Android. You can copy files like books and contacts from Android or iOS.
Secure Transfer: Data is 100% secure and encrypted, ensuring your data is safe and secure.
Work well with overall Android devices and iPhones/iPods/iPads, such as iPhone 14/13/12/11/11 Pro/11 Pro Max, iPhone X/XS/XR/XS Max, iPhone 8/8 Plus, iPhone 7/7 Plus, iPhone 6/6S/6 Plus, etc.
It doesn't record any of your privacy.
How to transfer data to new iPhone from old iPhone/Android with Transfer for Mobile?
Using this tool to transfer data between mobile devices is easy. Follow these steps works for iPhone 13 stuck on preparing to transfer:
Step 1. Download and install the program on your PC. Launch it. A simple and intuitive interface will be on your screen, indicating you to connect your devices.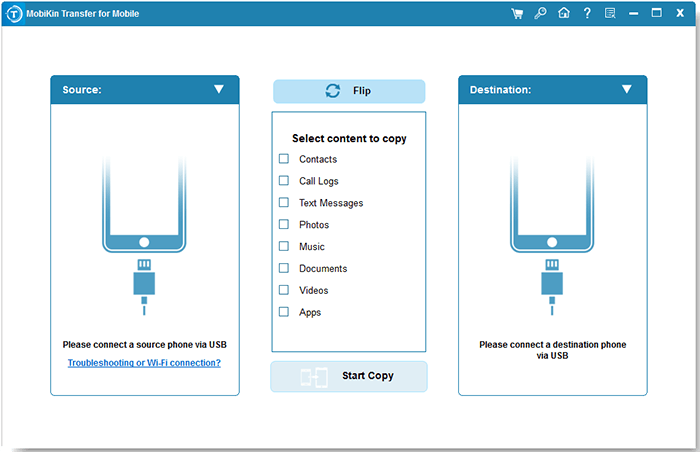 Step 2. Connect both your devices (old and new iPhones) via a USB cable. A popup prompting you to trust the computer will appear on your device's screen. Unlock your iPhone and tap Trust to proceed. This software will recognize both devices.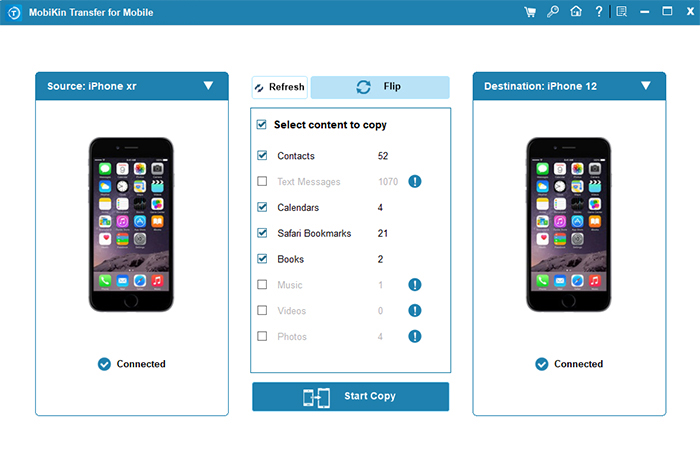 Step 3. When the devices connect successfully, the interface will display transferable files and the two phones. From the left should be the old iPhone, and on the right side should be the new iPhone. If not, flip the devices.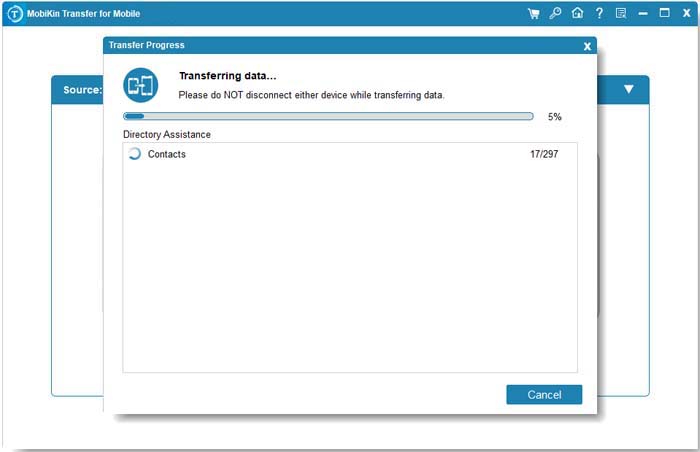 Step 4. Now tick the files you need to transfer and click the Start Copy button. The transfer of data will begin. Wait for some minutes. Click "OK" when you get a notification indicating the transfer is completed.
Calling It a Wrap
In summary, if your iPhone is stuck on preparing to transfer, it's likely due to software glitches or storage issues. Ensuring a stable internet connection, updating your software, freeing up device storage, or resetting network settings can help resolve this issue. The above solutions suit most users facing new iPhone preparing to transfer issues. Just have patience, and the problem should be fixed in no time. Remember, regular device maintenance can prevent such issues from occurring in the future.
Related Articles:
iPhone Red Screen of Death? 3 Solutions to Fix It!
5 Ways to Fix iPhone Blue Screen of Death (BSOD)
How to Control iPhone with Broken Screen Effortlessly? [Ultimate Guide]
iPad/iPhone White Screen of Death? 3 Ways Show You How to Fix It!
3 Methods to Resolve iPhone Stuck in Boot Loop
9 Best iPhone Repair Software to Fix Various iPhone Software Issues