8 Productive Ways to Fix iTunes Stuck on Preparing iPhone for Restore
Restoring an iPhone using iTunes seems like a simple procedure. But veteran Apple users may not be very optimistic about this tool. For example, iTunes stuck on preparing iPhone for restore sometimes occurs when using it to restore an iPhone. This situation is complicated, and an outdated iTunes or iOS might be accountable for it at times.
Indeed, it's a good option to update your iPhone or iTunes before getting any further. Yet, this does not always work along with possible risks concurrently. Still, there are some practical tips to help you get around the plight. OK, just go check them.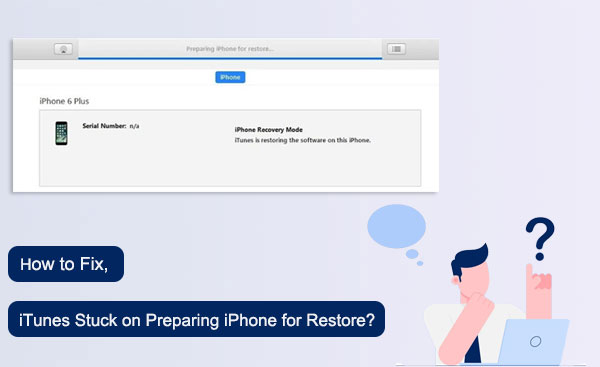 Part 1: How Long Should Preparing iPhone for Restore Take
In a broad sense, there is no definite time for this because many factors contribute to the iPhone restoration. For example, it, to a certain extent, depends on how much data you want to restore. Specifically, it takes about a few minutes to an hour or even several hours, depending on the unique situation.
The restore will go through such phases as downloading, extracting, verifying, and restoring firmware. Among them, the last two take relatively longer. What if you come across preparing the iPhone for a restore stuck iPhone X/11/12/13? No worries! Here are some quick solutions for you.
You May Also Like:
Part 2: Fix "iTunes Stuck on Preparing iPhone for Restore" in 7 Ways
Way 1: Check Network Connection
An unstable network is the main reason for preparing iPhone for restore taking forever to a large extent. Therefore, first of all, you should make sure your phone is connected to a stable network. You can disconnect the router and wait a few tens of seconds to restart it. In addition, switching to another network with a fast network speed is also a wise choice.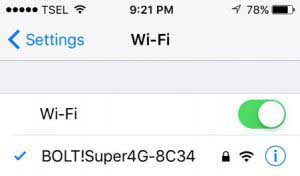 Way 2: Restart Your Computer & iPhone
When you are stuck running an app, restarting the phone may help you get out of this dilemma. (What if iDevice fails to restart?) Similarly, if there are minor glitches on a computer or iPhone, it is reasonable to bump into iTunes being stuck at preparing the iPhone for restore. Therefore, assuming you are uncertain what causes this issue. Then please check to see if it can ensure a smooth restore.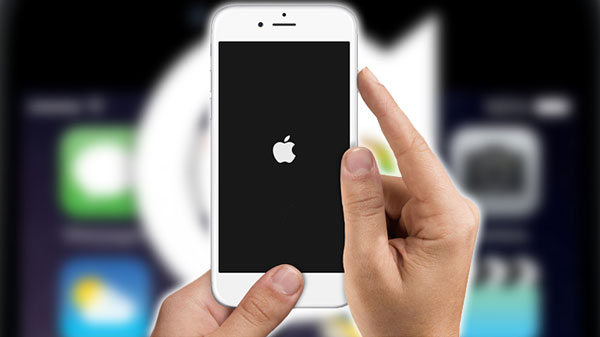 Way 3: Use the Original USB Cable
A non-original USB cable tends to explain the stuck-on preparing iPhone for restore because it has no serial number and is tough to support data transmission. Thus, please make sure you are using an original and certified cord.
If the cable is dusty, loose, or cracked, just replace it with a new one before connecting it to the computer. At this point, you can connect another USB port if the previous one doesn't work.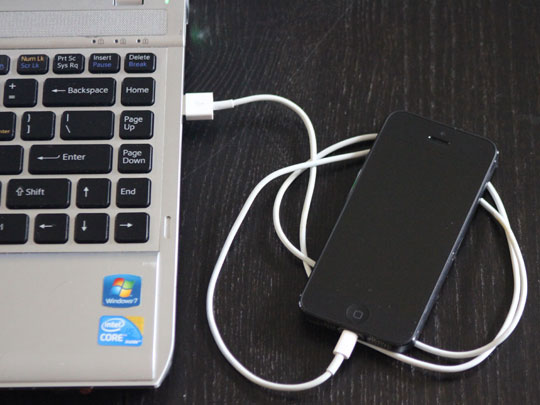 See More:
Way 4: Try a Different Computer
Owning a malfunctioning computer with faulty components is also the cause of the annoying restore. For this, you might as well try another computer if you have a backup on this machine before. Then, ensure you've downloaded iTunes on your PC and repeat the operations just now. This method may not work well, but it is still worth a shot.
Way 5: Update iTunes on Your Computer
Older iTunes versions tend to have backward firmware, which leads to compatibility problems, resulting in iTunes stuck at preparing iPhone for restore. To ensure a stable restore, checking and making sure a newer version of iTunes on your PC is essential. Here are the tutorials:
Go to the "Start Menu" on your PC and search for "Apple Software Update" to launch iTunes.
Tap the "Help" tab from the top interface of iTunes.
Choose "Check for Updates".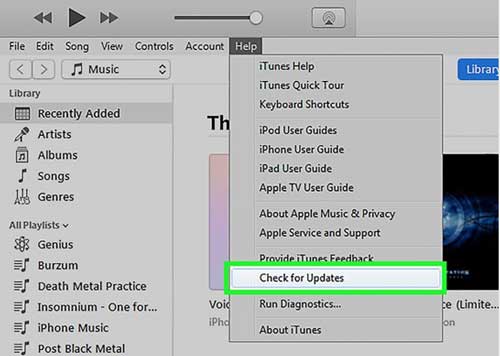 To update iTunes on a Mac with macOS before Catalina, please Launch "iTunes" > "iTunes" > "Check for Updates".
Way 6: Exit Antivirus Software
Antivirus software is likely to identify iTunes as a suspicious program, preventing it from establishing a virtual connection with Apple services. Sometimes, although it delays feedback, it can block or even terminate the whole task before you start restoring your iPhone. So, prior to opening iTunes, you'd better find the Antivirus software on your computer and turn it off or exit the program directly.
Way 7: Update Your iPhone in Recovery Mode
As you may know, updating the operating system in iPhone recovery mode may help you settle matters caused by an outdated system or software faults. Next, we will teach you how to update iOS through iTunes recovery mode:
Open the latest version of iTunes on your PC/Mac.
Switch off your iPhone and attach it to the computer via an applicable USB cable.
Press the "Volume Up" and then the "Volume Down" button. Then press and release both, respectively. Hold down the "Side" until you see the "Connect to iTunes" logo. (For iPhone 7 or 7 Plus: hold down the "Top" or "Side" key along with "Volume Down"; for iPhone 6S or older, press the "Home" and "Top"/"Side" buttons together.)

A notification will appear, offering you the "Restore" and "Update" options.
Click on "Update", and the iPhone recovery mode will be preparing iPhone for the software update.
Part 3: Best Way to Fix Preparing iPhone for Restore Stuck without Data Loss
Wherever there are issues related to iPhone, iPad, and iPod touch, there is a professional tool named iOS System Recovery. This program is a rare professional tool to solve various puzzles for iDevice users. It is committed to solving almost all problems, including iTunes issues, device issues, screen issues, and iOS mode issues. The most exciting thing is that it allows you to solve the issue easily and quickly without causing any harm to your iOS data.
Main highlights of iOS System Recovery:
Fix iTunes stuck on preparing iPhone for restore with zero data loss.
Troubleshoot 50+ iOS issues, including iPhone frozen on the lock screen, Touch ID not working, iPhone red/white/blue/grey screen of death, battery draining fast, loop restart, and many more.
Two repairing modes are offered to fix your iOS to normal.
Upgrade/downgrade iOS to the compatible version.
Work for overall iDevices, covering iPhone 14/14 Pro/14 Pro Max/14 Plus, iPhone 13/13 Pro (Max)/13 mini/12/12 Pro (Max)/12 mini, iPhone 11/11 Pro/11 Pro Max, iPhone X/XR/Xs/Xs Max, iPhone 8/8 Plus, iPhone 7/7 Plus, iPhone 6/6S/6 Plus, iPod touch, iPad, etc.
It won't disclose your privacy.
Tutorials to fix iTunes/iPhone stuck on preparing iPhone for restore via iOS System Recovery:
Step 1. Open the iOS System Recovery when you download and install it on your computer. From its interface, go to "More Tool", followed by "iOS System Recovery".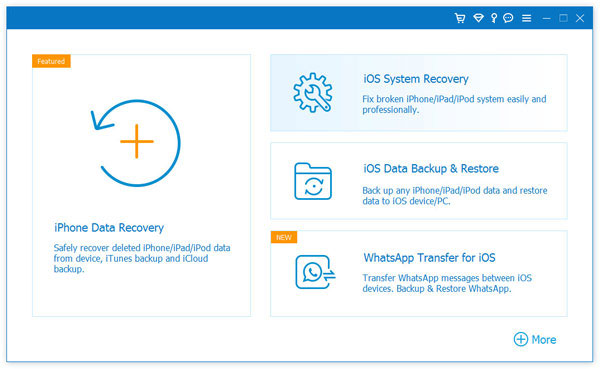 Step 2. Link your iPhone to the computer via USB and tap "Start" to commence the fix. You will need to follow the on-screen hints to put your iPhone into recovery or DFU mode.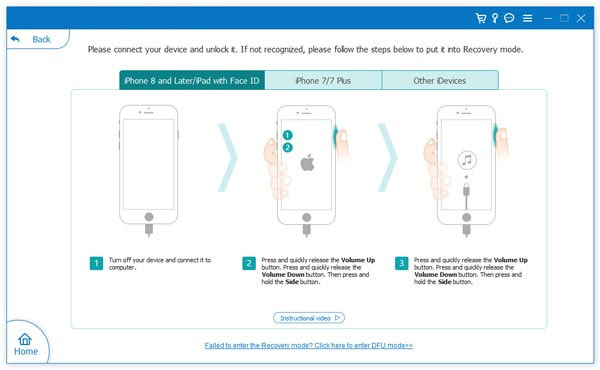 Step 3. Choose your iPhone model and hit "Repair" to download the suitable iOS firmware for the connected iPhone.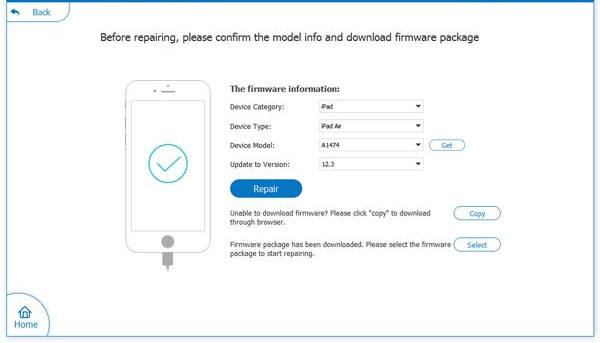 Step 4. After the download, the utility will automatically troubleshoot "iTunes stuck on preparing iPhone for restore". And it will soon offer you a smooth iPhone restore.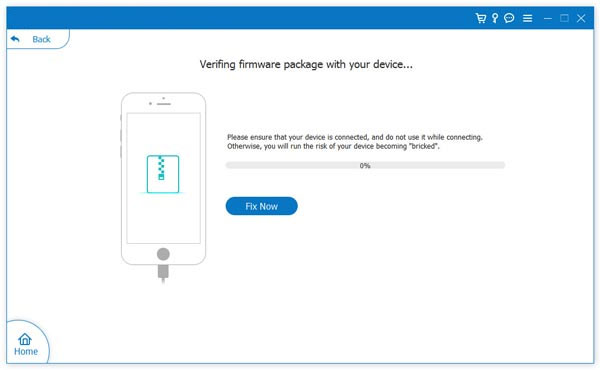 Words in the End
This passage covered the seven quick tricks for "iTunes is preparing to restore the software on this iPhone". And any one of them might get you out of trouble. Good luck! Well, if you want to make it all right with a few simple clicks in a short time, just go for iOS System Recovery. The best part of this ultimate solution is to let you fix the issue while retaining the content on your iPhone.
Related Articles:
7 Useful Ways to Fix iPhone Stuck on Restore Screen in 2023
iPhone/iPad Stuck on Preparing Update to iOS 15? 9 Methods for You
What If iPad Stuck in Recovery Mode? 3 Solutions to Try
What if iPhone Won't Restore? Here Are the Full List of Fixes
Fixed: The Backup Can't be Restored to This iPhone because the Software on It is Too Old.
4 Simple Ways to Undo a Restore on iPhone 14/13/12/11/XR/Xs/X/8/7/6