Free Way to Recover Deleted Voicemail on iPhone X/8 Plus/8/7/6S/6/5S
In the current era, everything seems a little rush somehow. Everyone is pressed for time as they go to work in a hurry, being occupied with lots of stuff. Making phone calls can sort things out and make precautions of different events. Let's assume you are an iPhone user. If you are absent or could not answer the call, say, when you are in a very important meeting, the voice message may come in handy. If the phone call you missed is quite urgent, a voice message can take its place to reminder you the essential points of it. Voicemail can send messages to more than one user and straight to their mailboxes and allow you to store messages until you want to use them. The voicemail box even pages or makes calls to other telephone numbers to notify the user that a message has arrived in the mailbox. In one word, it can save you a lot of time and bring great convenience to you. While the voice messages count in many cases, losing them may have a bad consequence. How to get back the voicemail? There are a few programs in the market but it cost you money. Today, we will offer a free method to help you recover the deleted voicemail in simple steps. Now you can read on and get the solution.
Easy Steps to Retrieve Deleted Voicemail on iPhone X/8 Plus/8/7/6S/6/5S Free
To help you restore your iPhone voicemail quickly, we will show the method next. It only takes three steps to get back the deleted iPhone voicemail.
Step 1. Enter the Phone App
Open the "Phone" app by tapping the "Phone" icon on the screen of your iPhone.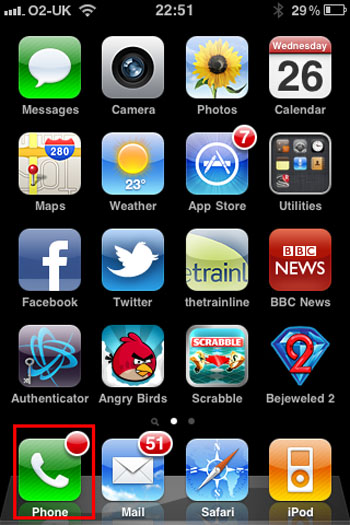 Step 2. Enter Voicemail Category
Tap the "Voicemail" on the right bottom of the iPhone to access your voicemail messages. Then scroll to the bottom of the list and tap "Deleted Messages" to preview the contents of the messages you have deleted lately.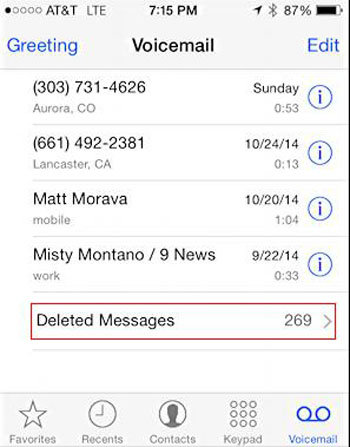 Step 3. Restore the Deleted Voicemail
Now you can go through the list of the deleted voice messages on you iPhone. If you want to recover a message, you can select it and tap on "Undelete" on the left bottom of the interface. Then you have successfully recovered the deleted voice messages.
Note: If you want to delete the voice messages permanently, you can choose them and tap "Delete" to wipe them out. And if you would like to erase them at one time, you can select them and tap "Clear All" to delete the voice messages on the list.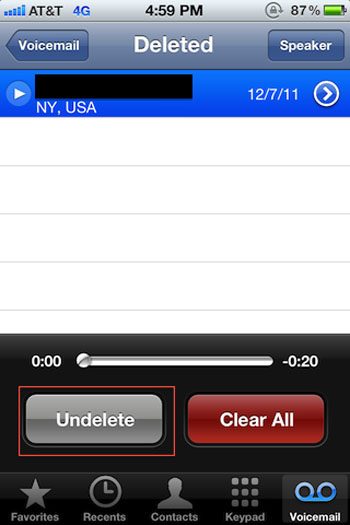 Tip: In addition to the voicemail, it often happens that you delete some data on your iPhone such as voice memos, contacts, SMS messages, photos, music, videos, call history and more by accident. To do you a favor, we would like to introduce a powerful file recovery program to assist you to restore the lost data. Click here to know more about the details.
Related Articles
Tips to Recover Voice Memos from iPhone 6 Plus/6
How to Retrieve Deleted Text Messages from iPhone