Data Transfer from ZTE to LG G2/G3/G4/G5
When purchasing a new phone, you do not always have to switch over your data however I would suggest it. You use your phone everyday for life and work and certainly you have stored a lot of crucial information on the device. Every text message that they have ever received, even though some may be outdated or not useful to anyone. The contact list that keep you in touch with your friends, families and workmates. It also would keep a copy of all of your files and data saved to the hard drive of the computer, which can be viewed or printed in the future. But how to perform the data transfer from ZTE to LG easily?

So transferring your important and precious files from your old ZTE Nubia/Adamant/Avid/Valet/Z221/F102/C79 to your brand new LG G2/G3/G4/G5 will become a cakewalk if you decide to use MobiKin Transfer for Mobile (Mac version available) for this purpose. It is capable of transferring text messages, contacts, photos, apps, music, videos, etc. from phone to phone, no matter they are running Android, iOS or Symbian. It can help you selectively choose what data you would like to switch over to your new phone. It also helps you backup your contents from phone to computer and restore them on the device whenever you wish for it to happen.
As mentioned above, Transfer for Mobile can easily transfer data from ZTE to LG. So the part below is the process of transferring files between the ZTE and LG phones. Let's go and check it out!
How to Transfer Files from ZTE Nubia to LG G5/G4/G3?
Step 1. Install ZTE to LG transfer program
On your computer, download, install and launch the Transfer for Mobile. The primary window should appear as the picture below.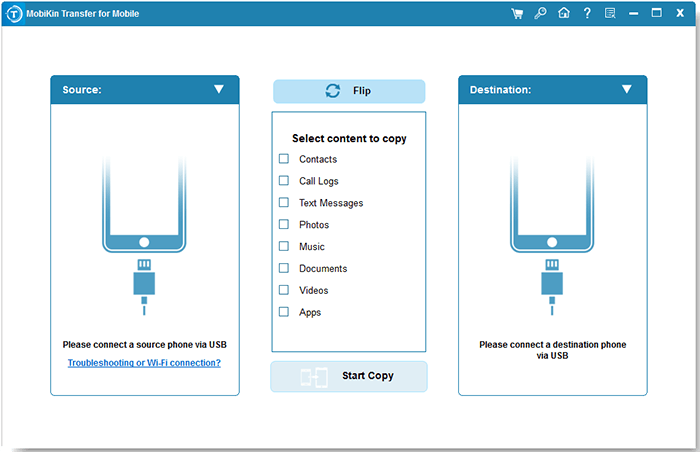 Step 2. Connect ZTE and LG phones to computer
Connect both your ZTE and LG phones to the computer using two USB cables. Transfer for Mobile will detect them immediately and show them side by side. All the transferable file types are listed in the middle menu.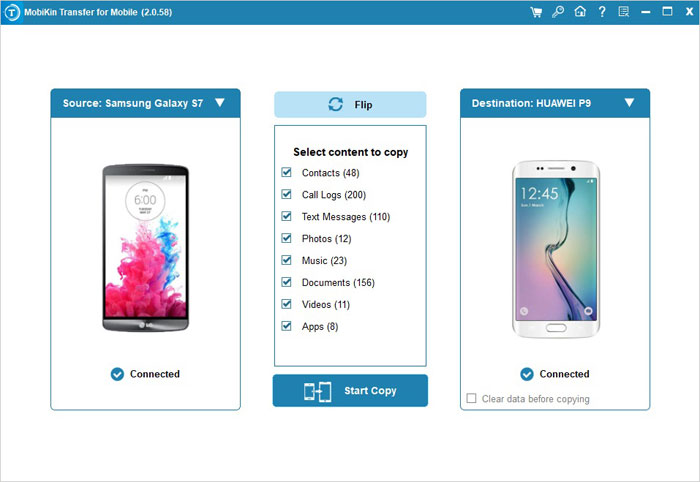 Step 3. Begin ZTE to LG data transfer
Select the data or contents you want to transfer, including Contacts, SMS, Photos, Videos, etc. Then, give a click on the Start Copy button to begin the data transfer process from ZTE to LG.