How to Remove Remote Management from iPhone After Restore - iOS 16 Supported
Are you using an organization's iPhone that is limiting you from using some of its features and now want to understand how you can deactivate the remote management lock on the iPhone? Organizations use remote management, also known as Mobile Device Management "MDM" to control the usage of their devices. However, MDM locks hinder users from using their phones normally by limiting the usage of some devices' features. Having a device with an MDM lock is very annoying; nevertheless, there are several ways on how to remove remote management from iPhone. Let's learn these MDM removal tools one by one.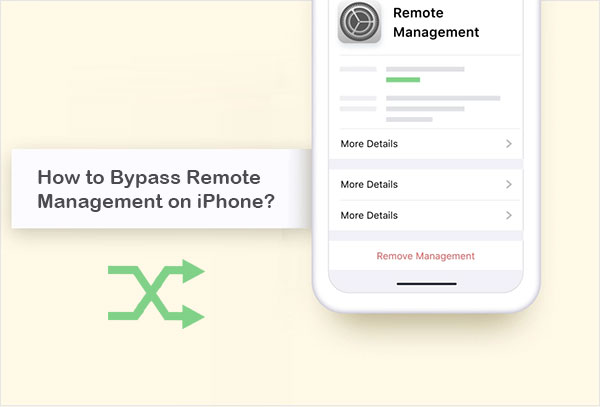 Part 1. What is Remote Management on iPhone?
The action of an administrator accessing and controlling a device remotely is called remote management. If you are using a remotely managed iPhone, you cannot control it 100%. Additionally, your Organization's system administrator has the ability to control the iPhone remotely. He/she can delete some data, add a profile, remove a profile, impose some restrictions on Wi-Fi connections, USB connections, and more.
The XML files which define settings and how they function constitute MDM configuration profiles. Institutions or businesses that need to exercise control over their electronic devices use MDM configurations. The use of this tool enables organizations to manage the users of target devices to secure sensitive documents and files. MDM can either be activated after erasing everything from the device or while setting up a new gadget.
You May Also Need:
Part 2. How to Check Whether a Device is MDM Locked/Supervised?
If you are using an organization's iPhone, the device is probably managed or supervised by the Organization without your knowledge. The primary reason why Organization manages their devices is to secure their Organization's data. Are you doubting that you may be using an MDM-locked iPhone? One characteristic of a remotely managed iPhone is the inability to use some of its features.
In most cases, the remote management feature is activated when setting up a device. The MDM lock can also be activated after setting up the device, but the administrator will have to completely erase the data on the iPhone. In some cases, you may doubt whether the iPhone is managed remotely or not. You can check whether your device is remotely managed or not. Follow the beneath steps to check if the iPhone is remotely managed:
To verify whether your device is MDM locked or supervised, open the "Settings" app on your gadget, and you will find a supervision message at the beginning of the main "Settings" page.

To find out modified features, launch the "Settings" app on the iDevice, tap on the "General" option, and hit the "Profiles & Device Management." For a profile that has already been installed, click to see the kind of changes made.

Another indicator that your device is MDM locked is the appearance of the "Remote Management and xxx will automatically configure your device" screen when you open your phone.
Part 3. How to Remove Remote Management from iPhone [3 Ways]
Want to know how to fix remote management on iPhone? There are various ways of removing remote active queue management on iPhone:
Way 1. How to Remove Remote Management on iPhone after Restore Using a Professional Tool
Wondering how to get remote management off iPhone? You must be tired of using a device that is remotely managed. There are many professional applications that can help you remove the MDM lock with ease. One such popular application is iOS Unlock. iOS Unlock is a powerful tool that not only enables you to remove remote device management but also helps in unlocking your iPhone's lock screens, such as digit passcodes, alphanumeric passcodes, Touch ID, Face ID, and more.
iOS Unlock is developed with cutting-edge technology that enables it to remove MDM locks on your iPad and iPhone without losing data. The tools do not require jailbreaking and support almost all iOS versions and devices. It provides a great way of regaining full access to a remotely managed iPhone. This tool makes the whole process simple and fun. Its simple interface makes using it simple, even for novice computer users.
Main features of iOS Unlock:
Removes screen time and MDM locks without deleting the iPhone's data.
Removes different screen locks, such as 4-digit passcode, 6-digit passcode, Face ID, Touch ID, and Screen Time passcode.
Bypasses Apple ID and activation lock without requiring a password.
Easy to use, quick unlock, and totally secure.
Works with almost all iOS devices and versions, such as iPhone 14/13/13 Pro (Max)/13 mini/12/12 Pro (Max)/12 mini, iPhone 11/11 Pro/11 Pro Max, iPhone X/XR/Xs/Xs Max, iPhone 8/8 Plus, iPhone 7/7 Plus, iPhone 6/6S/6 Plus, iPod touch, iPad Pro, iPad Air, iPad mini, iPad 4, the new iPad, iPad 2, iPhone, iPod touch, etc.
To use iOS Unlock to take remote management off iPhone, you need to follow the below simple steps:
Step 1. Download, install, and run iOS Unlock on your computer. After that, navigate to the "Toolbox," choose "Screen Unlock," and choose the iOS option. Connect your iPhone to the computer.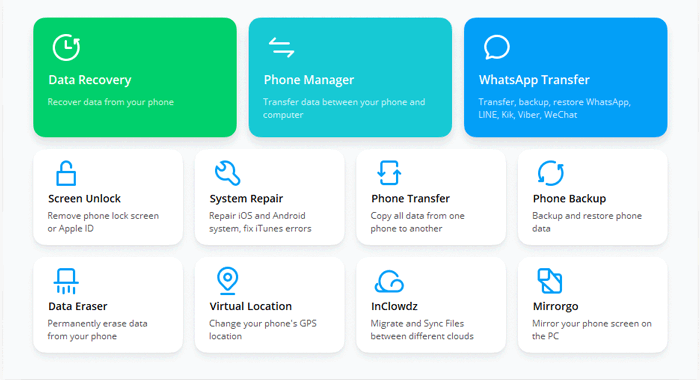 Step 2. Click on the "Unlock MDM iPhone" choice from the available options.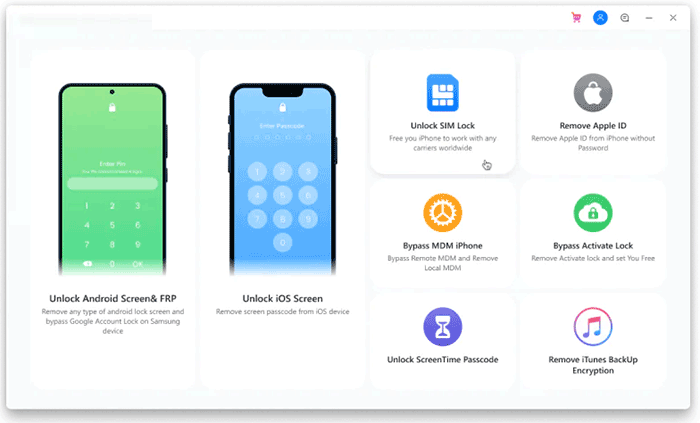 Step 3. Select "Bypass MDM," and hit on the "Get Started" button to proceed with the process.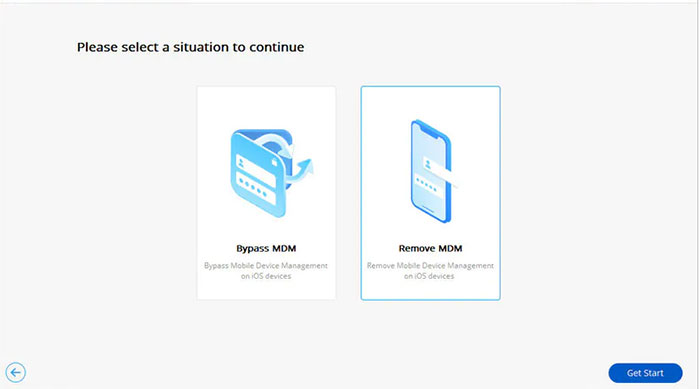 Step 4. A new screen will appear. Hit the "Start to Bypass" option from the options available on the screen.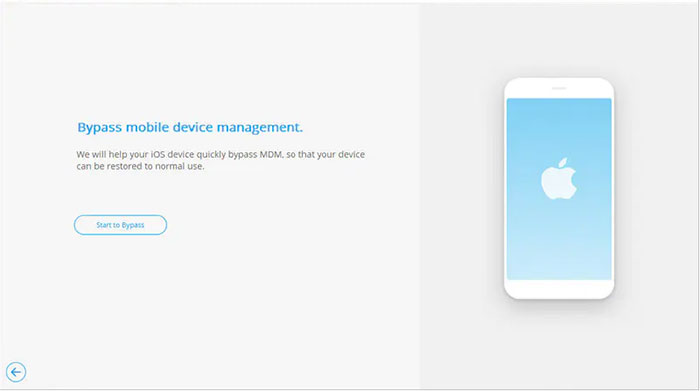 Step 5. Deactivate the "Find My" option by launching the iPhone's "Settings" application, selecting your name that is located on the top of the screen, choosing the iCloud option, and turning off the "Find My" feature on the available list. Now click on the "Ok" button.
Step 6. The MDM removal process will begin, and the progress can be seen on the screen that appears next. Wait a while and click the "Done" button to complete the process.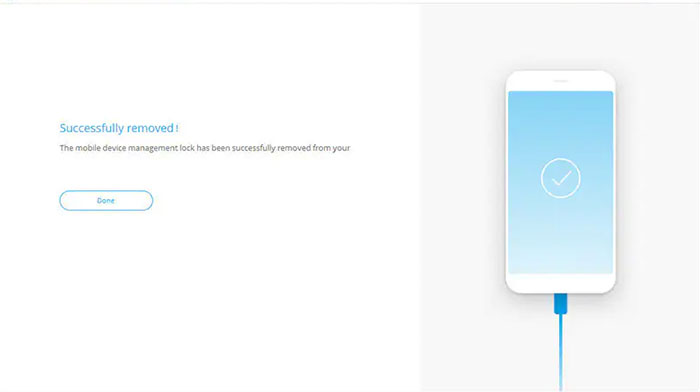 See More:
Way 2. How to Disable Remote Management on iPhone via Settings App
Wondering how to get rid of remote management on iPhone? You can use your iPhone's "Settings" app to remove the MDM lock. The best thing about using this process is that the process is free and does not require a computer. However, one limitation of using this method is that you must have an MDM profile. Below is how to turn off remote management on iPhone using the "Settings" app:
Launch the "Settings" application on the iPhone and tap on the "General" button.
Scroll downwards and hit on the "Device Management" option.
Tap on "MDM Profile" if it exists.
Finally, hit the "Remove Management" button.

Authenticate the removal procedure by keying in the password and username on the screen that appears.
Way 3. How to Delete Remote Management from iPhone By JailBreaking
Can Jailbreaking unlock remote management on iPhone? Yes, you can easily remove MDM locks from your iPhone through jailbreak. Jailbreaking a device removes all the limitations provided by the Organization's IT administrator and all the restrictions placed by the device manufacturer. However, jailbreaking an iPhone puts you at risks, such as voiding the device's warranty, malware, and virus attack, exposes you to hackers and more threats. If you are comfortable with the threats involved with jailbreaking the iPhone, you can follow the simple steps shown below:
Run Checkra1n on the computer after downloading it.
Open the application on your computer, connect your iPhone to iProxy, and link SSH to it. Access your device's root directory by running the "cd../../" command.
After that, run "cd/private/var/containers/Shared/SysteGroup/" so that you will be directed to the MDM file folder.
Remove all the MDM configuration files from the iPhone by running "rm-rfsystemgroup.com.apple.configurationprofiles/."
Reboot your device, update it, return to "Remote management," and install a new profile. Now your new profile will not have any restrictions.
Part 4: FAQs about iPhone MDM Bypass
Q1. How can I turn off Apple Remote management?
To turn off Apple remote management, go to the client's device and click on the Apple menu > System Preferences > Sharing. Enter the login credentials of an administrator and click the lock icon if it exists. This is followed by deselecting the Remote Management checkbox.
Q2. Can remote management be permanently removed from the iPad?
Yes, you can permanently remove remote management from an iPad. You can remove the lock through the settings app or by using a professional third-party application such as iOS Unlock.
Q3. Is using iOS Unlock to remove the remote control on an iPhone safe?
iOS Unlock is an effective and secure way of removing iOS devices' locks. This tool works flawlessly without requiring you to jailbreak your Organization's iPhone.
In Conclusion
You now understand how you can effectively remove the remote control feature of your Organization's iPhone and use it without limitations. Removing an MDM lock from an iPhone enables you to access remote management on iPhone limitlessly. You can use any method discussed in this article to remove the MDM lock, though we recommend using iOS Unlock. This tool is easily usable, secure, and very reliable. Additionally, this application works on almost all iOS devices running on any iOS version, including the latest iOS version.
Related Articles:
Can You Turn Off Find My iPhone Remotely? 4 Ways with Step-by-step Guide
iCloud DNS Bypass Full Guide: Unlock iPhone/iPad Activation Lock
10 Best iPhone/iPad Manager Software to Transfer and Manage iOS Files
Must Change iPhone Passcode: Fix Passcode Requirement with 7 Solutions
iPhone Keeps Turning on and off Repeatedly? Here Are the 7 Real Fixes
How to Control iPhone with Broken Screen Effortlessly? [Ultimate Guide]