3 Easy Methods to Remove MDM from iPad with/without Computer or Password
MDM gives its users the freedom to control an iOS device remotely. Yet, it also brings us a lot of inconveniences. For example, when you're going to resell your iPad or get a used device, you probably want to get rid of the MDM profile to protect your privacy. Well, any tips on how to remove MDM from iPad easily and quickly?
OK, we will outline two possible approaches and one ultimate way to help you delete the MDM profile from iPad. But before we set about accomplishing this, let's first make a brief introduction of MDM on iPad.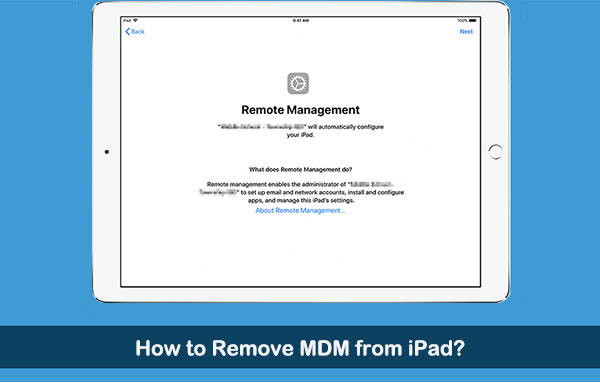 Part 1: What Is MDM on iPad?
MDM (short for Mobile Device Management) is software that enables IT administrators to secure, enforce policies, and control on iPad/iPhone/Android phone or other endpoints. (How to control an iPad/iPhone with a broken screen?)
It is a core component of EMM (Enterprise Mobility Management), which also includes application management, access management, enterprise file sync, etc. The intent of MDM for iPad is to optimize the features and security of iDevices within the enterprise while simultaneously securing the corporate network.
Core features of MDM on iPad:
Ensure that diverse user equipment is configured to a consistent and supported set of applications, functions, or policies.
Update devices, apps, functions, or corporate policies in a scalable manner.
Make sure that users use apps in a supportable manner.
Ensure that the iPad performs consistently.
Monitor and track iPad (e.g., location, status, ownership, & activity).
Be able to efficiently diagnose and troubleshoot iPad remotely.
We just sketched out what the MDM is on an iPad. Next, let's see how to remove the MDM profile from the Pad.
Check If You Need:
Part 2: How to c via iOS Unlock
As an all-rounder, iOS Unlock provides you with easy and flexible solutions for all your iDevice locks, including MDM profile removal on iPad. This product lets you regain full access to your devices with simple movements and clicks whenever you want. What's more, it is well compatible with your iPad/iPhone/iPod touch and PC or Mac. Well, let's get to know it right now.
Main characteristics of iOS Unlock:
Remove MDM from iPad/iPhone without data loss.
Delete 4-digit passcode, 6-digit passcode, Screen Time passcode, Face ID, and Touch ID.
Bypass Apple ID/iCloud Account from iDevices without a password.
It also works for iCloud activation lock/iCloud DNS bypass.
Easy to use and quick unlock.
Work well with almost all iOS devices, covering iPad Pro, iPad Air, iPad mini, iPad 4, the new iPad, iPad 2, iPhone, iPod touch, etc.
It won't disclose your privacy.
How to remove an MDM profile from an iPad with iOS Unlock?
Step 1. Download, install, and open iOS Unlock. Attach your iPad with the computer and then choose "Screen Unlock" on the program interface.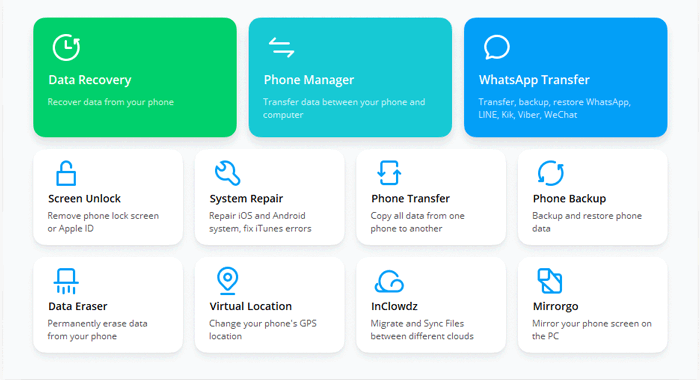 Step 2. Select "Unlock MDM iPhone", which also works for MDM iPad.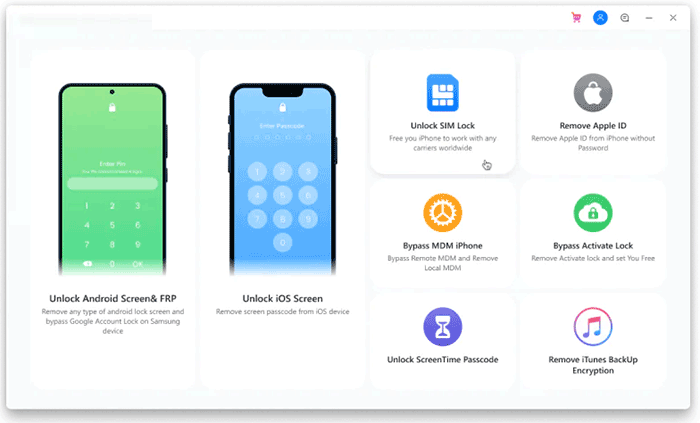 Step 3. Select "Remove MDM" > "Get Start".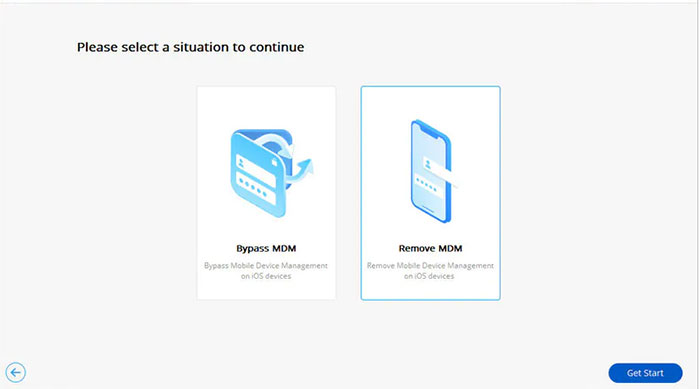 Step 4. When you see "Successfully removed", you'll delete MDM on your iPad without data loss.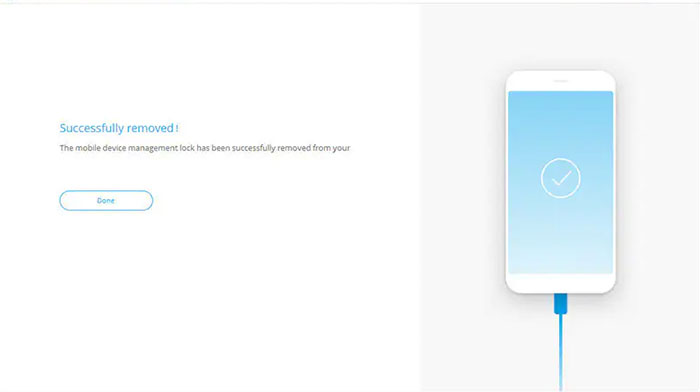 Part 3: How to Remove MDM from iPad without Computer via iPad Settings
If you are the administrator or know the login info on your device, it's pretty easy for you to make the MDM lock removal for your iPad Air/Pro/mini directly in this way.
How to remove MDM from iPad free from iPad Settings?
Firstly, open your iPad "Settings" and press "General" in the left window.
The "General Settings" window will open in the right pane. Now, please scroll down, and you'll see "Device Management".
Click the button to go to the MDM configuration file.
Finally, click "MDM Profile" > "Remove Management."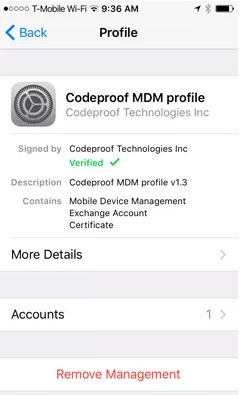 Extended Reading:
Part 4: How to Delete MDM Device Management on iPad by Jailbreaking
By jailbreaking your iDevice, you can remove MDM from your iPad without a password quickly. Yet this will void your warranty. It won't erase everything on your iPad/iPhone, but your device may take some security risks. Here's how to remove lightspeed MDM profile from iPad by jailbreaking:
Install "Filza" and jailbreak your iPad.
After that, run "Filza" and navigate to:
/var/containers/Shared/systemgroup.com.apple.configurationprofiles/Library/ConfigurationProfiles/

Finally, open "Text Editor" and delete the "MDM" files.
MDM will be successfully extracted from your iPadOS system.
FAQs about MDM Lock Removal
Q1: Does "Erase All Content and Settings" Remove MDM?
No. After trying this method, you will find that MDM still turns up, though your iPad will need to be re-enrolled to re-access corporate resources. Thus, you can recourse to other methods for a full wipe.
Q2: How to Factory Reset iPad using MDM?
If your iPad is enrolled into MDM, you can try the management commands on the target device. You can wipe or restore your iDevice via the commands. To factory reset your iPad, please send a "Device Erase" command, and it will be a closed deal.
Q3: How to Uninstall MDM from a Managed Android Phone?
Go to your managed phone and click the "Settings" option.
Navigate to "Security" > disable "Device Administrator".
Next, check under the "Settings" and scroll down to "Applications".
Select "ManageEngine Mobile Device Manager Plus" and "Uninstall the MDM Agent".
In a Nutshell
Well, it's time to wrap up today's post. You can now easily draw the conclusion that removing the MDM profile from the iPad setting is possible if you remember the login credential for your device. On the contrary, iOS Unlock is your ideal tool to remove your MDM on the iPad. This is because it won't cause any data loss on your iPad or jailbreak the device in doing so.
Related Articles:
How to Remove iCloud Activation Lock without Password in 2023?
How to Sign out of iCloud on iPhone/iPad without Password? [2023]
Locked out of iPad? 6 Easy Ways Help You Unlock iPad without Password
Transfer Data from iPad to Android in 7 Incredible Methods
9 Recommended iPad Backup Software Help Back Up iPad Breezily
What to Do If iPad Won't Restore or Update? Check the 7 Solutions Here