iCloud DNS Bypass Full Guide: Unlock iPhone/iPad Activation Lock
Forgot your iCloud credentials? Got a used iPhone with the iCloud Activation Lock enabled? In either instance, you're like to find methods to hack the activation lock. Maybe some of you have heard that the DNS can help do this but don't know how. Well, this is the ultimate guide to iCloud DNS bypass. And you can find almost all about it here. Next, we shall walk you through each step in turn.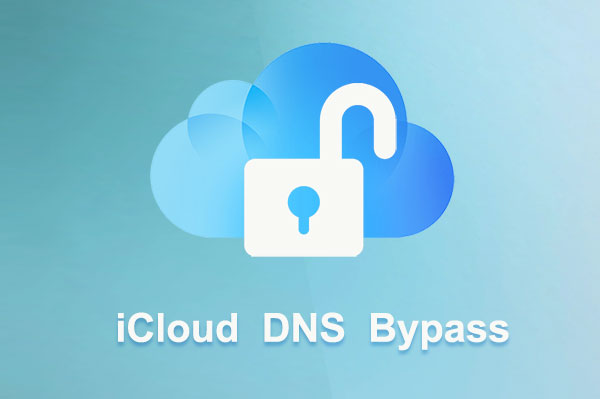 Part 1: What Is iCloud DNS Bypass?
* Overview of iCloud DNS Bypass
As you set up your iPhone/iPad after a factory reset, it will send an activation request to the Apple server, which will then show the status of your device. And if you enabled "Find My iPhone", the iCloud Activation Lock screen should pop up, prompting you to provide your iCloud authentication.
If you forgot the login details, you could turn to the DNS server for iCloud bypass. DNS (known as Domain Name System) converts the readable names into many IP addresses, whose DNS server acts as a host to run the app. If your iDevice is iCloud activation locked, a feasible way is to change its activation path by interacting with the original Apple server, intending for authentication from the iCloud bypass DNS server.
* The Good of iCloud DNS Bypass
You can manually change the DNS address from your WIFI Settings directly.
When the device is activated, you can easily access it and use some apps without any trouble.
This way is completely free to use.
It is not as hard as you might think.
* The Bad of iCloud DNS Bypass
It's most likely to serve devices with iOS 8 to iOS 10.
In some cases, you can't unlock the iCloud activation lock, even if it's an older version.
iPhone/iPad DNS bypass doesn't enable you to access all the features of the device.
You May Also Like:
Part 2: How to Bypass iCloud Activation Lock with DNS
In this section, you can try to follow the steps below to perform the iCloud DNS bypass. Before we do it, let's take a look at a few key pieces of information:
Choose the iCloud bypass server IP address when needed.
The success rate of this method is much higher if your iPhone/iPad is running iOS 8 to iOS 10.
Make sure that there's a SIM card installed on the device. (How to activate an iPhone with a SIM card?)
Here's how to bypass iCloud Activation Lock via DNS?
Open your iOS device and choose your LANGUAGE and COUNTRY from the menu.
Click on Proceed to get into the WiFi Settings page.
If asked to connect to WiFi, look for the "I" symbol close to the WiFi tab.
Now, disconnect the WiFi, go to "Connection Settings" and click on "Forget this Network".
Next, click "I" and enter a DNS server IP address. You can choose from the following list according to your iCloud bypass DNS server's location:
USA: 104.154.51.7
South America: 35.199.88.219
Asia: 104.155.220.58
Europe: 104.155.28.90
Australia and Oceania: 35.189.47.23
Other continents: 78.100.17.60
Then click the Back option on the left side, turn on WiFi, select the right network, and enter your passcode.

Click "Next Page" and then "Back" to enter the iCloud bypass screen.
You can now set up your apps and try to use your iDevice.
Part 3: How to Use iCloud DNS Bypass to Bypass Crash
You can use partial functions of your iPhone/iPad if iCloud DNS bypass is successful. Now you could try to further access the device by bypassing Crash. Here's how:
Select Menu > Applications on your iPhone.
Find an option that says Crash. Tap on it, and your iDevice will automatically reboot.
Select your country and language, tap on Home, and choose More WiFi Settings.
Touch the field that reads Configure Proxy.

Select Manual and input 30 unique emojis in the server field.
Use 8888 as the port number and tap Save at the top.

Go back, and you will be on the unlock screen.
Press the Home button to unlock the device.
Important: This avenue only lets you use your iPhone/iPad temporarily, for your device will be locked again after restarting. So please don't reboot the device unless you have to. B.T.W., here are the tips for the situation that iPhone keeps restarting after the Crash is bypassed.
Part 4: How to Use iCloud DNS Bypass Code to Remove Ads
Are you bothered by the ads from the iCloud DNS Bypass Captive Portal screen? The good news is that you can remove the annoying stuff by configuring your WiFi Settings with iCloud DNS bypass code. Now, let's see how to do it:
On your iPhone, go to the WiFi Settings section.
Find the Proxy option and ensure that it is set to Auto.
Next, input the DNS bypass code - "https://nick/my_name" in the textbox shown on the screen.
Here "my_name" is the nickname of the user, so be sure to use a unique one without spaces.
Then tap on the Save option and restart your iPhone.
If everything goes well, the disgusting ads will be removed from your device.
Know More:
Part 5: iCloud DNS Bypass Doesn't Work? Try the Best Alternative
So, what if the above won't work for iCloud activation lock removal? Do you want to remove iCloud after DNS bypass? Have you ever thought about fully unlocking your phone and accessing its features as usual? Well, iOS Unlock can do almost everything you can imagine.
Note: The premise of the iCloud activation lock bypass is to jailbreak your iDevice. And you may lose your iOS data after the unlock.
Main highlights of iOS Unlock:
Fully bypass iCloud activation lock for iDevice with various iOS versions.
Remove an iPhone/iPad lock screen in simple clicks.
Unlock Apple ID even when Find My iPhone is enabled.
Get rid of MDM and Screen Time passcodes without data loss.
Compatible with various iOS devices, containing iPhone 13/13 Pro (Max)/13 mini/12/12 Pro (Max)/12 mini, iPhone 11/11 Pro/11 Pro Max, iPhone X/XR/Xs/Xs Max, iPhone 8/8 Plus, iPhone 7/7 Plus, iPhone 6/6S/6 Plus, iPods, iPads, etc.
It won't disclose your privacy.
Here's the bypass iCloud lock server tool download:
How to bypass iCloud Activation Lock on iDevices with iOS Unlock?
Step 1. Launch iOS Unlock after you download and install it on your computer. Then select "Screen Unlock" from the modules on the screen.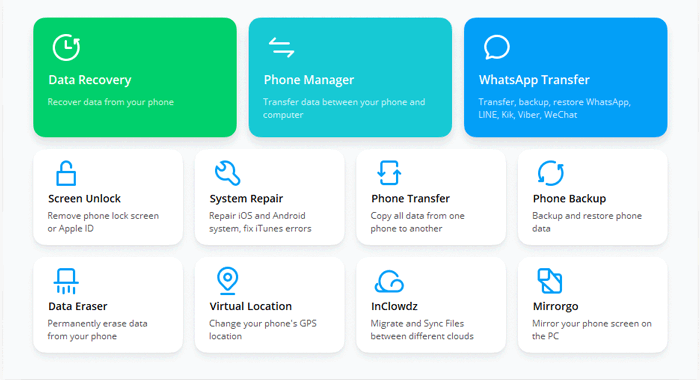 Step 2. From the incoming screen, click on "Unlock Apple ID".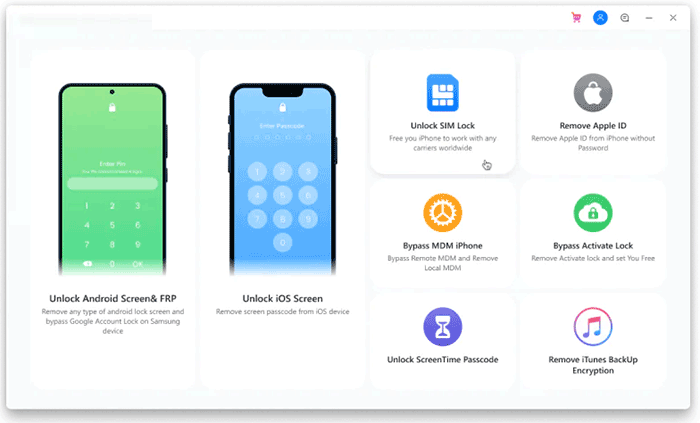 Step 3. Select "Remove Active Lock".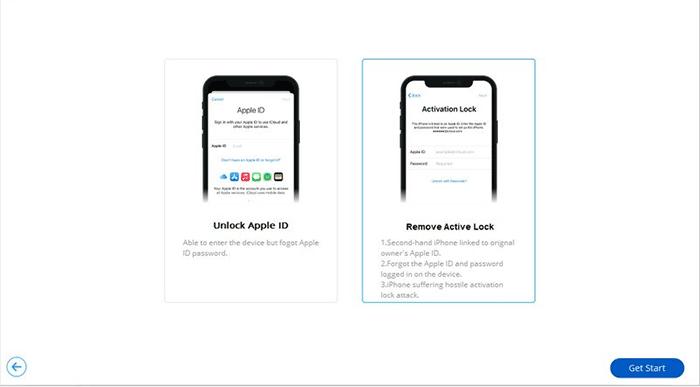 Step 4. Follow the "JailBreak Guide" to jailbreak your iOS device.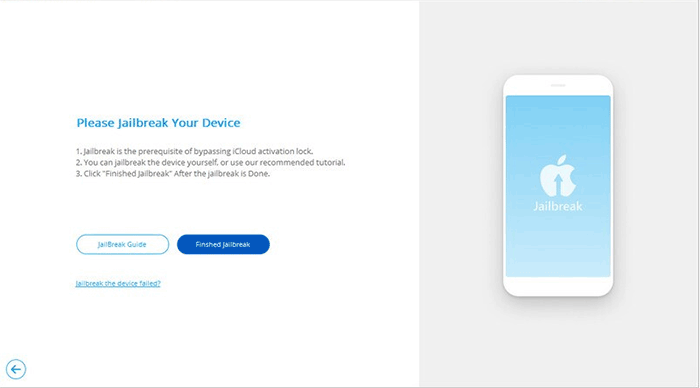 Step 5. After that, a message should pop up, from which you can mark the checkbox to agree with the terms and tap on Next.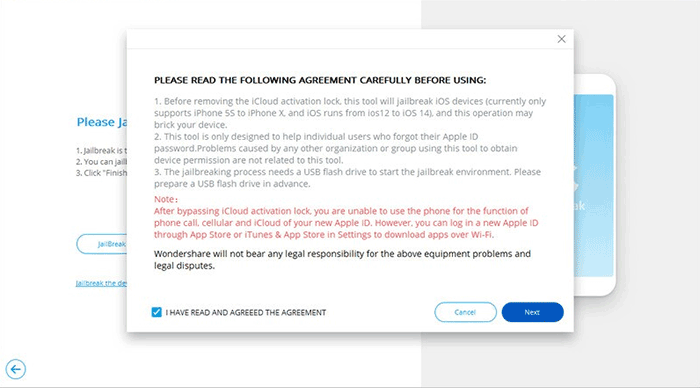 Step 6. Confirm your iPhone info and click on Start Unlock.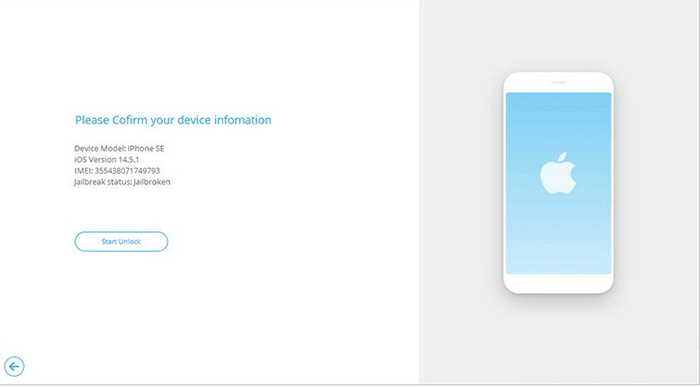 Step 7. This utility will remove your iCloud activation lock quickly; simply wait for the task to complete.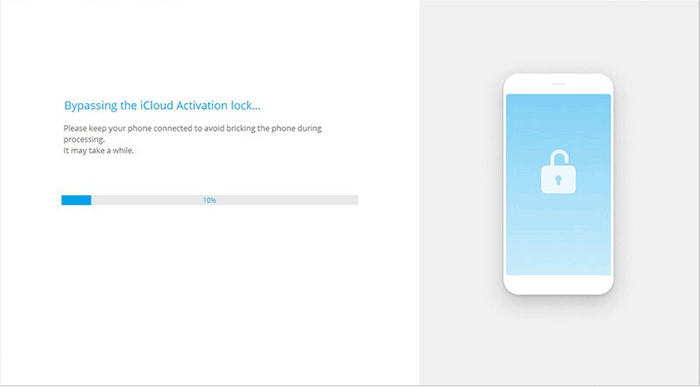 FAQs for iCloud DNS Bypass
Q1: What are the requirements for iCloud unlock DNS methods?
You can check the status of your iOS device with a reliable iCloud status checker.
iCloud DNS might not be able to unlock the device if it is blacklisted (lost or stolen).
You must be clear about your device's information and data.
Q2: Does the DNS bypass remove the iCloud activation lock?
No! It only creates a path to access some of the features of the iOS device. If you restart the device, it will be back to the iCloud activation lock screen.
Q3: Can I trust the online activation lock removal services?
Some online iCloud bypass services/tools claim that they can remove the iPhone activation lock. But in fact, you have to watch out for the scams in many cases, as some of them may lose connections with you after the payment.
Q4: Can I use iCloud DNS bypass methods on my Apple Watch?
No! This method only works for iPhone/iPad with some older versions.
Final Words
Overall, it's possible to bypass the iCloud activation lock with DNS in some cases. But it isn't a "chronic unlocks iCloud bypass". On the contrary, iOS Unlock, the all-rounder offering full phone access, is probably more practical for most Apple users, in part because many are using the iDevices with the newer iOS like iOS 13/14/15.
Related Articles:
How to Remove iCloud Activation Lock without Password in 2023?
Apple ID is Disabled? Here is the Solution to Fix It!
5 Feasible Ways to Bypass iPad/iPhone Passcode without Restoring
Can You Unlock a Stolen iPhone? Yes But Not Recommended
iCloud Backup Taking Hours? Here're the Efficient Solutions
[Easy Guide] How to Transfer Data from iPhone to iPhone without iCloud?