[Solved] 4 Efficient Ways to Unlock A Google Locked Phone
There are instances when Google can lock your phone for many reasons. This is especially true when you forget your Google account username or password. It also happens whenever you purchase a second-hand Google locked phone - Perhaps the previous owner locked it, and you didn't notice it at first. Such a Factory Reset Protection (FRP) lock can only be unlocked with your Google account. So, if you're trying to find out how to unlock a Google locked phone, stay tuned.
This article has everything you need to know about the locked Android phone, plus how to get past the Google lock. Let's get started.
Part 1. What Is a Google Locked Phone? Can It be Unlocked?
A Google locked phone describes a mobile device with activated Google account verification after a factory reset. The activated Google account verification locks your phone. As a result, you can't access the details on your phone until you enter the Google account's original password.
Google locked phone also refers to Factory Reset Protection (FRP) lock for Android phones.The security feature entails screen lock, and data encryption meant to offer more protection to your phone, together with the data stored inside. (Here're Top 6 Samsung FRP Bypass Tools.)
In most cases, if you buy a second-hand phone, it's highly likely that the device has a Google lock. The initial owner might have forgotten to delete the account or their login details. Therefore, you can only solve the issue by learning how to unlock a Google locked phone.
Thus, if you are asking the question, 'can a Google locked phone be unlocked?' Please note that the answer is 'yes, it can.' You only require your Google account logins (username and password) to unlock the Google-locked phone.
If you can't remember your login details, you can try out other methods to unlock the phone. Besides, another best alternative is to find a professional unlocking tool to help you unlock the device quickly. Keep reading to discover different ways to unlock a Google-locked phone.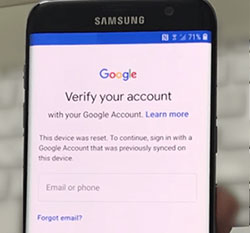 You Might Also Like:
Part 2. How to Unlock a Google Locked Phone with Google Keyboard
You can use the Google keyboard whenever you experience a Google lock, even after resetting. Here, you only need to know a few tricks to sail through Google account verification and manage to access your phone. So, how do you use Google keyboard to unlock your Google-locked phone?
First, select a language and then connect to the internet after the factory reset and once your mobile phone restarts.
You then get the prompt for your Google Account login details.
Immediately, the virtual keyboard pops up, tap on the text box, and then click and hold the key "@" key to gain access to the Settings menu.
On the top right corner, tap on the three dots and select 'Help & Feedback.'

Click and hold any text on the page and then tap on the 'web search' button.
A search bar appears where you should type in 'Settings' to locate and open it.
Next, reset your phone once again by finding 'Factory data reset' followed by 'Delete all.'

Here, the Google locked phone now gets unlocked practically.
See More:
Part 3. How to Unlock Google Locked Phone Using FRP Bypass APK
You can also use FRP Bypass APK to unlock a Google locked phone. However, this method requires a certain level of technical proficiency; it's not a simple technique that anyone can handle. Thus, if you're not so sure about going through the process of APK downloads and using it, you shouldn't try it. Nonetheless, the method is simple and quick for tech-savvy persons.
To download the FRP Bypass APK and use it to unlock a Google-locked phone, follow these steps.
Link your Android device to the Wi-Fi.
Click on the arrow adjacent to the Wi-Fi network and then click on 'Manage Network Settings.'
Switch on the toggle for 'Static IP' and then click on the 'IP Address alternative.'

Under the IP address, type in any number or alphabet and long-press it until the 'Web Search' alternative appears.
Download 'Google Account Manager' and 'Quick Shortcut Maker.'
Launch the 'Quick Shortcut Maker' and use it to locate Google Account Manager.
Log into Google. You can use any other Gmail account.
Restart your mobile device and set it up as you always do.
Once you get where you should enter the Google account, you'll see the option 'Account Added.' This shows that your Google-locked phone is now successfully unlocked.
Part 4. How to Unlock a Google Locked Phone by Google Account Recovery
In cases where you may not have your original Google password, try changing it to a new one. You can do this by sending a text message or getting a call to the device associated with the account to help verify your identity. If this is not possible, you can now use different techniques. This includes resetting your Google account password via recovery email or answering secret questions.
Note: You must be able to access the verification address or other detailed information that relates to the account. Otherwise, this won't work out for you. Let's look at two methods of how to unlock a Google-locked phone by Google account recovery.
Method 1: Reset Password via Recovery Email
If you can access the recovery email linked to the account, follow these steps to prove the ownership:
Check on to the Google Account Recovery page and select the option, 'forget email.' Enter your recovery email address linked to the Google account.
Click send to get a one-time code for that email address.
Log in to your recovery email and find the verification code.
Once you have input the 6-digit code, you will get prompted to key in a new password.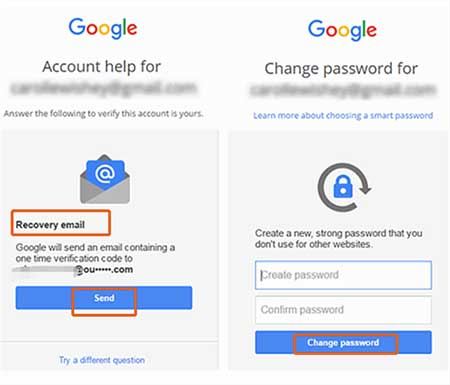 Method 2: Reset Password by Answering Secret Questions
If you cannot verify ownership using the recovery email, you can reset the password by answering the secret questions. You can answer the secret questions by going to the option 'try a different question' found at the bottom. Once you manage to successfully select the right year and month when the original Google account was formulated, you then manage to create a new password.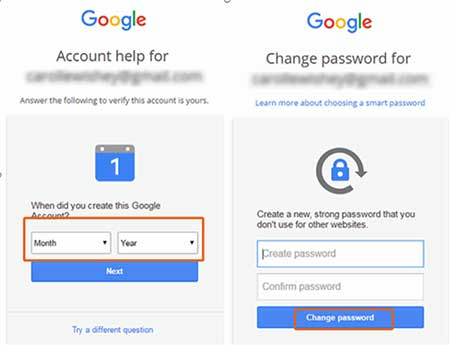 Part 5: How to Unlock Google Locked Android Phone with Ease
Android Unlock is a third-party tool and alternative to unlocking FRP Google accounts on Android devices. It's highly convenient since the quick step-by-step guide saves time in executing the unlock Google phone process. Android Unlock is also reliable since it's easy to handle and is compatible with different Android device models. The tool can unlock diversified phone locks. It doesn't matter if you forgot your Google account details or bought a second-hand phone. The bottom line is that, it works effortlessly to sort out the issue by resolving the Google locked phone.
What can Android Unlock do for you?
Enables the bypassing of Google account verification on Android devices with ease.
You can use the tool to eliminate screen locks, including passwords, patterns, PIN, face unlock, or fingerprints.
Unlock Samsung and LG phones without data loss.
Android Unlock works smoothly with over 2000 Android devices (phones and tablets). Some of these include Samsung Galaxy S23/S22/S21/S20/S9/S8/S7, Galaxy Note 20/Note 10/Note 9/Note 8, Galaxy Tab, OPPO, Realme, Huawei, Xiaomi, Lenovo, OnePlus, etc.
The tool does not reveal your privacy.

Once you download the Android Unlock tool for free, follow the step-by-step guide below on how to use it to unlock your Google account from your Android phone.
Step 1. Start by downloading, installing, and launching the 'Android Unlock' tool on your computer. Your device should stay connected to a Wi-Fi network. On the software, select and tap on 'Screen Unlock' followed by 'Unlock Android Screen and FRP.'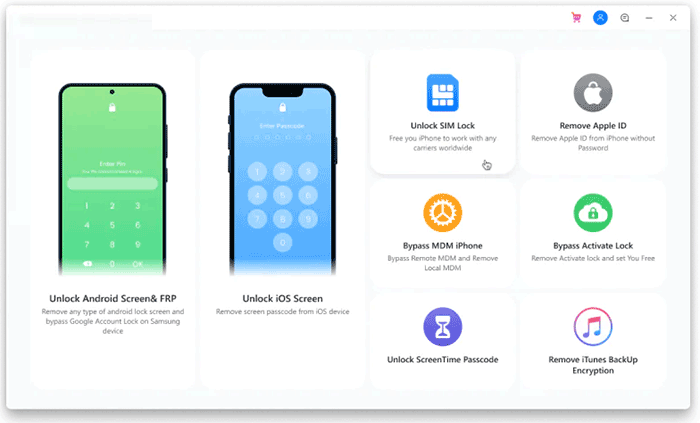 Step 2. Select the option, 'Remove Google Account Lock (FRP).'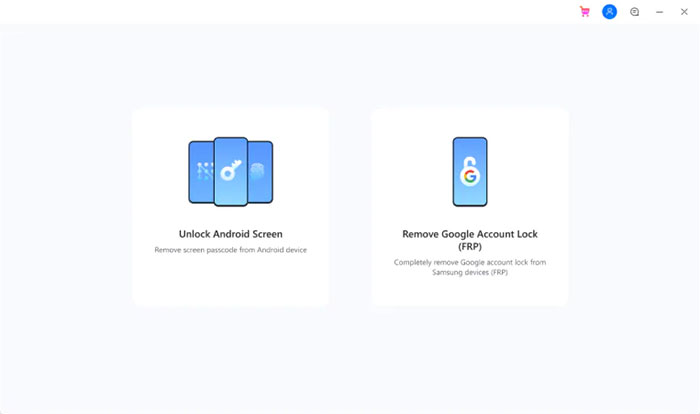 Step 3. Once you choose 'Remove Google FRP Lock,' select your Android version (Android 6/9/10). If you're not sure about your device's OS version, choose the third option.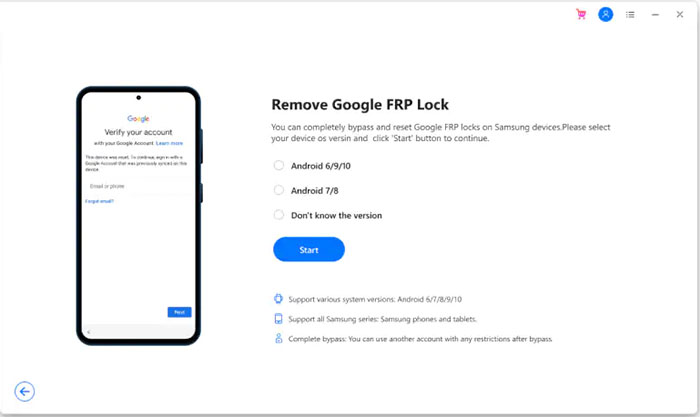 Step 4. Connect your device to the computer via a USB cable. Here, a screen entitled 'Sending Notification to Android Device' will pop up.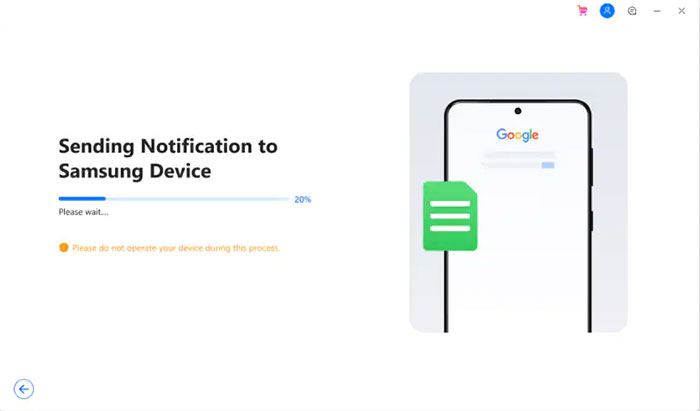 Step 5. Follow the prompts and set up your mobile phone. Click on 'view' to access the App Store. Once here, install and run the Android internet browser. Check into the URL drfonetoolkit.com.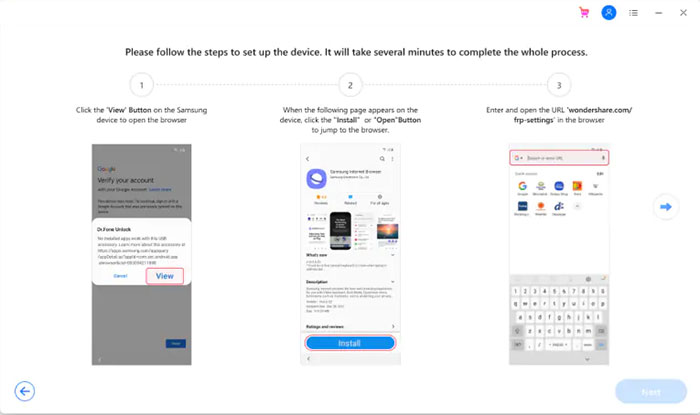 Step 6. Select 'Android 6/9/10' and click 'open settings.' Set a 'pin' and choose 'Do not require,' and then click on 'Continue.'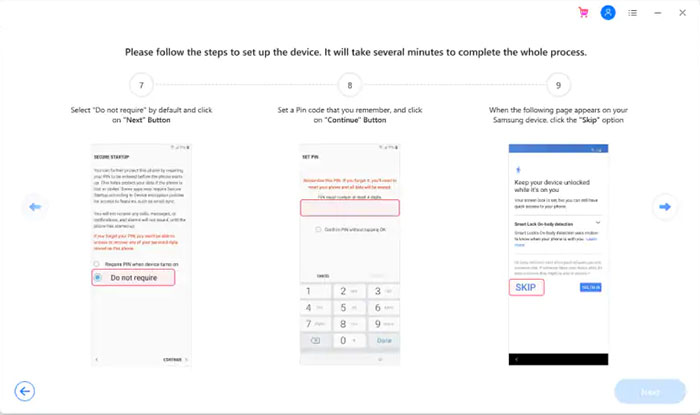 Step 7. To successfully remove the FRP lock from your device, follow the directions that are displayed on the software screen.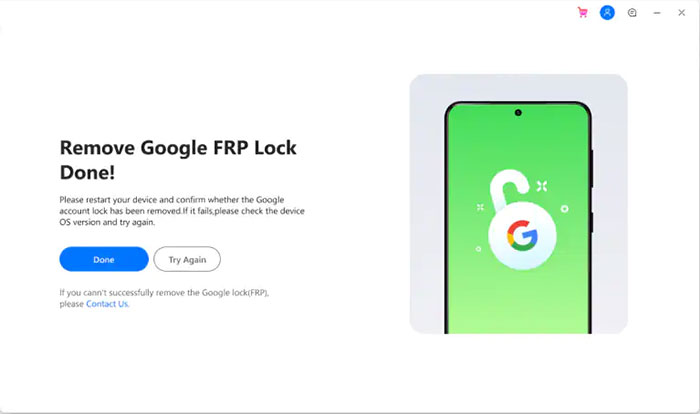 Final Words
Take note that sometimes, Google can lock your phone. It happens mostly when you forget your Google account username or password. You can also experience the same whenever you purchase a second-hand Google locked phone. Usually, if you lose your phone, a Factory Reset Protection (FRP) lock helps prevent intruders from accessing your phone's data or doing a factory reset. It's difficult to use a Google locked phone. Hence, an FRP can only be unlocked with your Google account. So, if you're trying to find out how to unlock a Google locked phone, our guide above should help you fix the issue. It presents effective techniques on how to unlock Google locked Android phones.
Related Articles:
4 Secure Ways to Bypass Google Account/FRP on Huawei without PC
What to Do If I Cannot Sign in Google Account on Android?
6 Simple Ways to Unlock Android Phone without Google Account
8 Best iCloud Bypass Tools: 100% Working iCloud Unlocker Software
8 Best Samsung Data Recovery Apps/Tools/Software [Ultimate Checklist]