Top 10 FRP Bypass Tools to Remove Google Account [Free & Paid]
Have you ever struggled with a locked Android device? This means you can't access the data stored on it or even use your device normally. It can be frustrating and sometimes even lead to a complete waste of time and data. That's where FRP Bypass Tool comes in. But how can you bypass FRP, and what is it? This guide will answer all your questions about software to bypass FRP lock.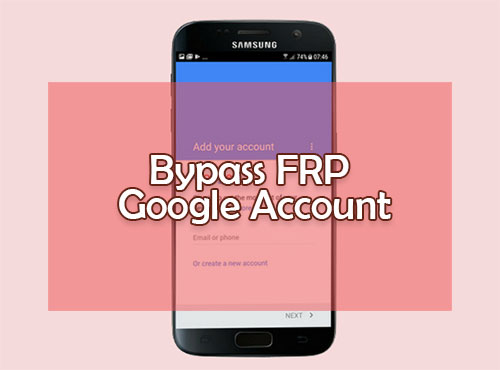 Part 1. What Is FRP? Can It Be Bypassed?
FRP, or Factory Reset Protection, is a security feature for Android devices.This free FRP unlock service is designed to keep your data safe if your phone is stolen or lost. When FRP is turned on, after a factory reset, the person trying to set up the phone needs to enter the Google Account username and password. Without these, the phone becomes inaccessible.
FRP unlocker tool is great for preventing data loss in case your phone is stolen. But, if you forget your Google Account details, you'll be stuck at the setup screen, which can be frustrating. The same goes for buying a second-hand phone with FRP enabled. But can it be bypassed?
The simple answer is, YES. You can use an FRP bypass tool to get past the Google Account verification. Here are some recommended free online FRP unlock services for different Android phone models like Samsung, Motorola, LG, HTC, and Huawei.
You Could Potentially Like:
Part 2. Top 1 FRP Bypass Tool - Android Unlock
Android Unlock is an efficient FRP bypass tool designed for all Android users. It is a reliable and user-friendly software that swiftly and securely bypasses the Factory Reset Protection (FRP). This state-of-the-art tool ensures you bypass your phone without a pin code or Google account. Irrespective of your device's brand, Android Unlock is engineered to grant you full access to your device in a matter of minutes.
Android Unlock can help you:
No error when unlocking Google FRP on Samsung tablet/phone.
Easy to use and keep your files intact - no data lost.
Able to bypass various security measures such as PIN, password, pattern and fingerprints.
Unlock Samsung and LG phones without data loss.
Currently, it helps bypass Google locks for most models of Samsung, Xiaomi, Redmi, OPPO, Realme, and Vivo phones. Plus, it can unlock screen locks for 15 brands and 2000+ Android device models.
No data leaks to third-party.

How to use FRP lock Google verification bypass tool software free:
Step 1. Download top FRP tools and install the program on your PC. Connect your Samsung to a strong Wi-Fi network. Tap on "Screen Unlock" and the option for "Unlock Android Screen and FRP."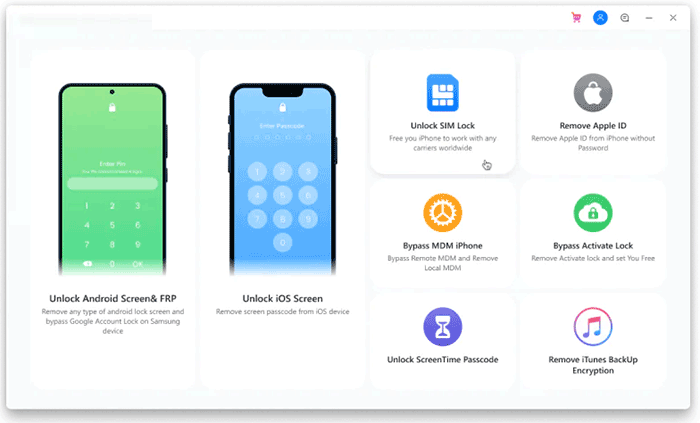 Step 2. A screen will pop up with different options. Tap on "Remove Google Account Lock (FRP)".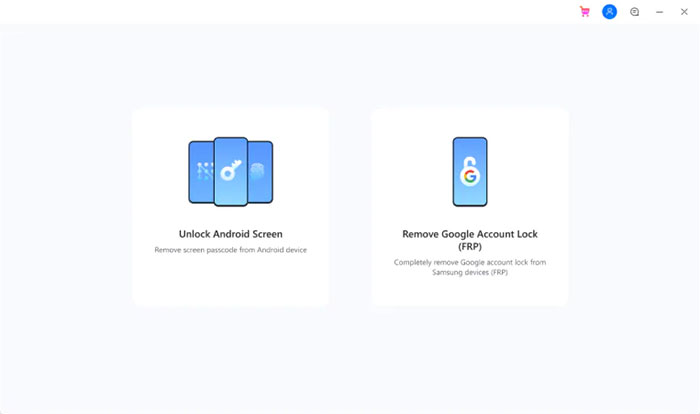 Step 3. A screen will appear with different checkboxes. Check the "Android 6/9/10". Choose the third option if you know your phone's OS version.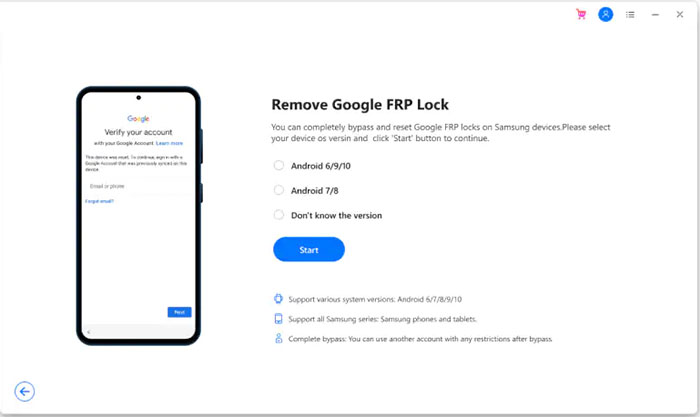 Step 4. Connect your phone to the PC using a USB cable. You will get an interface with the message "Sending Notification to Samsung Device."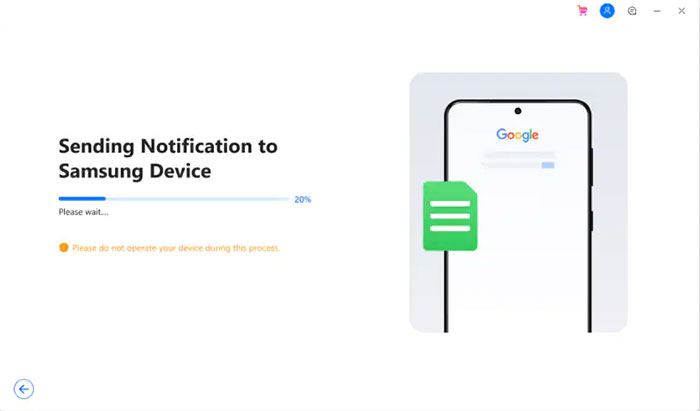 Step 5. Follow the instructions on the screen to set up your phone. Click on the "View" option to open the App Store. After that, download and open the Internet browser. Finally, go to the website drfonetoolkit.com.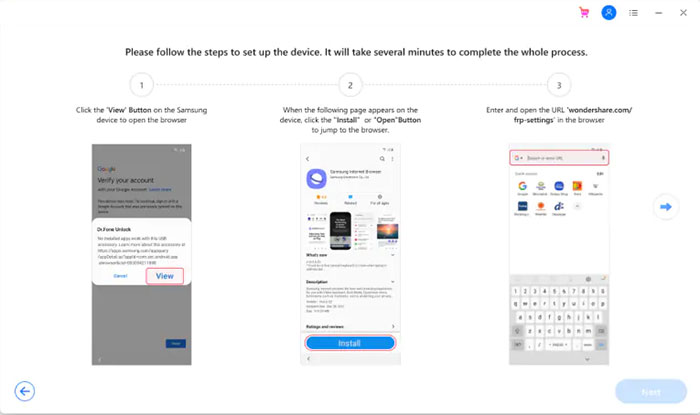 Step 6. Choose "Android 6/9/10" and tap on "Open Settings." Next, you should set the "Pin" and then select "Do not require" > "CONTINUE."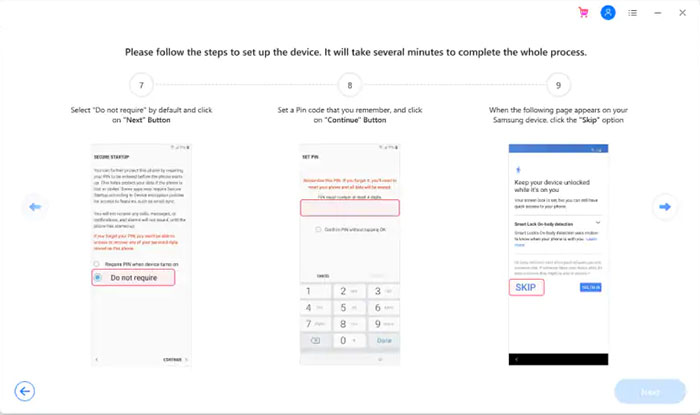 Step 7. Ultimately, you can swiftly remove the FRP lock from your Android device by following the instructions on your program screen.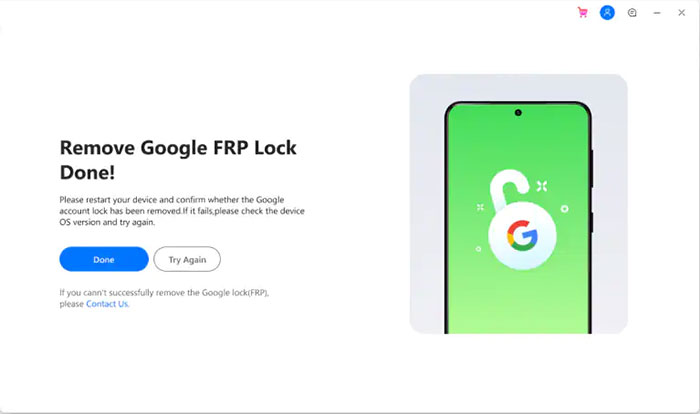 See More:
Part 3. Other 9 Popular FRP Lock Removal Tools
Top 1. Samsung FRP Helper V0.2
Are you searching for FRP bypass tools? Wondering if there is there a free FRP bypass tool? Of course yes. Samsung FRP Helper V0.2 is what you need. It unlocks FRP on Samsung devices with Android 7.0 and older versions. You can learn about FRP bypass tools for Android before using it to unlock FRP on Samsung for free.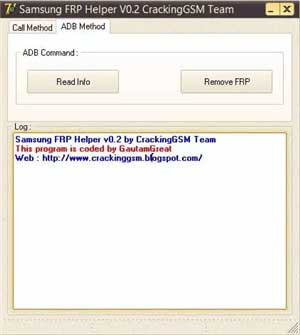 Pros:
Samsung FRP Helper V0.2 removes FRP lock screens on Samsung devices with Android Nougat and earlier versions for free.
Free FRP unlock tool - so no need to register to use the tool.
Cons:
Limited to Android 7 and older versions.
Users must enable ADB mode on their devices before using Samsung FRP Helper V0.2 for FRP bypass.
Top 2. HushSMS FRP Bypass
What is the best free FRP bypass tool? HushSMS FRP Bypass is a tool to bypass FRP on Samsung devices. It uses a unique method, bypassing FRP with SMS called SMC push. This helps Samsung users facing FRP lock issues find an alternative. HushSMS is free and provides a solution for locked devices. However, it needs technical understanding and steps, better for skilled users. While practical, it might work on limited devices, so follow instructions for success.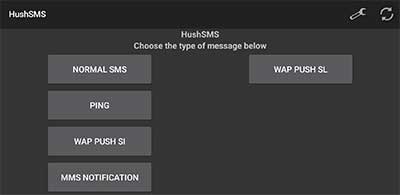 Top 3. FRP Bypass APK
FRP Bypass APK is a tool to remove Google's factory reset protection. It works on common Samsung devices with various Android versions. Users say it quickly bypasses the FRP lock on their Samsung devices.
Yet, some users find FRP Bypass APK hard to use, leading to many failures. Even worse, it doesn't assure device security after bypassing.
Top 4. Pangu FRP Bypass APK
As the tool's name implies, it's an APK file for the device with FRP lock. You can't directly download the APK on the locked device. Instead, download it to your PC, then use a flash drive and an OTG cable to transfer and install the tool on your Android device. You can unlock FRP by using the tool.
It's an effective yet slightly cumbersome solution. That's why many prefer to use a desktop tool or a combination of APK and desktop tool.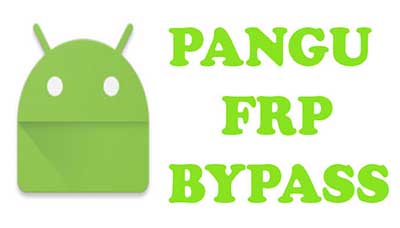 Pros:
Pangu is a top FRP bypass solution for many Android devices.
Works for over five Android brands, including Lenovo, HTC, and Motorola.
Cons:
Complex interfaces may be challenging for beginners.
Users often need to download the bootloader for their specific Samsung device before bypassing FRP.
Requires an internet connection to operate.
Top 5. GSM Flasher Tool
If you are looking for a free way to remove Samsung FRP, then GSM Flasher is the tool to consider. It disables Google sync on Android phones, wiping FRP and granting full control. It's not just for Samsung, but for all Android devices. GSM Flasher also removes pattern locks. It's very versatile and easy to use.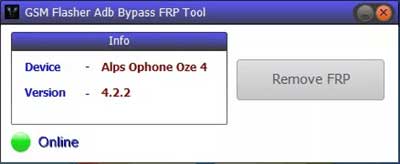 Pros:
Quickly removes Google FRP from Android phones.
No subscription fees; GSM Flasher is free.
Cons:
Works for specific Android versions, 4.0 or older.
Top 6. Octoplus FRP Tool
Octoplus FRP Tool simplifies and speeds up FRP bypass on Android devices. It's one of the top tools for removing FRP lock screens on various devices like Samsung, HTC, Sony, and more. This tool gives you four unlock options for bypassing FRP lock on Android.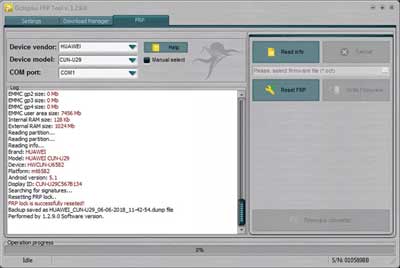 Pros:
Efficiently removes FRP lock on many Android phones.
Compatible with multiple Android devices.
Cons:
Octoplus FRP Tool requires a paid subscription for access.
Subscription costs $65 to bypass FRP lock screens.
Top 7. Easy Samsung FRP Tool
Easy Samsung FRP Tool is a well-known FRP bypass tool for computers. It's free and can unlock FRP on various Android devices. However, there are downsides. You must disable antivirus software on your device, potentially risking its safety.
Also, not all Samsung devices are supported, and privacy isn't assured. The process is intricate, causing many users to struggle.
Top 8. Realterm FRP Lock Removal
Realterm FRP Lock Removal is a helpful tool for bypassing Factory Reset Protection (FRP) on Samsung devices. Using its specialized software, Realterm provides a reliable way to address FRP lock problems and regain device access. It's free, but successful FRP bypass involves specific technical steps. This tool is great for Samsung users dealing with FRP issues and wanting an alternative to professional services.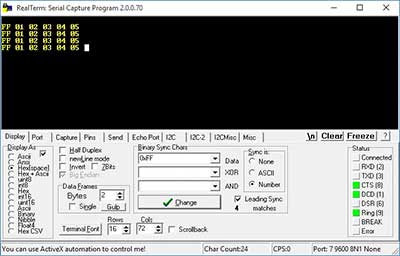 Pros:
Works well on Samsung devices.
It is a free FRP bypass tool and uses Realterm software to bypass FRP.
Cons:
Requires specific technical steps, not beginner-friendly.
Top 9. D & G Password Unlocker
D & G Password Unlocker stands out from the previous FRP bypass tools because it's compatible with a range of devices, including Xiaomi, HTC, Motorola, and other Android phones, not just Samsung. It's user-friendly, even for beginners. You simply download and install it on your PC, connect your Android device to the computer, and then follow the on-screen instructions to remove the FRP lock.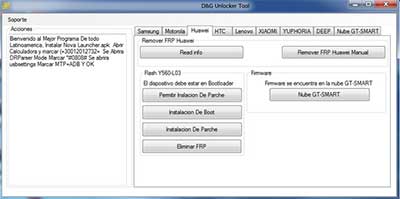 Concluding Thoughts
In conclusion, the top FRP Bypass Tools are invaluable resource for regaining access to locked Android devices due to Factory Reset Protection. You will be able to access your device almost immediately without any knowledge of codes or having to perform complicated steps. Instead, using FRP Bypass Tool just requires a few steps, and you can easily unlock your device. Google Lock Bypass tool is ideal for those who have lost access to their devices due to forgotten passwords, malfunctioning hardware, or other reasons.
Related Articles:
Hot Tips to Restore Call History Backup from Google Drive [2023]
4 Techniques to Recover Photos from Old Google Account on Android [2023]
6 Simple Ways to Unlock Android Phone without Google Account
Do It Yourself - How To Reset Your Gmail Password On Android in Less Than 5 Minutes!
What to Do If I Cannot Sign in Google Account on Android?
[Specific Introduction] How to Use Google Drive on Android & PC?