How to Root Huawei Devices Conviently? [Proven Ways]
You may know the benefits of rooting an Android device, so you wish to root your Huawei devices for installing a custom ROM or removing unwanted built-in apps by yourself. But rooting a device is not as easy as 1-2-3, you have to face some risks, so some people will hesitate and give up the rooting in the end of the process while others stick to root their device for getting more right. If your final decision is still to root Huawei phone or tablet, then you've been the right place. In this guide, we'll show you a comprehensive way to root Huawei devices for your reference.
Similar Page: How to Root Samsung Devices
Preparations of Rooting Huawei Devices
Before you start rooting your device, you should do some preparations to ensure the high success rate of rooting. First of all, you need to figure out all risks you will face during and after the process, then you can follow the below points to reduce these risks.
Can't Miss: Risks for Rooting Android Devices
1. Lots of users complained that some crucial data is deleted during the rooting process. So in order to avoid these situations, you'd better to create a backup file of your device by using a reliable application like MobiKin Assistant for Android before the procedure.
2. You need to ensure your device will keep turn on during the process, so you should to make sure it has at least 60% charged.
3. Turn on USB debugging on your Huawei devices.
4. Visit the Huawei official site and download the right drivers for your device. Or directly click here to get the right Android USB drivers.
How to Root Huawei Devices Step by Step?
Here, you need to download and install the latest TWRP and Odin on your device.
TWRP (https://twrp.me/) - Help Android users to install 3rd-party applications and firmware on their devices.
Odin (https://odindownload.com/)
Step 1. Press the Power, Home and Volume Down button at the same time to put your phone into the bootloader mode. Then connect the device to the computer with USB cable.
Step 2. Open Odin on the computer and it will identify the downloaded Huawei drivers. When you see a message of "Added", that means the connection is OK.
Step 3. Click on "AP" button and select "TWRP" image file in the program. After that, you can click on the "Start" button to flash TWRP recovery into your phone.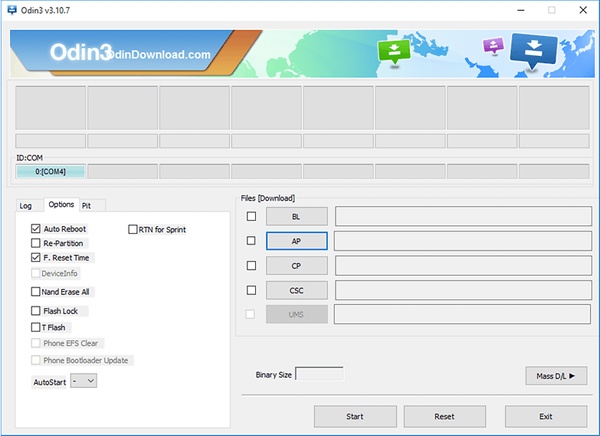 Step 4. When you see a "PASS" message in the main menu, that means the TWRP recovery has loaded successfully. Now, you need to download SuperSU, unzip and copy the SuperSU zip file to your phone's storage.

Step 5. Now, you can unplug your device from the computer and put it into the recovery mode by pressing the Home, Power, and Volume up button simultaneously.
Step 6. Back to the TWRP main menu and find the button of "Install". Tap it and select the SuperSU zip file.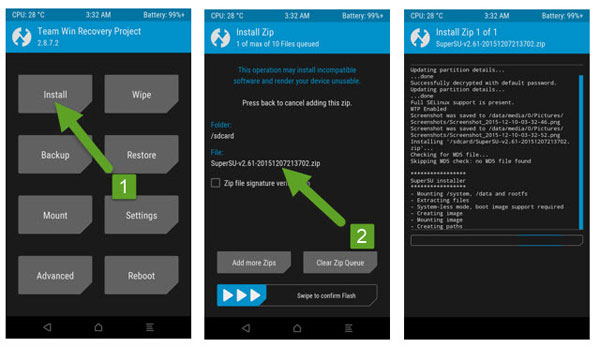 Step 7. When the flashing process is ended, you can restart your Huawei phone and you have got all root privileges now.
Related Articles:
How to Root Android 7.0 Nougat
Top 10 Android Rooting Software & Apps [with/without Computer]
Complete Guide of Root Browser: How to Use Root Browser
Hot Tips to Restore Android Phone from Backup [Informative Tutorial]