How to Root Moto X Completely? Comprehensive Guide
Moto X devices, which are increasingly becoming a favorite of most Android users are super-stylish modern smart phones that offer the best performance at an even fair price. These devices apart from running on the pure Android operating system, come preinstalled with various applications and do contain several manufacturer or carrier-based restrictions. It is no secret that such restrictions prevent users from carrying out several basic activities on their gadgets. This makes it vital for you to come up with a way to outsmart your Moto X smartphone's manufacturer or carrier if you still wish to unlock your handset and experience its full potential. The best and only reliable way to do this is to root your Motorola "Moto X" gadget. Rooting your Android device comes with various advantages.
However, it is important to note that doing so will void your phone's warranty. So you should always unroot your Moto X before returning it to your carrier or manufacturer for troubleshooting or repair purposes during the approved warranty period.
This comprehensive Moto X root guide is going to provide you with the easiest ways to root your Moto X devices.
Advantages of Rooting Your Moto X Device
1. Removal of Bloatware
Rooting your Moto X allows you to uninstall unnecessary carrier-installed stock apps (bloatware) that are shipped with your smartphone. This ends up not only creating additional space (increased RAM) on your device but also translates into increased performance.
2. Guaranteed Access to Even More Apps
Unlocking your Moto X will help you to finally install android apps even those that are restricted by your carrier. You will also be able to install various "unsupported" apps from the Google Play Store or any other source whatsoever. Users of rooted smart phones can easily download applications that are restricted in their country.
3. Installation of Custom ROMs
Are you tired of the "boring" stock ROM that comes preinstalled with your Moto X? If so, you can easily install various stylish custom ROMs from multiple sources on your Android device once you successfully root it. It is even possible for you to download the latest Android operating system before it is officially released to the general public.
4. Preserving Battery Life
You can choose to install various powerful yet effective battery saving apps like JuiceDefender Ultimate and Greenify to add approximately four hours of battery life to your rooted android gadget.
5. Improved Performance
Apart from getting rid of the bloatware that comes with your device in a bid to improve performance through minimizing the overall CPU and RAM usage, you can also install specific apps that can still do the same. Apps like "SetCPU" can be used to overclock and underclock your device when it is in use and not in use respectively. This will significantly boost both your Moto X's performance and even increase your gadget's battery life.
How to Root Moto X in Different Ways?
Preparation: Backup all the private data that are stored on your Moto X smartphone. This may come in handy when you want to restore your device for any reason. Then follow one of the solution to root your Moto X easily.
Solution 1. Root Moto X by Using One Click Root
This is a Windows and Mac PC-based application that can be used to easily, safely and effectively root your Moto X in just a single click. Apart from providing you with an easier way to root your smartphone, One Click Root also features a dedicated unroot button, which can be used to reverse the entire process whenever the need arises.
One Click Root only runs on authorized devices, thus making it foolproof. This advanced rooting solution comes with a simple interface that can be used by everyone to root their device. You don't even need to have any previous technical experience to use this program. Below are the simple steps that you can follow to unlock your Moto X's full potential.
Step 1. Download and install One Click Root on your Windows or Mac computer. Then go to your Moto X to open USB debugging on it, if you don't know how to do it, you can read the article of how to enable USB debugging on different Android devices.
Step 2. Connect Moto X to the computer with USB cable, and launch the One Click Root program on your computer. Here, you need to make your phone be recognized by the rooting tool, and then you can select the rooting option according to your own needs.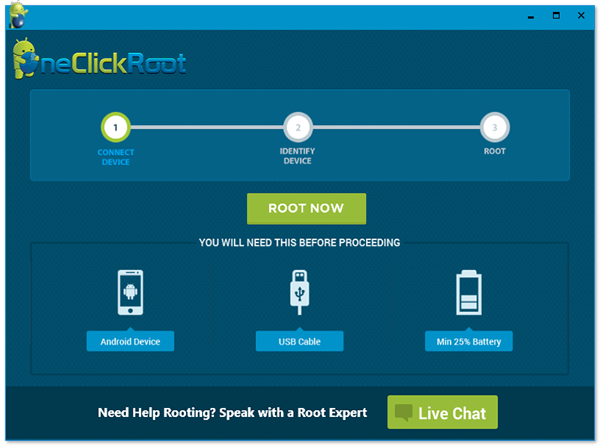 Step 3. Click on "Root Now" button to begin the process and then you only need to wait for the end of rooting.
Can't Miss:
How to Recover Deleted Contacts from Android
How to Restore Messages on Android Phone
Solution 2. Root Moto X by Using "MotoRoot" App
You can use the "MotoRoot" application to unlock your Moto X if is still running on the Android 4.2 operating system. Kindly stick to the first tutorial section (Rooting with One Click root) if your smartphone is running Android 4.3 or higher. Proceed to follow the steps provided below if you wish to root your Moto X device that is running on Android 4.2.
Step 1. Download MotoRoot on your Motorola device, here you should be noted that you only download the application that is supported by your carrier. For instance, download the Verizon-based MotoRoot program if you are using the Verizon carrier.
Step 2. Connect your Moto X to the computer with USB cable, then install the downloaded APK file on your device with the help of MobiKin Assistant for Android, or opening the "Command Prompt" as an administrator and pressing Win + R. You can now proceed to type "adb install -r motoroot-.apk" and press enter once you are done.
Step 3. Launch the MotoRoot app on your Motorola device, and select the "Setup" option and wait as your MotoX device reboots.
Step 4. Visit the Play Store and install the Chainfire "SuperSU" application. After that, you only need to wait for the installation process to complete.
Conclusion
Now you have known how to root your Moto X phone, but before you start it, please do not foregt to back up your Motorola phone first, which will protect your data from losing.
Related Articles:
How to Backup Android to Mac? (5 Free Ways)
How to Transfer Text Messages from Samsung Phone to Computer Effectively?