How to Backup Android Phone to Mac/MacBook/macOS X [6 Scientific Ways]
Smartphones have revolutionized our lives, eliminating the need for bulky cameras and offering the flexibility to handle tasks on the go. However, the constant changes to data on our phones pose a risk, especially in the face of unexpected events like phone crashes. To safeguard crucial information, you may dedicate time and effort to back up an Android phone to an independent storage like a MacBook. Well, this informative guide explains how to back up Android to Mac in verified ways. Let's go check them out now.
Method 1: How to Back Up Android to Mac via Android Backup & Restore [Effortless]
In the present day, the majority of individuals own a computer, providing a convenient means to back up and access Android data seamlessly. This proves especially beneficial when desiring to preview, manage, or print the backup content. If you are seeking a tool to create and restore backups effortlessly across various Android devices, don't overlook MobiKin Backup Manager for Android (for both Mac and Windows), also known as Android Backup & Restore.
A brief overview of Android Backup & Restore:
> Back up Android contacts, SMS, call logs, photos, videos, music, documents, apps, and more to Mac with one click.
> Effortlessly restore backups from Mac to any Android device using straightforward steps.
> Offer two convenient methods to connect: USB and WiFi.
> Risk-free, easy to handle, and no data loss.
> Apply to 8000+ Android devices, including Samsung, Motorola, TCL, Google, BLU, Alcatel, OnePlus, T-Mobile, Wiko, Boost, SONIM, and more.
Want to enjoy the easy backup task with this backup software? Free download it and adhere to the directions to back up Android phone to macOS X without interruptions:
Step 1: Establish a connection between Android and Mac
Upon downloading and installing this MobiKin software on your Mac, double-click the program icon to launch it. Subsequently, connect your Android phone to the machine using a USB cable. During this step, ensure USB debugging is enabled on your Android device.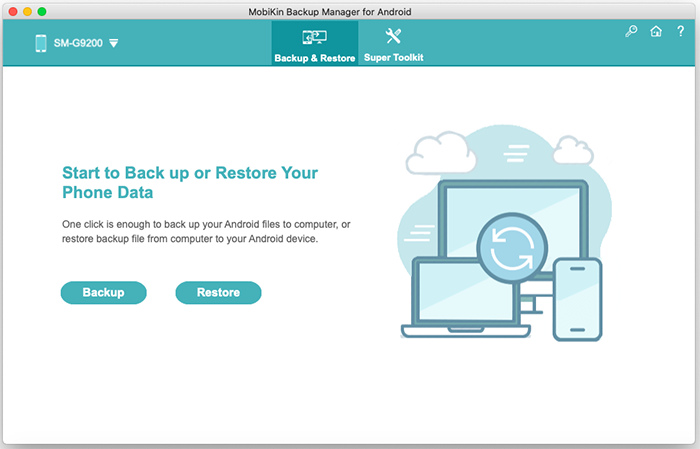 Step 2: Choose the file types for backup
Once the software successfully recognizes the connected device, click "Backup" on the main interface to access the Android data backup window. Next, select the file types you wish to back up.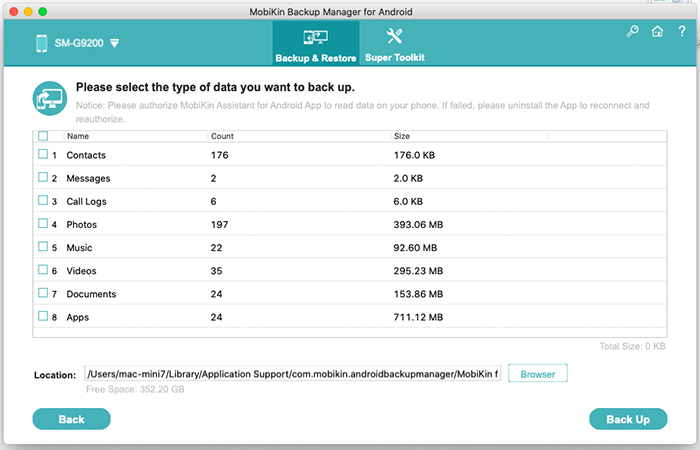 Step 3: Back up the Android data to Mac
After selecting the desired data types, click "Browser" to designate an output location. Then, click the "Back Up" button to commence. Upon completion, you can view your Android data successfully backed up to a local folder on the Mac.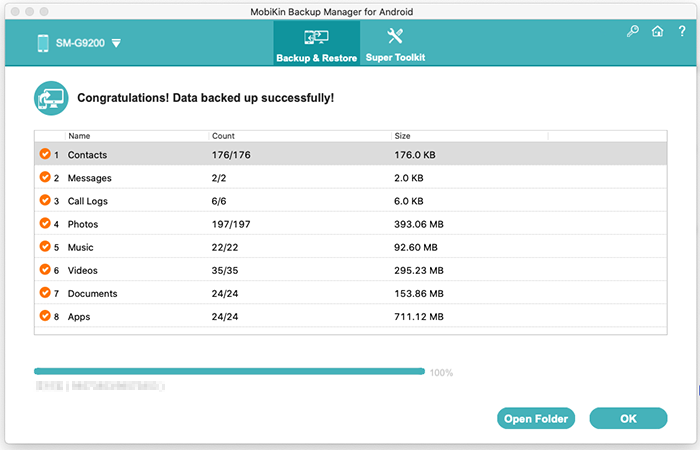 Click to Access:
Method 2: How to Back Up Android Phone to Mac via Assistant for Android
MobiKin Assistant for Android (Mac and Windows) is a safekeeper for your Android items, including contacts, messages, apps, photos, music, videos, books, etc. This secure and user-friendly program allows comprehensive data transfer, flexible connectivity via USB or Wi-Fi, one-click restoration, seamless data viewing on Mac, customizable backup options, and compatibility with various Android phones.
Wonder how to back up your Android phone to Mac with MobiKin Assistant for Android?
Download, install, and launch Assistant for Android on your Mac.
Connect your Android phone using a USB cable.
Navigate to the "Super Toolkit" tab for the 1-click backup & restore window.
Select the "Backup" option, preview the file types, and choose a location on your Mac for the backup file.
Click "Back Up" to initiate the transfer.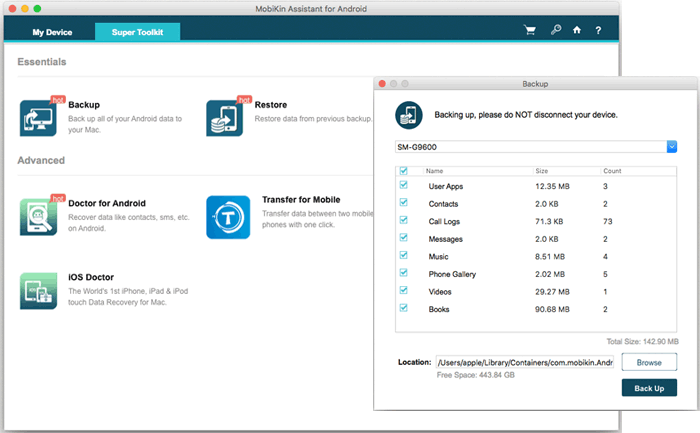 For targeted backups, select specific data types from the left-side menu on MobiKin Assistant for Android on Mac. To illustrate, for contacts, click the "Contacts" tab, preview and select the contacts to back up, then click the "Export" button from the top menu.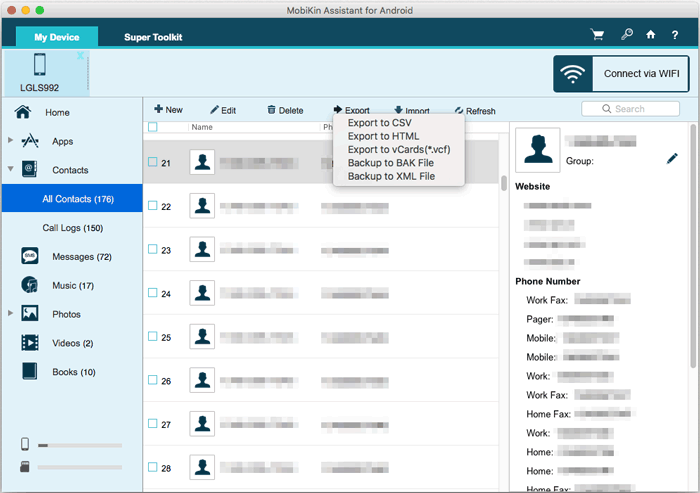 Method 3: How to Back Up Android on Mac with Android File Transfer
Android File Transfer, a free and minimalist tool developed by Android, enables users to effortlessly copy essential data from their Android devices to their Mac. Although it lacks the ability to back up Android contacts to Mac, this program is suitable for efficiently transferring files, including videos and music.
How to back up an Android phone to a Mac using Android File Transfer?
Download the Android File Transfer utility and open the downloaded file.
Transfer the Android File Transfer app to the Applications folder on your Mac.
Connect your Android phone to your MacBook using a USB cable.
Open Android File Transfer on your Mac.
Choose the files you wish to back up from your phone's storage and copy and paste them onto your Mac.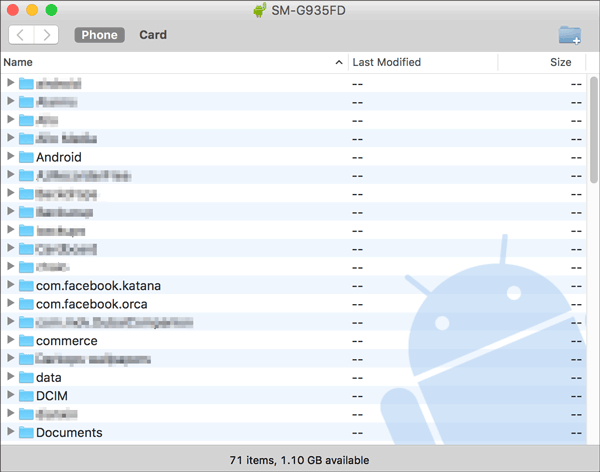 Check If You Need:
Method 4: How to Back Up Android Phone to Mac Using AirDoid
AirDroid simplifies Android backup to Mac with its wireless-only solution. After installing the app on your Android device and creating an account, enjoy seamless WiFi access to your files. Beyond backup, AirDroid offers features like mirroring and remote access, providing a versatile tool for managing various file types on your phone. To make a backup of your phone via this Android File Transfer alternative, follow the steps:
Download and install the AirDroid app on Android and complete the sign-up process.
Ensure that both your phone and your Mac are connected to the same WiFi network.
Visit the www.web.airdroid.com website on your Mac and scan the displayed QR code.

Gain access to your Android data on your Mac through Photos.
Select the desired photos and proceed with the download.
To make the backup task smooth, please get the most recent version of AirDroid before signing up for an AirDroid account. Then, ensure both your Android phone and Mac are connected to the same WiFi network.
Method 5: How to Back Up Android to MacBook/Mac with Google
Runing Android backup for Mac free has become more straightforward over the years. Depending on your data type, use primary backup solutions like Google Photos for media content and Google Drive for files and documents. To take the backup, you should:
Ensure you have downloaded and updated Google Photos or Google Drive.
Access the settings menu of each app and activate the "Backup & Sync" feature.

For Google Drive, simply click on "Upload" and choose the files you want to back up Android data to Google Drive.
Customize your backup preferences and options to finalize the backup.
On your Mac, open a web browser and visit the Google Drive website.
Sign in using the same Google account that you use on your Android device.
From there, you can conveniently access and download your desired items.
Method 6: How to Back Up Android Phone to Mac via Smart Switch [Samsung]
If you own a Samsung Android device, you can utilize the Samsung Smart Switch to safeguard your phone data. This intelligent app is compatible with Mac OS X 10.5 and newer. The backup duration may differ depending on the data size. To fulfill this, you can:
Download and install Smart Switch on your Mac.
Open Smart Switch and connect your Samsung phone to your Mac using a USB cable.
Grant access and enable USB debugging on Samsung.
Within the Smart Switch window, go to "Backup" and choose the content to save to Mac.

Select the backup location on your Mac and click "Backup" to initiate the process.
Conclusion - What's the Best Way to Back Up Android to Mac
MobiKin Backup Manager for Android delivers a straightforward, reliable, and secure backup solution.
Building upon that foundation, MobiKin Assistant for Android offers a broader range of backup choices along with enhanced phone management features.
Google and AirDroid facilitate cable-free data transfers but lack a significant advantage in terms of backup speed.
Smart Switch is specifically designed for Samsung-to-Mac backups.
Android File Transfer lacks the ability to preview content before backup, and some data types, like contacts, may not receive full support.
So, which method do you like best? Or any better way to recommend? Please let us know in the comments.
Related Articles:
Discover the Top 9 Best Android Phone Backup Software for PC Here [Latest]
Clear Up Confusion: Full Guide to Restore Android Phone from Google Backup
How to Recover Deleted Phone Numbers from Android? 6 Methods You'd Better Know
[5 Options] How to Spoof/Fake Location on Android without Being Detected
[Solved] How to Back Up WhatsApp Messages from Android to Mac?
How to Back Up Android Phone to SD Card? 3 Easy Solutions Here!