How to Transfer Videos from PC to Android? Most People Don't Know.
Today, high-resolution cameras have been the general configuration of Android devices. To enrich our spare time and nourish nerves of a busy day, many of us would choose to watch videos on mobiles as a pastime. Sometimes, many HD videos may be downloaded and stored on computer. Yet we probably watch more clips on phones rather than PC, as we can access them whenever and wherever we are. Thus, it's a good idea to transfer videos from PC to Android.
Are there any great approaches to accomplish this? OK, to answer this question, just concentrate on this definitive guide to get 6 unexceptionable solutions below.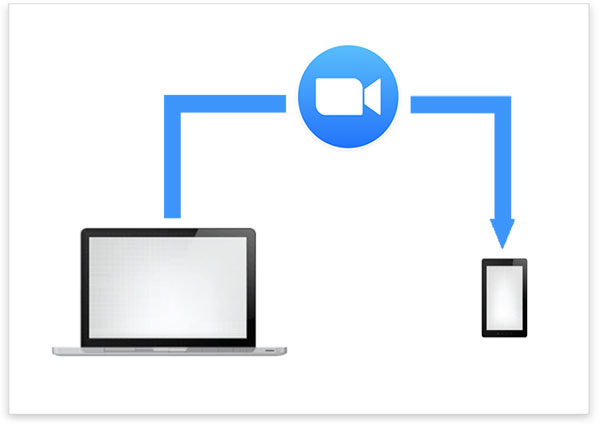 Option 1: How to Get Video from Computer to Android Phone Using USB Cable Only
This is probably the simplest way to do this task. After you set up the transfer mode, you can copy & paste the videos directly from PC to Android.
But the clips might not be played on Android phone at times. To solve this, you can first convert the videos or movies to MP4 to reduce the memory footprint, and make sure it works properly.
Below is how to transfer a video onto a phone with USB cable only:
1. Unlock your Android phone, and link it to computer via an applicable USB cable.
2. On your phone, slide the screen down to see a notification tray. Then just touch "MTP" or "File Transfer" section.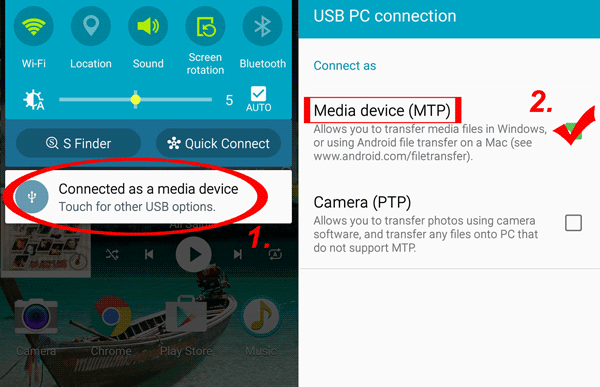 3. A file transfer window will now pop up on PC. If it doesn't appear, go to "This PC", and double-click your linked device. Then open "DCIM" folder to find all the videos there.
4. Select your desired videos, then copy them and paste into the corresponding folder of your Android phone.
Related Reviews:
Option 2: How to Transfer Videos from PC to Android with Assistant for Android
Next up is to do that through 3rd-party software, which is also the first choice for many users who set store by the quality of life. This program is MobiKin Assistant for Android. It assists to get videos on PC/Mac to your phone without limit, and retain the original quality.
Meanwhile, you can delete unwanted videos from your phone, or back up contents from Android to computer. It is better at moving all kinds of data between mobiles and computers. Plus, it also helps manage or maintain contacts, music, SMS, app, etc. on computer in an all-round way.
Brief Overview of MobiKin Assistant for Android:
Transfer data from PC/Mac to Android device, covering data as videos, photos, music, contacts, call logs, etc.
Export various files from Android to computer with no data loss.
Provide with secure and fast data transfer.
Back up and restore various Android data flexibly within one click.
Two connection mode: USB cable and Wi-Fi network.
Any action you take on it will be kept confidential.
Work well with 8000+ Android phones or tablet, including Samsung, Xiaomi, Motorola, Huawei, LG, Sony, HTC, Asus, Vivo, DELL, OPPO, etc.
Is it magic? Well, simply give either of the following buttons a click as needed to get it on PC or Mac computer for data management without any effort.
Here's how to transfer videos from PC to Android with Assistant for Android:
Step 1. Launch the software on PC after the installation, and then connect your Android to computer via a USB cable.
Step 2. To get your device identified by the program, you should enable USB debugging on Android phone before getting the main interface of the tool.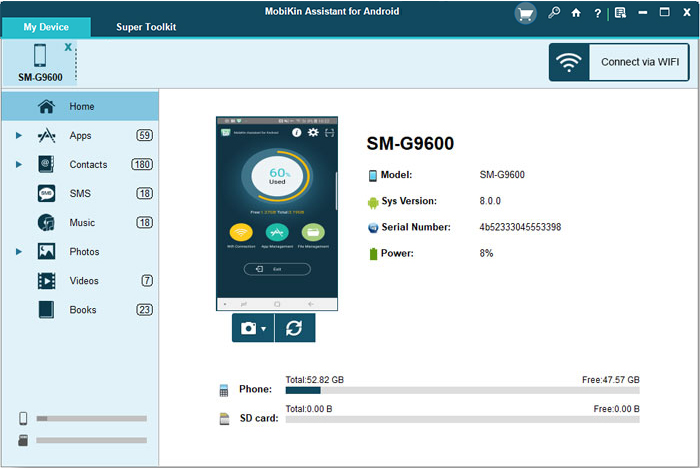 Step 3. Choose the "Videos" tab on the left pane. And then click "Add" from the top menu. Now, you can select your needed videos from this PC, and press "Open" to start getting videos from computer to Android device.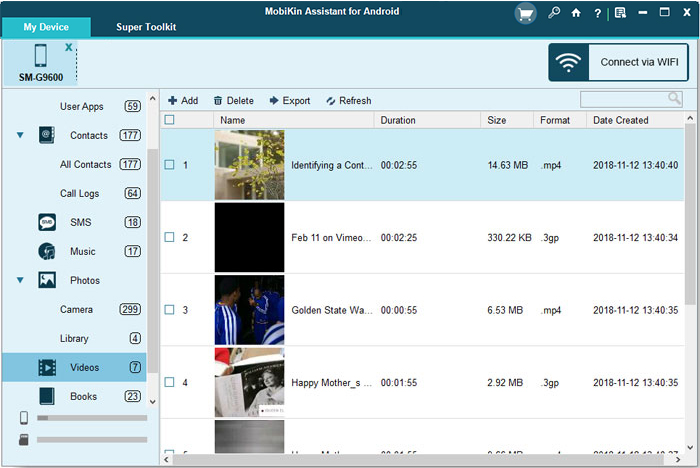 Video guide on how to transfer videos from computer to Android:
Option 3: How to Put Video from Your Computer to Your Android Phone by Bluetooth
Many users may know that they can transfer videos between Android phones via Bluetooth, but don't know whether it is possible to do that between PC and Android. The answer is absolutely yes. However, Bluetooth may give away our privacy, to some extent, and come with poor transfer efficiency.
To learn how to put videos on phone from computer by Bluetooth:
1. Enable Bluetooth on both PC and Android device (on PC, go to "Settings > DEVICES > Bluetooth"; on Android, head to "Settings > Bluetooth").
2. On your computer, search for your Android device, and soon you'll find the name of the phone on the screen. Tap it and click Connect to "Pair" the handset and computer.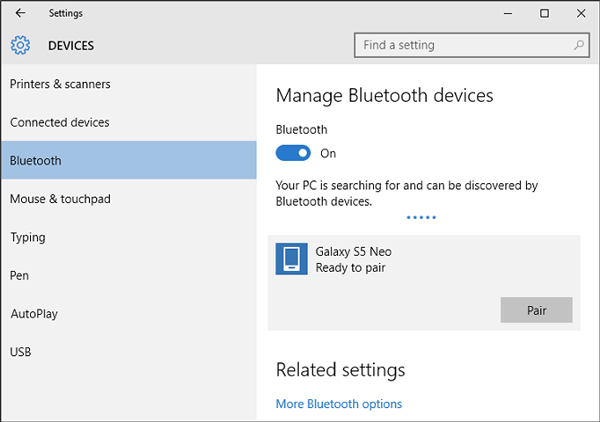 3. On PC, navigate to "Settings > Devices > Send or receive files via Bluetooth > Send files". Here, simply select your desired video files to share them to your Android phone.
Option 4: How to Pass Videos from PC to Android Mobile via AirDroid
Helping transfer movies from computer to Android phone over WiFi, AirDroid is another powerful program. Apart from that, it can remotely control mobile devices, receive and reply to text messages. Nevertheless, many features are available only for advanced users with paying relatively high fees.
How to transfer videos from computer to Android using AirDroid:
1. Download, install and launch AirDroid app on your Android device. Then hit "Start" from the Home screen to connect it to Wi-Fi.
2. After that, you ought to connect computer to the same Wi-Fi network. Then open your browser on PC and input the IP address on AirDroid. Next, tap "Enter" key.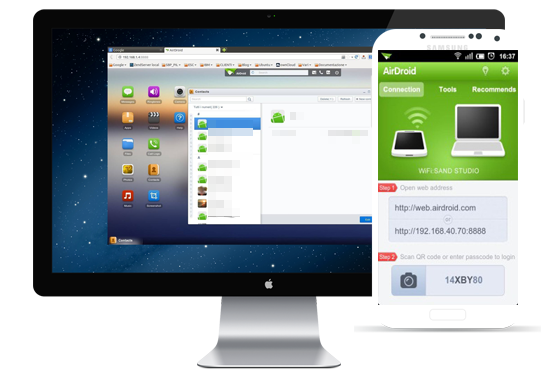 3. A notification will then cue you to accept the connection. Just hit "Accept" to move ahead.
4. After the connection, drag the videos you want from PC to "Upload to" section. This will pass videos from PC to your mobile.
More Related:
Option 5: How to Get Videos on Your PC to Your Android Phone via Google Photos
Google Photos gives you the freedom to transfer videos from PC to Android. Yet, occasionally, when uploading some videos, you might get stuck in the "Uploading XX videos" interface for a long time, it is recommended that you cancel the task and upload the items one by one.
This is how to send videos from computer to Android phone via Google Photos:
1. Visit Google Photos website on computer. Then log in with your Google Account if prompted. Now, you'll see your backup records if you have synced media files to the cloud before.
2. Click on "UPLOAD". Then the "File Explorer" will open automatically. Open a folder with videos in it. Subsequently, select your wanted stuff and choose "High Quality" or "Original".
3. Click "CONTINUE" to begin uploading the chosen videos to Google Photos account.

4. Once done, launch Google Photos on Android phone. After that, go to "Menu > Settings" to find "Back up & sync". And ensure this toggle in "On".
5. This will enable the sync between Google Photos account and Google Photos app. That means your videos will then be synced to Android device later on.
Option 6: How to Upload A Video from Computer to Android Phone with Dropbox
Dropbox is another cloud storage service. Also, you ought to upload Android files to Dropbox from computer first. Then log in to Dropbox app on Android phone to view and download your desired stuff. But, it's worth saying that Dropbox has only 2GB of free storage, and if it's not enough, you'll have to pay for additional memory space.
How to transfer movies/videos from computer to Android phone with Dropbox:
1. On your computer, go to visit Dropbox website. Next, sign in the account on it.
2. Here, to put videos on Android phone from computer, please tap "Upload" and choose the videos/movies you need to put them to this cloud.
3. Download, install Dropbox on Android phone. Then start it and log in the same account. Now, you'll access the movies/videos you've just uploaded. Simply download the specific stuff to your Android device.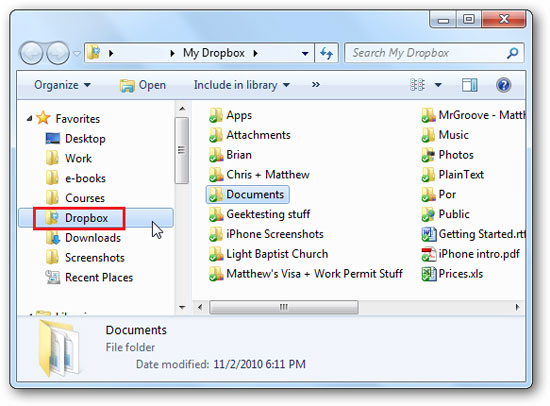 Calling It a Wrap
As can be clearly seen from this article, these methods, on the whole, should be used to carry out the task of transferring videos from PC to Android. But, specifically, dragging & dropping as well as Bluetooth are applicable to move a small number of videos. AirDroid, Dropbox and Google Photos require connecting to stable WiFi before transfer, and may result in certain privacy risks or technical failures during use.
As for MobiKin Assistant for Android, a utility specially designed for overall Android devices, can make data transfer and management easy, quick and smooth invariably.
Related Articles:
Download Google Photos to Android Phone/Computer
How to Transfer Videos from Android to Mac?
How to Transfer Videos/Movies from iPad to Computer?
[3 Simple Ways] How to Transfer Videos from Android to Mac?
How to Import CSV Contacts to Android Phones with Simple Clicks?
Android Video Recovery: Recover Deleted Videos from Android Devices