Recover Data from Broken or Damaged Android Phone
Let's suppose that you dropped your smart phone to the ground by accident, and the phone's display screen is cracked; Or if the Android phone is broken or dead due to other reasons like virus attack in the daily life, how to extract the saved contacts, messages or even more files from the damaged Android phone completely? How to restore all your precious memories like photos, videos, etc. on the phone? Troublesome, right? Now, here is an ideal solution for your reference to recover data from broken Android phone.
How Can I Recover Broken Android Data?
People like to save lots of important or privacy information in their Samsung, HTC, Motorola or other smart phones for entertaining or business needs. But when your Samsung, HTC or other phone's screen broke up by accident, you may eager to find back all your important data like contacts, messages, photos, etc. from the damaged or broken device, right?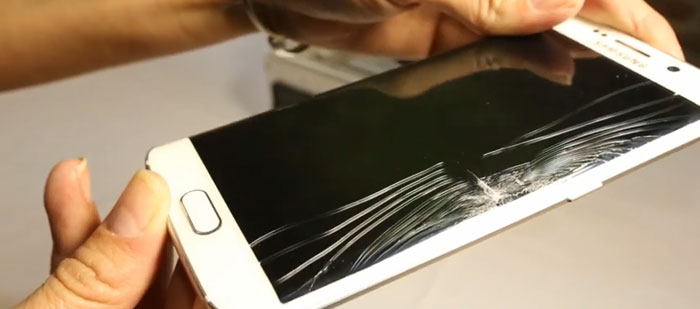 But attention please, unlike media files like photos, videos, etc., contacts and messages are always stored in the phone's internal flash card, and it is can't be taken out and used in other device just like the SD card does. Thus, when your phone is broken without backup, and you can't find an effective way to extract or restore the saved data on the device, then you may lose them permanently. Tragedy, right? A good news here is that you can ask for help from a 3rd-party application to retrieve deleted data from broken Android mobile phone easily.
Here, we kindly recommend a reliable yet professional Broken Android Data Recovery software for your reference. Let's have a brief look on the key features of the broken Android Data Extractor software.
- Extract data like contacts, SMS, call logs, photos, music, WhatsApp, videos, etc. from damaged phone internal and SD card;
- Fix Android system issues and get your device back to normal status, such as virus attack, black screen, system crash, phone frozen, phone drown, password forgot, etc.
Now, click the below icon to get the powerful software and follow the below steps to begin the process.
Can't Miss:
How to Retrieve Deleted Contacts on Android
How to Recover Deleted Text Messages on Android
How to Recover Deleted Photos from Android Devices
How to Recover Data from Broken Android Phone (If Screen Cracked, Password Forgot, etc.)?
If your phone screen is broken or you can't enter the device due to password forgot or other reasons, you can follow this solution to extract data from broken Android.
Step 1. Connect your broken Android to computer, and launch the program. When your device is detected, you can choose the mode of "Broken Android Data Extraction".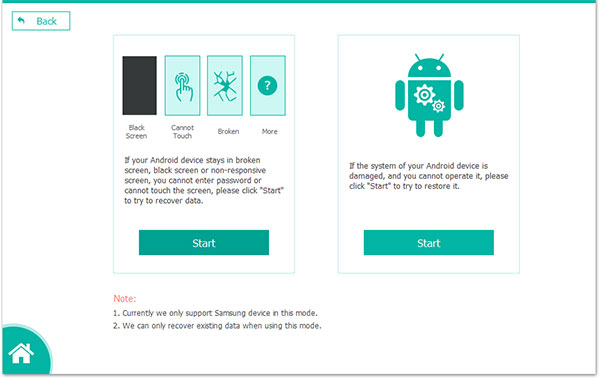 Step 2. Follow the prompt onscreen instruction to click "Start" to select phone brand and model. After that, click "Confirm" button to ensure your device is supported by the program.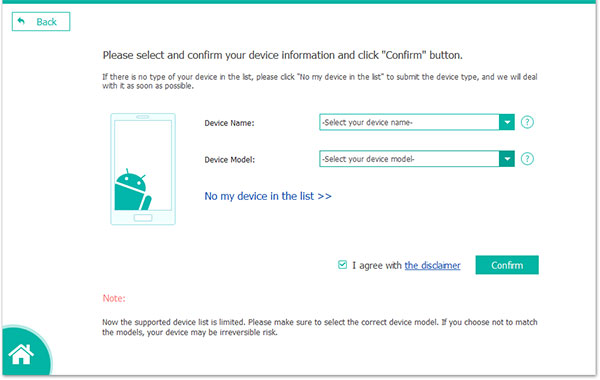 Step 3. Follow the onscreen prompt to enter download mode, then click "Start" button to fix your phone.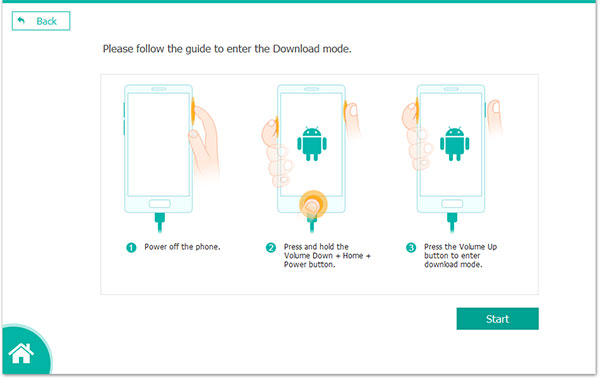 Step 4. When the fixing is successfully, the program will conduct a scanning on your device. After that, you'll get an interface like below. Here, you can choose the data you wish to extract and click "Recover" button to save them on your desktop computer.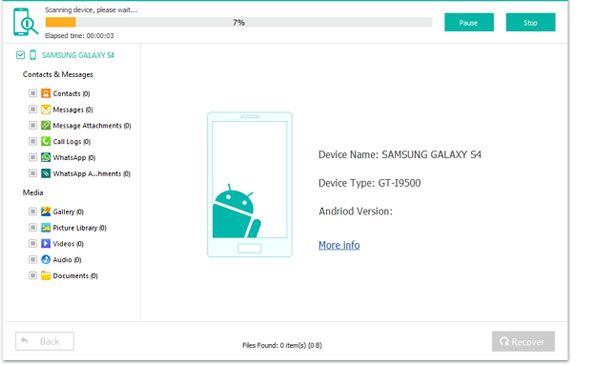 This method can only recover the exsiting data from broken Android phone, not the deleted data.
How to Restore Broken Android Data (Cracked, Bricked, System Crashed, etc.)
If your Android system has something wrong, like system crashed, bricked, cracked, black screen, etc., you can try the following steps to fix it:
Step 1. Connect broken Android phone to computer, and launch the program. Choose "Broken Android Data Extraction" mode in the mian interface. After that, directly choose "Fix Device" to enter the fixing mode.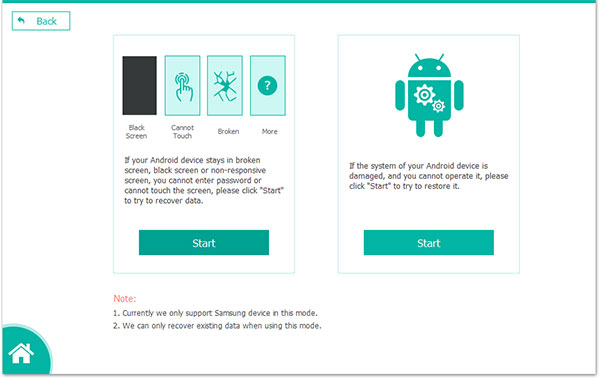 Step 2. Select the system issue that you wish to fix, and click "Next".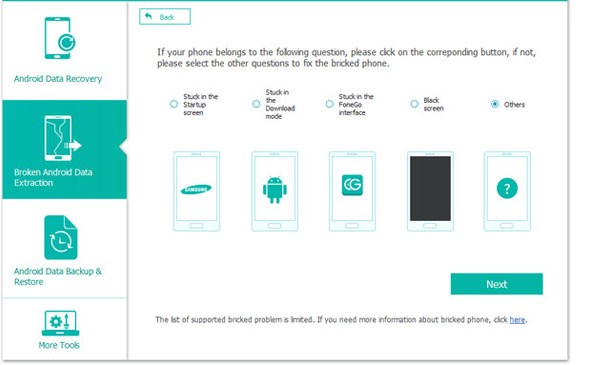 Step 3. Follow the onscreen prompts to enter the download mode, and click "Start" to begin the process. Here, you only need to wait for the end.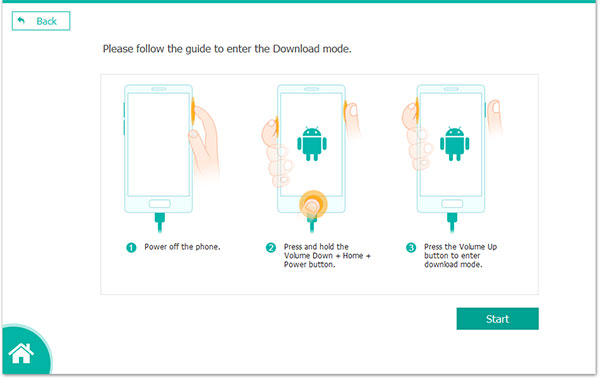 Step 4. After that, you can use the Android Data Recovery tool to scan and find your lost data as you like.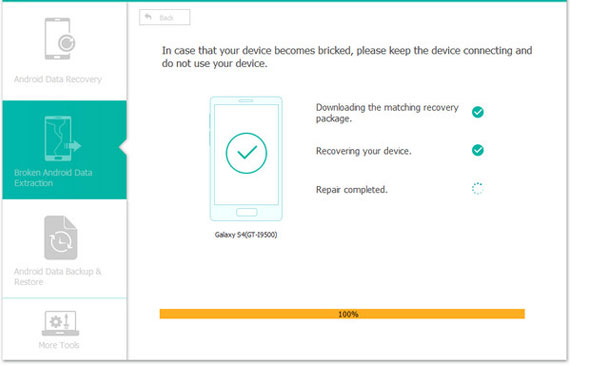 Let's Check All Supported Devices of Broken Android Data Recovery
Supported Devices
Samsung Galaxy S

S4: GT-I9500, GT-I9505, SCH-R970, SCH-R970C, SGH-I337M, SGH-M919, SPH-L720

S5: SM-G900F, SM-G900FQ, SM-G900I, SM-G900K, SM-G900L, SM-G900M, SM-G900P, SM-G900R4, SM-G900R6, SM-G900S, SM-G900T, SM-G900T1, SM-G900W8

S6: SM-G9200, SM-G920F, SM-G920P, SM-G920T, SM-G925F, SM-G925P, SM-G925T, SM-G928P, SM-G928T

Samsung Galaxy Note

Note 3: SM-N900, SM-N9002, SM-N9005, SM-N9006, SM-N9007, SM-N9008 SM-N9008V, SM-N900S

Note 4: SM-N9100, SM-N9106W, SM-N9108V, SM-N9109W, SM-N910C, SM-N910F, SM-N910G, SM-N910H, SM-N910K, SM-N910L, SM-N910P, SM-N910R4, SM-N910S, SM-N910T, SM-N910U, SM-N910V, SM-N910W8

Note 5: SM-N920C, SM-N920G, SM-N920I, SM-N920K, SM-N920L, SM-N920P, SM-N920R4, SM-N920S, SM-N920T, SM-N920W8

Samsung Galaxy Tab
Tab Pro 10.1: SM-T525
Tips: How to Backup Android Data on Computer to Avoid Losing Data?
You never realize how important to keep a backup of your Android data until you lost it. When it comes to backup your Android phone on computer, the easiest way is to use the professional Android backup tool - MobiKin Assistant for Android or Assistant for Android (Mac Version). It is fully capable of backing up any Android file to computer, such as contacts, text messages, photos, videos, music and even apps. The following steps tell you how to backup Android on computer with the Assistant for Android: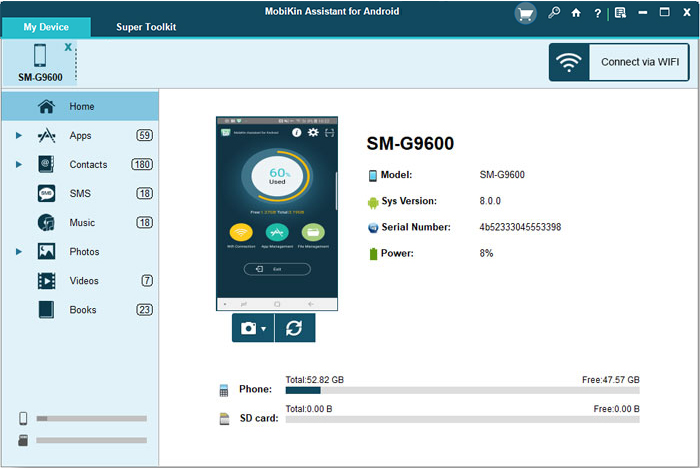 1. Click the download button as the following shows and then plug your Android device (Samsung, HTC, LG, Sony, Motorola, etc.) to the computer.
2. Move your mouse to the left side panel to select certain contents, like contacts, messages, videos, photos, app data, etc. or it is possible to choose all.
3. Preview and select the files you want to backup and hit on the "Export" button from the top menu.
Related Articles
How to Transfer, Copy Text Messages from Samsung Galaxy to PC/Mac