Top 3 Broken Samsung Data Recovery Software
For known or unknown reasons, your Samsung phone is broken with an unresponsive, bricked, frozen or black screen? This would be an intractable issue since you are not able to get access to the broken device. What's worse, the files that you have backed up in it would be damaged or even disappear as well. Then, in this case, what can you do to extract the desired data from the broken Samsung?
Only the broken Samsung data recovery software can save you now. However, there are so many recovery tool for broken Samsung on the market and how can you find the effective and compatible one? Just take it slow! Here are 3 high-rated data recovery software for damaged Samsung. Maybe it can help you make a decision.
You might also want to read:
Recover Media Files from Broken Samsung Phone
How to Restore WhatsApp Chat History from A Broken Samsung?
Top 1. Broken Samsung Phone Data Extraction
One of the most popular broken Samsung data recovery tool is Broken Samsung Phone Data Extraction. This is a professional Samsung recovery software. With it, you can restore the wanted data from both normal and broken Samsung. Meanwhile, it will help you to fix the issue on the device before extracting the data from broken Samsung. Really multifunctional, right?
Features of the Broken Samsung Phone Data Extraction:
- Recover data from broken Android device or memory card;
- The file types that it can restore are various, including contacts, messages, call history, WhatsApp, media files and so on;
- It can fix some Samsung system errors and turns it back to normal status.
Pros:
- You can use this tool to get access and scan all the existing files on the broken Samsung phone without enabling USB debugging;
- The recovery process is 100% clean and secure;
- Its price is relatively cheap.
Cons:
- Only support Samsung devices;
- The scanning time is a little bit long.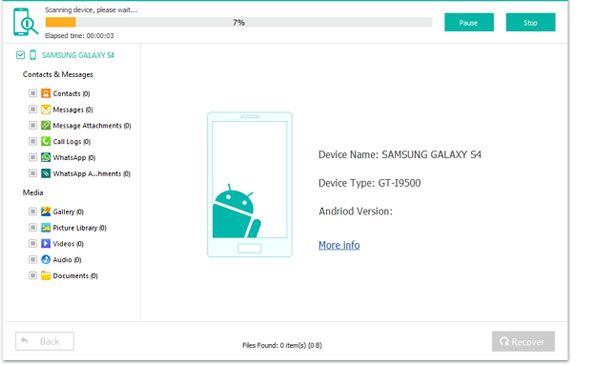 Top 2. FonePaw Broken Samsung Data Extraction
The second wonderful program that you can't miss is FonePaw Broken Samsung Data Extraction. With the help of this software, you are capable of retrieving the files from Samsung device with broken, black, non-responsive or locked screen in 3 simple steps. This would simplify the recovery process effectively and save time.
Features of FonePaw Broken Samsung Data Extraction:
- Restore all data in your Samsung device like contacts, SMS, WhatsApp messages, call logs, photos, videos, audios, documents, etc.;
- Support data recovery from broken Samsung Note 3/Note 4/Note 5/S4/S5/S6/Tab Pro 10.1;
- Restart Samsung device with broken system issue in one simple click.
Pros:
- Work well with many Samsung devices and models;
- The scanning is quick and the step is easy to follow;
- One click to exit the Download mode.
Cons:
- Do not support the newer models of Samsung like Samsung S7, Samsung S8 at present.
Top 3. Dr. Fone- Broken Samsung Data Recovery
Dr. Fone- Broken Samsung Data Recovery is another excellent data recovery software. Similar to the other two tools, it also can restore data from broken Samsung phones within simple clicks. But the detailed steps and the device models that it supports are a little bit different.
Features of Dr. Fone- Broken Samsung Data Recovery:
- Retrieve data from unresponsive Samsung phone in 4 steps: connect the device to PC, select data types, choose the symptom of the damaged device, recover the scanned data;
- Work well with Samsung Galaxy devices, such as Note 2/3/4/4 Edge/5/5 DUOS, Samsung S3/4/5, Samsung Tab 2.7/Tab Pro 10.1 and so on;
- Able to repair broken devices that get stuck at boot screen, black screen or Download mode.
Pros:
- You can select the file types before scanning which would save a lot of time;
- The tool is easy to use;
- Compatible with more Samsung device models.
Cons:
- The option of fixing damaged device is not obvious;
- It is much more expensive.
Related Articles:
5 High-rated Android Recovery Software