Cannot Log in WeChat, How to Fix It? [Solved]
Powering on the mobile phone and then launching the WeChat are becoming the main things that users often do after getting up. So it must be a terrible start if you cannot log in WeChat at the beginning of a day, right? But when you encounter such an issue, the first thing you should do is to calm down and figure out what's happening to your WeChat. And normally, the WeChat login problem can be summarized into 5 cases:
Then how to fix cannot log in WeChat issue in these cases? Just read on to get the solutions now.
Can't miss:
Guide on How to Sync WeChat to SD Card
How to Backup WeChat Media Files on Web WeChat?
What to Do When You Forget the WeChat Passcode?
Nowadays, most people register different accounts and set disparate passwords for them to meet their needs so it is normal that users would forget some of the passcodes they set sometimes. Hence, you do not need to worry too much when you forget the WeChat password cause there must be some methods for you to access the account or reset the password. And here are 2 ways for your reference.
Method 1. Log in WeChat via linked accounts
WeChat always asks its users to associate their WeChat accounts with other accounts like QQ, email or phone number. So there is often at least one account is linked to your WeChat. And this linked account can help you to log in WeChat without the password easily. This would be the easiest and quickest way to access to your WeChat when you forget the password.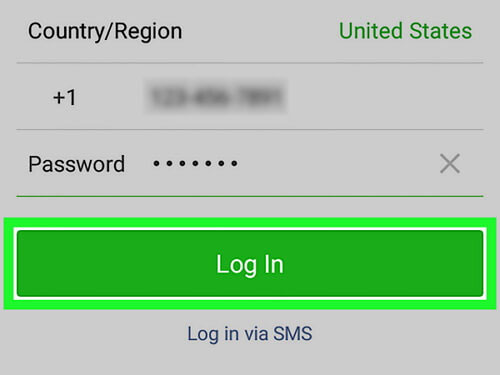 Method 2. Reset WeChat passcode
If you do not link your WeChat account to any other account, you can only select to reset your password in this case. You can complete the password resetting process simply by clicking on the "..." icon > Forgot password?> Request Retrieval to submit your request. Then you need to confirm the feedback and you will receive a message with a new password after a while. And you can login to WeChat with this new passcode now.
Attention please: After signing in WeChat with the new password, you need to re-link your mobile phone number/QQ/email address to your WeChat once again.
Why the Account Is Unable to Be Verified?
While signing in WeChat, users need to verify their account. But sometimes they may fail to complete the verification for different reasons.
Cause 1. The phone number or email address that you enter might be wrong so you cannot receive the verification code successfully.
Solutions: Just go back to the WeChat sign in page to check whether you have typed in the correct phone number or email address. If not, just enter the right one.
Cause 2. The security App on your phone may block the incoming messages so you cannot get the verification code.
Solutions: If you are using the phone number to get the verification code, you can turn off the security code on your phone and then try to get the verification again. If you are verifying the account via email, you can go and check the spam folder in the email.
Cause 3. Your SMS verification code may be sent too frequently and you might enter the wrong code.
Solution: Just exit your WeChat login page at first and wait for a while. Then go to sign in and verify your account once again.
Cause 4. The SIM card is placed improperly on your phone so that you are unable to receive the messages.
Solution: Switch off your device and reinsert your SIM card to the card slot. After that, power on your phone again and then try to receive the verification code again.
How to Unblock A Blocked WeChat Account?
Another situation is that the WeChat account is blocked and users are incapable of accessing the page. In this case, you can try 3 means:
Method 1. Reinstall WeChat on your phone
You can long press the WeChat icon on your Home screen till a "X" icon appears at the top left corner. Then tap on the "X" icon to remove it from your device. After that, you can go to the App Store, Google Play or other official channel to download and install the WeChat App on your phone.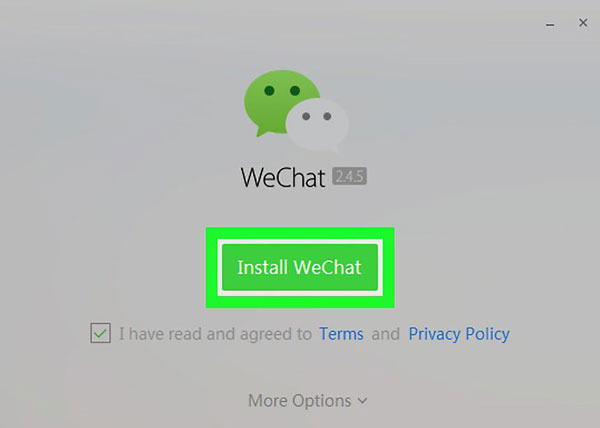 Method 2. Use WeChat in a secure way
The Android emulator or other unofficial plugins on your phone will cause some issues so you should stop using them on your phone and run the WeChat in a safe way.
Method 3. Stop sending the prohibitive messages on WeChat
WeChat does not allow users to send lewd content, violent materials, scam, inappropriate rumors or annoying ads on it. If you have ever sent or are sending this kind of files, you ought to stop right now. And also, if other users report you, your account would be blocked as well.
What If I You Fail to Login to WeChat on A New Device?
Some users reflect that they are unable to login to their WeChat account on the new device that they have switched recently. If you meet such a situation also, you can attempt to:
Open WeChat on your mobile phone and click on Unable to Log In on the interface to submit your request. Then the application will prompt you to initiate a password retrieve. Just go with the instructions to perform the passcode retrieve. If your request is approved, WeChat will send you a message to tell you the new password in 24 hours. Then you can log in WeChat with the new password on your new device.
If you still cannot login your WeChat account by using the method above, you need to ask for WeChat support in this case.
How to Let the Phone Scan the QR Code (Web WeChat)?
Except for using WeChat on mobile phone, users are also able to login their WeChat on computer. And instead of entering the account name and password, users need to scan the QR code on the web WeChat to sign in the account. However, some of you may fail to scan the code for these or those reasons. In order to solve this problem, you can:
Method 1. Check the version of the browser you are using
To sign in web WeChat, users need to launch a browser on their computer and then scan the QR code on the interface. Here if the browser version is too old, the code may not appear. So you need to check the version of the browser and update it if there is a new version available.
Method 2. Inspect the internet
No matter to log in WeChat on mobile phone or computer, users are required to connect their devices to a good network connection. Hence, when you fail to log in the application, you can go to inspect the internet you are using.
Method 3. Adjust the brightness of the screen
When the computer screen is too bright or too dark, the camera on the phone will be unable to scan the QR code on it. Thus, you can go to the power sections on your computer to check and adjust the screen brightness.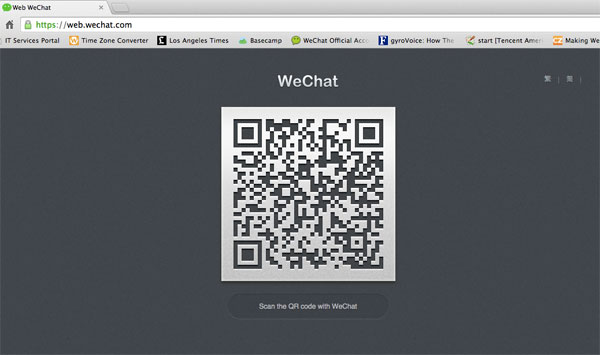 Related Articles:
Cannot Connect to WhatsApp on Android? Solutions are Here!
Full Guide to Fix WhatsApp Issues on Android Phone
10 Best Android Phone Repair Software and Apps to Fix Android System Issues
iPhone Stuck in Boot Loop? 9 Ways to Fix It [2023 Latest]
Guide on How to Fix A Soft Bricked Android Phone
Android Phone Keeps Turning/Shutting off? You Can Now Fix It Like a Pro