Full Guide to Fix WhatsApp Issues on Android Phone
It must be disturbing thing that some issues occur when you are using WhatsApp, right? However, according to most WhatsApp users, this kind of trouble is not rare- they always meet some problems while using the application to chat with someone important or conversant. Hence, this article is going to talk about how to fix WhatsApp issues on Android to help users get rid of the troubles.
Preparations for Fixing WhatsApp Issues
Before fixing WhatsApp problems, you are recommended to make some preparations- backup your WhatsApp data. The reason is that some files on WhatsApp like messages, contacts, photos, etc. would be erased during the fixing process. So, it is a wise choice to make a backup in advance. You can complete this process by using a professional software- Android Backup Software.
This program will help you to sync any kind of file on your Android phone simply. What's more, it is not only a backup software but also a wonderful recovery tool. It can extract data even from a broken phone. Can't wait to experience the tool? Just go with the following steps to begin the moving process.
Step 1. Run the software and link your Android phone to computer with USB cable. When the main interface appears, you can select Android Data Recovery mode.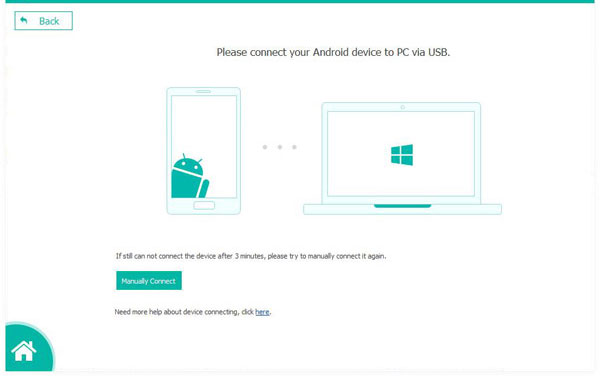 Step 2. Once the connected device is detected, choose the WhatsApp folder and click on Next option to begin scanning. Here you will need to root your Android phone.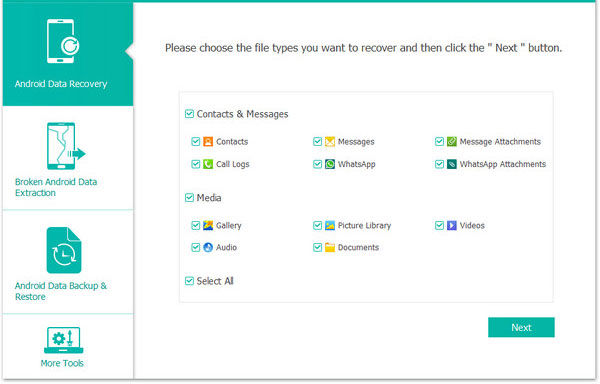 Step 3. When the scanning process ends, you can click on WhatsApp option in the left panel to locate and preview its detailed information. Then you can check all the files that you want to backup and hit Recover to save them on your computer.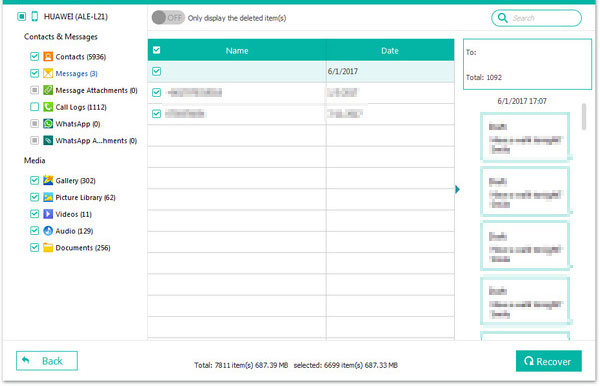 See also:
Methods to Backup WhatsApp Messages for Android and iPhone
Common WhatsApp Problems and Their Solutions
Now we can start to discuss WhatsApp errors and their solutions. In this part, we will show you several common problems of WhatsApp and give you our suggested advice.
1. WhatsApp crashes
Sometimes, WhatsApp would be closed automatically and unable to run smoothly. This is what we called WhatsApp crashes. It often happens after latest versions are updated or when you are installing WhatsApp. To solve this problem, you have 4 options;
- Uninstall the WhatsApp and then re-install it on your phone;
- Upgrade the latest Android version on your phone;
- Restart Android phone and WhatsApp;
- Free up the storage space in your phone.
2. WhatsApp fails to work
When the WhatsApp stops working, you will be unable to load or send pictures, messages or videos. In other words, you cannot use it to do anything. Then what can you do while facing this problem? Here are 3 methods for your reference.
- Use a stable Wi-fi or cellular data;
- Turn on the Airplane mode and then deactivate it to have secure connection;
- Remain active and do not restrict and retrict WhatsApp background data on your device.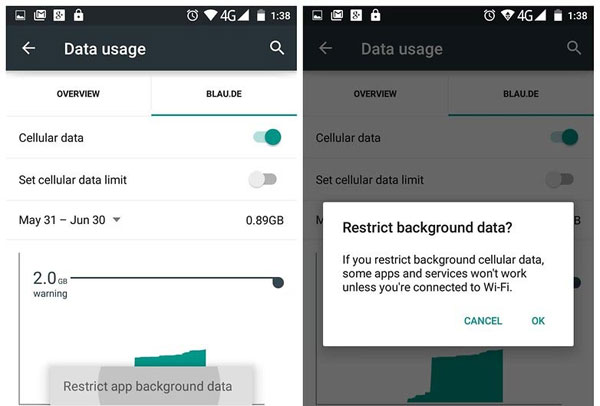 3. WhatsApp crashed due to Facebook App
Many users reflect that the WhatsApp application on their device is broken after downloading and installing the latest Facebook. This would probably happen when you sync your contacts from Address Book to Facebook application. In order to settle this problem, you can select to:
- Disable the Facebook on your and turn off the Facebook Photos Sync option.
- Locate the upload contacts option and turn off the green button.
4. WhatsApp won't work due to old version
Some users would tend to use the old version of WhatsApp since they are familiar with the old version or do not like the new version for unknown reasons. There is no doubt that you can decide whether to update your WhatsApp version or not but using an old version would stop you from using WhatsApp sometimes. Thus, you'd better always upgrade your WhatsApp and use the newest version.
Upgrading WhatsApp would be easy. You just need to go to Google Play Store and click on horizontal bars at the left corner. Next, tap on My apps icon and check for the WhatsApp update.
5. The application cannot be connected
Another common problem is that WhatsApp fails to connect to Wi-fi or data network which make the users unable to send or receive messages, images and so on. Then, in this case, what can you do to solve the problem? The followings are our suggestions:
- Check whether you are using the latest version and ensure the internet connection is well;
- Make sure that the task killer app is not affecting WhatsApp;
- Clear the caches and data of WhatsApp: Go to Settings> Apps> WhatsApp> Clear cache/Clear data;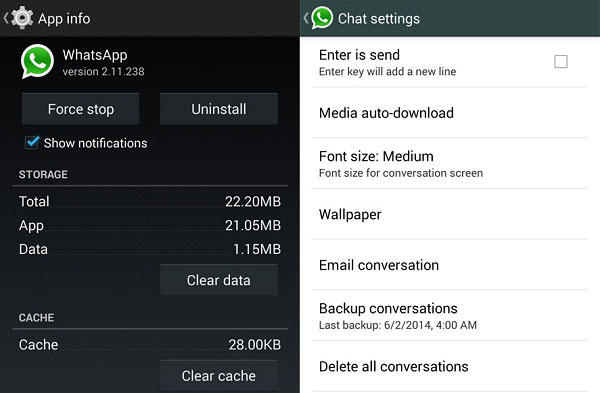 - Remove the application and then install it on your mobile phone.
6. The App cannot recognize the contacts
It would be embarrassing that you cannot find the contact when you want to chat with him/her. Or you suddenly find that there several contacts in the list but you do not know who they are. This would be caused by the WhatsApp recognition failure. If you want to settle this problem, you can:
- Make sure that you have added the correct numbers;
- Ensure that all the contacts are visible on your contacts list;
- If you have divided your WhatsApp contacts into groups, you should make sure that the contacts groups are set to "visible" and keep "viewable" in your contacts list.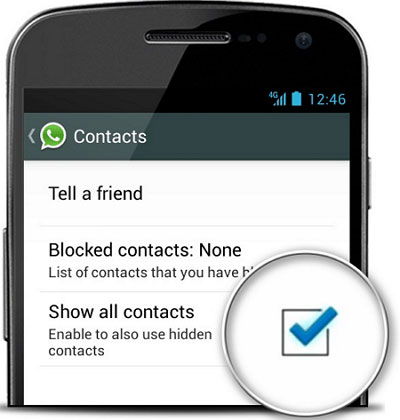 Related Articles:
Guide on How to Recover WhatsApp Images from Samsung
How to Restore WhatsApp Chat History from A Broken Samsung?
How to Transfer Text Messages from Samsung Phone to Computer Effectively?
How to Recover Samsung Data from Normal & Crack Samsung Galaxy [4 Methods]
[Solved] How to Backup Call Logs on Android Phone?
Xiaomi File Transfer Tutorial - 5 Easy Ways to Transfer Xiaomi Files