How to Backup WeChat Media Files on Web WeChat?
Compared with the traditional text message application on mobile phone, WeChat allows users to have a conversation in more manners. For example, it enables users to send and receive images or videos on the App without any hassle. In addition, users can use this App on both mobile phone and computer, which is really convenient for us to transfer files. These are also two main reasons why it becomes so popular today. However, after receiving these files, you need to backup them or you will lose them after a time.
So here, to help you complete the backup, we would focus on how to backup WeChat media files on web WeChat today. While accomplishing the backup, you can view and use these files on your computer directly and do not need to worry about data loss any more.
Why You Need to Backup Media Files?
Some users may think that they can use the pictures or videos on WeChat directly- users can view and transmit them easily after getting them from others and why should they backup these files? Yes, you can view and send these received images and videos freely on WeChat but do you know that:
* The WeChat photos and videos can be expired. Although you can see and send the received files without download and save them, they will be expired after a certain time. At that time, you will be unable to access them anymore, let alone transpond them.
* These files might be wrongly deleted. It is essential for us to clear the WeChat caches regularly. And while clearing the caches, the application will detect the files that are not saved as the junk files and then remove them. Then you won't be able to see them.
* You can re-edit the saved images or videos. If you download and save the pictures and videos on your phone or computer, you will not only be able to view and transmit these files but also can re-edit them via Photoshop or other editing tools.
You may also want to know:
Guide on How to Sync WeChat to SD Card
WhatsApp Transfer: How to Move WhatsApp Media to SD Card?
Tutorial to Backup WeChat Media Files on Web WeChat
Now you may also want to backup the media files on WeChat but how to achieve your goal? Here is a full tutorial for your reference.
Step 1. Log in your account
First of all, you need to head to the web browser like Firefox or Google Chrome on your computer and search for the WeChat for Web page. Then you should sign in WeChat on your Android or iPhone as well. After that, you can go to Discover and select Scan QR Code in the pop-up window. Next, just scan the code displayed on the webpage and then you can login to the Web WeChat easily.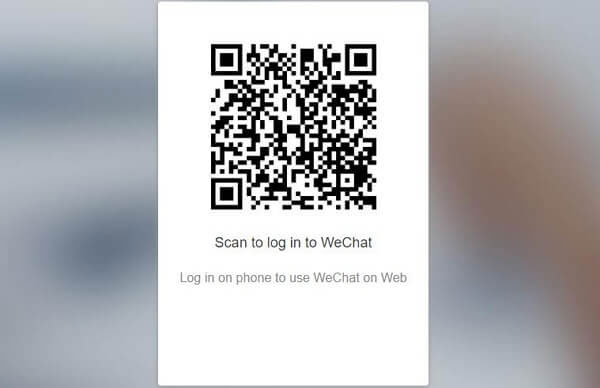 Step 2. Send the wanted files to yourself
The next step is to transfer the media files from your mobile phone to computer via WeChat:
- Click on the contact or group to open the chat you want to backup the files from.
- Then just long press the pictures or videos to bring a window with several options. Here if you only want to send one item, you can select Send to Chat directly. But if you wish to transmit several items a time, you need to tap on More button and then elect the items you want to backup one by one.
- Next, just click the share button at the bottom and you can go on to select the new chat. Finally, you need to select yourself or the File Transfer as the file receiver.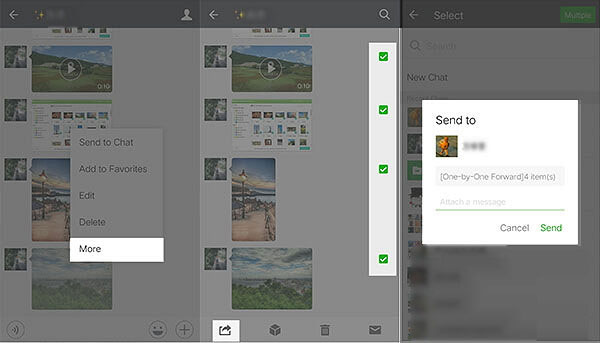 Step 3. Backup the pictures/videos to computer
After sending the images and videos to web WeChat, you can start to backup them to your computer now. Just go to the web WeChat on your computer and you will see the pictures and videos that you have sent just now. And you need to download them now.
To download the pictures, you can right click on the image and select Download to save it on your computer. After that, you can go to This PC> Local Disk (C)> Users> your computer's name> Download to check the location of the WeChat chat files location.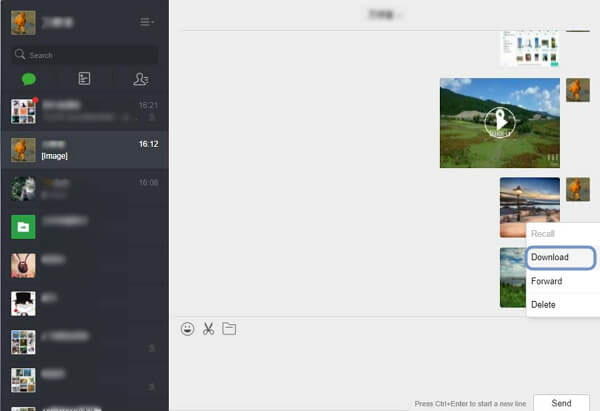 To save the videos, you need to open the video and right click on it to select Save video as. Then you can select a location to store these WeChat chat history files.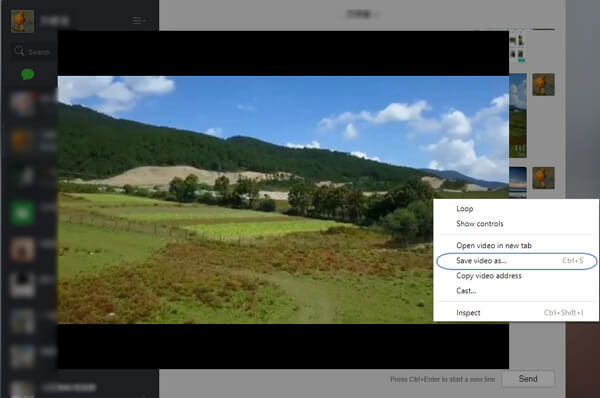 That is the whole steps to backup your WeChat media files. And if you always make the backup by using this means, you can complete it more simply- you directly come to the Step 3 to download and save the photos or videos on your computer.
Extra tips: For the photos or videos that are mistakenly deleted by yourself, you can restore them from your mobile phone easily as well. But to accomplish that, you need to turn to a third-party software. A professional tool can help you to restore pictures and videos from Android or iPhone securely and effortlessly. So here we would like to give you a suggestion.
To recover media files on Android phone, you can make use of MobiKin Doctor for Android (Win & Mac).
And in order to retrieve pictures or videos on iPhone, you can ask MobiKin Doctor for iOS (Win & Mac) for help.
Related Articles:
How to Sync Android Apps to SD Card?
Android Backup: Backup Android Game Data to Computer
Any Tips to Fix the No SIM Card Error on Android? 16 Fabulous Ways for You
Ultimate Guide on How to Transfer Contacts from Android to Android in 2023
Best Android Contact Editor: How to Edit Android Contacts on PC
[SOLVED] How to Recover Contacts from Android Phone After Factory Reset?