iPhone Stuck in Boot Loop? 9 Ways to Fix It [2023 Latest]
"I have an iPhone 12 that gets stuck on a boot loop. Unfortunately, my phone memory is full, and I'm two software updates behind. It refused to go into safe mode, and force restarting didn't help. Any help would be appreciated. Regards!" -- from Apple Support Community
That iPhone keeps restarting itself is a common occurrence, which most often occurs after the iOS 14 updates. It is likely that the Apple logo flashes on the screen, and then the device will be restarted again instead of booting up. Faced with it, you may try to fix iPhone stuck in boot loop but to no avail.
So frustrated with that? Not to worry. This tutorial will guide you on how to stop iPhone reboot loop in nine great ways.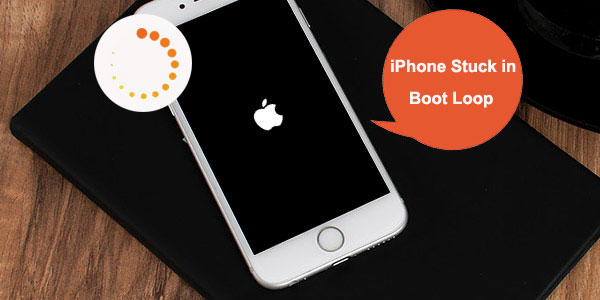 Part 1: Why Is My iPhone Stuck in a Boot Loop
The reason why iPhone/iPad stuck on boot loop can either be hardware or software-related. If you accidentally dropped your iPhone in water or ground ever, the issue arises from the hardware. Yet, in most cases, an iPhone boot loop is a result of software issues. Here are the main causes:
Faulty battery connector: if the battery connector on an iPhone goes wrong, the malfunctioning battery connector won't get your iPhone enough power charged, which may lead to the boot loop.
Software updates with an unstable connection: A new software update on an iPhone also may get your iPhone/iPad stuck during the update.
iOS downgrade: Downgrading iOS to an older version could be a non-negligible cause for iPhone getting stuck into a boot loop.
Flawed jailbreak methods: when you jailbreak an iPhone without operating it with a proper tool, your phone may break down and thus cause many other problems.
iPhone getting locked: your iPhone may be locked when you restart it after Apple ID/iCloud bypass.
Part 2: How to Fix iPhone Stuck in Boot Loop
During the boot loop troubleshooting, iPhone/iPad issues might get worse, and you may not get a chance to keep the data on it. Therefore, first and foremost, you'd better ensure that there's a backup of your iPhone on a computer. Take a moment to back up your iPhone to a computer or iCloud if your device keeps restarting but will allow you to operate it. Next, let's get into how to get iPhone out of boot loop with simple fixes.
Fix 1: Check the Battery Connector on iPhone
You can check the battery connector of your iPhone. If it doesn't perform well, it could be the reason to cause iPhone stuck on the boot loop. Just fix your iPhone by repairing the battery connector to get it enough power.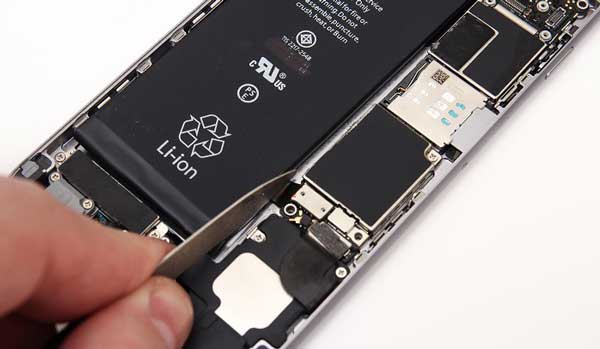 Fix 2: Remove SIM Card and Reinsert It
iPhone stuck in restart/startup loop. Ensure that your SIM is properly inserted. Here are the steps:
Use the SIM removal tool to remove the SIM card from the tray.
Turn on your iPhone to check if removing the SIM card ended the boot loop.
Put the SIM card back into the tray to see whether the problem disappears.
You May Wonder:
Fix 3: Update iPhone's Software
A new version of iOS brings iPhone boot loop fixes that can eliminate the problem. To check if an iOS update is available, you can:
Go to iPhone Settings > General > Software Update.

If an update is available, tap "Download and Install" to update your iPhone 12/11/XR/Xs Max/X/8/7/6. (iPhone stuck on preparing update?)
Fix 4: Get iPhone into Recovery Mode
Most of the time, you can put an iPhone to recovery mode and get it back to normal from different iPhone errors, including iPhone infinite restart loop. However, be aware this will erase all the data on your device.
How to fix boot loop on iPhone by putting the device into recovery mode?
To start with, please don't connect your computer to the USB cable for now, but make the other side of the USB linked to your iPhone.
Run iTunes on your computer. And be sure you have installed the latest version of iTunes on your computer.
Next, turn off the iPhone by pressing and holding the Home and Power button on your iPhone.
Link your iPhone to the computer with the other side of the USB cord after it has been powered off.
Continue to hold the Home button and let go of it when "Connect to iTunes" appears on the device.
Your iPhone will be in recovery mode successfully.
You will then receive a notification from iTunes asking you to restore or update this iPhone. Just click "Restore" to troubleshoot iPhone keeps restarting loop.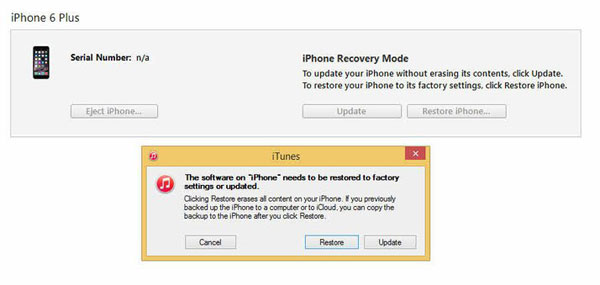 Note: For iPhone 7 or later (including iPhone 7 Plus, iPhone 8, iPhone 8 Plus, iPhone X/XR/Xs Max/11/12), please press the Volume Down key instead of the Home button.
Fix 5: Reset All Settings
Some settings can also cause iPhone power cycle loop issues to occur; resetting the settings will get your iPhone to the factory settings.
To reset all settings on your iPhone, head to the device's Settings.
Go for General > Reset > Reset All Settings.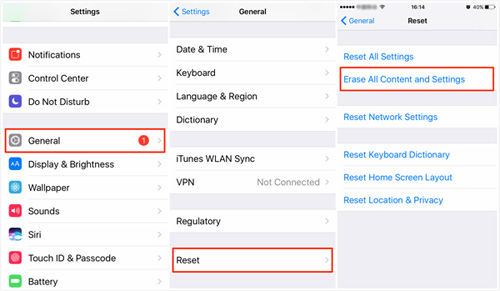 This process doesn't result in data loss, but you may need to re-enter your WiFi password.
Fix 6: Clear App Data
To troubleshoot the iPhone Apple logo loop of death, you may only need to clear the cache of the app to free up iPhone storage:
Go to iPhone Settings > click All Apps.
Touch the app that is needed to clear cache > select storage > Clear cache.
In other cases, you have to delete unused apps or apps that frequently cause problems.
Fix 7: Force Restart iPhone
Try to force restart device to get out of iPhone endless reboot as follows:
For iPhone 6S/6 and earlier, press the "Home" and "Power" keys at the same time and hold on for seconds until the screen goes black. Release both of them, press the "Power" button, and hold until the Apple logo comes up. Finally, let go of the button.
For iPhone 7 and 7 Plus, press and hold the "Power" and the "Volume Down" keys simultaneously. Once you reach the black screen, release both, press the "Power" button, and hold until the Apple logo turns up. Subsequently, let go of the button.
For iPhone 8, iPhone Xs/XR, iPhone 11/12, etc., press and release the "Volume Up" button and repeat the same with the "Volume Down". Then hold down the "Power" and wait for the Apple logo to appear. Lastly, enter your password to start your iPhone.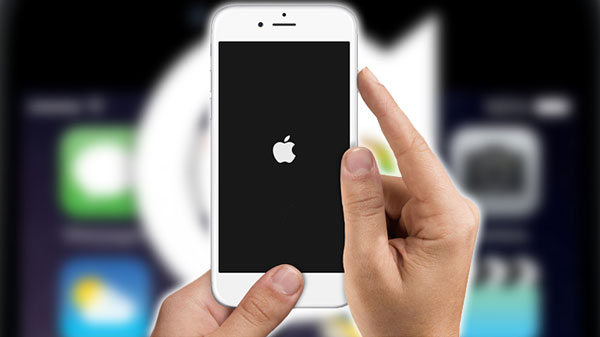 Fix 8: Contact Apple Support for Expert Help
If you are still looking for iPhone boot loop fixes without restore. It is suggested that you send your iPhone for repair instead of fixing it by yourself in case of damaging the iPhone mistakenly.
Know More:
Part 3: How to Get iPhone out of Boot Loop without Data Loss
Some Apple users may care more about "iPhone boot loop fix no restore". To effectively and safely tackle this issue, it is recommended to ask for help from a 3rd-party tool - iOS System Recovery. With this professional product, you can easily fix iPhone stuck on boot loop without restore. This program specializes in fixing almost all kinds of system problems for various models of iOS devices.
Main features of iOS System Recovery:
Fix iPhone stuck in boot loop with no data loss.
It also troubleshoots other 50+ iPhone/iPad issues, including iPhone battery draining fast, iDevice's screen not responding, iPhone Error 4013, iTunes errors, and so many more.
Offer two repairing modes to help settle iOS system problems.
Upgrade or downgrade iOS to a version available.
Run smoothly on overall iDevices, containing iPhone 12/12 Pro (Max)/12 mini, iPhone 11/11 Pro/11 Pro Max, iPhone X/XR/Xs/Xs Max, iPhone 8/8 Plus, iPhone 7/7 Plus, iPhone 6/6S/6 Plus, iPod touch, iPad, etc.
It won't divulge your privacy.
How to fix boot loop on iPhone/iPad without data loss using iOS System Recovery?
Step 1. Run iOS System Recovery on your computer
Install and open iOS System Recovery on a computer after the installation. Then select "iOS System Recovery" from its interface.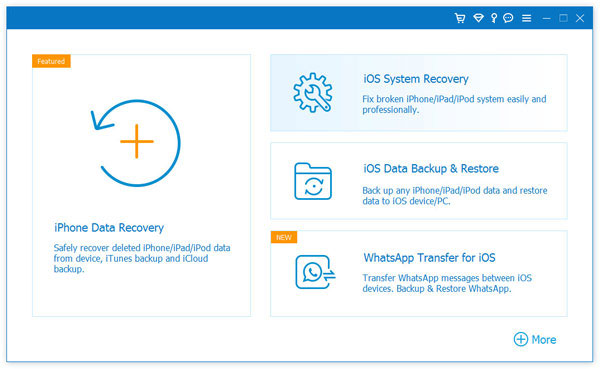 Step 2. Connect your iPhone to the computer
Connect your iOS device to the same computer through a USB cable and tap on "Start".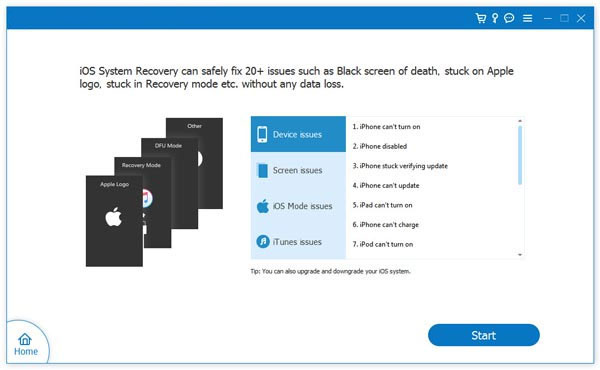 Step 3. Repair iPhone stuck in boot loop
This utility will detect the information of your iDevice. You can check it and tap on "Repair". If the detected info is wrong, pick the right one and hit "Repair" again.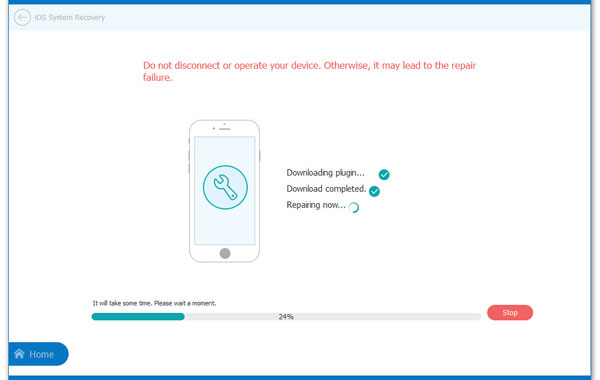 Step 4. Reboot your iPhone
Wait for the repair to complete. And at last, restart your iPhone. You will then find it can work as it always does.
Ending Words
So much for today's post. You can now follow the above-stated fixes to resolve iPhone stuck in the boot loop. And if you've tried some of them and the issue is still all up in the air, don't hesitate to go for the dedicated tool - iOS System Recovery. It would certainly be able to quickly overcome your boot loop errors on your iPhone/iPad.
Have any issues regarding your iOS or even Android devices? Please let us know in the comments.
Related Articles:
iPhone Blue Screen Fix: How to Fix Blue Screen of Death on iPhone
Touch ID Not Working on iPhone? 14 Fixes Are Here!
What if iPhone Won't Restore? Here Are the Full List of Fixes
How to Clone an iPhone to Another iPhone? [Top 4 Ways Provided]
iPhone Frozen During iOS Update, How to Fix It?
iPad White Screen Troubleshooting: How to Fix iPad White Screen of Death?