Guide on How to Sync WeChat to SD Card
Instead of using the traditional text message application on the mobile phone, people tend to use some chat Apps to get contact with their friends, families or co-workers like WeChat, WhatsApp, Facebook, etc. And among these software, WeChat gains a warm welcome due to its powerful functions. For instances:
* You can send and receive text or voice messages on this application;
* It allows you to have a group chat;
* Video chat is also enabled on WeChat, which can save you a lot of money;
* WeChat Pay enables you to buy things without cash;
* Some interesting mini Apps on WeChat can help you to kill time;
* ...
Although it is only a small application, it really brings many convenience and happiness to us. But it is precisely because WeChat equips various great features, it always takes up a lot of space of the device. Hence, we often receive a prompt which informs us to clear the WeChat data. Nonetheless, most of the users are unwilling to delete the pictures, videos, conversations or other files of WeChat cause these data are significant or meaningful. Then how can you do in this case? Remove the wanted data from WeChat? Or keep them on your phone but always disturbed by the prompt?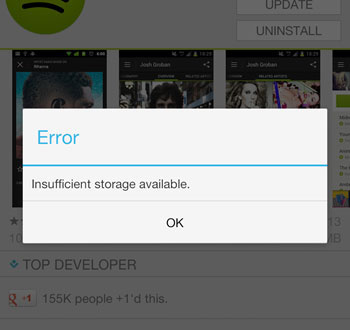 See also:
Tutorial to Backup & Restore WhatsApp Messages on Android
Full Guide on How to Use WeChat
Actually, except for these two options, you have another choice- select to sync WeChat to SD card. This means not only can help you to free up the phone storage space but also able to backup the WeChat data. Really a good idea, right? But how to perform the moving process? Just take it easy! Here is a full tutorial for you.
Tutorial to Move WeChat to SD Card
Normally, the storage space on your phone contains 3 parts: internal storage, phone storage and external storage. And generally the applications are saved in the internal or phone storage when you install them. This is also why the storage shortage problem comes- the internal storage is limited but all the files and applications are stored here. Hence, to free up your phone, you can move these data to an external storage like SD card, SIM card or other driver. But normally users would like to choose the SD card since it is convenient. After installing the WeChat in SD card, you can use it on the device as usual but the phone space will increase. Then how to achieve this goal? Just go with the following steps to have a try first.
Before moving WeChat to SD card, you should know that not all the application can be moved to SD card- it is down to the App developer or the phone manufacturer. Hence, you need to figure out whether your phone allows you to transfer the Apps to SD card beforehand.
Step 1. Launch the Settings App on your Android phone and choose Apps Menu in this section.
Step 2. In the menu, you will see many options, just find out the Storage option among them and tap on it.
Step 3. After that, you need to select WeChat from the listed applications.
Step 4. Now you are on the App Info page of WeChat. Just click on Move to SD card on the screen to start the transmission.
Attention: If the option Move to SD card is grayed out here, that means this application cannot be moved to SD card.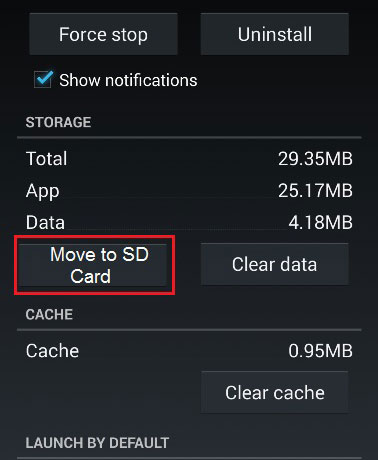 That's it! You can move WeChat from internal storage to SD card within simple clicks and get rid of the troublesome prompts now.
Extra tip: After moving the WeChat App to SD card, you can continue to sync the WeChat media files like photos and videos to your Web WeChat to make a backup on computer and then delete the saved files on your phone. This would effectively help you to clean the WeChat storage space. So if you do want to clean your WeChat App, you need to try this means as well.
Just follow the steps to move your WeChat to SD card and sync its media files to computer. After that, you can use WeChat and other applications on your phone without any hassle- the overloaded device would bring some phone problems or errors to you. Hence, if you have stored too many files on WeChat, you can try this means at first to ensure the smooth running as well as the data security of WeChat.
Related Articles:
WeChat Fails to Send Files, How to Fix It?
Cannot Log in WeChat, How to Fix It? [Solved]
How to Fix Unfortunately WeChat Has Stopped on Android?
Methods to Back up WhatsApp Messages for Android and iPhone