Android Phone Keeps Turning/Shutting off? You Can Now Fix It Like a Pro
It could be really annoying when you're watching a great video clip on your phone before it suddenly turns off without warning. And after you restart it and are just about to regain access to the wonderful clip, the result is soon to be the same. Oops, the Android phone keeps turning off! Well, why does my phone keep shutting off randomly? Are there any workarounds to essentially resolve "Android keeps shutting down"?
OK, in this full guide, we will refer to the twelve DIY tips and one ultimate solution. We hope they are of great use.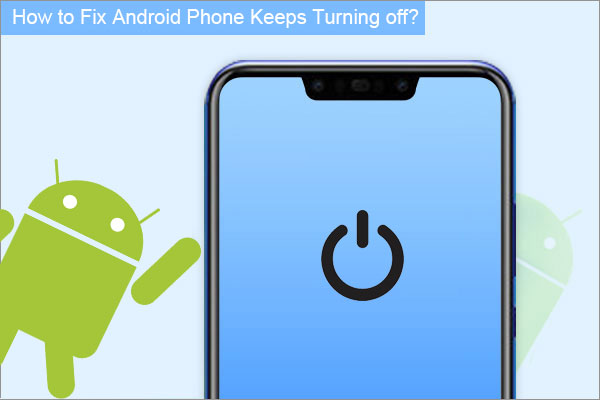 Part 1: Why Does My Android Phone Keep Shutting Down/Turning off
First, let's work out - why does my Android phone keep turning/shutting off by itself? Actually, there are a variety of reasons accountable for the Android phone keeps turning off. And among them, the most common and primary causes are as follows:
Device internal self-reset.
Loose battery connection.
Android phone overheating. (how to cool down overheating Android phone?)
Unmatched protective cover/case.
Something wrong with the phone button.
Apps or device OS update (firmware bugs).
Insufficient Android phone memory.
Scheduled power on & off.
High CPU usage.
Water-damaged Android phone.
You May Also Like:
Part 2: Android Phone Keeps Turning off? 12 Quick Solutions to Fix It
Solution 1: Check the Power Button
Android turns off randomly. Please first check the power button on the phone, for it might be stuck or malfunctioning. To do this, press the power button multiple times and ensure it is working as usual. The button should be smooth while pressing and also come out quickly when you release it. If the button gets stuck inside, you can use a tweezer to pull it out.
Solution 2: Restart Your Phone
Some bugs on the phone system might be responsible for the fact that the Android phone turns off by itself. Suppose the power button works just fine. Then reboot your phone to see if it can get this problem settled.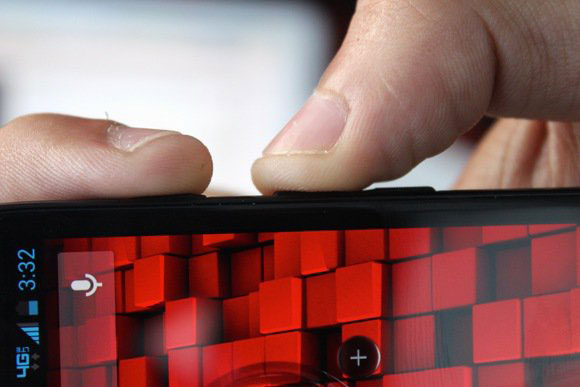 Solution 3: Remove Phone's Case/Cover
There is also a chance that the unsuitable phone cover on your phone is causing the problem. So, just try to take it out of your Android phone, if any.
Solution 4: Check if the Battery Is Loose
Android keeps turning on and off? If so, your device battery might not fit properly. You can now turn on your phone and shake it. If it powers off soon, the phone's battery is probably loose. To troubleshoot it, please fold the paper to square size as required and put it on the bottom of the battery.
Assuming the phone shuts down due to low battery, please charge your phone in time. (My phone does not charge?)
Solution 5: Check Battery Status
The phone keeps turning off with a full battery on Android? If it refuses to unlock or start even when you press and hold the Power button, just check the battery status as below:
Launch the Dialer on the phone's screen.
Type in "*#*#4636#*#*" and dial the number.
After a few seconds, a Battery Info screen should pop up. If it doesn't work, you can dial "*#*#INFO#*#*".
If the info about the battery shows that the battery is in a bad status, you need to use a new battery to replace it.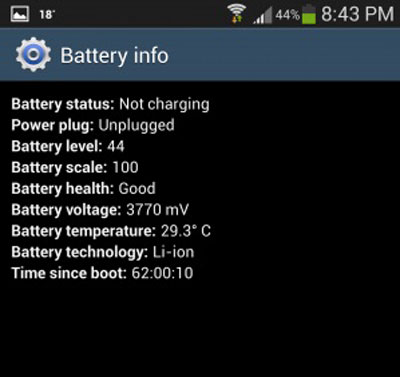 Solution 6: Boot Phone into Safe Mode
Android Safe Mode can narrow down the problem occurring because of incompatible apps, as this mode allows only built-in apps to function. If you can use the phone in the mode, consider deleting the unnecessary apps which might burden the phone's processor. Here's the manual:
Hold down the "Power" or suspend the button on your Android device.
When presented with options, do not tap the "Restart" or "Power on". Instead, hold down the "Power off" prompt for a while. Tap "OK".

Afterward, when the device loads up, it will display "safe mode".
Solution 7: Disable Overheating Service
Android auto shutdown problem often arises when the phone reaches the hot level at 100 degrees. You can turn off the related feature as GPS or 4G on the device if you don't need to use it.
Solution 8: Uninstall Culprit Apps Directly
Here's another way to remove rogue apps directly other than from the safe mode. That is, finding the culprit apps and uninstalling them. Again, you could offload apps running in the background by heading to Android Settings > More > Applications > Running.
Solution 9: Remove Malware and Viruses
It is possible that your phone is full of virus or malware that might cause "Android phone keeps cutting out" issues. Similarly, you can get them off from your phone. After that, it's wise to install some antivirus programs to protect your device.
Solution 10: Factory Reset Your Phone
It can be a mighty method to solve different kinds of phone problems. But this will erase all the data on your Android device. Thus you'd better back up the Android phone to PC in advance. To do the factory reset, you can:
Click on Settings on your phone and select Backup and Reset in this section.
Next, choose "Factory data reset" and tap on RESET DEVICE.
After that, click ERASE EVERYTHING.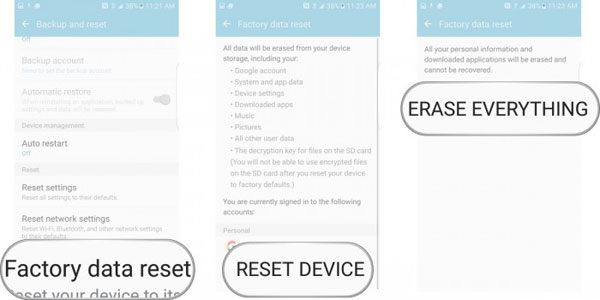 Solution 11: Check Android OS for Update
Some Android phones keep turning on and off at 40% battery level if they aren't updated to the latest version. Thus, look at the update for your phone OS, and if any new update is available, follow the steps to update Android OS:
On your phone, go to Settings > About > Software updates.
If any new update is available, it will show you the install button.
Follow the instruction to install the latest version of Android OS.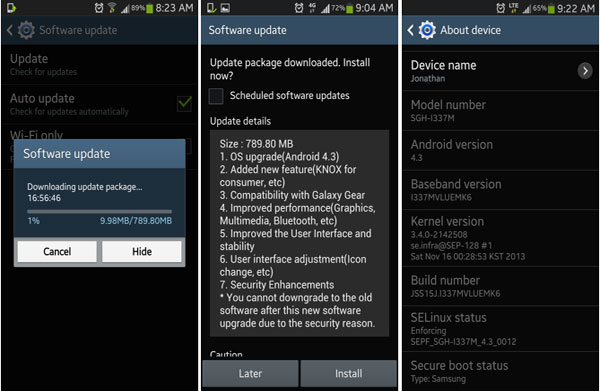 Solution 12: Contact the Manufacturer
Most phones come with a manufacturer warranty to cover a host of issues, assuming your phone hasn't been seriously damaged. You can now reach out to the manufacturer if none of the above works. Besides, for those with an insured phone, chances are that they could keep costs as low as possible.
See More:
Part 3: Fix "Android Keeps Shutting Down" with Professional Android Repair Software
There's a decent chance that after trying all the DIY tips, your Android phone still keeps turning off. Now, it's time to restore to a specialized tool like Android Repair. When you download the software on your computer and follow the foolproof instructions on its screen, you can solve almost all kinds of Android phone problems. So, what makes this program so magic?
Brief overview of Android Repair:
Fix "Android phone keeps turning off" with a high success rate.
Fix Android system to normal, applying to the scenarios like phone system crashed, phone not turning on or off, Android phone black/white/blue screen, Android phone bricked, and more. (how to recover data from bricked phones?)
Support carriers like AT&T, Verizon, Vodafone, Sprint, T-Mobile, Orange, etc.
Get on well with 1000+ Android models, covering Samsung Galaxy S21/S20/S10/S9/S8/S7/S6/S5/S4, Galaxy Note 10/Note 9/Note 8/Note 7/Note 6/Note 5/Note 4, etc.
It values your privacy.

How to fix Android phone keeps turning off with Android Repair?
Step 1. On your computer, install and launch Android Repair. Then, click the "System Repair" tab over the program window and connect your Android device to your computer via a USB cable.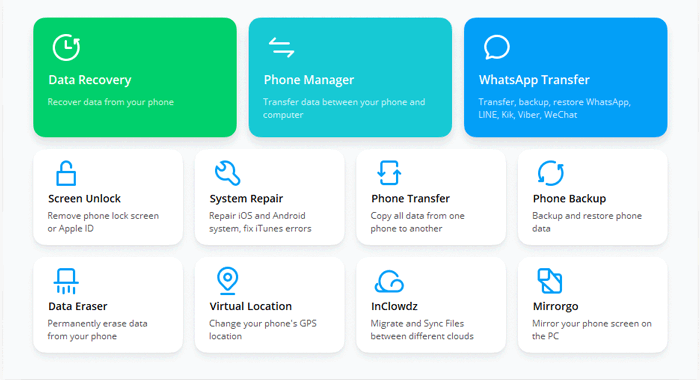 Step 2. Choose "Android Repair" from the left menu. The utility will show you the Android problems it can fix. Just browse it and click "Start".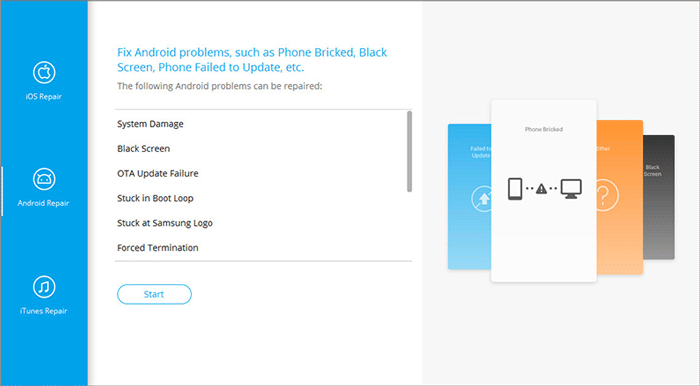 Step 3. Enter your device info in the next window and tap "Next" to continue.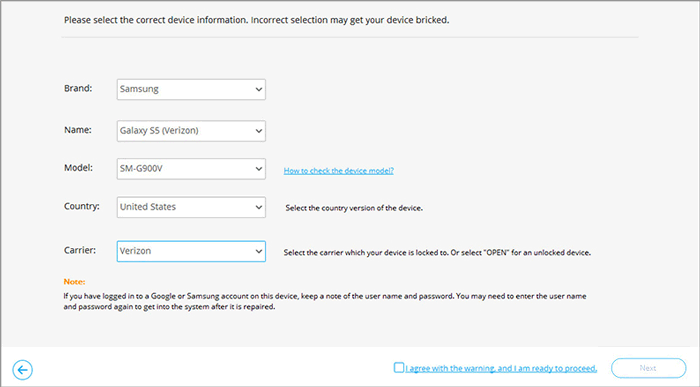 Step 4. Manually input "000000" to the blank field and tap "Confirm". Here, please note that the Android system repair may erase the data on your Android phone.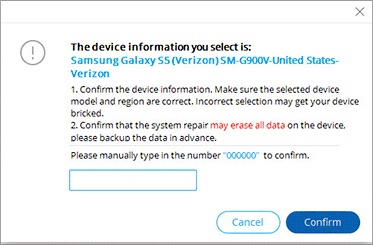 Step 5. Boot your device to the download mode:
On Samsung with a "Home" button, power off the device, press the Sprint, Home, Power, and Volume Down keys for around 10 seconds. Release all and hold Volume Up to get into the download mode.

On Samsung without a "Home" button, power off the device, press the Power, Bixby, and Volume Down keys for about 10s, and then release. Then, press Volume Up.
Step 6. After the phone is in the mode, click "Next" to download firmware for it.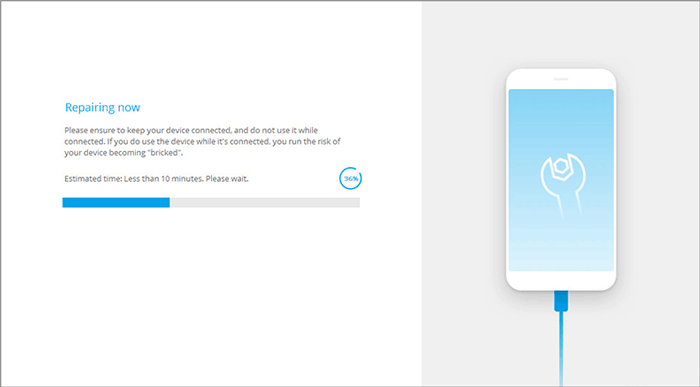 Step 7. Finally, the program will begin repairing your phone system automatically.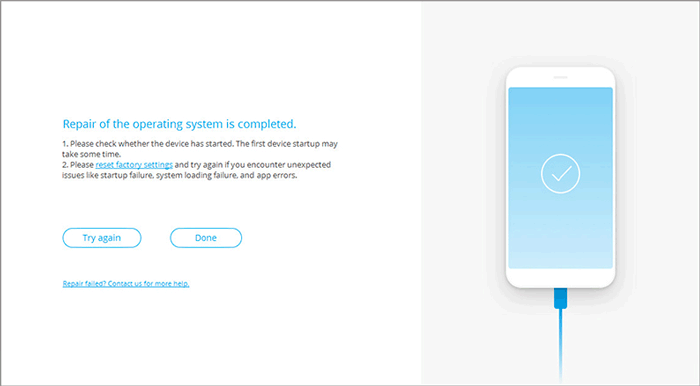 Roundup
Why does my phone randomly turn off? How to fix "Android phone keeps turning off"? We hope that neither of the questions is tricky for you right now. Here, we have to say that the reasons for this phenomenon are far more than those said above, but the solutions in this article are relatively comprehensive and worth a shot. Finally, if you have any comments or suggestions, please post them on the message board below.
Related Articles:
iPhone Keeps Turning Off Randomly? 3 Ways to Fix it!
How to Fix Android/RCA/Samsung Tablet White Screen of Death in Minutes?
Full Guide on How to Fix Android System Crash Issue
Getting Android Blue Screen of Death on My Device, How Do I Fix It?
Android Apps Keep Crashing, How to Fix It? [Solved]