4 Smart Methods to Recover Deleted Text Messages from Huawei Phone
Huawei phones appeal to many users due to its EMUI OS. For example, this OS features canceling sending, automatic deletion, user privacy protection and placing unread SMS at the top. Phones receive texts almost every day, part of which are ads for marketing. However, some unavoidable misoperation may cause vital messages to be deleted inadvertently, which may be verification codes for mobile business or other essential to-do items. After the maloperation occurs, how to retrieve deleted messages on Huawei phone is a headache for many people.
Well, don't panic! Just follow this tutorial to learn 4 easy solutions to solve the problem of Huawei SMS recovery on your own. Wish you a pleasant reading.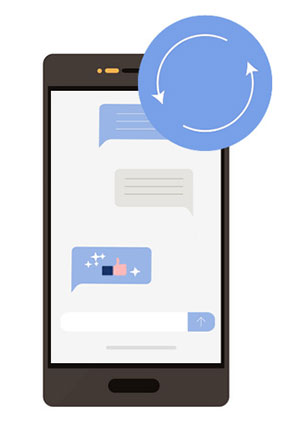 Method 1: How to Retrieve Deleted Messages on Huawei Phone via Doctor for Android
"Can you recover deleted messages on Huawei without backup"? Before answering this question, here's a tip for you. After losing SMS on Huawei phone, the less times you use the phone, the less likely the deleted files will be covered, and the more likely they can be retrieved; then, it is necessary to find a professional program as soon as possible.
Well, MobiKin Doctor for Android (Win and Mac version), the cutting-edge software, enables you to recover deleted texts without backup. You won't have to sweat anymore the moment you lost your SMS for the reasons of accidental deletion, phone broken, OS errors or something more complicated.
Standout characteristics of MobiKin Doctor for Android:
Retrieve deleted messages, contacts, call logs, photos, videos, documents and more from Android internal storage.
Preview both existing and deleted files before recovery.
Rescue Android data with no data loss. And your individual privacy can be fully protected.
Run on almost all Windows and Mac computer.
It is available for overall Android phones and tablets, covering Huawei P40 (Pro)/P30 (Pro)/P20 (Pro)/P10 (Pro), Mate Mate 30/Mate 20/Mate 10 (Pro)/Mate SE, M860, U8850, Ascend M860, Ascend P1, C8600, etc.
After downloading this all-in-one tool, just read on to learn how to retrieve deleted SMS on Huawei going with the simple steps now.
How do I retrieve deleted text messages from my Huawei phone with Doctor for Android:
Step 1. To recover deleted messages, please root your Huawei phone and turn on USB debugging on Huawei phone if necessary, so as to run a full scan for your phone.
Step 2. Install the downloaded software and open it on computer.
Step 3. Link your Huawei phone to computer via a USB cable.
Step 4. Have the phone recognized by the program following the on-screen hints. You'll then get the main interface after the successful connection.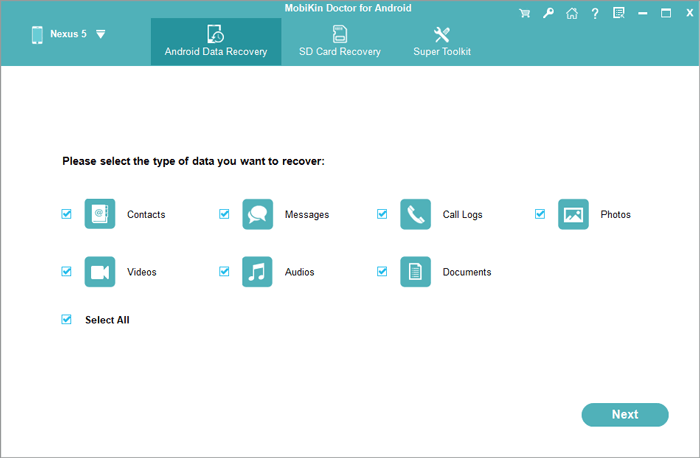 Step 5. Tick on the Messages category from the screen, and tap Next button to scan for all the texts.
Step 6. After that, just preview and choose your desired messages. Then tap Recover option to recover deleted messages from Huawei phone.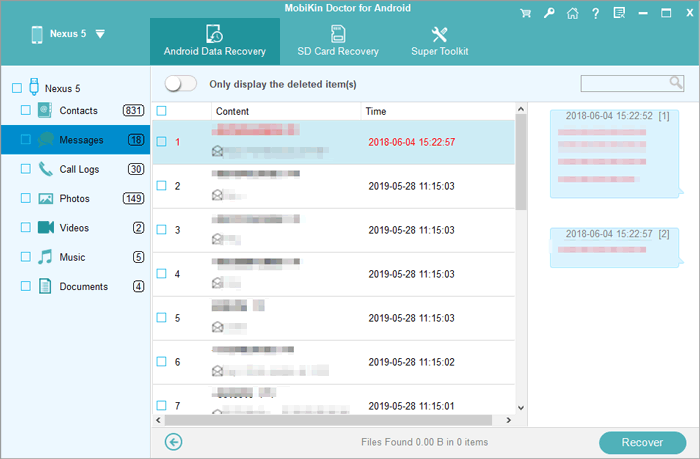 Once done, you can view the retrieved messages in HTML format on computer freely.
Method 2: How to Recover Deleted Messages from Huawei Phone Using HiSuite
HiSuite, an official tool from Huawei Inc. This computer-based program lets you back up your phone to computer, and restore them as needed. Before the use, you should do something as turning on HDB feature on your mobile. It is capable of processing data including messages, contacts, multimedia files, etc.
If you have backed up your Huawei phone with HiSuite beforehand, then simply follow the guide below to restore SMS with ease.
Retrieve deleted text messages from Huawei via HiSuite:
Open HiSuite on computer.
Connect Huawei phone to computer via a USB cable.
Enable HDB or USB debugging on the phone (See detailed steps below).
Tap Restore from the main screen.
Choose the messages you'd like to recover, followed by Restore option.
Press Done button until you see Complete notification then.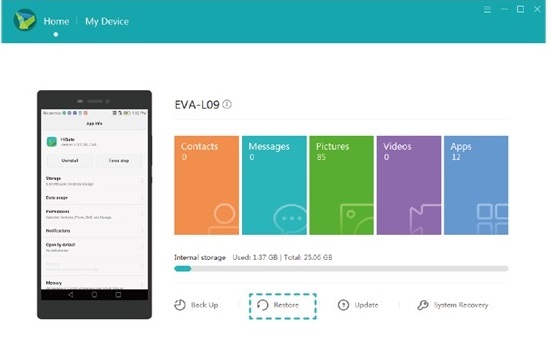 Steps to enable HDB on Huawei phone: "Settings"> "Advanced settings"> "Security"> "Allow HiSuite to use HDB". Then go to "Settings"> "Apps"> "HiSuite"> "Permissions".
You May Also Like:
"How can I retrieve deleted text messages from my Huawei phone without a computer"? Some people may come up with this query now. Although it is not very secure to get SMS back on Huawei phone in this way, we'll move on to explore the solutions in the following content.
Method 3: How Do I Retrieve Deleted Messages on My Huawei Phone with Huawei Backup
Huawei phone comes with a built-in function named Huawei Backup. It can be used to back up data like SMS, contacts, call logs, media files, apps, and restore them at any time. Similarly, the premise of Huawei SMS recovery must be that the texts has been backed up before. Before the restore, you have to activate this feature in the phone, and select the backup location then.
How to recover deleted messages from Huawei phone (P20/P30/P40, etc.) with Huawei Backup:
Step 1. Start Backup application on your Huawei mobile.
Step 2. Tap Restore section.
Step 3. Choose the source, in which you made the backup messages (SD card/internal storage/external USB storage), and tap Next then.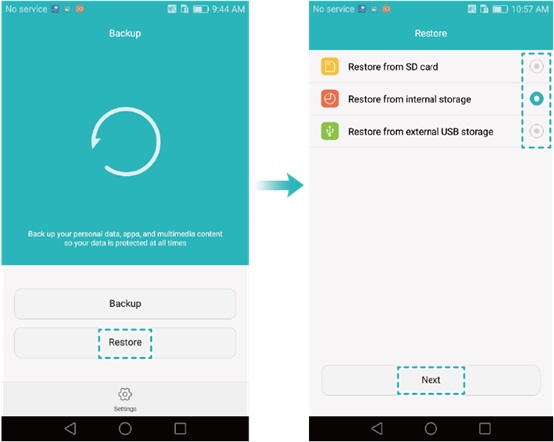 Step 4. Click on Messaging option for restore.
Step 5. Click Start restoration.
Step 6. Specify a location to house text messages, and tap OK at last.
Check if You Need:
Method 4: How to Retrieve Deleted SMS on Huawei with SMS Backup & Restore App
SMS Backup & Restore app allows you to back up messages to local or external storage, such as Dropbox and Google Drive(you need to install Add-on applet). Then you can browse and restore the specified messages. Also, Assuming you've made a backup for Huawei phone with it, let's go through the direction then.
How do I retrieve deleted messages on/from my Huawei phone with SMS Backup & Restore app:
Step 1. Download SMS Backup & Restore app on Huawei phone before you install and it.
Step 2. Touch Restore option.
Step 3. Tick on the checkbox next to Text Messages.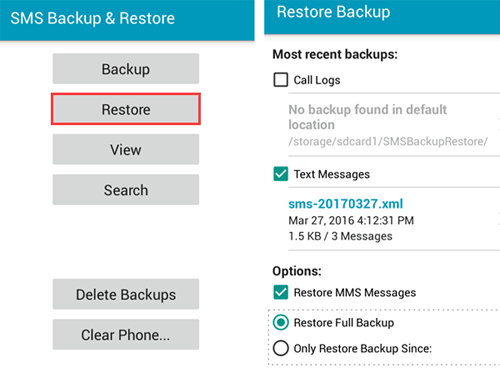 Step 4. Choose the specific backup files if you have multiple backups.
Step 5. Tap Restore again.
Step 6. Tap Yes to get the restoration procedure started.
If you receive a prompt like "to recover your message during use, you'll need to set this app as your default messaging application temporarily", please confirm the action.
Closing Remarks
Deleting useful text messages can be a nightmare for many people. If you don't have a backup in advance, but want to get them back safely and intactly, just give MobiKin Doctor for Android a shot. This full-fledged software will put an end to today's topic.
B.T.W., here's a trick to unsend messages for most Huawei phones: open the "SMS" interface, select "Settings" from "More", and find the "Cancel sending" switch in the coming list. After enabling this switch, you're allowed to double-click the bubble box to undo sending within 6 seconds after getting the message out.
Related Articles:
How to Print out Text Messages from Android Phone? (Best 4 Ways)
How to Hard Reset Huawei Phones?
How to Recover Data from Water Damaged Android Devices
How to Recover Data from Android Phone with Broken Screen?
Top 6 Huawei Data Recovery Software [Most People Don't Know]
How to Retrieve Deleted Text Messages on Android without Computer