Micro SD Card Recovery: How to Recover Files from Micro SD Card?
We are moving towards the paperless era. The digital storage tools are growing manifold, and Micro SD Card is one of the typical representatives. With the popularity of cellphones, this tiny yet powerful storage has become a "frequenter" for many Android or camera users, sharing the vital tasks of storing photos, videos, audio, etc. However, due to misoperation and other reasons, you might find the files on it are invisible for unknown reasons.
At this point, you may wonder: whether its data can be retrieved? Is there a great Micro SD card data recovery program helping get the files back? OK, this page presents a microSD recovery tool to recover files from microSD card, with the aim of reversing any undesirable consequences. Again, there are some brief but useful tips for you.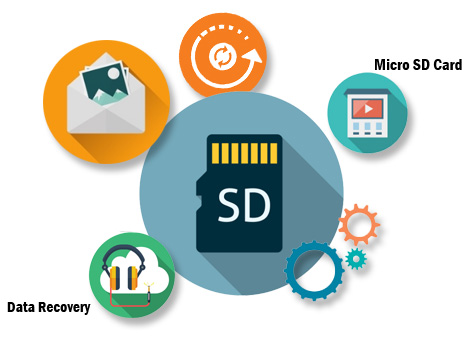 Part 1: Something You Should Learn before Micro SD Card Recovery
How do you tell a Micro SD card from a standard SD card?
Micro SD card (also known as Trans-flash card), is made by SanDisk Inc. It can also be subdivided into microSDHC, microSDXC, MicroSDUC, etc. At present, its maximum capacity is 128GB, widely used in smartphones, electronic dictionaries, digital cameras, and so on.
Next up is standard SD card (Secure Digital Memory Card). It has a maximum capacity of 256GB currently. And it is mainly used in digital cameras, computers and multimedia players, which is manufactured by Kingston, Huke, Panasonic, Samsung and Scud, etc.
Both of them have been renowned as portable storage IC, featuring high data transfer speed and hot swap. To tell them apart, here's a trick, They differ markedly in size. The measured size of an SD card is 32mm x 24mm x 1.4mm, while that of the other one is 15mm x 11mm x 1mm.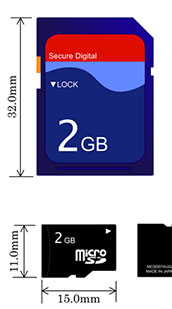 What are common SD card file loss scenes?
Primarily, it is abnormal insertion or removal. Unplugging microSD card without warning may cause data exception or damage to the partition table. Next, many users like to format the file system for file system conversion or other reasons. You know, frequent formatting may lead an otherwise healthy microSD card to "die" easily. Besides, there are some other scenarios, ranging from inadvertent deletion, card corruption, viruses attack to high temperature, humidity, etc.
Is it possible to recover files from Micro SD Card?
Of course, you may find that the files on Micro SD Card are missing for some reason. In fact, however, they're not really gone, and they are just marked as useless data in some form, temporarily stored in an unknown location on the card. To avoid data being rewritten, suggest you stopping use it, and turn to a wonderful program to carry out SD card recovery.
Now, do you know how to recover data from a Micro SD card? Well, the answer will soon become clearer.
See Also:
Part 2: How to Recover Files from Micro SD Card with Micro SD Card Data Recovery Software
Nowadays, many Android users fill up their phone storage with 64GB, 128GB or even higher. And photos, videos, movies, etc. may take up most of it. So the external microSD card is a wise choice for them. Yet, as mentioned above, massive data is missing from the SD card. Is there any tool that has no limit to recover large files? OK, MobiKin Doctor for Android (for both Win and Mac) can be the suitable and unexceptionable one. This tech-savvy software can retrieve all the microSD card files lost in any of the instances.
It stands out from the crowd with its well-noted features:
- Retrieve lost music, videos, photos and documents from microSD/SD card with hardly few clicks.
- Offer good rate of file restoration to recover missing data like multimedia files, contacts, SMS, call logs, apps from Android internal memory to computer securely.
- Get back all the deleted/lost data without backup with minimum effort.
- You are free to preview the deleted data and start the recovery selectively.
- Well compatible with various SD card and Android phones, such as standard SD card, microSD card, microSDHC card, microSDXC card and microSDUC card, etc.
You're the best judge of your own needs. Just take advantage of the tool with a free trial to make microSD card data recovery on your own.
Here is how to recover deleted files from microSD card with MobiKin Doctor for Android:
Before running this software, check if your computer has a microSD card slot. If not, find a microSD card reader, and then power off your phone to take out the card.
Step 1: Get microSD card inserted to computer
Plugged the Micro SD card to computer via a prepared card reader. Follow the built-in recovery wizard to install and open the tool. Then choose "SD Card Recovery" menu from the top to get the initial interface.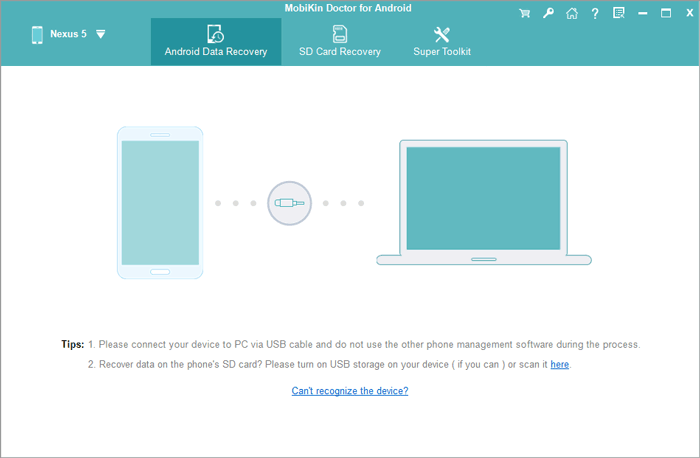 Step 2: Scan your Micro SD card with the program
Your microSD card is shown on the window. Now, just mark the disk drive of your card, and click "Next" to run a whole scan for the card.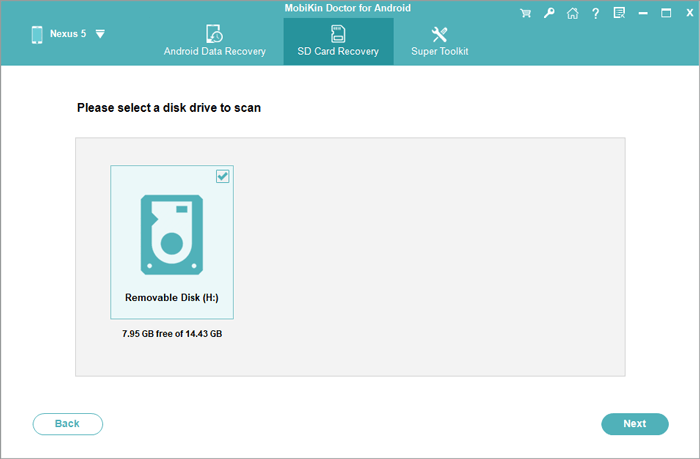 Step 3: Start microSD data recovery
After that, all the files as "Photos", "Music", "Videos" and "Document" will be listed on the left panel. Click the data types to preview and tick the files you'd like to retrieve. Then press "Recover" button to have the Micro SD recovery task started.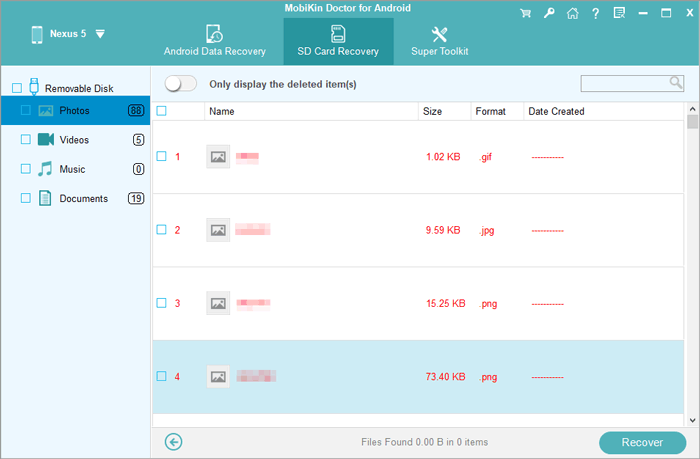 You'll then get all the lost data back, regardless of how much data you need to restore.
You May Also Like:
Some Useful Tips to Help Better Complete Micro SD Card Recovery
If a Micro SD card gets corrupted, how to fix it?
Here's an approach to repair it on computer. Firstly, insert Micro SD card to computer, then go to "Start" > "Settings" > "Update & Security" > "Troubleshoot" > choose "Hardware and Devices" > run the troubleshooter. Then, restart your computer, the SD card issue should be addressed. Finally, if it doesn't work, you can click here for more help.
How to recover Micro SD card if it cannot be recognized?
Some users would find that the SD card becomes inaccessible. In this situation, plug your SD card to computer. Then perform: "Windows+R key" > "compmgmt.msc" > "Enter" > "Disk Management" > right-click the drive > select "Change Drive Letter and Paths" > "Change" > "Assign following drive letter" > choose the letter > "OK" > restart this computer". Now, the card should be recognized, and you can follow Part 2 to do Micro SD file recovery.
Note: After the fix, if the card still be undetectable, the reason might be that it is slightly physically damaged, and its control chip thus gets abraded. In that case, it is quite difficult to restore Micro SD card.
Back up Micro SD card to secure the files on it
With all that said, do you think it's important to back up Micro SD card in case something unexpected happens to it next time? I think you probably agree with it. So just take the current situation as a lesson. And once a backup is taken, you can easily make Micro SD card recovery as needed regardless of the scenario the card being troubled by.
Summary
Have you got the hang of all the tips and tricks about Micro SD card recovery now? Well, I believe what we've offered can facilitate your life greatly. Now, if you have any queries, please let us know in the comment section.
At last, as a bonus, let's talk about the compatibility of microSD series, which many users may be concerned about. microSD card is suitable for any microSD slot; microSDHC and microSDXC work for hardware supporting them; and microSDUC has fewer compatible devices. Plus, some mobiles don't support microSD card. To see whether your phone supports the card(s) or which, you can find the answer in the direction of the official website of your mobile or in the operating manual attached when purchasing the phone.
Related Articles:
How to Move WhatsApp Data to SD Card?
How to Fully Erase SD Card on Android Phone
Android Phone SD Card Unexpectedly Removed, How to Fix It?
3 Simple Ways to Transfer from SD Card to iPhone
Guide on How to Sync WeChat to SD Card