Can't Move Apps to SD Card on Huawei? Here're 3 Viable Ways!
When checking to see what file type is using up all of the space on Huawei, you may find the "Apps" occupying a significant portion of internal storage. As you may know, there are different methods to free up Android space, one of which is to move the apps to SD card, the expandable storage. Do you want to know how to move apps to SD card on Huawei? Just focus on this step-by-step guide, and you'll soon find the solution that rewards you.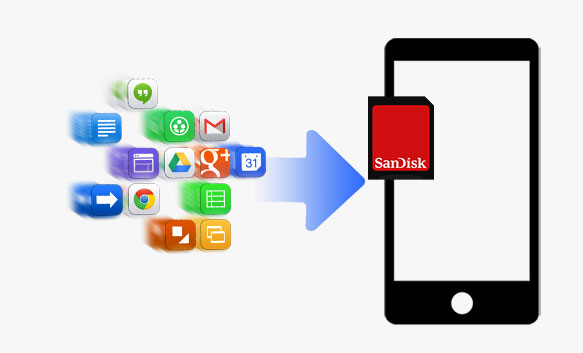 Part 1: Is It Possible to Move Apps to SD Card on Huawei
"There's no option to move apps to an SD card from Huawei", complained by a Huawei user with the phone running Android 7.0, according to the thread from Android Forum. So, is this really the case?
In short, you can move apps from Huawei to SD card, largely hinging on the OS version on your device. Reliable sources confirmed that Huawei no longer supports the service after the release of devices with Android 7.0 (Nougat). That means the feature is available for the version like Huawei P8/P7/P6/P5, while unavailable for MediaPad T3/P9/P10 Lite/P20/P30/P40, etc.
However, fear not! There's always a method working for you in the following. Now, let's check them out one by one.
Read Also:
Part 2: How to Move Apps to SD Card on Huawei from Apps/Manage Apps
To copy apps to SD card from Huawei in this way, you need to set the SD card as the default memory location (from the phone's Settings > Memory > Storage). And after that, you'll have two options to make it, depending on the Huawei models.
Option 1:
Get an SD card that can hold the data being used by your apps.
Put the card into your Huawei device.
Go to the phone's Settings > Apps > Permissions > Storage. Here is where all the applications have access to the storage.

Select a specific app you like.
After the selection, you should see an option that enables you to move it to the SD card.
Option 2:
On your Huawei mobile, open "Settings" > "Manage Apps".
Choose the app that you'd like to move to the micro SD card on your device.
Finally, click "Move to SD card". (Accidentally deleted data from the card? You can now recover the files from the Micro SD card)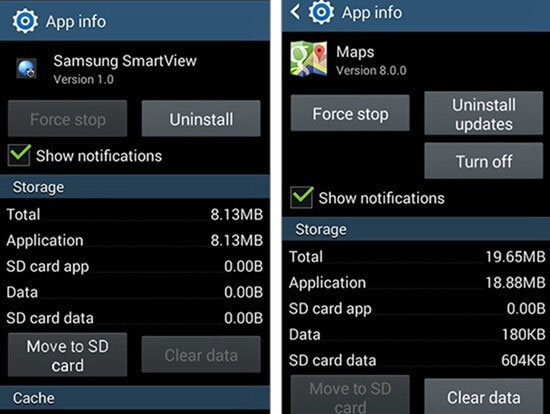 Part 3: How to Move Apps to SD Card on Huawei by Formatting SD as Internal Memory
Here's another way to treat your SD card as internal storage. Alright, you can make the SD card and internal storage a "conglomerate" by formatting the storage as internal memory. Yet, after that, there might be an increasing concern about the performance of the card (e.g., it runs slower than before).
How to move apps to SD card from Huawei by formatting SD as internal memory?
Insert the SD card into your Huawei phone.
Open the Settings app, followed by Storage.
Tap the SD card you inserted.
Press the menu button and select Storage settings.

Select "Format as internal".
Hit Erase and format > hit OK.
Once formatted, you can migrate your data as you like.
You May Be Interested in:
Part 4: How to Move Apps to SD Card from Huawei via Assistant for Android
No matter which Huawei model your phone is and which system version it is running, you can freely move the data from Huawei to the SD card with just a few clicks. Does that sound amazing? Well, leave the messy job to MobiKin Assistant for Android (Win and Mac). With this smart software, you can manage almost all your Huawei content with the least amount of effort.
Key features of Assistant for Android:
Move apps to SD card on Android.
Transfer data between Android and PC/Mac.
One-click to back up and restore Android data.
Manage Android devices on a computer directly.
Work for Android apps, contacts, text messages, call logs, photos, videos, music, books, etc.
Run smoothly on various Android phones and tablets, including Huawei P50/P40 (Pro)/P30 (Pro)/P20 (Pro), Mate 40/Mate 30/Mate 20/Mate 10 (Pro), P10 Lite/P8 Lite/MediaPad T3, Ascend M860, C8600, Ideos X5 Pro, etc.
It won't divulge your privacy.
How to move apps to SD card on Huawei with Assistant for Android?
Step 1. Install the software on a computer
Install Assistant for Android on your computer and launch it. Connect your Huawei phone inserted with an SD card to the computer via a USB cable.
Step 2. Let the program recognize Huawei
Now you may need to enable the USB debugging on Huawei. After that, this utility will automatically detect your device, and you'll see the main screen as below.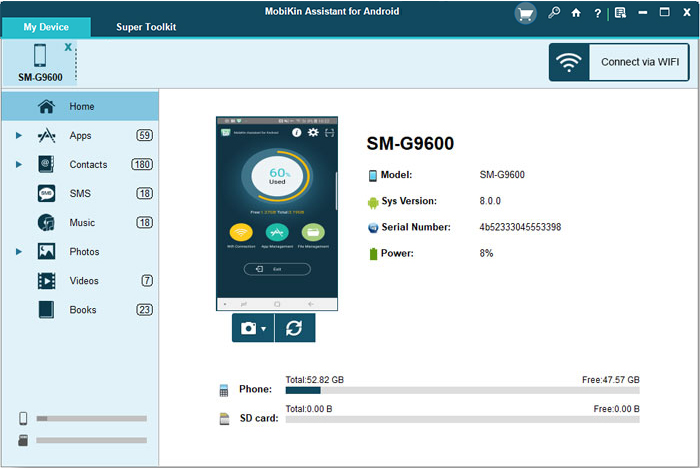 Step 3. Move apps to SD card from Huawei
Choose "Apps" from the left panel, mark the apps you wish to move to the SD card, and press "Export" on the top menu. From here, you can select the SD card as the destination to export to.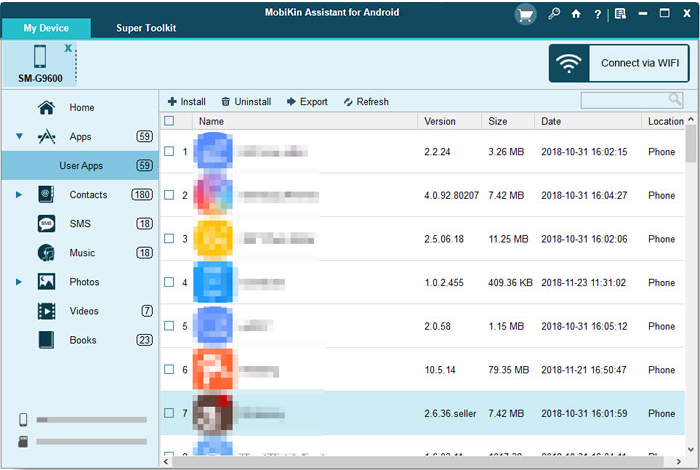 Extra Tip: How to Back Up Huawei Apps on Computer
Fail to move apps to SD card from Huawei? Would you like to try a better solution? Since some may want to make room for the Huawei phone or keep a backup of apps on separate storage, backing up Huawei apps on a computer could be a fine choice.
Well, Backup Manager for Android (Win and Mac) is here to help you out whenever needed. It comes quite in handy to back up and restore data like apps, contacts, messages, call history, photos, videos, music, and books.
To back up Huawei apps on a computer with Android Backup and Restore, you can:
Download the program and install it on your computer.
Open it and connect Huawei phone to the computer via USB.
Follow the simple instruction to let the tool identify your device.
Choose "Backup" from the main interface.

As you can see, all the supported data types are listed, from which you can choose "Apps".
After that, choose the output directory to store them by clicking "Browser".
Lastly, click "Back Up" to put Huawei apps on this computer.
In Conclusion
That's all for how to move apps to SD card on Huawei, and we hope you find the methods useful. Well, which one would you like to pick? Regardless, MobiKin Assistant for Android is the ideal program to move apps across because you don't even have to check your phone's operating system or move your apps one by one. So, simply give it a download and start your relaxing journey now.
Related Articles:
How to Move WhatsApp Data to SD Card?
How to Backup Android Phone to SD Card? 3 Easy Solutions Here!
Android SD Card Backup: How to Backup SD Card on Android?
Huawei Data Transfer: Migrate Data between Huawei and Other Phones/Computer
How to Transfer Data from Huawei to iPhone (#1 Is Excellent)
Top 6 Huawei Data Recovery Software [Most People Don't Know]