5 Easy and Safe Ways to Transfer Data from Huawei to Huawei
As the global flagship brand of smartphones, Huawei has never stopped its pace of cellphone development and innovation. Its new Mate X2 folding screen mobile achieved great exposure before it was released. After upgrading a glittering Huawei phone, many folks probably think about how to copy important items from the old Huawei to the new one in no time.
Indeed, there are multiple ways on how to transfer data from Huawei to Huawei out there. This post will set out the five most commonly used and efficient methods. Just pick any of them to free yourself from the tedious file transfer from Huawei to Huawei.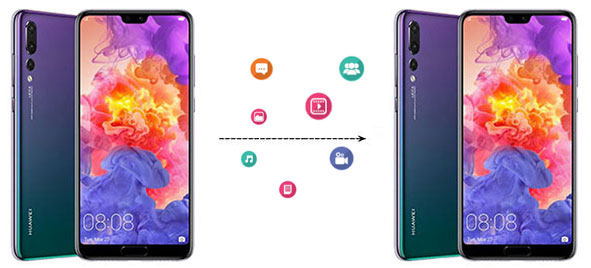 Way 1: How to Transfer Data from Huawei to Huawei via Transfer for Mobile
Is there a direct way to perform Huawei to Huawei file transfer securely and quickly? Of course, MobiKin Transfer for Mobile (Win and Mac) is among the most first-class programs to do the transfer. This software gets along well with almost all computers and mobile phones. It, favored by hundreds of thousands of loyal fans, can always move content between smartphones freely and seamlessly.
Major features of Transfer for Mobile:
Transfer data from one phone to another, irrespective of the OSes your mobile is running.
Copy various data types, such as contacts, text messages, call history, music, photos, videos, documents, and apps.
Ease of use, fast transfer, lossless results.
Work well on both PC and Mac computers.
Perform tasks on overall Android and iPhones/iPads/iPods devices, including Huawei P40 (Pro)/P30 (Pro)/P20 (Pro)/P10 (Pro)/P9, Mate 40/Mate 30/Mate 20/Mate 10, Huawei Ascend/Nova/Honor series, etc.
It never intrudes on any privacy of its users.
How to transfer data to Huawei from Huawei via Transfer for Mobile?
Step 1. Connect your Huawei phones to a computer
Install and open this software on your computer. You will be prompted to connect Huawei devices to the computer. Just do this via USB cables. Then you are required to enable USB debugging on Huawei.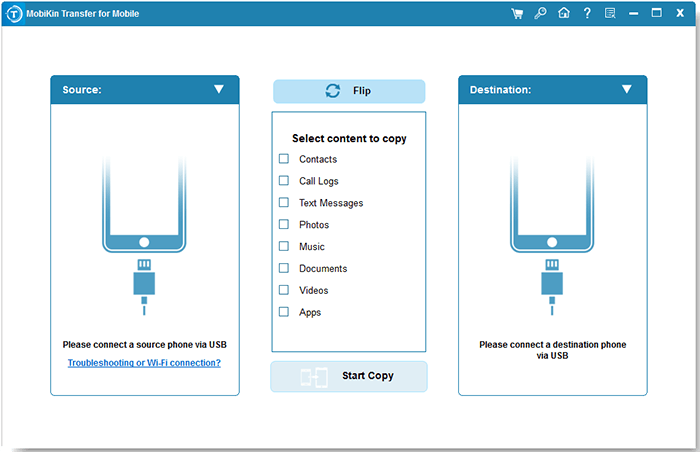 Step 2. Check the positions of both Huawei phones
The program will soon recognize your phones. Ensure the source Huawei phone is on the left of the screen and the destination right. If not, click "Flip" to exchange their positions.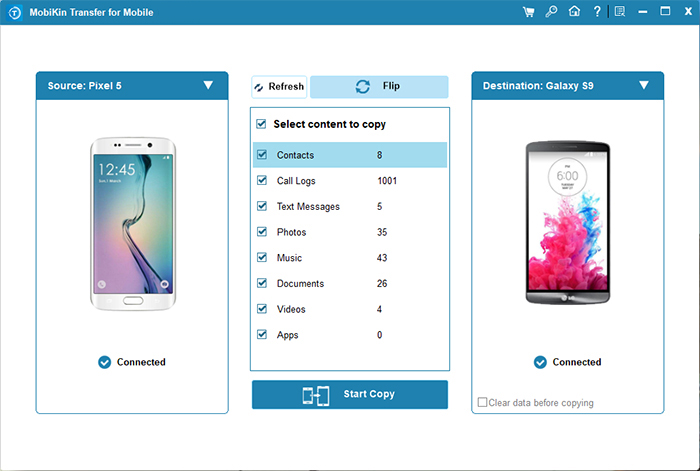 Step 3. Transfer data from Huawei to Huawei
Tick on the data types that you want to transfer on the screen and then click "Start Copy" to transfer data from Huawei to Huawei.
Note that please don't unplug the linked cables until the end of the transfer task.
You May Need:
Way 2: How to Transfer from Old Huawei to New Huawei with Assistant for Android
Huawei data transfer can also be accomplished indirectly. You can back up the source phone's data to a computer through MobiKin Assistant for Android (Win and Mac), and then copy the items to the target handset from the backup files on the computer.
During this process, you can not only save any Android data on the computer for a secure backup but also enjoy its powerful features for Android data management on your computer,including adding or editing contacts, sending text messages on computer, deleting needless files from computer, installing apps, and so forth.
Now, let's take contacts migration as an example to explain how to transfer contacts from Huawei to Huawei via Assistant for Android:
Step 1. Launch the tool after you downloaded and installed it. Connect old Huawei phone to the computer. When the program recognizes it, go to "Super Toolkit" from the program interface.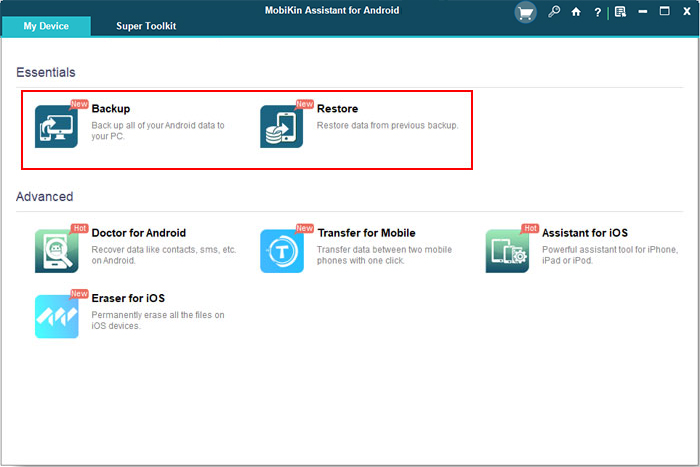 Step 2. Choose "Backup" > "Contacts". Specify an output folder on this computer to save the backup. Then click "Back Up" and wait for the end. After that, just disconnect this phone from the computer.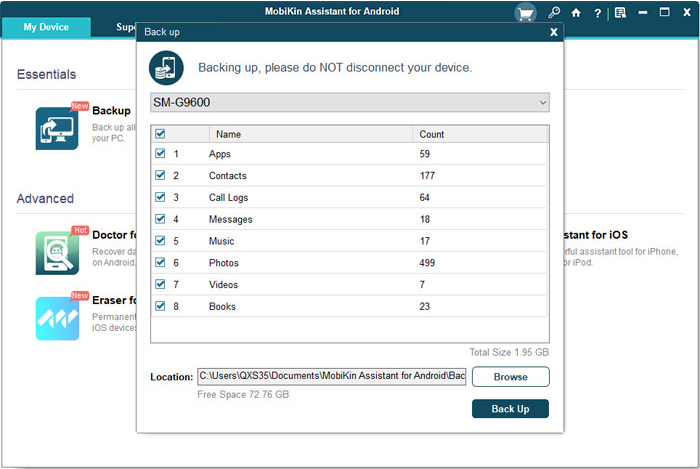 Step 3. Connect your new Huawei phone to this computer and tap "Super Toolkit" > "Restore". Then select "Contacts" from the backup you've made to restore to this phone. Next, click "Restore" to commence.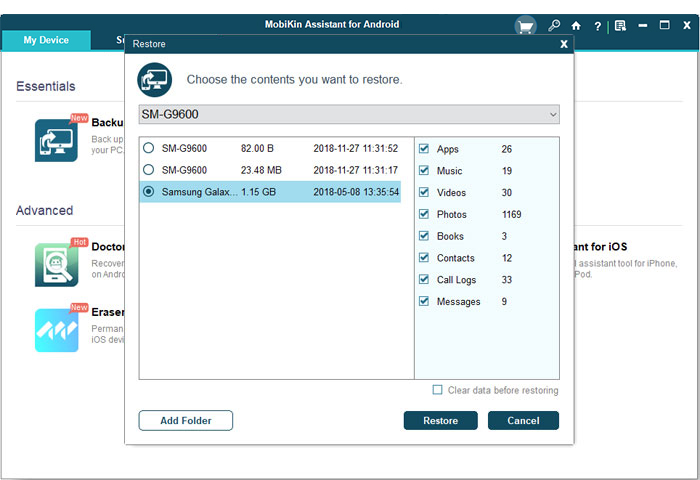 Way 3: How to Transfer Data to Huawei from Huawei Using Phone Clone
Phone Clone applies to Huawei and other Android/iOS devices. But this Huawei transfer app only works when the recipient is a Huawei device. For this topic, you can connect both Huawei phones by an auto-created QR code before triggering the transfer automatically. (Sometimes, you may encounter Huawei Phone Clone not working. Click here for fixes.)
How to do Huawei to Huawei file transfer with Phone Clone app?
Download the Phone Clone app from Google Play.
Install the app on both Huawei phones.
Open it on your new Huawei phone and choose the "This is the new phone" option.
The QR code and a WLAN hotspot should appear on the screen.
Launch Phone Clone on your old Huawei phone.
Tap "This is the old phone" and scan the code on that screen.
You can also choose CONNECT MANUALLY to link phones via the WLAN hotspot number and password.
Choose the data types that you want to copy and hit "Send" to proceed.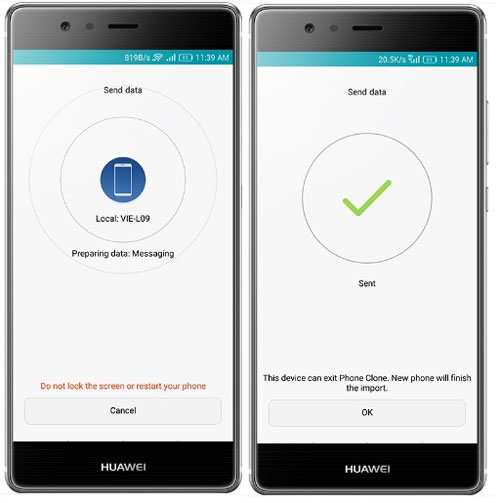 Further Reading:
Way 4: How to Transfer Files from Huawei to Huawei Using Google
Deeply integrated with most Android-based devices, Google gives you the ability to take full backups of your Android device on its cloud. And you can also use the same Google account to sync or restore Google backup to another Android phone.
Before the task, if you haven't configured a Google account for your mobiles, you can do this first by going to phones' "Settings" > select "Accounts" > "Add Account" > "Google" > sign in to your Gmail account.
Then, let's see how to transfer from old Huawei to new Huawei using Google?
Go to "Settings" on your source Huawei phone.
Choose "Accounts" > "Google" and log in to your Gmail account to copy data.

Choose all the data types you intend to transfer to your new phone from the incoming list.
Tap 3-vertical dots at the upper-right corner of the screen.
Select "Sync Now" from the pull-down menu.
All the chosen data should be on the Google server later on.
Similarly, go to the Google option on your new Huawei phone.
Enter the same Gmail account info as before.
You'll see all the synced content here.
Mark all the data before tapping "MORE" at the upper right.

Opt for "Sync Now" to migrate the data from the server to the new Huawei device.
Way 5: How to Transfer Data from Huawei to Huawei over Bluetooth
Can old Huawei transfer apps to new phone with the aid of Bluetooth? Certainly! This feature also supports moving other data like contacts, photos, videos, etc. To ensure a smooth Huawei phone transfer, please put two phones close to each other and pair them on the Bluetooth Settings screen.
How to transfer data from Huawei P9/P10 to Huawei P20/P30 Pro/P40 by Bluetooth?
Swipe from the notification tray on both Huawei phones to enable the Bluetooth function.
Go to the Bluetooth Settings and follow the on-screen instructions to pair two devices.
Once down, launch the file manager app on your old Huawei device.
Access the data you want to transfer to the new phone.
Select your desired files > tap the 3-dot icon at the top-right corner.
Choose "Share" > share via Bluetooth.

Accept the transfer request on your destination Huawei phone.
Closing Remarks
Today, we set out five feasible ways to transfer data from Huawei to Huawei. And we can draw the following conclusions objectively:
Google doesn't always satisfy its users when it comes to privacy and security, as it records mobile data on Google servers and sometimes issues warnings about sensitive stuff.
Bluetooth is dilly-dallying even when it performs simple tasks. And if the migration fails, you need to repeat the same operation many times.
MobiKin Assistant for Android can not only complete Huawei data migration nicely, but provide you with more personalized choices for Huawei file management.
Comparatively, MobiKin Transfer for Mobile can be your best bet, for it always ensures a direct, fast, and lossless transfer. So, just free download it and give it a whirl now.
Related Articles:
Top 5 Ways to Transfer WhatsApp from Old Samsung to New Samsung
Huawei to Mac Transfer - 5 Ways to Transfer Files from Huawei to Mac
Top 4 Methods to Transfer Data from Samsung to Huawei
Top 6 Huawei Data Recovery Software [Most People Don't Know]
5 Great Methods to Transfer Data from iPhone to Huawei