Easy Way to Delete iOS Update on iPhone
When a new iOS update is released and available, you will find the new update will be automatically downloaded on your iPhone/iPad whenever your iPhone is connected to Wifi. Of course you can ignore the update but it will keep popping up whenever you open your iPhone. So don't want to install an iOS update on iPhone or another iOS device? Why not simply delete iOS update on your device?
In this way, you can free yourself from troubles of unceasing pop-ups informing you to update iOS. Moreover, you can also free up much space on your iPhone for other new files. Well, don't know how to delete iOS update on iPhone? Just continue your reading!
User Guide: How to Delete iOS Update on iPhone
- Open the Settings app from your iPhone and then go to General tab.
- Head to Usage tab and then look for the version that you want to delete like iOS 9.2.1.
- Now, hit the Delete option to continue the process.
- On the promo dialogue, hit the Delete Update to confirm your action.
Within a little while, the unwanted iOS update will be easily removed from your iPhone. Here you need to know that this is not permanent and you can get the update again if you want it. Just head to iOS Update section from the Settings and you can now download the new update when it comes out.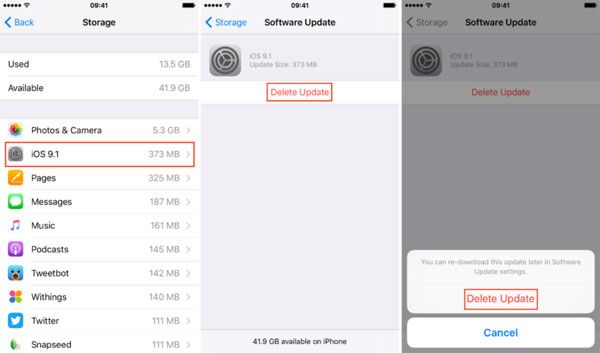 Related: How to Delete Kik Messages on iPhone
Extra Bonus: Free up Space for New iOS Update
When you want to download the newest iOS version to your iPhone, only to be told not enough space is available for download? That's could be pretty irritating, right? So just use it MobiKin Cleaner for iOS (Windows/Mac) software to free up as much space so as to ensure that space is always enough for new iOS update.
With this software, you can always easily clean up all useless junk files from iPhone, iPad and iPod devices, including app caches, app crash logs, download temp files, photo caches and many more. Once the software detects your device, it will automatically scan for all junk files lurking on your iPhone, iPad and iPod devices. Then one click is enough to remove all useless files from iPhone so as to save more space. This software is fully compatible with all devices running iOS operating systems. Below are the free trial versions of this software. You can actually download the right version to give it a try!
Steps to use this software:
And unlike other professional programs with complex user interface, this software allows you to free up space within 1-2-3 steps:
- Open the installed software on the computer and then link iPhone to the computer via the USB cord.
- Then different modes will be arranged on the main interface. Hit the right one to continue the process.
- Now, enter the right file tab to preview more detailed file information and hit the Clean option to delete files as wanted.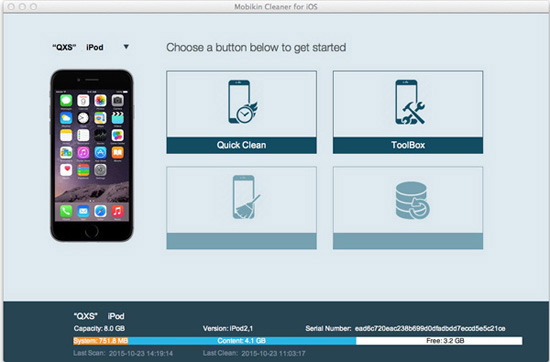 Note: If you want to delete all junk files on iPhone, just tick out the Select All option and then hit the Clean option to begin the process.
Related Articles:
How to Delete Backup on iPhone