Easy Way to Delete Backup on iPhone
Wondering how you can get rid of unnecessary data from an iPhone? A lot of the data might just be gone because you have created a number of backups on your device - ones that you may not even know of. iPhone, products manufactured by Apple Inc is one of the leading smartphones available in the market. Along with providing an excellent string of services, Apple makes sure that the data of its cherished users are well protected and secure. It offers the data backup option using either iTunes or iCloud.
Related: Back up iPhone with iTunes or iCloud
Why do you need to delete iPhone backup?
Backing up your data ensures that the important information are intact even if you lose your phone or formatted the apps or the phone itself. There can be instances when you forgot about the important data- files, docs, emails, pictures and videos and deleted the chat history or enabled the factory setting which swiped them out.
Though regular backing ups are desirable but sometimes you might find your device being cluttered by lots of unnecessary data clogging up your phone's memory space and it's decreasing the speed efficiency.
Part 1. Delete iPhone Backup Created via iTunes
Part 2. Delete iPhone Backup Created via iCloud
Part 3. Permanently Delete All Data on iPhone
Tutorial: How to Delete Backup on iPhone
1. Delete iPhone Backup Created via iTunes
iTunes maintain copies of the firmware files for the easy restorations. But once the firmwares are updated, the backup of previous versions are unnecessary. Not only the previous updates backup is unwanted, it also occupies a portion of your phone's memory.
You need to follow 3 simple steps to remove unwanted backups created by iTunes:
Step 1: Go to the iTunes menu and select the Preference option.
Step 2: Click on the Devices icon situated at the top of the window.
Step 3: From the list of backups displayed, select the backup you wish to remove and select the Delete Backup option.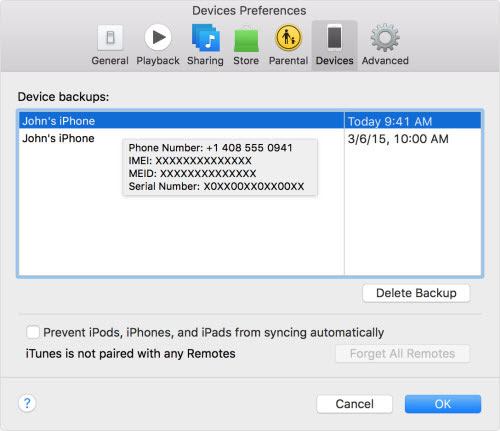 2. Delete iPhone Backup Created via iCloud
iCloud automatically back ups all your data of your device(s) on a daily basis but the iCloud provides only 5GB of free storage to its users and all those backup data might occupy most of its storage memory.
Follow the below mentioned steps in order to remove backup created by iCloud:
Step 1: Go to Settings, select iCloud followed by Storage. Then click on the Manage Storage option.
Step 2: From the displayed list of backups, select the ones you don't require and click on the Delete Backup option.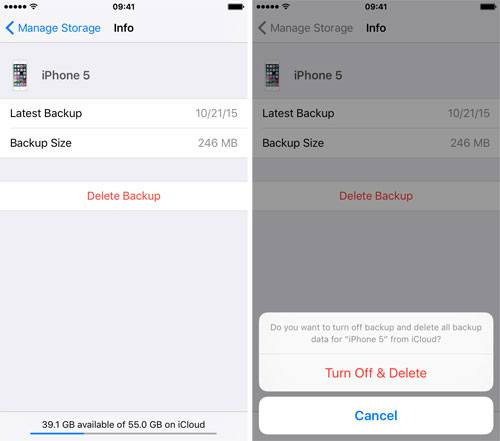 At some point of time, you might decide to do away with your iPhone smartphone either by donating, giving it to someone or by selling it off. But there are lots of backup data from the firmware updates to messages or the multimedia or docs and emails. You obviously need to swipe off all those personal data completely before you can give away your smartphone.
3. Delete iPhone backup on Computer. If you have made a phone backup with this MobiKin Assistant for iOS (Windows/Mac), then all you need to do is go to the disk on the computer where the backup is saved and delete backup on iPhone in one click.
Also Read: How to Transfer Files from iPhone to Computer
Want to permanently delete all files from iPhone? This MobiKin Eraser for iOS (Windows/Mac) software, easily available and highly reliable, provides you with the easy and fast facility to perform the erase function without the chances of it getting restored. Message, passwords, browsing history, firmware updates, you name it and all of it can be erased using this program.
You just need to follow 2 simple steps:
Step 1: Connect your iPhone device to the computer and then launch the installed software on the computer.
Step 2: Choose the right erasing mode and erasing level to continue the process. Enter the right file tab to preview more detailed file information. Then select the files that you want to erase, and finally hit the Erase option to erase anything from your device as needed and wanted.
The data removal function of this software is highly reliable and it guarantees that no data recovery software can ever restore the removed data.
Related Articles:
How to Delete Duplicate Songs on iPod