Easily Free up iPhone without Deleting Data
The longer you use your iPhone, the less storage space would be left on your device. And running out of space of your iPhone can be extremely frustrating. In this case, you can't install any cool app recommended by your friend or add some new photos or videos to your file collection. So how do you always deal with this issue? Simply pick out some photos or apps and delete them from your device? But within your iPhone device, there are not only those useful files like contacts, messages, photos, videos, apps and many more, but also other useless junk files like app crash logs, user storage files, download temp files, app caches, photo caches and so on.
We will teach you some simple tips on how to free up iPhone without deleting data on your iPhone X/8/8 Plus/7/6.
Way 1. Free up iPhone without Deleting Data with Cleaner for iOS
Therefore, you can actually free up iPhone without deleting data, i.e. through clearing junk files. All you need to do is fully trust this all-in-one MobiKin Cleaner for iOS (Windows/Mac) software. With this software, you can easily and quickly clean up all junk files from iPhone without deleting any data so as to free up as much space and speed up the device. Unlike other professional programs with complex user interface, this software enables you to clear any unwanted files from iPhone within 1-2-3 step. All devices of iOS operating systems can be perfectly compatible such as iPhone, iPad and iPod.
Want to know more about this software? Then just download the free trial version by clicking the below icon to give it a try by yourself!
More Useful Articles:
Delete Duplicate Music Songs on iPod
Uninstall Unwanted Apps on iPhone/iPad
Tutorial to Free up iPhone without Deleting Data
To start with, open the installed software on the computer and then link your iPhone to the computer via the USB cord. Then choose the Quick Clean mode and hit the Start option to continue the process.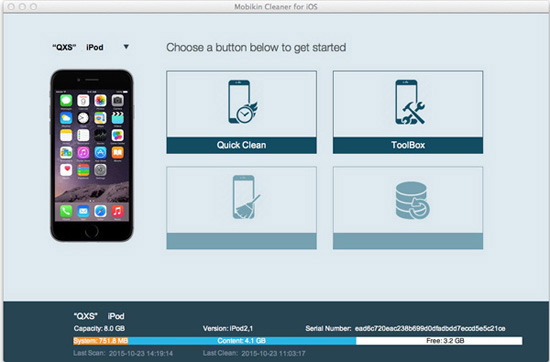 After that, the software will automatically detect your device and scan for all files within the device. You can enter the right file folder and tick out files that you want to delete from iPhone. And if you want to clear all junk files, just hit the Select All option to continue the process.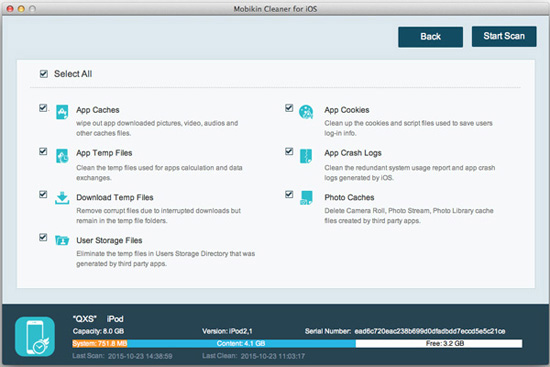 On the promo dialogue, remember to hit the OK option to confirm your action. And then wait patiently for the process to be completed within a little while.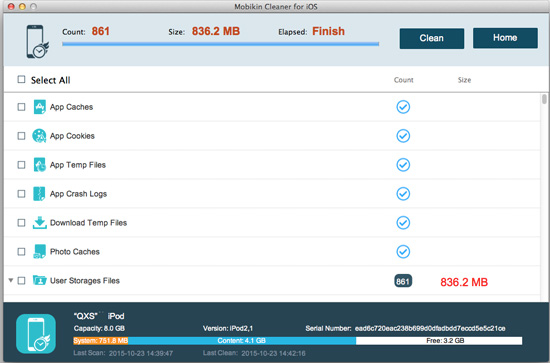 This almighty MobiKin Cleaner for iOS (Windows/Mac) software allows you to effortlessly free up iPhone without deleting data! Below are the free trial versions of this software for your inference!
Way 2. Save HDR Photos on iPhone Only
For most users, photographers in particular, photos may be the culprit of the large space occupied by their devices. You may have discovered that the new photos taken were saved as two images. This means that you will waste twice the space to store two identical photos.
Why is this so? This is because the iPhone allows you to save HDR images and original non-HDR images at the same time when you take photos. You can set to keep only HDR images. All you need to do is go to Settings > Photos & Cameras, then switch the "Keep Normal Photo" switch off.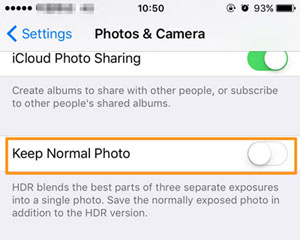 Way 3. Reinstall Apps to Free up Storage on iPhone
Is there always some rarely used application on your iPhone? do you know? These applications take up some space on your device and generate junk files and useless data. Therefore, deleting unwanted or unwanted applications is a good way to free up storage space on the iPhone.
You can go to Settings> General> Usage> Manage Storage to see which apps are consuming your iphone space. The most frequently used applications in front are actually hiding large amounts of data. In order to free up space, you can first choose to remove these frequently used programs, clean up the cache, and then reinstall them.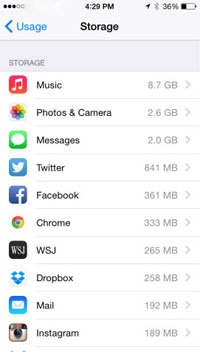 Way 4. Disable Photo Stream to Free up iPhone Storage
In fact, few people knows that Photo Stream on the iPhone can automatically sync your most recent 1,000 photos to all iCloud devices when connected to Wi-Fi, which means that these photos will occupy at least 1 GB on your device. Therefore, if you do not need to share the photos on your iPhone to other devices, you can simply disable Photo Stream to save your iPhone storage space.
To do this, just tap on Settings > Photos & Cameras > Toggle off My Photo Stream on the iPhone to free more space.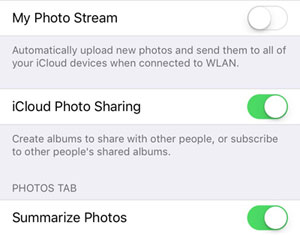 Way 5. Back Up Photos to Dropbox or Google +
If you have stored a lot of photos or live photos on your iPhone, they will take up a lot of space and make less space available. Although you can back them up to iCloud or iTunes to free up space, the backup space for iCloud and iTunes is limited, and you do need to pay to increase your storage space. Therefore, using Dropbox or Google+ to store photos is a good way.
To back up your photos on iPhone to Dropbox or Google+, you just need to sign up for your account and then you can automatically back up unlimited photos to them.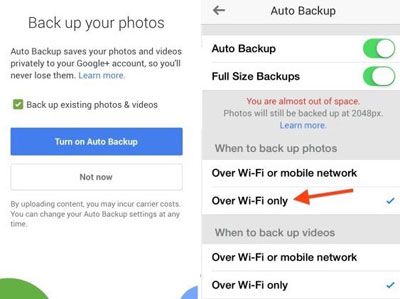 Related Articles:
How to Clear Download Temp Files on iPad
How to Clean up Video Caches from iPhone